Mailbag: How much Florida State will miss the injured Derwin James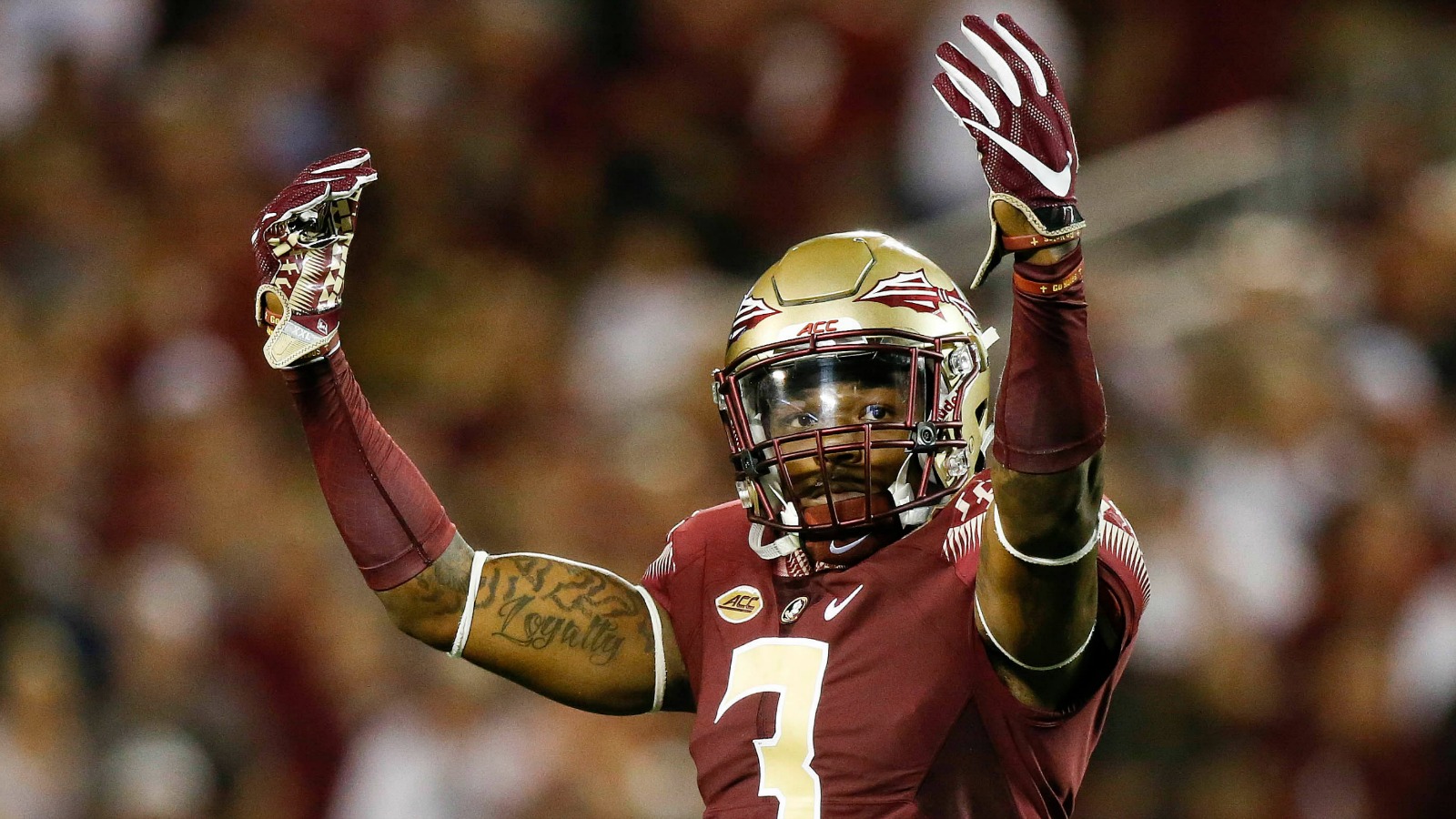 When I looked at the Week 3 schedule before the season, I knew we'd likely be talking about juicy matchups like Ohio State-Oklahoma, Alabama-Ole Miss, Michigan State-Notre Dame and Oregon-Nebraska. I would not have anticipated that Florida State-Louisville would jump all the way up to the top of that list.
Hi Stewart: Longtime reader. Why isn't more being made of Derwin James' knee injury? Granted, as a Florida State fan I'm biased, but he's one of the 10 best defensive players in the country, and he's critical to FSU's game planning against dual-threat QBs like Lamar Jackson. Considering that five of FSU's next six opponents are Louisville, USF, North Carolina, Miami and Clemson, is it unrealistic that FSU runs the gauntlet without him?
— Mike, Brooklyn
Perhaps it's not getting as much attention because James is a safety, not a quarterback, but it's a huge storyline impacting arguably the biggest game in the country this weekend. James is one of the most talented and versatile defensive players in the country, and FSU will be without him while trying to stop one of the most talented and versatile quarterbacks in the country.
The 'Noles are never lacking for talent as replacements, and I'll be curious to see how guys like sophomores A.J. Westbook and Marcus Lewis step up in his absence. It will also help them considerably if veteran safety Nate Andrews returns after missing the first two games with a calf injury. But most importantly, James is not the only elite player on FSU's defense. A primary way to contain a dual-threat quarterback is with dominant pass rushers who seal the edges and force him to stay in the pocket. The 'Noles most definitely have that with DeMarcus Walker — who had 4.5 sacks in the Ole Miss game — and Josh Sweat.
The problem comes if Jackson does escape and/or gets enough time to step up and throw. That's when you'd really prefer having your All-American free safety on the field. But while Jimbo Fisher says James will be out five to seven weeks, Louisville should be FSU's toughest matchup both from a talent and scheme standpoint until Clemson on Oct. 29. If it loses to USF, UNC or Miami, it's got bigger problems than James' absence.
If the 'Noles beat the Cardinals, they should be in decent shape for a run at the ACC championship. If they lose, they might need help from both Clemson (against Louisville) and James' repaired cartilage.
The application of the targeting rule has been inconsistent at best. There was the no-call for the Texas-Notre Dame helmet-to-helmet hit that put the player in concussion protocol. Then the next week, back-to-back ejections for non-targeting hits in the BYU-Utah game. How bad will it need to get before things change in how the targeting rule is administered, as well as the quality of officiating in general?
— David Rogers
I don't have a good answer for you. Frankly, the inconsistency in enforcement of the targeting rule has become the bane of college football's existence.
For one thing, four years after the NCAA instituted automatic ejections, most people still don't know what does and does not constitute targeting. I still see it referred to incorrectly as "helmet to helmet," when in fact it includes a defender leading with his forearm, fist, elbow or elbow and making contact not just with a defenseless opponent's head but neck area as well. If you see a guy launching himself at an angle and making contact at or near the helmet with anything other than his hands, it's probably targeting.
Which is why, in hindsight, the refusal by Big 12 officials to admit a targeting call was warranted on Texas' DeShon Elliott for his hit on Notre Dame's Torri Hunter Jr. really got the season off to a bad start. It was essentially textbook targeting (though not "egregious" enough to merit intervention, according to the conference) and occurred during the most watched game of the season to date so that now, any borderline infraction that does get called gets measured against that one.
I actually didn't have a problem with either of the calls against BYU, but if neither got flagged there would be no controversy like with Notre Dame-Texas. So admittedly, a one-game suspension is harsh for something that could have gone either way. But the whole point of the harsh penalty is to deter unsafe hits going forward, and ultimately it may take years to completely change defenders' habits.
Which is why, in the meantime, the rule needs to be more consistently enforced. Something so important should not be so frustrating.
Amidst all the furor over the blown call in Oklahoma State-CMU game, I have yet to see anyone emphasize that the Cowboys lost the game because they gave up a freaking Hail Mary TD with the added touch of a lateral. I know the untimed play should not have been permitted, but my view is that any team that gives up that kind of play deserves to lose regardless of the circumstances. Am I being too harsh?
— Gerry Swider, Sherman Oaks, CA
No, I'm with you 100 percent. Frankly, I'm disappointed that the officiating controversy completely overshadowed one of the most remarkable plays that you'll ever see. Not to mention it's a MAC team upsetting a Power 5 team on said remarkable play. And most importantly, this was not some fluky thing, it's a play Central Michigan designed and practiced. Give a little credit to the victors.
Obviously, it's unfortunate that the officials screwed up so egregiously. They got punished. But as for this misguided notion that Central Michigan should have to forfeit the win and give it to Oklahoma State – c'mon. As Kansas State coach Bill Snyder said Monday, "I make a thousand mistakes in a ballgame and they won't let me get any of them back."
Imperfection is part of what makes sports so riveting. The Patriots beat the Cardinals the other night because a long-snapper botched a snap. And Central Michigan beat Oklahoma State in part because the officials messed up a rule. But mostly because the Cowboys didn't bat down a Hail Mary or tackle the lateral.
If Nebraska beats Oregon this Saturday, do you see pundits taking that as Nebraska on the rise or more signs of Oregon being on the decline? Possibly both?
— Aaron Burgess
I'm sure there will be no shortage of wild overreaction on both ends, but I assume there will be more plaudits for Nebraska than backlash toward Oregon. Or at least there should be. The Huskers are the home team. They're favored. Yes, they went 6-7 last year, but they beat Michigan State and UCLA down the stretch. They've started this season with lopsided wins over Fresno State and Wyoming. There would be no shame in Oregon losing, unless you're holding the Ducks to a standard where they should reach the national title game every other year.
Now, my answer might change depending on how the game plays out. A lopsided Nebraska victory would play into the hands of those who feel Oregon's program is trending in the wrong direction. I would be particularly alarmed if Nebraska runs for 300 yards, because rushing defense has been the Ducks' most obvious weak spot so far. It might seem troubling as well if Oregon QB Dakota Prukop struggles given how much Mark Helfrich is counting on him, but at this point who's to say Nebraska doesn't have a great pass defense?
But none of this addresses an Oregon win. In that scenario, I'd assume there will be far more consternation about Nebraska and its continued inability to measure up nationally. For Oregon, it'd be a good non-conference win, but it's had a lot of those this decade.
Stewart: I heard the podcast where you and Bruce patted yourselves on the back about your preseason Louisville hype and also gave yourselves some grief about Tennessee. Any other bandwagons you're ready to jump off of, or any other preseason hype that's looking good for you so far?
— Brian Stewart, Buford, Ga.
Yes, I would like for people to forget I wrote and said repeatedly that TCU would field a "vintage Gary Patterson defense." Through two games the Horned Frogs rank 120th nationally in pass efficiency defense. I'm sure TCU will get better, but it may require Kenny Hill and KaVontae Turpin winning a bunch of wild shootouts just like Trevone Boykin and Josh Doctson a year ago.
I would definitely like to disown my preseason LSU playoff pick. Danny Etling may be an upgrade from Brandon Harris but I doubt he's a savior.
But I'd also like for you to keep in mind my preseason prediction of Pitt winning the ACC Coastal because that's definitely going to happen.
What is the role and mission of the NCAA, and should the NCAA become involved in polarizing political debates?
— Adam, Orange County
I assume Adam is referring to the NCAA's announcement Monday it will relocate the seven championship events it had scheduled in the state of North Carolina this year due to the state's controversial "HB2" law. This follows on the heels of the NBA pulling its 2017 All-Star Game from Charlotte and numerous entertainers and businesses boycotting the state.
The NCAA essentially serves two primary functions. One is to regulate its members' competitions by enacting and enforcing rules. The other is to stage championships. In regard to the latter, it's free to put on those events wherever it wants based on whatever criteria it decides, primarily arena size, willing host schools, adequate hotels, etc. But as of earlier this year, the criteria now include cities' and states' anti-discrimination provisions.
I don't see this as the NCAA getting involved in politics, though I'm sure Mark Emmert and the board relish what few chances the organization has to possibly affect larger changes. Pulling an event that could have had a significant economic impact for the state might help expedite HB2's repeal (which is going to happen at some point, given a judge already ruled it violates federal law.)
Of more immediate concern for the NCAA is that when it sends a team to one of its own handpicked postseason sites, it takes some degree of responsibility for their experience there. I can understand why it would feel uncomfortable sending LGBT athletes, coaches or fans of those respective teams to a state that enacted legislation directed against them.
Stewart: Please describe the despair in Iowa if (when) North Dakota State beats the Hawkeyes on Saturday.
— Matt, Atlanta
There will be a lot of people wondering whether the lawyers have formally executed Kirk Ferentz's extension. And why they ever agreed to a game against the five-time FCS champions.
The NFL is certainly a QB league. The teams with the best QBs – the Mannings, Brady, Brees, Rodgers, etc., are competitive every year. Why is it different in college? Alabama hasn't had a star NFL QB in ages and they win all these championships. How come you can win in college with a serviceable QB or "game manager?"
— Allan, Chicago
It starts with the fact the NFL exercises any number of mechanisms – the draft, free agency, a salary cap — to ensure as small a talent gap between the teams as possible. If you stripped away the quarterbacks from every NFL roster, you'd probably have 24 or so identical teams, so the few fortunate enough to have a Brees/Brady/Rodgers can consistently separate themselves from the pack.
Conversely, in college football, a small number of teams horde an inordinate amount of talent. Alabama can essentially sign 25 first-round picks every year. Thus, it separates itself from most of its competitors before even taking into account the quarterbacks.
However, I'd also contend that Alabama is itself an exception in college. It's the rare program that still wins primarily by running the ball and playing dominant defense. The last three non-Alabama champions, 2010 Auburn (Cam Newton), 2013 Florida State (Jameis Winston) and '14 Ohio State (J.T Barrett and Cardale Jones), did not follow that script. Neither did the past two runners-up, 2015 Clemson (Deshaun Watson) and 2014 Oregon (Marcus Mariota).
But that trend is not necessarily indicative of a sudden arrival of NFL-like parity. It's more that college rules and schematic trends have turned the sport that gives offenses an inherent advantage over defenses, in turn placing more value on difference-making quarterbacks than ever before.
After back-to-back 7-6 years at Penn State (yes, sanctions, I know), James Franklin has now lost to in-state opponents (Temple and Pitt) in back-to-back years. While Franklin was billed as an offensive mind with quarterback development skills, Penn State is still having trouble in the passing game. Could this lack of production saddled with losing to what most would refer to as inferior in-state opponents spell the end of his Happy Valley tenure after three years?
— Alex Failla, New Orleans
I've defended Franklin quite a bit to this point, in part because I believe Penn State fans are grading him on an unrealistic curve. I'm not sure many coaches would have fared much better than 7-6 with a roster decimated by years of scandal and sanctions. That being said, I picked Pitt – not an inferior opponent in 2016, by the way – to win last Saturday's matchup in large part because I believed Pat Narduzzi would win the coaching matchup with Franklin. Which he did.
But for those Penn State fans who have not already thrown in the towel on Franklin, Saturday's game was actually sort of encouraging. After it looked like Pitt was going to run the Nittany Lions off the field (which would have been really bad for Franklin) in the first half, going up 28-7, Penn State fought back and scored touchdowns on three of its next four possessions and had a chance to win in the final minutes. QB Trace McSorley endured too many sacks and lost the ball too often – including on a game-sealing interception — but in between he was an impressive 24-of-35 for 332 yards.
We didn't see that degree of resiliency very often in the Christian Hackenberg era.
So to answer the question, I believe Franklin will be back in 2017, but I believe this season may be one big yo-yo between moments of encouragement and frustration. Penn State will finish with a better record than 7-6, but maybe not that much better.
Assuming the Big 12 does not make the playoff, does the Sugar bowl have to take the Big 12 champion or can it take the highest-ranked Big 12 team? I ask because I can see a realistic scenario where Oklahoma finishes 8-4 overall but 7-2 in conference and wins the league, but Texas and Baylor both finish at 10-2/7-2 and ranked much higher than Oklahoma.
— Andrew Simmons, West Virginia
I'm not sure I've ever seen that happen in a conference with no divisions, but you're right that it's certainly possible if the Sooners lose to Ohio State this weekend and Texas beats Cal. In any event, yes, the Sugar Bowl hosts the Big 12 champ regardless. But one of the others could get an at-large berth to the Cotton Bowl if ranked highly enough.
Stewart: I've been a fan of yours since the "Bowls, Polls and Tattered Souls" days. As an alumnus of USC, the Alabama loss shook my faith as a fan. Looking at college football from 30,000 feet up, are the games more enjoyable to you as opposed being a fan of a particular school riding the highs and lows of the team? Being a fan of USC prevents me from enjoying what was arguably the greatest game in college football in this century (January 2006, Pasadena).
— Joe Cohan, San Antonio TX
Wow, have not seen a BPTS reference in a while. Congratulations, you have an outdated collector's item on your bookshelf.
It's not like I haven't experienced the highs and lows of being a fan, just not in college football and not anytime recently. I'm too busy monitoring every team in the country to spend time emotionally fixated on one, which is sad in some ways but easier in others. If, for example, your alma mater nearly gets shut out by Illinois State, you're too busy watching more important games to notice.
So I'd say the highs aren't as high and the lows aren't as low watching as a media member, but it's also much less stressful if you're not emotionally attached to either team.
Thoughts on Texas winning the Big 12 and being "back" to a national power one year earlier than projected?
— Gary Blacklock
I think you may want to focus on Cal first.