Texas Tech has no answers for Arkansas' rushing attack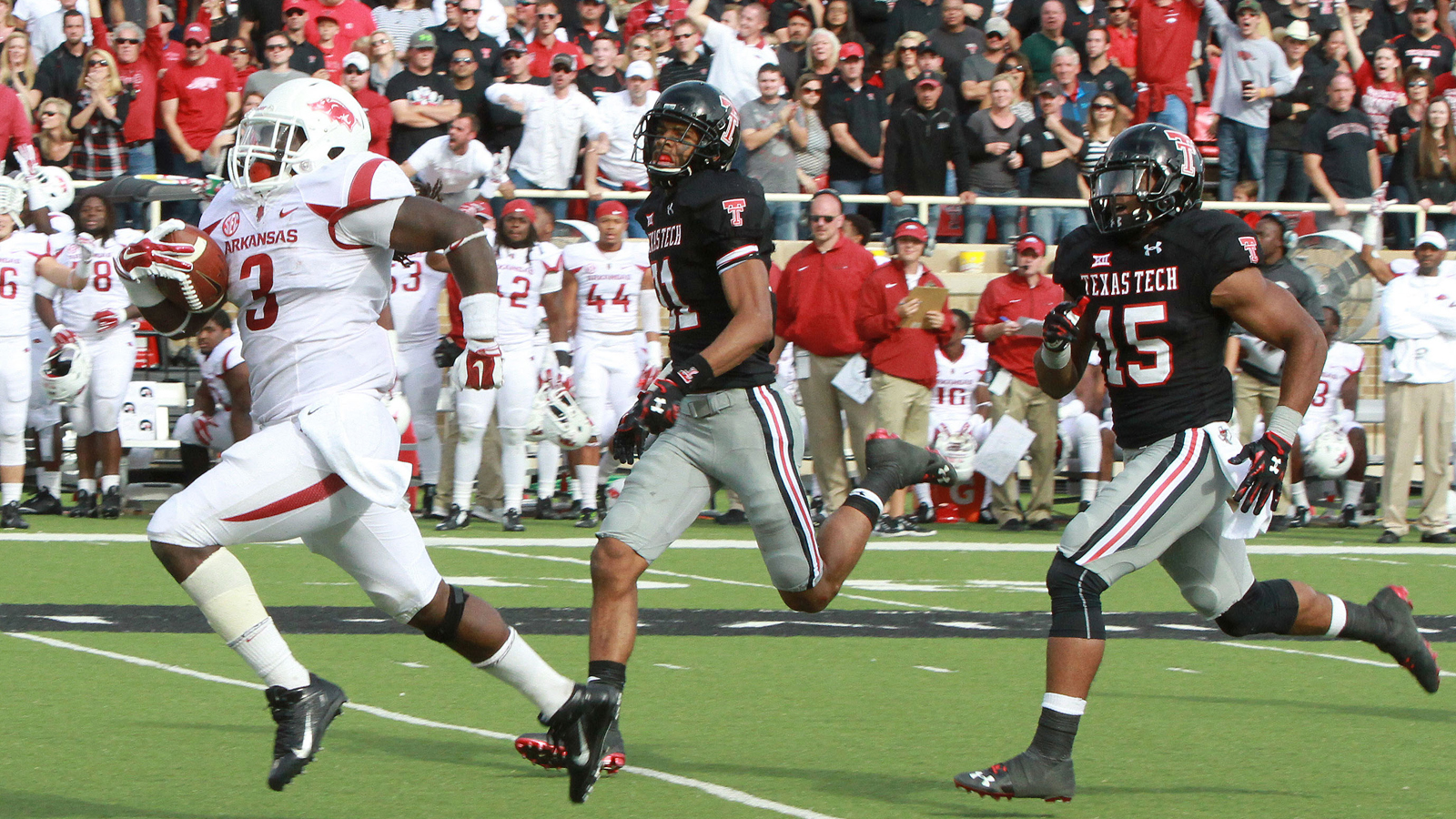 LUBBOCK, Texas — Texas Tech wanted to "black out" Arkansas on Saturday, but the Red Raiders got a black eye instead in a 49-28 loss.
The day began with Texas Tech honoring arguably the greatest defensive player in program history, Gabe Rivera. But not even "Señor Sack" could provide a spark on the field where he once dominated the Razorbacks in the early 1980s.
Arkansas punched the Red Raiders in the mouth all afternoon for 438 rushing yards and seven touchdowns on the ground. And the Hogs made it look easy as running back Alex Collins averaged 7.9 yards per carry on his way to a career-high 212 yards rushing.
"We knew what was coming but we just didn't get a stop," Texas Tech coach Kliff Kingsbury said. "They lined up and pounded us and we just didn't have an answer for that."
Texas Tech's defense had the same struggles last season. Linebacker V.J. Fehoko, a transfer from Utah, was one of several experienced players who came to Lubbock hoping to provide a boost.
But so far, there haven't been any signs of improvement.
"It's tough when the ball is not going your way," Fehoko said. "We've got a lot of young guys, but that's no excuse. We've got to be stronger mentally."
This performance shouldn't come as a surprise to anyone after Central Arkansas and UTEP had similar success on the ground the first two weeks of the season.
The Red Raiders' offense bailed them out against those inferior opponents, but they weren't able to do it against an SEC team.
Quarterback Davis Webb passed for 252 yards, three touchdowns and two interceptions. It could have been a lot worse, but several of his throws were dropped by Arkansas defenders.
"There were plays out there and we didn't make them," he said. "That's on me. I forced a couple of throws and had two turnovers. You can't do that if you're going to win."
Texas Tech was thought by some to be a dark horse for the Big 12 title, but many won't expect them to be very competitive anymore after three lackluster performances.
"We've got lots of football left and everything we want to accomplish is ahead of us," Kingsbury said.
Texas Tech has a bye week before kicking off conference play at Oklahoma State.
How will the Red Raiders respond after 10 days off?
"We'll find out next Thursday," Webb said.