An NBA player starting a reading club? Book 'em, Udoh!
Ekpe Udoh knows it is unusual for a professional basketball player to be in charge of an online book club, but doing something different was what the free-agent forward to be set out to do.
What started as an idea Udoh tossed around just before training camp last season has turned into a nearly 50-member online book club, one that recently met in person for the first time.
"It was just something I wanted to do," Udoh told FOXSportsWisconsin.com in a phone interview. "People around me would always recommend me books or stories on the Internet to read. I would always shy away from it. I picked up one book and I loved it. I just started picking up books.
"When you do something different you don't know what is going to happen. It has been great. I just tweet out, 'Are people ready for the next book today?' and they are ready."
Udoh opens the book club by tweeting out a link to a sign-up page, personally sending out books to 48 people. He then sends each member an e-mail with a schedule of how much to read in a given week and when the discussions will take place.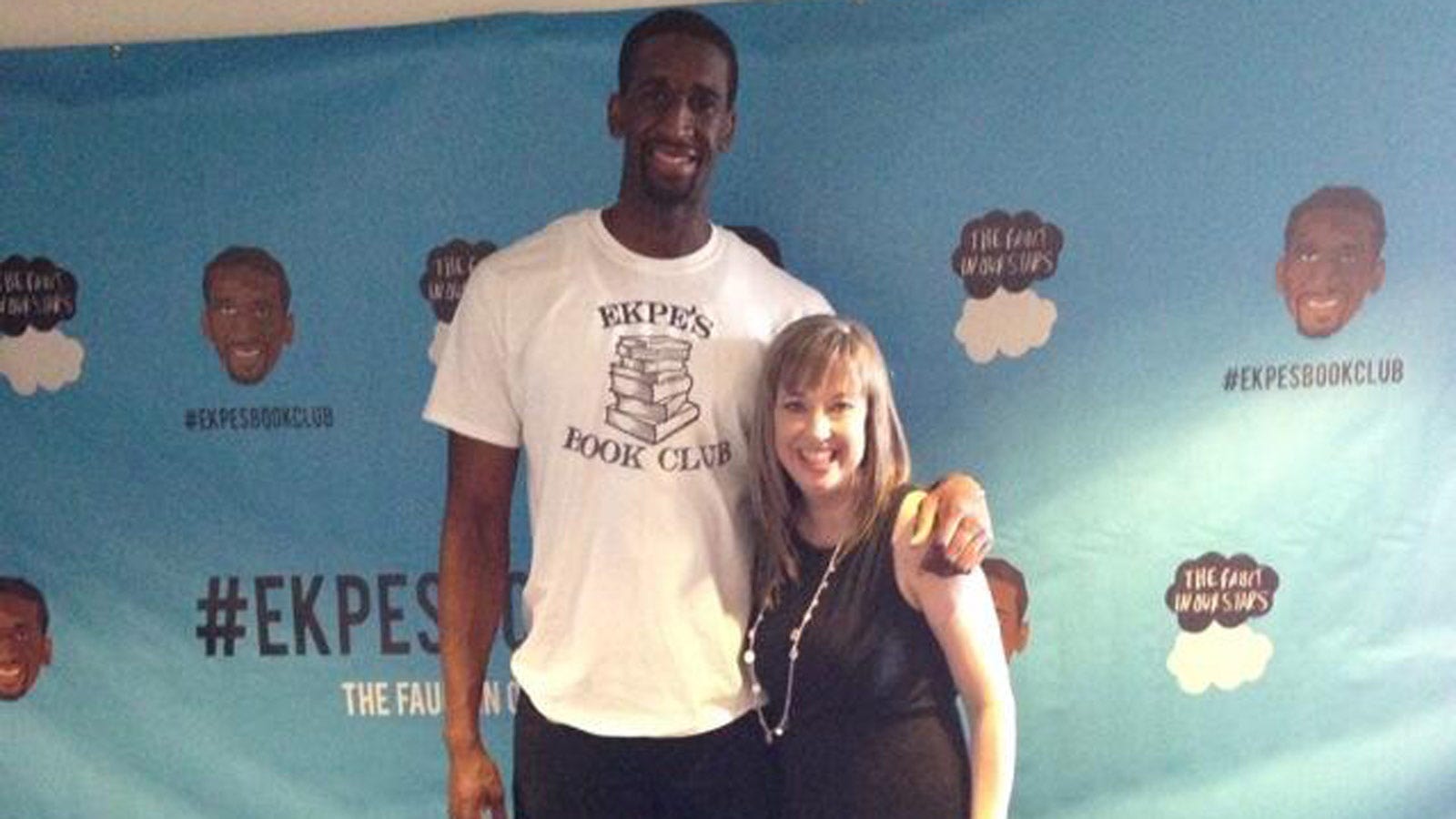 The book club holds discussions via Twitter once a week with the time and day varying based on Udoh's availability. Starting with the "Last Lecture" by Randy Pausch, five books have been read with a discussion on a sixth book about to begin.
"A couple conversations I've had with random people, they are very surprised when I say I run a book club over Twitter," Udoh said. "They look at me like, 'Woah, that's impressive.' Hopefully I can get more and more athletes that I know to chime in here and there."
Natalie Tate, a Waco, Texas resident who has followed Udoh ever since he played at Baylor, joined the club for the third book after she saw the first few discussions on Twitter.
"Sometimes it seems a little bit surreal that you are having these online conversations with someone who is a household name," Tate tolf FOXSportsWisconsin.com. "I've told people from Texas and Big 12 fans about the book club, and they recognize his name. They were very surprised to hear he takes time out every week just to sit down and talk with us, even though it is over the Internet."
Udoh took things a step further recently by covering the expenses for more than 20 people to come to Dallas for the first in-person meeting of the book club. At first, Udoh wasn't sure he would be able to handle the logistics, but he ended up centering the gathering around the movie premiere of one of the books the group had discussed, "The Fault in Our Stars" by John Green.
"It was great," Udoh said. "They all had a good time, I believe. When I walked in for the lunch, everyone was laughing and talking together. It is sort of like a family. It was surreal to get to do this.
"Social media is amazing if you use it for the right things. Book club has been nothing but positive. Just giving people to get out of their comfort zone and come to Dallas so we could kind of have our first in-person meeting — social media is amazing."
The beginning of the book club coincided with what was the toughest season of Udoh's four-year career, as he battled a variety of injuries over the course of the year. Udoh averaged just 19.1 minutes over 42 games for the Bucks in 2013-14, scoring 3.4 points and grabbing 3.5 rebounds per game.
Udoh credits reading as one of the ways he got through such a difficult season.
"You have other things in life that helps you get through things, but this is something that takes my mind off of it," Udoh said. "With reading, you can take your mind wherever you want to go, or read into the mind of somebody else. I think that's helpful and it did help me during the year."
Tate has been a fan of Udoh since his Baylor days, as her husband bought her his jersey as a birthday present after the forward was drafted by the Golden State Warriors in 2010. Her respect level for Udoh has only grown since she joined the book club.
"I think he's a really good role model for kids who are growing up and watching basketball," Tate said. "Maybe they will hear about this and think it is a good idea to read. It doesn't have to be all sports, it can be both.
"I was a huge fan of him as a basketball player, but now having done the book club, I'm a huge fan of his as a person."
While Udoh plans to continue running the book club for the foreseeable future, it is unclear if he'll be doing it as a member of the Bucks. Milwaukee has until June 30 to submit a qualifying offer worth $5.96 million to Udoh.
If they do, Udoh will be a restricted free agent, meaning the Bucks will have the right to match any offer sheet he signs with another team. Udoh also could accept a one-year, $5.96 million deal from Milwaukee in order to become an unrestricted free agent after the 2014-15 season.
The Bucks could also decline to extend a qualifying offer to Udoh, which would immediately make him a free agent.
"I'm just waiting to see come July 1st," Udoh said. "I'd love to go back if they would like me back, but if not, wait and see and keep on grinding in the gym.
"I had a tough year with the injuries, but now that I'm healthy and I figured out why my body was acting like that, it won't be a problem."
Follow Andrew Gruman on Twitter