Inside TCU's offensive overhaul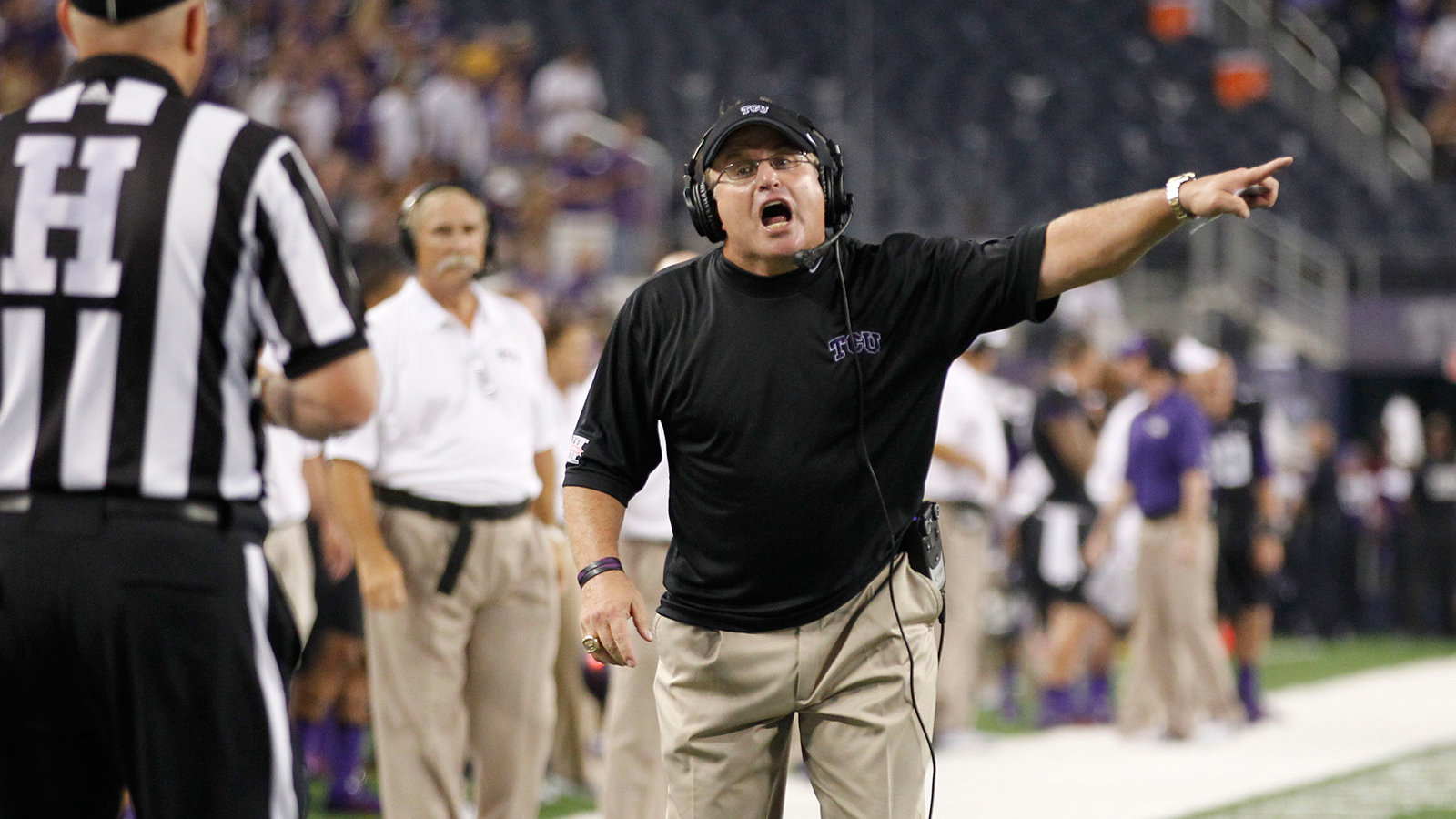 FORT WORTH, Texas – Gary Patterson was tired of an all-too familiar scenario playing out again and again.
He'd invest time and money into recruiting an offensive player. He wouldn't like what he heard when a player decided where he'd play college football.
"Sorry, Coach. I want to play in a system like the one I know from high school."
The rise of passing offenses and 7-on-7 tournaments in Texas has helped the spread offense replace smashmouth running games as the offense du jour in the state over the past 15 years.
Recruits would say "Thanks, but no thanks, TCU" and leave for wide-open spread schemes at Texas Tech, Oklahoma State or elsewhere, even if they called the Dallas-Fort Worth metroplex home.
"I saw too many good players leave the state because they considered us a running team and play action," Patterson told FOX Sports Southwest this week.
That was a big reason Patterson moved away from Jarrett Anderson and Rusty Burns, who now coach offensive line and outside receivers, as co-offensive coordinators.
It wasn't the only one.
TCU finished eighth in the Big 12–ahead of only Iowa State and Kansas–in offensive yards per play in their first two seasons in the Big 12.
It was a glaring issue Patterson knew needed to be fixed. The Horned Frogs fell to 4-8 in 2013 and missed a bowl game for the first time since 2004. How those games were lost concerned Patterson most.
The Frogs settled for a field goal down six on a long drive in the middle of the fourth quarter against LSU. A long return on the ensuing kickoff set up an LSU touchdown and TCU never got another opportunity to take the lead.
They failed to earn a first down in the first half against Oklahoma and trailing 13-10 in the fourth quarter, punted. Once again, TCU didn't get another a chance to take the lead.
The Horned Frogs scored 10 points in a loss to Texas Tech and didn't score in overtime in a loss to West Virginia.
TCU's offense settled for a 56-yard field goal to take a narrow lead in the final minutes of a loss to Kansas State and threw an interception in the end zone to end an upset bid against Baylor, the Big 12 champions.
Six of TCU's eight losses came by 10 points or less, and in nearly every case, a more efficient, productive offense could have changed the result.
"I'm looking for a team that, when we have the ball the last series of the game, we can go down and be dynamic enough that we go score," Patterson said.
That led Patterson to Doug Meacham, a who coached tight ends and receivers at Oklahoma State from 2005-12 and before leaving to call plays and coach quarterbacks at Houston in 2013. He suggested bringing Sonny Cumbie, who had spent four years as an offensive assistant at Texas Tech, aboard to help install his spread attack and move away from TCU's more traditional offense.
Patterson knew Meacham was an Arlington, Texas native and used high school coaches across the state to help vet both new hires and ensure they'd have the desired impact on the recruiting trail as well as on the field.
"When I heard they were coming together, I knew this was going to be something special," senior receiver David Porter said.
For players, installing the offense meant meeting for an hour or two every day as soon as both were officially hired and going over game tape. Like fellow Big 12 rival Baylor and others in college football, Meacham's offense doesn't use a traditional playbook. Players watch plays on tape and learn their assignments by drawing them and writing notes in a notebook.
"I like it, because that's how I was out of high school. At DeSoto (High), we ran an uptempo, no huddle offense," Porter said. "It was easier for me than others, because I'm used to learning like this."
The offense will be fully committed to a spread and feature few, if any, concepts used in the previous offense.
Neither Houston nor Texas Tech ranked in the top 75 nationally in yards per carry last season, but Patterson doesn't envision a lack of toughness on the line of scrimmage becoming an issue.
"It's the way you practice. You look at Oklahoma State, they were a really good running team this year and played really good defense and came close to winning the conference title," Patterson said.
The Cowboys were just 54th nationally in yards per carry, but tied Texas for fourth in the Big 12. TCU was last in the conference.
"I think it all comes down to mindset," Patterson said.
Once TCU got to see the new offense in action, it didn't take long for its biggest difference to be crystal clear to the defense charged with stopping it.
"The very first day we went out there for (11-on-11 drills) and I was like, 'Man, I never knew our offense could go this fast.'" defensive tackle Chucky Hunter said. "I was kind of surprised, but I liked it."
Patterson figures practicing at that speed will better prepare his defense to face offenses that operate at similar tempos. Over the past decade, as former Texas Tech coach Mike Leach's influence has spread through the Big 12, uptempo offense has become the norm. Texas Tech, Baylor, Oklahoma, West Virginia, Oklahoma State all use high-tempo offense more often than not.
"Finishing in the fourth quarter, that was one of our weaknesses as a defense," Hunter said. "We didn't finish. When it was time for us to make the right stop and buckle down and help our offense, we didn't buckle down, we faded away a little bit."
Patterson wants to see that change. The defensive guru made it clear in Saturday's spring game that his defense is ahead of pace compared to the offense, which didn't score a touchdown.
For now, Patterson openly refers to junior Trevone Boykin as his starting quarterback, but backup Tyler Matthews worked with the first team often during spring.
Incoming freshmen Foster Sawyer and Grayson Muehlstein were daily visitors at practice this spring and could challenge for the job in fall camp.
Meacham's stated goal is to lead the Big 12 in first downs and have the fewest giveaways. It's a safe bet that the quarterback who best allows the Frogs to reach that goal will win the job. Boykin has struggled with accuracy issues throughout his career and threw just seven touchdowns to seven interceptions a year ago.
Can an offensive overhaul jumpstart TCU's hopes of becoming a Big 12 power? Patterson wants to see it start on the field this fall and continue on the recruiting trail.
"As we move forward, it's not a finished product. As we recruit to it, kids see once you have success in it, more and more kids know they don't have to leave home to be able to come and be a part of it," he said. "That's what we're trying to get accomplished."