Houston makes stunning comeback over Pitt in Armed Forces Bowl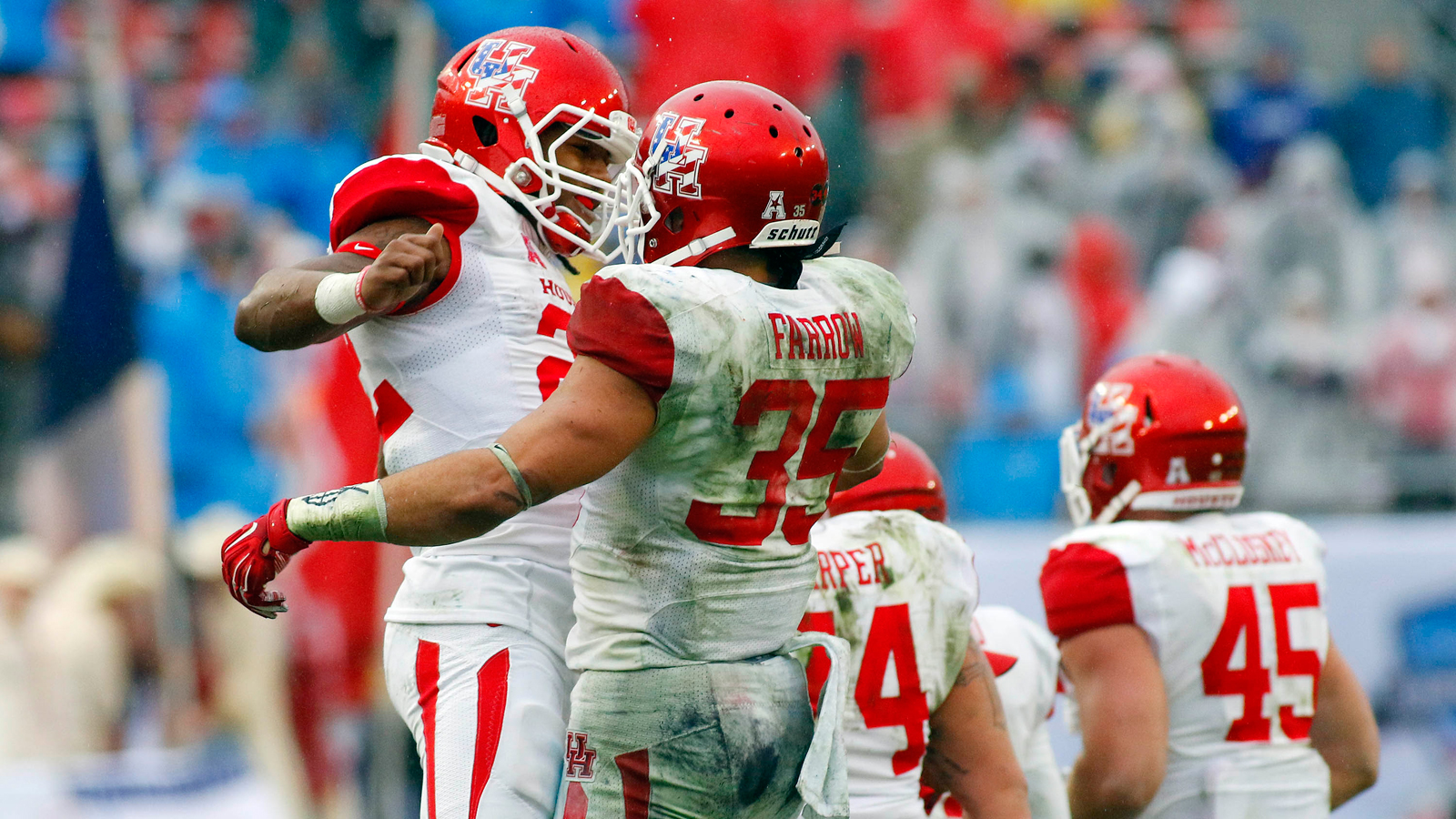 FORT WORTH, Texas — Give the Houston Cougars credit for sending out interim David Gibbs in style.
Historic style that is.
The Cougars rallied back from 31-6 deficit in the fourth quarter for a stunning 35-34 win over Pittsburgh in the Lockheed Martin Armed Forces Bowl.
The Cougars scored three touchdowns in the game's final four minutes, converted a pair of onside-kick tries and then won the game on a two-point conversion.
The dizzying rally gave the Cougars (8-5) the biggest bowl comeback of the season and tied for the third biggest in bowl history. It certainly was a memorable final game for Gibbs, who will be replaced on a full-time basis by Ohio State offensive coordinator Tom Herman.
"It was impossible but we did the impossible," said Gibbs, whose team is now responsible for the largest comeback in the FBS this season. "We just started pecking away and kept after them. Every day we tell the players it's a 60-minute game."
Greg Ward Jr. accounted for all three of the touchdown passes in the final 3:41, with his 25-yard pass to Deontay Greenberry on 3rd and 16 making it 34-33 Pittsburgh with 59 seconds remaining. Instead of going for the tie, the Cougars went for two. Ward rolled to his right and threw a jump ball that Greenberry came down with again, putting Houston up.
Gibbs said the Cougars decided during their bowl preparation that if they were in a situation where they could tie for or go for the win they'd go for the win and that they had practiced that play 25 to 30 times.
The two-point catch capped a four catch, 85 yard, two-touchdown quarter for Greenberry, who didn't have a catch in the first three quarters. It also ended a dizzying period for Ward. He had 37 yards passing through three quarters and finished with 274.
Pittsburgh got to midfield and would have been in field-goal range in the final seconds but Tyler Boyd dropped a pass.
"We've been through a lot of games where we was coming from behind and we got close to coming back and winning the game, but we just couldn't finish it," Greenberry said. "It's all about just never quitting. We just went out there and gave it all we had and left it all on the field for our seniors."
The Cougars were dead after a field goal with 6:41 put the Panthers (6-7) in front 34-13. But the first Ward to Greenberry TD gave the Cougars a much-needed spark.
Ty Cummings then perfectly executed an onside kick to give the Cougars the ball right back. Ward found Demarcus Ayers on 4th and 13 for a 29-yard score with 1:58 remaining.
Bullard, who had an extra-point blocked in the first quarter, came up big again with another onside kick that didn't go 10 yards but was fumbled by a Pittsburgh defender.
That helped complete the rally in a game that featured two interim coaches and with new Pittsburgh head coach Pat Narduzzi watching from Amon Carter Stadium. Narduzzi was at AT&T Stadium as Michigan State's defensive coordinator Thursday. He had a hand in Michigan State's rallying from a 41-21 deficit to beat Baylor 42-41.
That was the biggest bowl rally of the season. For one day.
MORE FROM FOX SPORTS SOUTHWEST:
– Highest paid coaches in college football
– Ranking NFL quarterback salaries
– Oldest player on every NBA team