Whitner gets feisty on Twitter, takes shots at Bills, Talley
Donte Whitner seems to have what some people like to call "Twitter muscles."
The Cleveland Browns safety went on a rant Thursday night after NFL Network unveiled its annual Top 100, as voted on by other players. Whitner, who did not make the cut, used Twitter to question the validity of the rankings and voting process.
When a fan expressed surprise that Whitner didn't make the Top 100 cut, Whitner answered, "it's ok. . . . players don't vote on that. Nor does coaches."
"The people @nflnetwork votes on that" Whitner wrote. "No one in the 49ers locker room voted! None of my friends around the league voted!"
The clash continued when the NFL Network Twitter account fired back at Whitner, denying his allegations.
@DonteWhitner No we don't.

— NFL Network (@nflnetwork) July 4, 2014
But the fireworks didn't end there.
Whitner then began taunting fans of his former team, the Buffalo Bills, joking about the team possibly moving.
Wonder how you Bills fans gonna feel when the team is moved? LOL

— DonteHitner (@DonteWhitner) July 4, 2014
Can you say Toronto Bills?!?!?!?!

— DonteHitner (@DonteWhitner) July 4, 2014
Naturally, that didn't sit well with the fans — or former Bills linebacker Darryl Talley and his wife.
The Twitter beef ended with Whitner challenging Talley to a boxing match.
.@pthomas3434 I'm gonna have 2 go all Louis Vuitton suitcase on this negro @DonteWhitner.

— Darryl Talley (@DarrylTalley) July 4, 2014
@DonteWhitner When u come out the tunnel in November look up and left. U'll never see ur name there or anywhere.

— Darryl Talley (@DarrylTalley) July 4, 2014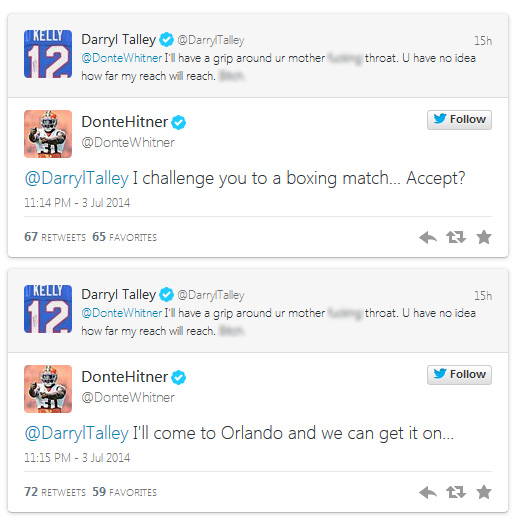 Boxing? LOL. we're football players. i challenge u 2 stats. RT @DonteWhitner: @DarrylTalley I challenge you to a boxing match… Accept?

— Darryl Talley (@DarrylTalley) July 4, 2014