YES! Ten surprising revelations from Bryan's new autobiography
WWE superstar and enormous fan favorite, Daniel Bryan, reveals all in his new book "YES! My Improbably Journey to the Main Event of WrestleMania," which is now available in stores and online.
Bryan shares his journey from wrestling on the independent scene to joinning the WWE, getting fired by the WWE and finally winning the title at WrestleMania.
He also talks about his romance with WWE Diva, Brie Bella, his "hippie" lifestyle and more.
1. The first time Bryan tried to have sex with then-girlfriend, now-wife, Brie Bella, two fellow WWE superstars, Ted DiBiase Jr. and Sheamus, interrupted the moment.
From the book: "We were naked and about to do our thing when all of a sudden we heard the sound of the door handle turning and then the door popped open. Bri jumped under the covers as Teddy and Sheamus barged into the room, inebriated as can be, wit the 'Ahhh fella!' and all that."
2. Vince McMahon was not happy about Bryan once being a vegan early in his WWE career.
From the book: "My first NXT match against Chris Jericho went really well and when Chris got to the back, he expressed to Vince McMahon what a great job I'd done. As Chris tells it, Vince responded almost in disgust, a grunting and then saying, 'Him? He doesn't even eat meat!' "
3. While Bryan was training at Shawn Michaels' wrestling school in his younger days, a not-so-healthy Michaels was demonstrating how to take a back body-drop. This led to Michaels getting yelled at by his mother in front of the whole class.
From the book: "All of a sudden from one of the doors I heard a woman scream out, 'Michael Shawn Hickenbottom! What are you doing?' It was Carol, Shawn's mom, and she gave him an earful in front of all of us for going against doctors' orders."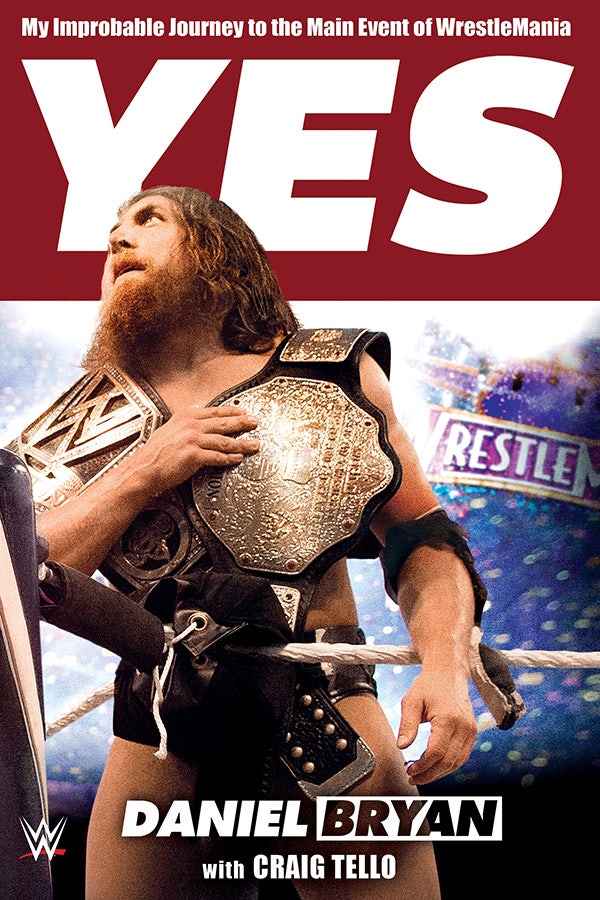 4. Two of the names Bryan, whose real name is Bryan Danielson, considered using before settling on Daniel Bryan were "Buddy Peacock" and "Lloyd Boner."
5. When he was a kid, Bryan was an avid baseball card collector.
From the book: "I ended up collecting a lot of players who were good but not necessarily stars. In baseball, instead of liking Ken Griffey Jr. — who was on the Seattle Mariners and whose cards were always worth a lot — I liked Roberto Alomar and Paul Molitor."
6. The first time he won the WWE World Heavyweight Championship at a Tables, Ladders and Chairs pay-per-view, Bryan didn't find out until the day of the event.
From the book: "It was looking like I wouldn't be at WWE TLC either, but at the last minute I got booked at a Kmart to do a signing with Kelly Kelly before the show. … After my signing, I came to the building, not expecting to be doing anything. I was just chatting and goofing around (at one point, I was browsing the Internet for the best paper airplane design, as I recall)."
7. After winning the title, Bryan started doing his now-infamous YES! chant after getting instructions from Vince McMahon.
From the book: "The one thing he did want was for me to be the happiest guy in the world as champion. Every time I went out, I had to treat it as if I had won the lottery. 'In this instance, there's no such thing as too over-the-top,' he said. I started by occasionally 'YES!'-ing during my entrance, and then after I'd win a match, I'd scream 'Yes!' again. For there it evolved rapidly, to the point where I was 'Yes!'-ing the entire way down the ramp in celebration of being champion."
8. Bryan was supposed to wrestle Charlie Sheen at SummerSlam in 2012, but the match never happened.
From the book: "He was going through a very public breakdown at the time, and somehow WWE brokered a deal for him to perform against me. He taped a couple of videos for 'Raw' insulting me, and even though it was a goofy match to be in, it would've put me in one of the top matches at SummerSlam. Unfortunately, whoever brokered the Sheen deal never got him to sign any sort of contract to do the event, and in typical Charlie Sheen fashion, he bailed."
9. He almost got into a fight with the company's COO, Triple H, after HHH stopped a match Bryan was supposed to win before getting injured.
From the book: "Usually I don't get super angry, and when I do it's barely visible. This time, I was furious and I let everyone know it. When I walked through the curtain, I yelled, 'What the f— is that all about. That's f—ing bull—-!' 'You need to calm down,' responded Triple H, who had been communicating with the doctor over the headset and called for the match to be stopped. 'No, you need to calm the f— down,' I replied. We were up in each other's faces and both ready to fight."
10. Bryan and Brie scheduled their wedding to revolve around Brie's shooting with the E! reality show, "Total Divas," which paid for their wedding.