Ian Anderson signing finalizes Braves' draft-day pitching coup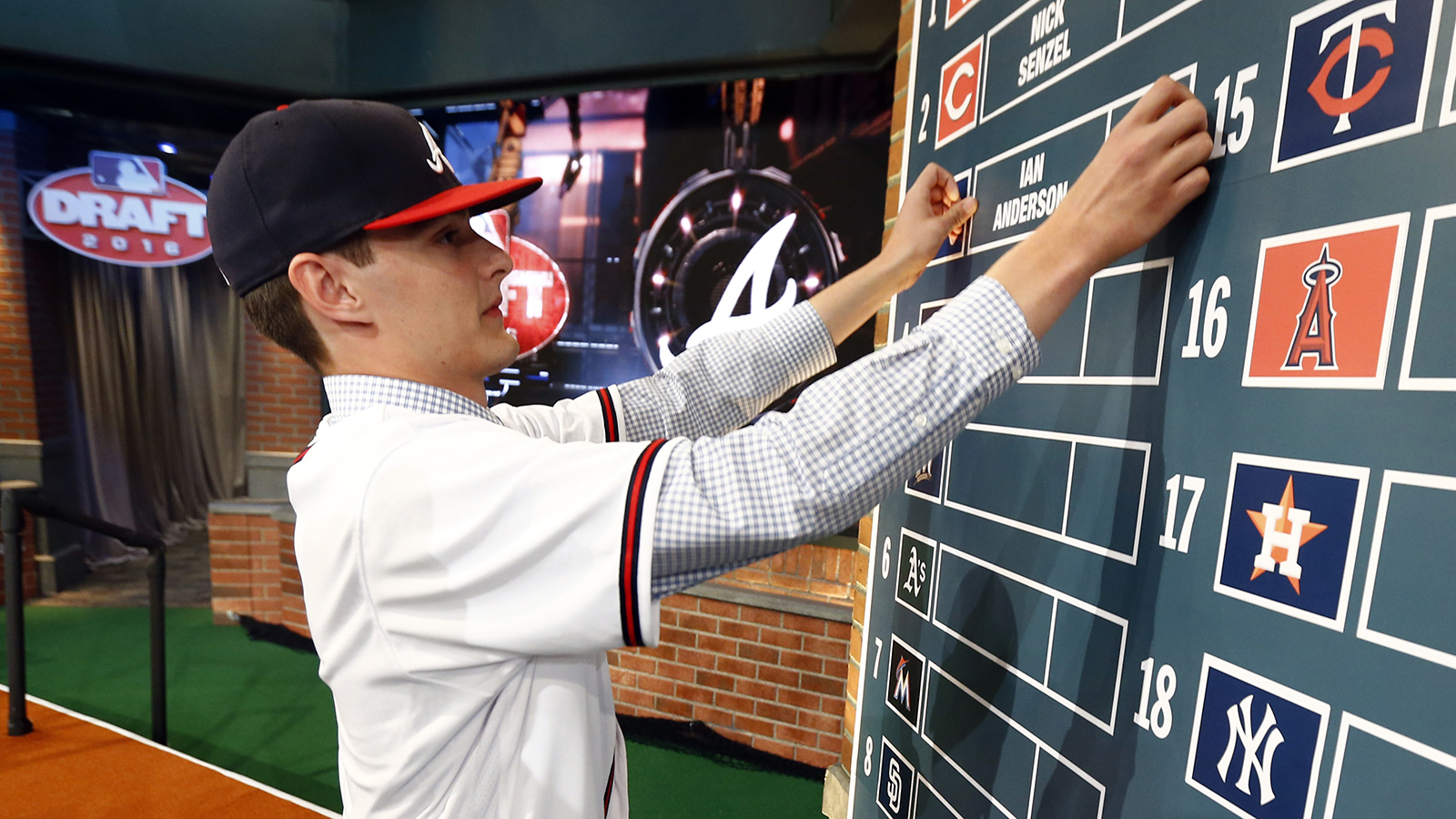 Two weeks ago, Braves signee Kyle Muller set the stage for his reunion with former USA Baseball's Tournament of Stars counterparts Ian Anderson and Joey Wentz in Atlanta's farm system: "I feel like we're gonna pick up right where we left off."
With Anderson, the franchise's top pick in the 2016 draft, agreeing to terms and heading to the Gulf Coast League on Sunday, the Braves' newest and youngest pitching trifecta is officially in place.
Atlanta's front office eschewed positional needs in favor of high-upside value on draft night — restocking an already overstocked farm system with prep arm talent from New York, Kansas and Texas in the first two rounds alone — while simultaneously maneuvering within MLB's bonus pool constructs.
The signing of Anderson at a reported $4 million offered the franchise a $2.5 million discount at No. 3 overall, which it then flipped into over-slot financial packages for Wentz and Muller. (Note: Anderson's signing is pending a physical.) In total, the Braves spread approximately $11 million across their top four picks, including Cal catcher Brett Cumberland's $1.5 million bonus — the price of acquiring premium talent.
Scouting director Brian Bridges said the team landed three of the top-20 players on its draft board in Anderson, Wentz and Muller.
And while there's an impulse to look at Anderson as simply the affordable option with the third overall pick, essentially becoming a vessel to reach the Gatorade National Player of the Year (Muller) and the perfect 0.00 ERA out of Kansas (Wentz), Anderson is noteworthy in his own right. The 6-foot-3, 170-pound righty does not possess the physical attributes of his new left-handed teammates, but he was the highest-rated pitcher of the bunch entering the draft process, possessing advanced command for an 18-year-old and touching 97 with his fastball. Bridges doubled down on the expectations with his Mike Mussina comparison on draft night.
1st-rder Ian Anderson, @Braves agree on $4 mil (pick 3 = $6,510,800). New York HS RHP, projectable, 91-95, makings of plus SL. @MLBDraft

— Jim Callis (@jimcallisMLB) June 25, 2016
"I say that I took the best pitcher available on the board," Bridges said that evening, lofty praise considering the Braves could have selected any amateur pitcher in the country. "We feel like this guy better fits our organization moving forward."
Anderson finished his prep career with a flurry, leading Shenendehowa High School to a New York state title and posting a perfect 4-0 record without allowing a single run in 28 innings pitched. He struck 41 batters over that span.
Atlanta has now signed each of its top 10 selections and 32 overall. The franchise must avoid exceeding $13,885,385 in total pool money — in other words, 5 percent above its given draft bonus pool — or else be penalized by losing its 2017 top pick, an incomprehensible conclusion given that it should be another top-five selection, perhaps No. 1 overall. (The Braves pulled their offer to 16th-round pick Josh Anthony to avoid this exact situation.) By balancing the expenses on the top four picks with under-slot college seniors in the middle rounds, the talent acquisition budget is expected to stay out of the red.
All told, when Anderson reports to Orlando on Sunday, the Braves are poised to boast the top pitching rotation at the minors' lowest level, if they didn't already. Best of luck, GCL hitters.