Aging in the NBA: Brand puts ego aside to keep contributing for Hawks
ATLANTA — Elton Brand doesn't do social media. Well, technically he's tried it, but his foray into Twitter lasted 24 hours and there was the time he called Instagram "Intergram."
"They were laughing at me (for that)," the Hawks forward said.
But the 35-year-old, who will turn 36 in March, doesn't want to seem out of touch. He'll tell teammates about songs and tries to stay up on what's going on in their worlds.
"I know enough to stay cool," he said.
Brand is 15 years away from being eligible for AARP membership, but in his 16h NBA season, his age can seem ancient. Kobe Bryant, who is less than a year older than Brand, summed up his reason for missing consecutive games succinctly: "Old age."
The NBA skews the youngest of any of the United States major sports institutions, with the highest concentration of players between the ages of 22-25 (per this player census), while the NFL is at 23-25, MLB at 26-30 and this season only one NHL team, the Devils, has an average age of more than 28 at 30.3.
Roster sizes certainly play a major role, but the NBA is unforgiving when it comes to trying to cheat time as it has the smallest group of players 35 and up with just 23 (5.2 percent). While there are the likes of Bryant (36), Tim Duncan (38), Kevin Garnett (38), Manu Ginobili (37), Paul Pierce (37) and Dirk Nowitzki (36), all of whom are playing at least 22 minutes a game, the stars of the early part of the century are disappearing.
The reason, Brand isn't simply a matter of fading talent. It's something far more controllable and internal.
"You have to take the ego out of it," said the forward, who is averaging 2.8 points and 2.9 rebounds in 12.9 minutes a game with Atlanta, all of which are career lows. "You still have pride and you still can help the team win, but you to take the ego out, like 'Oh, I should be starting' or 'Oh, I should be playing this many minutes.' You won't make it.
"You see a lot of former All-Stars or guys that felt that they were good players in the league not want to take a role and then they're upset because they're not in the league and they want to get back. But it's too late and you've already burned your bridges."
Back when he was coaching the Rockets, Jeff Van Gundy had a collection of 30-somethings in Tracy McGrady, Yao Ming, Derek Anderson, Jon Barry and David Wesley. They were mired in a scoring slump and when asked about dueling with Father Time, Van Gundy quoted the legendary Bill Walsh.
"Coaching the aging star in decline is the most difficult coaching there is," Van Gundy said. "Coaching older players in general is difficult. That's why guys can't play forever."
Unless they are willing to adapt.
Taken with the No. 1 pick in the 1999 draft by the Bulls after claiming National Player of the Year honors out of Duke, Brand was an All-Star in 2001-02 and '05-06 with the Clippers and averaged at least 20 points and 10 rebounds four times.
Those days are long gone. Brand knows he can't jump as high as he used to when he was averaging 2.8 blocks a game and he's not as fast as he once was.
When he signed a one-year, $4 million deal with the Hawks before last season, Brand was joining a roster with a frontcourt headlined by players that he used to dominate.
"You come in and you're like 'Oh, I used to go at Paul Millsap. I used to go at Al (Horford) when they were young," he said.
But he was being asked to be a role player and not a centerpiece and Brand has proven crucial, both on the floor — he averaged 5.7 points and 4.9 rebounds in 19.4 minutes per and was then brought back on another on-year deal, this time at $2 million — and off.
He's proven vital to coach Mike Budenholzer, who looked to Brand to help set the tone when he was a first-year head coach last season.
"He's been invaluable to me and he's been invaluable to our young players," Budenholzer said. "I think the interesting thing is he's invaluable to our older players too."
Especially Paul Millsap. When he came out of Louisiana Tech in 2006 he was an undersized power forward at 6-foot-8. That same tag was put on the 6-9 Brand and Millsap said he looked up to him for it. Now he's utilizing Brand as a resource.
"I ask him questions all the time," Millsap said. "We play the same position and watching him do it in past years, it's inspirational to watch the things that he's been through and any given time he can come in and contribute."
Brand sees this as an opportunity to do what the likes of Dickey Simpkins, Randy Brown and Sam Cassell did for him, guys who helped him learns the ins and outs during his younger years.
"When they come to me the 'OG vet' I'll give it to them from my heart and what I feel is best for them," he said. "Definitely they come to me about a lot of stuff on and off the court. I embrace that role."
Brand's game used to revolve around posting up and finishing around the rim. Now it's about mid-range jumpers — which the shot chart to the right illustrates — and utilizing his knowledge of the game.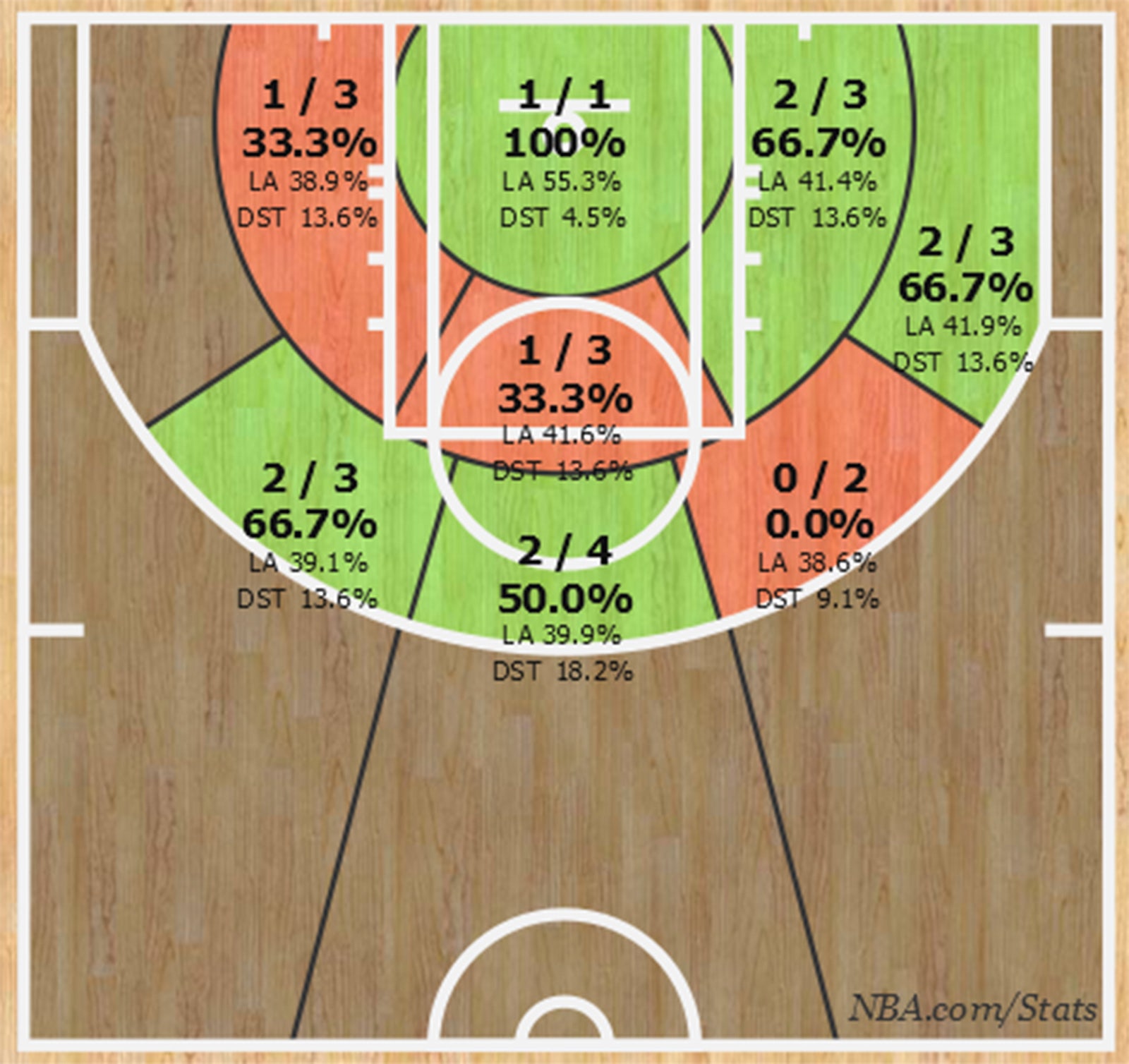 He knows its cliche, but Brand said the game is slowing down for him. He's seeing passing lanes and plays develop in a different want than he did before.
"There's that adage 'If I'd known then what I know now' it's that kind of thing," he said.
During shooting drills after a recent practice, Brand was laughing as he tried to guard speedy point guard Dennis Schroder, who is 14 years his junior.
"(With me) former All-Star, 20 and 10 and stuff like that, but you're playing for the love and for the game of basketball," Brand said. "To be 35, turning 36 in a few months and still out here competing? You love it but you have to take the ego out of it."
Follow Cory McCartney on Twitter @coryjmccartney