Grizzlies' offensive issues underscored in Game 1 loss to Spurs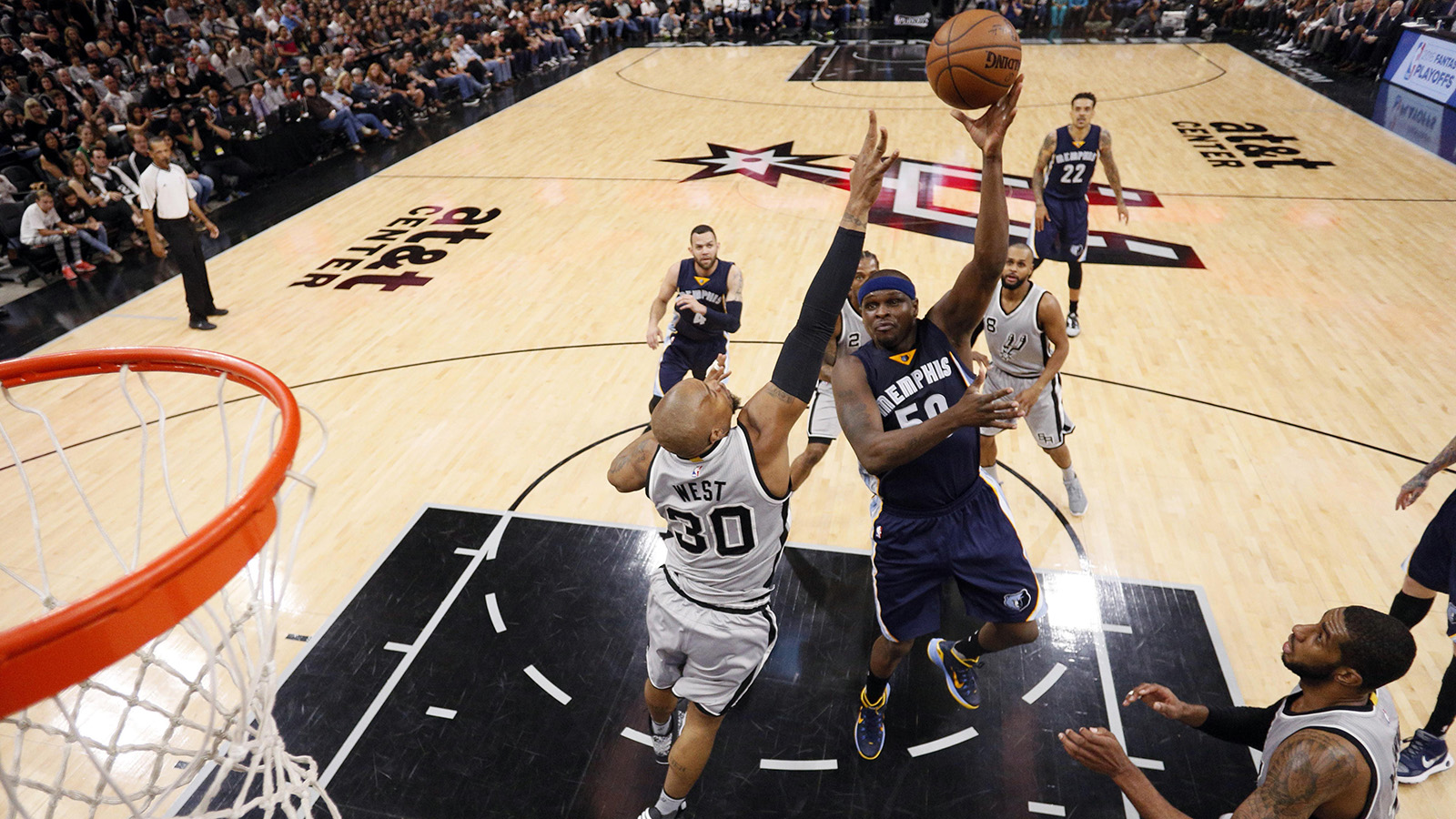 The Memphis Grizzlies were in trouble the moment their name dropped to the Western Conference's seventh spot — and, technically, well before the regular season came close to its conclusion. The San Antonio Spurs were going to be a nightmare matchup for any team not named Golden State.
Following a 32-point drubbing in Game 1, the Grizzlies already look like their in hot water.
Missing Mike Conley, Marc Gasol, Mario Chalmers and Brandan Wright — not to mention midseason trade pieces Courtney Lee and Jeff Green — the Grizzlies could not sustain their decent early showing against the defensive juggernaut. An 11-point halftime deficit turned into a rout by the third quarter. As San Antonio tightened its grip, Memphis shot just 39.2 percent from the floor, attempted just six free throws and committed 16 turnovers.
Not even a quality outside shooting night (knocking down 8 of 18 3-pointers) from the worst outside shooting team in the playoffs could turn the tide. Zach Randolph, JaMychal Green and Jordan Farmar, the team's three leading scorers over the final 10 regular-season games, combined for just 19 points.
The team's leading scorer in Game 1, veteran guard Vince Carter, thought San Antonio's third-quarter run shook their collective confidence.
"They hit first. Stepped up their defensive pressure, caused a lot of turnovers for us and got easy baskets. I think when you're playing against a team like this at home you have to value the basketball and you have hit shots as well," said Carter, who scored 16 points in the 106-74 loss. "So when we're turning the ball over and not hitting shots, the lead can go from a five-point game to a 15-, 20-point game in the blink of an eye.
"That's what happened for us. I think it rattled us a little bit."
This is far from a surprising development.
The shorthanded Grizzlies limped to the regular season's finish line, losing 10 of their final 11 as many of their top players watched from the sidelines. Over that final stretch, their offense was varying degrees of inadequate. Only the Los Angeles Lakers hit a lower percentage of shots (47.2 percent effective shooting) and claimed a lower assist ratio. The Grizzlies' two redeeming qualities late in the season — taking care of the basketball and offensive rebounding — were largely taken away in Game 1.
The Spurs do not need the help, either. They are a buzzsaw regardless. It was no accident that Gregg Popovich's team posted the best defensive rating in three years.
Behind reigning NBA Defensive Player of the Year Kawhi Leonard, who logged arguably the greatest "3-and-D" campaign ever to build a convincing case to repeat as the league's premier stopper, the Spurs have little use for gambling: They force difficult shots, keep opponents off the foul line and snatch ever defensive rebound in sight. Throw in the fact that their only home loss came at the hands of arguably the greatest NBA team ever, and Sunday night's result offered zero shock value.
It was another balanced effort for the Spurs in Game 1, led by Leonard's 20 points and LaMarcus Aldridge's 17. Moving forward, if Memphis can not coax Herculean efforts out of Randolph or Matt Barnes or Lance Stephenson and so on, it may not matter who does the heavy lifting for San Antonio.
There may be nothing heavy left to lift.