Will Cowboys be back in the playoffs in 2014?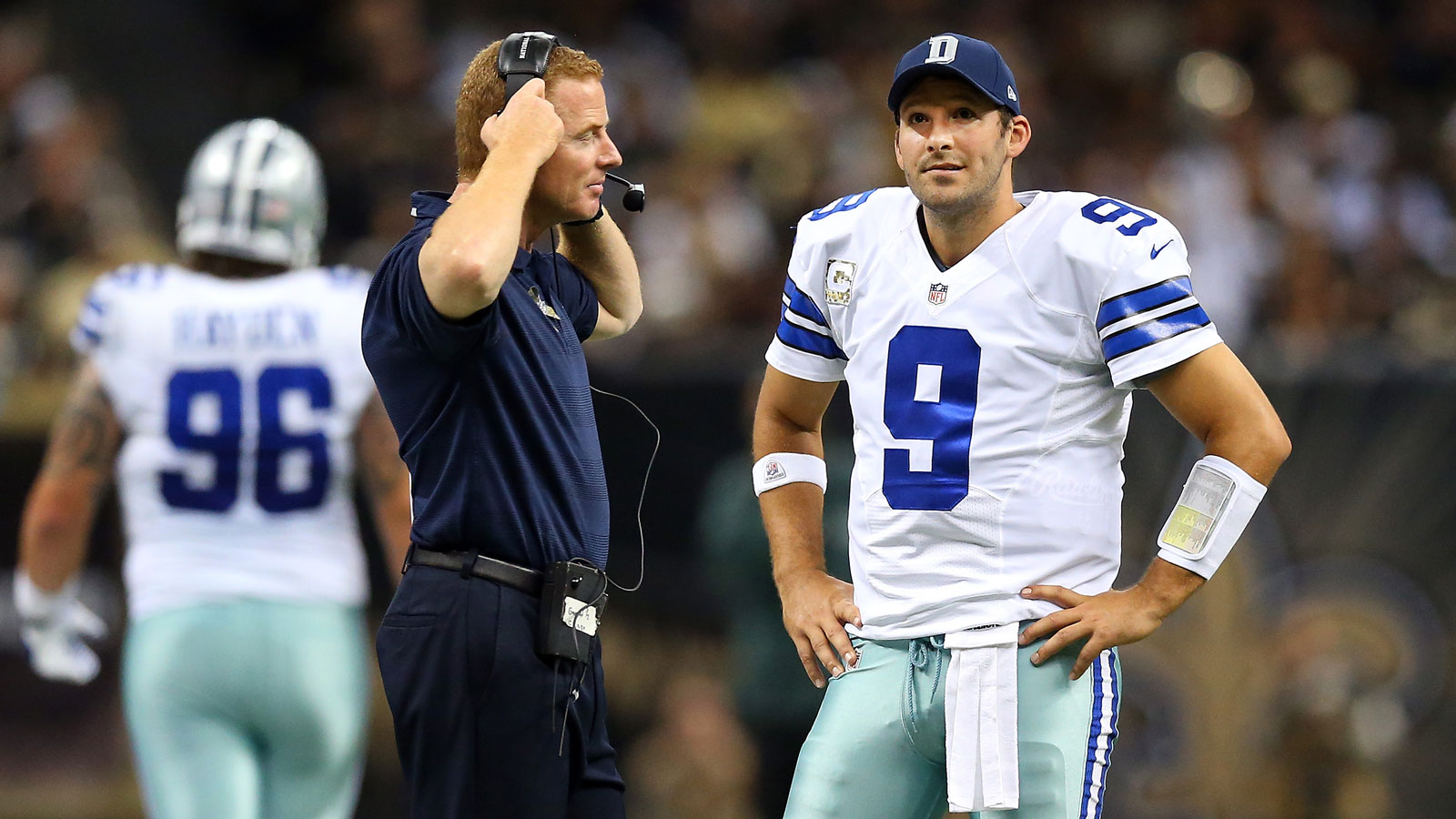 Leave it to the NFL to interrupt a wonderful night of sports with its annual schedule release extravaganza. The NFL Network treats this like CBS does March Madness Selection Sunday.
It's impossible to know how teams are going to perform from season to season, although marking the Cowboys down for eight wins is normally a safe bet.
For the last decade or so, I have engaged in some knee-jerk schedule analysis. Here's a game-by-game look at the Cowboys' 2014 schedule, which includes scores:
Sunday, Sept 7, 3:25 p.m. San Francisco:
Cowboys need the 49ers to be preoccupied with the opening of their new stadium in Week 2. Sadly, that's not going to happen.
San Francisco 27 Cowboys 23
Sunday, Sept. 14, noon at Tennessee
The last time the Cowboys traveled to Nashville, center Andre Gurode had his face rearranged by Albert Haynesworth's cleat. Oh, and Vince Young was the starter for the Titans.
Cowboys 23 Titans 17
Sunday, Sept. 31, noon at St. Louis
Just the sight of the Rams makes DeMarco Murray happy. He rides those good vibes to a 147-yard, 2-touchdown performance. Jerry talks openly about a Super Bowl.
Cowboys 23 Rams 13
Sunday, Sept. 28, 7:30 p.m. New Orleans
Defensive coordinator will be desperate to atone for the Superdome massacre. But Sean Payton loves showing off for the North Texas soccer moms. Saints roll.
Saints 38 Cowboys 17
Sunday, Oct. 5, noon Houston
The combination of J.J. Watt and Jadeveon Clowney could be scary, but the Texans still won't have a QB. If the Governor's Cup is still a thing, it will remain in Tarrant Co.
Cowboys 35 Texans 20
Sunday, Oct. 12, 3:25 p.m. at Seattle
It wasn't that long ago (three years) that a meeting with the Seshawks wasn't a bad thing. Then Russell Wilson happened. Cowboys continue to leave Johnny Manziel on the sideline despite two early mistakes by Tony Romo.
Seahawks 28 Cowboys 20
Sunday, Oct. 19, 3:25 p.m. New York Giants
Jason Garrett owns Tom Coughlin. No, that's a bit strong. Garrett has had success against the Giants in non do-or-die games.
Cowboys 33 Giants 30
Monday, Oct. 27, 7:30 p.m. Washington
We should have a good idea of how the Jay Gruden era is going at this point. This also marks the return of Jason Hatcher. He's joined ex-Cowboy Steve Bowen in D.C.
Cowboys 24 Redskins 17
Sunday, Nov. 2, noon Arizona
Bruce Arians has a good thing going. The Cardinals have quietly been a part of the best division in the league. Brandon Carr vs.Larry Fitzgerald? Ugghh
Cardinals 27 Cowboys 24
Sunday, Nov. 9, noon at Jacksonville
At some point the NFL will simply leave Jacksonville across the pond. The Cowboys will have plenty of support in London.
Cowboys 31 Jaguars 20
BYE: Sunday, Nov. 16
Sunday, Nov. 23, 7:30 p.m. at New York Giants
NBC would take America's .500 Team evey week if that were possible. The Giants are too proud to be swept in consecutive seasons. Romo and Eli Manning will put on a show.
Giants 34 Cowboys 33
Thursday, Nov. 27, 3:30 p.m. Philadelphia
If only Lamar Hunt could've seen this. The schedule makers put the squeeze on one of the greatest advantages in professional sports. Cowboys will arrive home at about 4 a.m. Monday before playing Thursday. Then they have to play the following Thursday. Is it too late for Jerry to file a protest?
Cowboys 20 Eagles 17
Thursday, Dec. 4, 7:25 p.m. at Chicago
This will be the Henry Melton game. Did the Bears make the right decision in letting Melton walk? Will Marinelli and Melton have their revenge?
Bears 23 Cowboys 17
Sunday, Dec. 14, 7:30 p.m. at Philadelphia
What, another Sunday night game? Is there ANY scenario where NBC would flex out of this? No? December in Phily has not been kind to Romo.
Eagles 28 Cowboys 21
Sunday, Dec. 21, 3:25 p.m.
I recall Romo having a big day vs Peyton Manning at old Texas Stadium. I think he'll do the same vs Andrew Luck.
Cowboys 41 Colts 30
Sunday, Dec. 28, noon at Washington
Risky of the NFL to gamble on Jay Gruden's team playing for anything. But it will be fun to see RG3 try to overthrow DeSean Jackson. The NFLPA will file a grievance on Jackson's behalf if the Cowboys assign an extra defender to him.
Cowboys 27 Redskins 17
COWBOYS RECORD: 9-7 (miss playoffs)