Texans' NFL Draft needs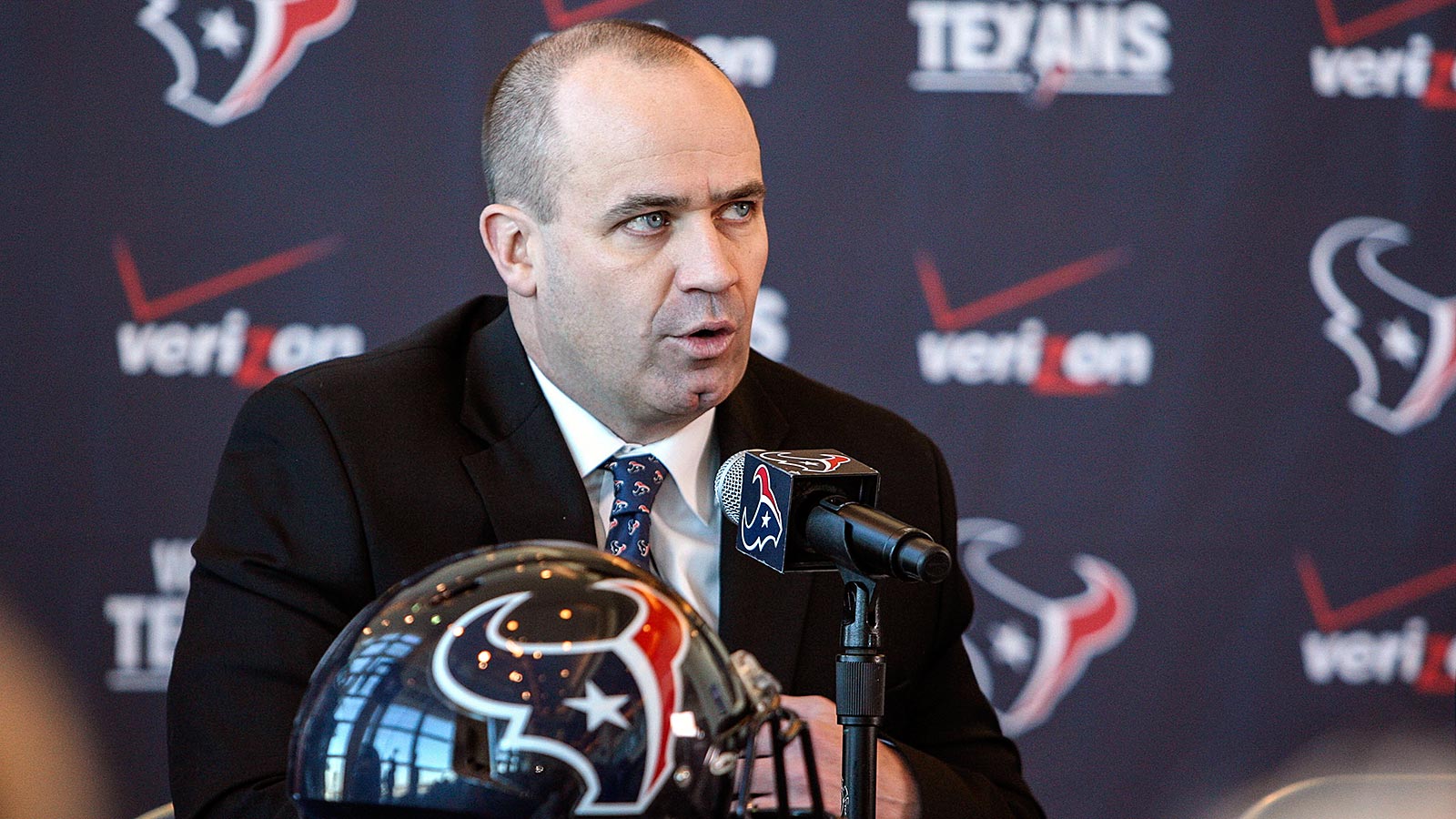 The NFL offseason has turned its attention to the NFL Draft after several weeks of free agency. So far the most noticeable addition to the Texans has been the replacement of head coach Gary Kubiak with former Penn State head coach Bill O'Brien. After that, the Texans lost more players than they signed. Gone are tight end Owen Daniels, quarterback Matt Schaub, defensive tackle Earl Mitchell, defensive end Antonio Smith and running back Ben Tate.
With the roster stripped of some talent and the NFL calendar now a little more than three weeks away from the NFL Draft, what are the biggest needs that the Texans need to address on their roster?
Defensive End
The Texans have one of the game's best defensive ends in third year star JJ Watt. After exploding onto the scene in 2012 and winning defensive player of the year, he had arguably an even better year in 2013 despite the team's 2-14 record. The thing that was more impressive was that the Texans had Antonio Smith opposite him and Smith only registered five sacks.
With Smith gone in free agency, the position is depleted with Watt and a bunch of no name players such as Jared Crick, Tim Jamison and Keith Browner. Crick iss the most experienced player and he recorded 20 tackles in 2013. Pairing Watt with Jadeveon Clowney is really enticing, especially because there is presumably no franchise quarterback in this year's draft.
If they don't choose Clowney and go with a quarterback or linebacker instead, there are still plenty of very good options to draft in the later rounds. Players like Oregon State's Scott Crichton, Missouri's Kony Ealy and even Texas' Jackson Jeffcoat are all options that could be available towards the end of Round 1 and into Round 2 and 3.
Quarterback
The quarterback position is the most glaring need, especially with the team trading away Matt Schaub for a sixth round draft pick. The current batch of quarterbacks is now an interesting group made up of second year quarterback Case Keenum, veteran Ryan Fitzpatrick and TJ Yates. Keenum got off to a fast start after replacing Schaub as he threw for eight touchdowns and one interception in his first four games. However, his play stalled for the remainder of the season and he only threw one more touchdown pass versus five interceptions in his next four games before being replaced by Schaub.
With the top pick in the draft, the Texans could pick Central Florida's Blake Bortles, Texas A&M's Johnny Manziel and Louisville's Teddy Bridgewater. However, there are questions surrounding every single one of these players. Bortles has questions about his accuracy, Bridgewater's size makes durability a concern and Manziel has the same questions about durability as well as what kind of system he can play in.
If the Texans choose to pass on those guys, there are certainly very intriguing players to choose from throughout the remaining six rounds in the draft. To name a few, Eastern Illinois' Jimmy Garappolo, Georgia's Aaron Murray, Fresno State's David Carr and LSU's Zach Mettenberger come to mind.
Outside Linebacker
Upon first look, the outside linebackers of the Texans don't look too bad. Whitney Mercilus had a very solid second season in the NFL as he recorded seven sacks and had 47 tackles. Mercilus may benefit from being in a 3-4 system ad could be a good edge rusher opposite JJ Watt. Meanwhile, Brooks Reed had 56 tackles and sacked the quarterback three times last. While those are solid numbers, there is still improvement needed from both players, especially in the running game. Pro Football Focus has them rated as solid role players who could be close to turning into solid starters.
While everyone expects Jadeveon Clowney to go No. 1, some experts such as NFL Network's Daniel Jeremiah, consider Buffalo outside linebacker Khalil Mack to be a better fit in Houston, especially with the Texans playing in a 3-4 scheme. NFL.com draft guru Mike Mayock echoed those sentiments by saying that he would take Mack No. 1 overall. Mayock says that Mack is the best outside 'backer in the draft and just as good in a 4-3 defensive scheme as well.
If the Texans choose to go with Clowney or a quarterback with the first pick, they could possibly look at a guy like Ohio State's Ryan Shazier or BYU's Kyle Van Noy. Shazier is a perfect linebacker for the modern NFL as he has the speed and quickness to stay with running backs as well as cover athletic tight ends and some slot receivers. Meanwhile, Van Noy is a terror off the edge having recorded 26 sacks during his four years at BYU. He also racked up a ridiculous 61.5 tackles for loss, so he certainly has a nose for the ball.
Right Tackle
According to Pro Football Focus, this is a glaring need as Derek Newton is rated as poor starter and a huge gamble. With Duane Brown locking down the left side and most of the depth in this draft at left tackle, the Texans can afford to wait a little later to address this need.
Who would replace Newton? With guys like Michigan's Taylor Lewan, Auburn's Greg Robinson and Texas A&M's Jake Matthews expected to be long gone after the Texans' pick at No. 1, look for names such as Stanford's Cameron Fleming, Tennessee's Antonio Richardson or even Lewan's teammate Michael Schofield to be available in the later rounds.
Fleming and Schofield are guys who played right tackle in college and would have a smaller learning curve than maybe converting the big and talented Richardson from the left side to the right.
Tight End
The Texans had a really solid blocker and pass catcher in Owen Daniels, however, the team chose to let him go this offseason and lose his veteran presence. Coming back is Garrett Graham, who actually had a much better season than the departed and injured Daniels. With a younger and cheaper option, this need isn't as high on the list but it could still be upgraded.
The Texans may not address this until the later rounds of the draft unless a guy like Washington's Austin Seferian-Jenkins drops significantly. A couple of interesting names that should be available is USC's Xavier Grimble and Oregon's Colt Lyerla. Grimble doesn't have impressive stats in his three seasons at USC, which is partly due to a bad offense in 2013 and a myriad of other options such as wide receivers Robert Woods and Marquise Lee in 2012. But what makes Grimble so enticing is his power forward like body and ability to make contested catches. He is also a really solid run blocker.
On the other hand, Lyerla may be a gamble, primarily because of his off the field antics. On the field, Lyerla is a really good athlete and is a very solid run blocker having played for one of the nation's most explosive rushing attacks at Oregon. Off the field, Lyerla was caught with cocaine early in 2013 and then had his driver's license suspended after not paying four straight speeding tickets that he received in a 24 month span.