SMU Opens Season with 43-Point Win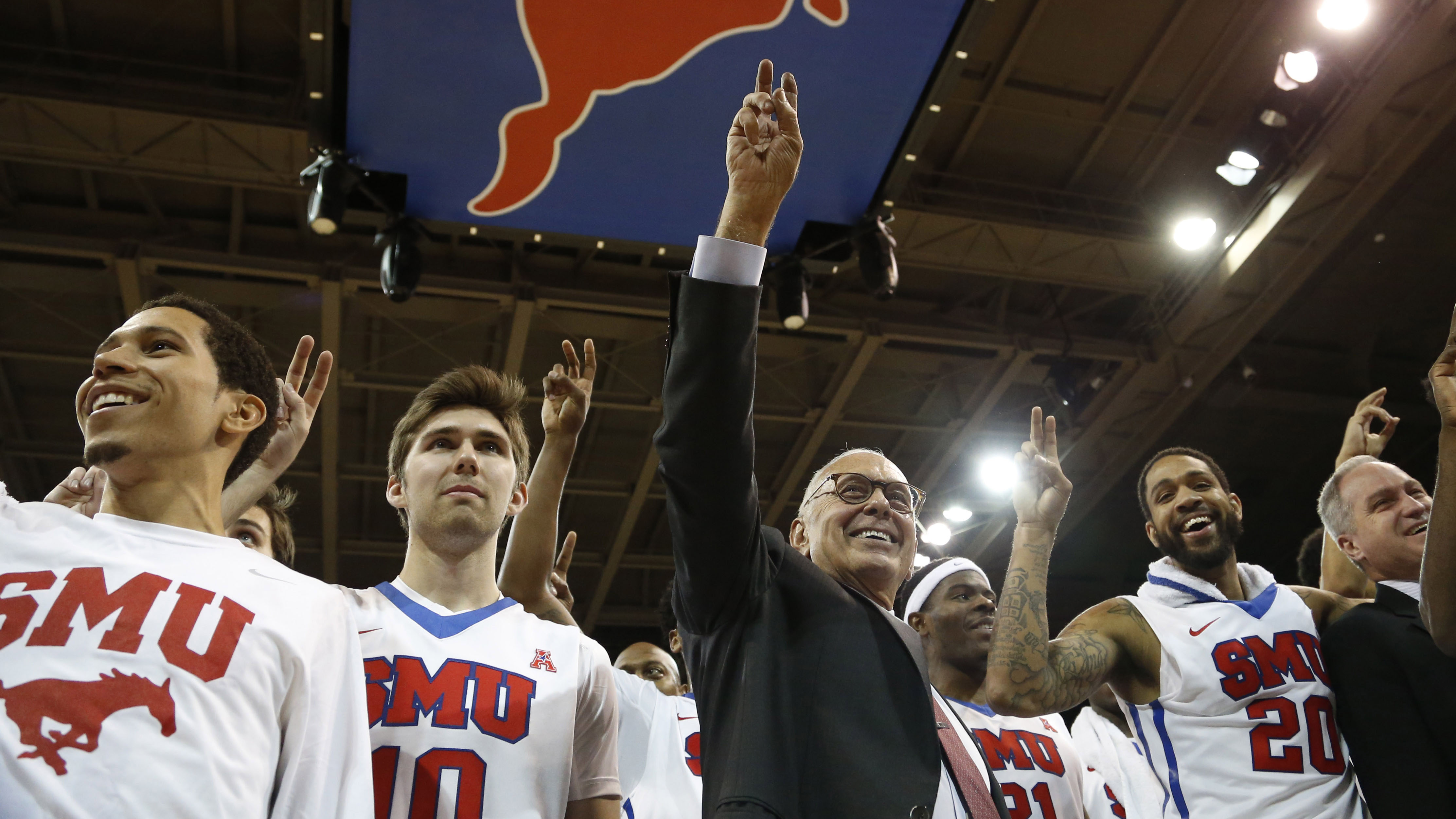 UNIVERSITY PARK—Before addressing the media following a 91-48 win against Lamar on Friday night at a sold-out Moody Coliseum, SMU men's basketball head coach Larry Brown regaled the leering press with a short, yet humorous story.
Brown talked about how he and SMU men's basketball sports information director Herman Hudson were riding the elevator up from the locker room to the interview room when two SMU employees asked them both what they did?
"I just was humbled coming up on the elevator," Brown said. "It kind of put me in my place."
The Hall of Fame head coach then offered a fitting response before starting to discuss his Mustangs' 43-point win over Lamar.
"I said we were just two of the students that were enjoying the game just like everybody else," Brown said.
This was a game where little went wrong for SMU, who led 46-20 at the half, shot 63 percent from the field and finished with 22 assists and 10 turnovers.
The Ponies were led offensively by Ben Moore who had 22 points, nine rebounds and five assists in 28 minutes of action.
"We see it every day in practice. Ya'll don't see it," SMU center Yanick Moreira, who finished with 19 points, said of Moore's performance. "I don't want to put any pressure on him, but I could get used to that."
Every corner of Moody was packed with fans itching for their first glimpse of the Mustangs, who finished last season by winning the NIT. SMU's home barn was rocking from the opening tip as a raucous student section helped create an incredible atmosphere in the first half. Many of them left at halftime as the Mustangs had a 26-point lead at the break, but the vibe on Friday night was impressive to say the least.
That atmosphere was something that Lamar head coach Tic Price definitely took notice of.
"It was a hostile environment for sure. I think Coach Brown, his staff and his players have created a buzz here in Dallas. They've done a great job with their recruiting. They've got some outstanding student-athletes. They're long and rangy and that's where we're trying to get," Price said.
Brown, whose Mustangs outscored the Cardinals 46-14 in the paint, saw plenty in SMU's opener to be pleased about, but he also saw several areas to address before the Ponies head to Gonzaga to face the Bulldogs at the Kennel on Monday night.
"Yeah, I don't like games like that," Brown admitted. "Everybody got to play, which you always love as a coach. It's so nice being back in this building and having people respond the way they do to us. Before the game, we said we were going to try to do well in transition defense and offense. We were going to try to rebound the ball well. We're going to try to take good shots and shooting more free throws. I thought our transition defense was really good. For the most part, we took good shots. We took some quick threes, but they were there. But we didn't rebound like we needed to and put them on the line too much, gives us something to talk about."
MORE FROM FOX SPORTS SOUTHWEST:
– Ranking NFL quarterback salaries
– Best college football traditions