Harrison's heroics (again) push Kentucky to title game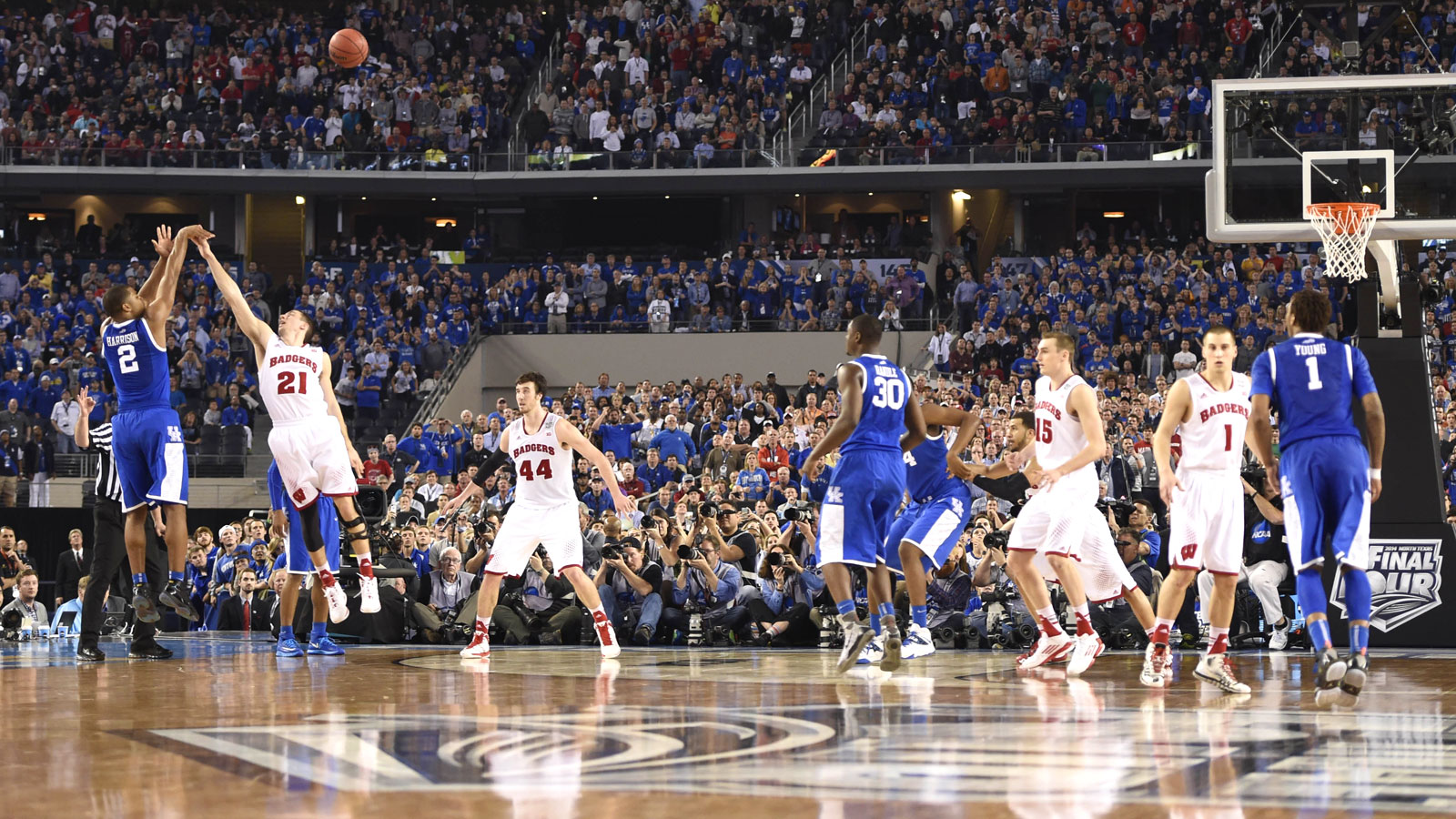 ARLINGTON, Texas — America knows Aaron Harrison. Or thinks it does, anyway.
He's the Kentucky dude from outside Houston who looks like that other dude from outside Houston and hit that shot that landed him on the cover of Sports Illustrated.
He did it again on Saturday night, hitting what Wildcats coach John Calipari called an "NBA 3" to send Kentucky to its 12th national title game.
That shot put UK from down two to up one and provided the final score: Kentucky 74, Wisconsin 73.
"You just can't be scared to miss. You have to be that guy who wants to take that shot," Harrison said. "I'm just blessed, I guess."
Lots of guys say things like that, Harrison's twin brother, Andrew, who coincidentally also hails from Houston, said after the game. Andrew, though, has seen it far too many times to think for a second that his twin is lying.
He saw it all the way back in high school outside Houston while the duo starred for Travis High. In one particular tight game with Westfield High, Aaron drained a game-winning three. His father, who coached both his sons on their Houston Defenders AAU squad, told Sports Illustrated that Aaron hit 12 game-winners for the team over his career.
Andrew estimates that Aaron's lifetime shooting percentage on game-changing shots in the final seconds hovers somewhere around 75.
So before Wisconsin hit two of three free throws with 16 seconds remaining, Calipari's message to his team wasn't a surprise to anyone.
"We're going to Aaron," he told them. "Anyone got a problem with that?"
If anyone did then, they don't now. Harrison's last three-point attempt before his game-winner on Saturday was his history-maker against Michigan.
"I thought he should have drove, but what do I know?" Andrew Harrison said.
So Harrison can say he's not afraid to miss all he wants, but the proof is in the SI cover and Kentucky's eight-game winning streak against teams not named Florida, who Connecticut eliminated in Saturday's early game.
That streak only came after a loss to South Carolina that bounced Kentucky from the polls and branded Calipari's Fab Five freshmen one of the season's biggest busts. They became the first preseason No. 1 in college basketball history to fall out of the polls.
"There's constructive criticism and there's destructive criticism," Calipari said. "They got (destructive), questioning their attitudes. Are they good people? Are they selfish? I mean, they were absolutely mauled. I think it made them stronger and made them come together."
Sitting at 21-8 and reading page after page of why you're a disappointment rarely improves future results. Forward Julius Randle's mother told Fox Sports Southwest this week that she'd escape into the bathroom and cry multiple times as the season looked lost back in February.
Her son, who won three state titles for Prestonwood Christian in nearby Plano, Texas, struggled early but finished with 16 points and five rebounds.
"After every loss you doubt yourself a little bit, but you can't let it affect you too long. If we did that, we wouldn't be playing for a national championship," Aaron Harrison said. "We're young, but we're one of most resilient teams to ever play college basketball."
A little more than 15 minutes later, on a podium about 40 yards away, Calipari parroted the reason his team survived a fourth consecutive decided by five points or less and became the first team in NCAA Tournament history to trail in four consecutive games and win.
"See, guys that make game winners are not afraid to miss them, and he's not afraid to miss," Calipari said. "The best players I've had played that way and can make those kinds of plays. They have amnesia from play to play."
Harrison needed that dose of forgetfullness. Kentucky his just two of its five threes against the Badgers, and they came almost a full 40 minutes apart in a 40-minute game. James Young's three-pointer opened the game's scoring, and Harrison's trey sent Kentucky's sideline into fits as the game's final field goal.
Nearly the entire bench hopped from the bench onto the raised court. Calipari and his fellow assistant coaches turned to make sure they didn't lose control and rush the court, gesturing for them to stay back.
Wisconsin called timeout to set up one final play.
Center Dakari Johnson circled the huddle with his hands on his head and a dazed look in his eyes. Willie Cauley-Stein, who sat with an injured ankle, caught the whole scene on "Williecam," his boxy handheld camera slightly smaller than a credit card. It made its debut against Michigan after he suffered the injury in Kentucky's Round 3 win over Louisville.
"I used two batteries (tonight)," Cauley-Stein said. "I ran the battery out the last 2-3 minutes when everybody rushed the court and was diving all over the place."
Aaron Harrison found himself at the bottom of that pile after Wisconsin's Traevon Johnson missed a game winning shot. He couldn't stop smiling, even with a half-ton of freshmen in blue pinning him to the hardwood. Once he got up, he answered a few questions for TV cameras on JerryWorld's Gigantron screen and hopped off the raised court to share a few hugs for his favorite fans in the front row: His mom, dad and grandparents.
His mom couldn't stop telling him how proud she was. His dad, ever the coach, couldn't spare a second to savor the biggest shot in a long line of big ones.
"You got one more," Harrison recalled. "That's all he said."