Dissecting Davis' growth: Now and year later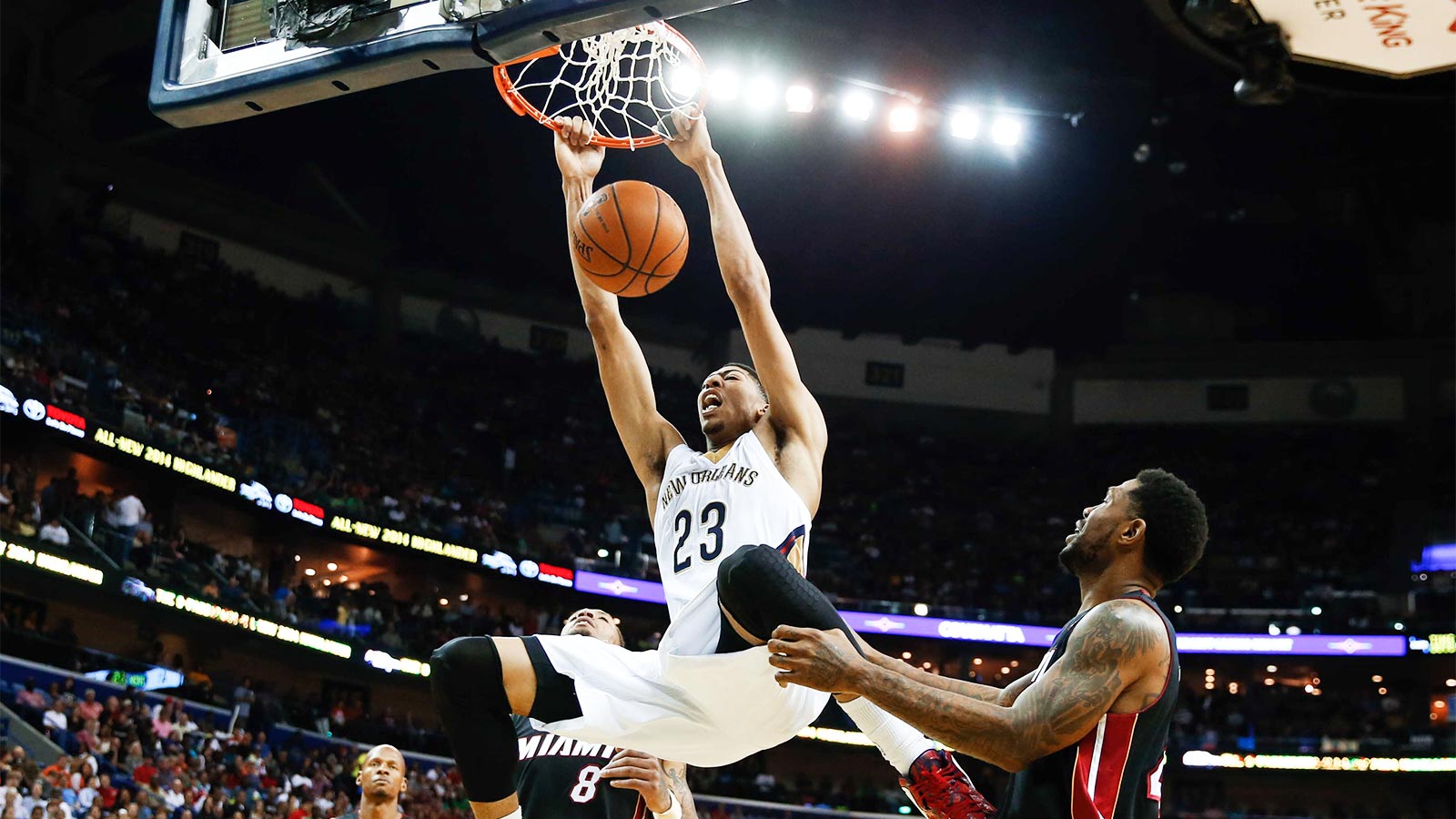 As the New Orleans Pelicans prepare to officially roll out the team's campaign supporting Anthony Davis for Most Improved Player in the NBA, the decision has already been made in the minds of his coaches.
Monty Williams is one of the more measured NBA head coaches when it comes to extolling his team's virtues or celebrating individual accomplishments.
For Williams though, the facts are clear cut and simply this: "No other player had made a larger leap than A.D. Sure other players have improved their game, but no one has gone from the level where A.D. was at last year, which was good, to an elite level this year."
Davis' stats certainly bolster Williams' assessment of the situation:
| | Points per game | Rebounds per game | Blocks per game |
| --- | --- | --- | --- |
| 2012-13 | 21.3 | 10.3 | 2.9 |
| 2013-14 | 13.5 | 8.2 | 1.1 |
Pelicans assistant coach Kevin Hanson has been with Davis since he began his NBA journey. Hanson works with New Orleans' big men and developing Davis in particular has been a large portion of Hanson's focus.
"He's obviously shooting the ball a ton better," Hanson said. "He's so much more confident in his shot and that opens up everything else for him. Teams have to close him out differently now.
Hanson notes how much higher Davis' all around trust in himself is this season, not just in his offensive game. That growth is evident in everything from the tone and breadth of Davis' interviews, to the skills he attempts on the court.
"His confidence is at an all-time high," Hanson said. "He's just so much more comfortable going to things that he wasn't last year: whether it's in the post or just driving guys off the dribble. Pretty much everything in his game that we worked on in the summer, he's been able to incorporate this year."
Hanson travelled to meet Davis in the off season last year, armed with a list of priorities they should invest time in and improve. The effort left an impression on Davis.
"It means a lot, that he would travel to meet me this past summer to work me out and help me get better," Davis said. "He's a post, face up guy himself who's been there and done that. He fixed my shot. A lot of my improvement is because of him."
Come game day, Hanson and Davis hole up in the video room after morning shoot-around to dissect his challenge for that evening: what he should expect and where he needs to be when. Given Davis' growing repertoire of skills and his recent All Star appearance, opponents are attacking Davis in new ways.
"There's always a specific strategy," Hanson said. "We show him what they're going to do defensively to him. Teams are playing him a little differently now that we can throw it down low to him in the post. So, sometimes he doesn't need to worry about his initial defender, but he has to worry about other defenders coming and helping."
Davis has a packed schedule this summer with Team USA, but he and Hanson will make the time to work together again in the off season. Despite all of Davis' improvement this year, his journey is far from complete. At just 21 years old, Davis is still growing into his body and there's no ceiling in sight yet for his potential. Hanson's quest this summer will be to see what he can help Davis master next.
"I want to get better in the post," Davis said. "He's going to come meet me again this year, and we're going to make another jump."
Hanson already has a mental blueprint drawn up of what Davis' improvement next season will look like.
"We've got to continue working in the low post," Hanson said. "Right now he is comfortable in face-up. He wants to face-up and look at the basket, get to his jump shot, drive guys. We want to add that back-to-the-basket game. A more traditional Tim Duncan kind of game: a little like the way Hakim did it, using his quickness. By having AD's back to the basket, we can use his angles and get by guys that way."