Cowboys' success running the ball limits other playmakers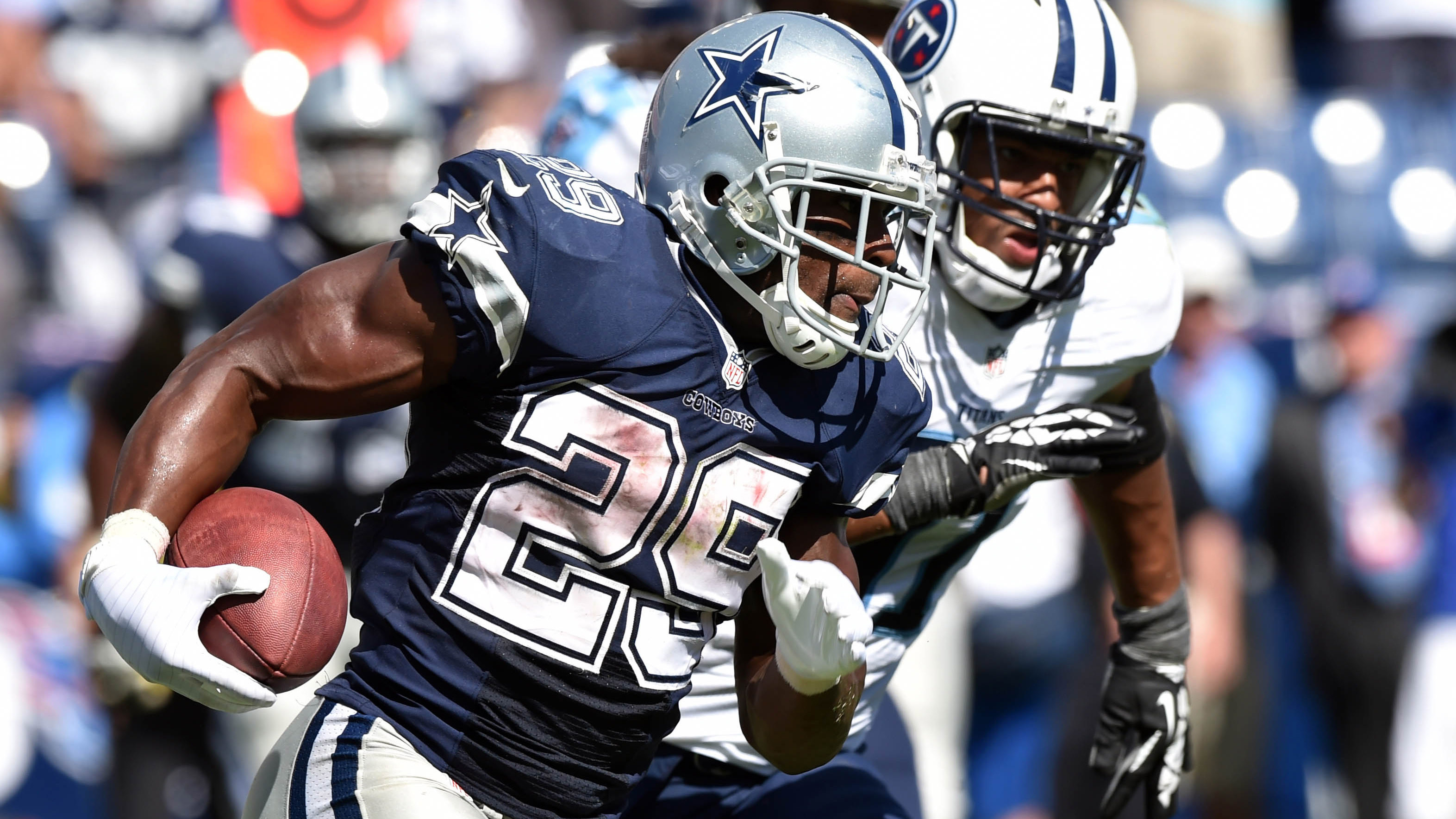 IRVING, Texas — With the Cowboys rushing for 173.5 yards per game, something's got to give.
That "something" is opportunities in the passing game, and especially for tight end Jason Witten.
After two games, Witten has just six catches, putting him on a pace for 48 this season. That would be the fewest catches Witten has posted since his rookie season, and just over half his average of 80 catches a year.
"That's just the way the game has gone, being able to run the football and the way those 3-4 [defense] teams attack," Witten said after practice Thursday. "I think for all of us, our numbers will come and opportunities will come. But you have less opportunity because of the way you run the football. I think all of us are committed to that and understand it."
Witten has been targeted 13 times in two games. That puts him on pace for 104 targets, one fewer than he had last season.
In Sunday's win over the Titans, Witten was targeted 7 times and had four catches for 32 yards. In the opener against the 49ers, Witten had six targets resulting in two catches.
"He's been targeted, but the ball hasn't come out of the hand to him on a couple of plays," said passing game coordinator Scott Linehan, who calls the plays. "He's certainly targeted and very much a key component of our offense. We did run the ball 47 times last week, so that probably took about 20 opportunities of a pass that might go his way in a game that maybe we weren't ahead in."
The Cowboys' leading receiver is Dez Bryant with 14 catches for 158 yards and a touchdown. However, Bryant's longest catch is just 22 yards.
Bryant has been targeted 20 times and is getting a lot of touches, but his opportunities for big plays have been reduced as the Cowboys look to control possession behind the running game.
"I've got to keep waiting patiently, just like everybody else," Bryant said. "We've got some great stuff going on right now and you don't want to run away from that. Whenever your number's called, you've just got to go out there and you've just got to put it all out there on the line.
FOX SPORTS
DAILY
COWBOYS

EDITION
"I love what's going on right now. At the end of the day, it's about the W. If this is what it takes to get it, man, let's keep going."
No one is panicking about Witten's numbers — least of all Witten — just two games into the season. But this week the Cowboys face the Rams, a team they have had success running the ball against.
Running back DeMarco Murray has rushed for 428 yards in two games against the Rams, including a franchise-record 253 yards in 2011.
"There's going to be games where he [Witten] has a lot more targets, there will be games he has the same," Linehan said. "It depends how the defense is covering him or keying on him. You've just got to keep playing; those opportunities will come around."
The opportunities for the receivers may come as defenses put commit more men to the line of scrimmage to slow the Cowboys' running game.
The Cowboys have rushed 66 times in two games. The longer the Cowboys continue to run well, the more defenses will creep up and the more effective play-action passes become.
"It may open a lot for me, Wit and a lot of other players," Bryant said. "Like I said, DeMarco's going to continue to keep going out there, going in beast mode. Whenever he does that, whenever [quarterback Tony] Romo needs us to make a play, we're going to be there to make a play."
Follow Keith Whitmire on Twitter: @Keith_Whitmire