Cowboys need to establish an identity moving forward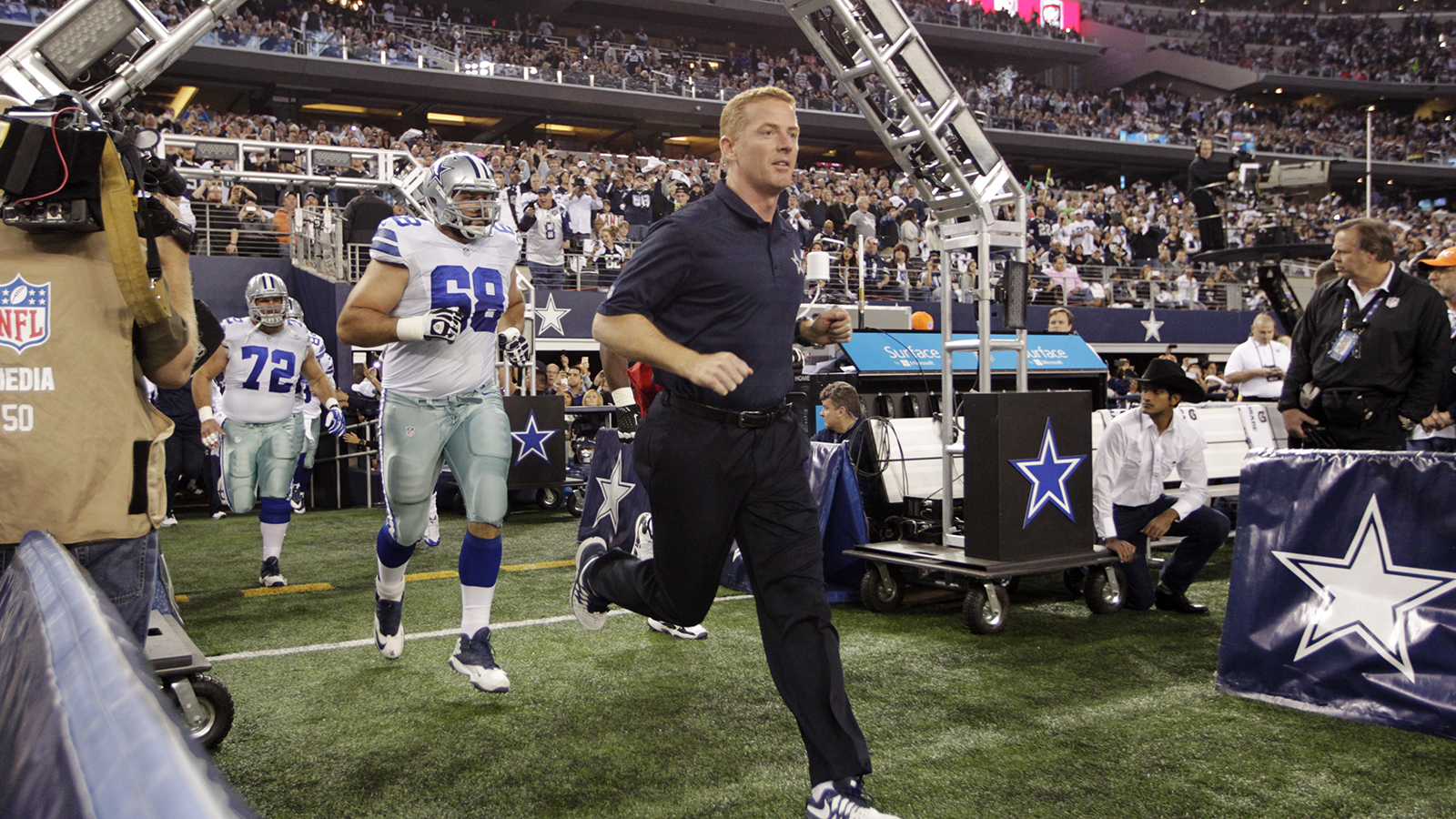 Just once, it would be nice if the Dallas Cowboys would commit to an identity and try to see it through. But it's more likely this organization will continue to throw darts in every direction.
Owner/general manager Jerry Jones stripped Jason Garrett of playcalling duties last offseason, but that turned out to be much ado about nothing. As I said at the time, Garrett doesn't have the type of aura or personality to stand out as a walk-around head coach. He was more comfortable spending his time on offensive game plans and then calling plays from his laminated chart. Jones will bring Garrett back for at least one more season, so maybe it wouldn't hurt to let the head coach make a few more decisions regarding his 2014 team.
If you need further proof that Jerry's captaining a rudderless ship, just look at some of these NFC playoff teams. It doesn't take a lot of film study to realize what Jim Harbaugh and Pete Carroll stand for as head coaches. Both of them presided over great offensive teams in the conference formerly known as the Pac-10 before making the move to the NFC West. But both coaches have placed huge emphasis on the defensive side of the ball.
The 49ers have the best group of linebackers in the NFL, and that's where their identity begins. The Seahawks have stocked their secondary with elite cornerbacks and safeties. No matter if both teams bow out of the playoffs this weekend, we know exactly where they'll begin next season.
Saints coach Sean Payton is living proof of how a talented coach can make a dramatic impact on an organization. The team lost its way last season when Payton was suspended for his role in the bounty scandal. Drew Brees, one of the top three or four quarterbacks in the league, turned into an interception machine in Payton's absence. Payton, Harbaugh and Carroll may be the most supremely confident (cocky) coaches in the NFL. That confidence translates to the field.
The Cowboys decided last offseason to transition to a 4-3 scheme and a lot of us bit on that storyline like lemmings just because it was different. It was an interesting attempt to form an identity on the fly. In retrospect, it was silly to project these players as something similar to the Tampa Bay Buccaneers of the early 2000s. The presence of Monte Kiffin wasn't going to automatically turn Bruce Carter into Derrick Brooks. It's why Jerry Jones is the David Copperfield of the NFL. He's a master illusionist who throws out enough ideas that something's bound to catch your eye.
Firing Rob Ryan felt like the right thing to do after the 2012 season despite the fact that he lost several key players to injuries. But Ryan took over a Saints defense that was the NFL's worst of all-time in terms of yards allowed in 2012 and turned it into something respectable. This has been a redemption year for him while Jerry has egg all over his face after the 2013 fiasco.
Based on some of the retreads attracting attention for head-coaching jobs, Garrett may have been able to land on his feet with another organization. But Jerry says he's invested too much time and money in the Princeton man not to wait around for the returns. He'll never admit it, but surely Garrett regrets not taking either the Baltimore or Atlanta job when he received offers following the '07 season. Both of those organizations have owners who hire strong general managers and let them do their job.
Garrett let Jones talk him into staying in the Cowboys organization. He hasn't failed completely as a head coach, but he's left a trail of mediocrity. And in the aftermath of a third consecutive 8-8 season, nothing Garrett said suggested this team was close to establishing an identity.
"I think our players believe in our program," said Garrett. "I think when you watch us play you see that they believe in our program and what we're trying to get accomplished. That's a big part of the identity of the football team that you're trying to establish."
I just with Garrett would work harder at defining this so-called program. It's not an issue of whether the players are committed to him. It's that whatever plan is in place isn't working. Garrett now has one season to alter the course of his coaching career. He would be wise to ask Jerry for more say in constructing this 2014 team.
If that's not in Garrett's nature, then he'll be coaching somewhere else in 2015. This is an organization that is defined more by its spectacular stadium than its football team.
Jerry would like to have both, but it appears he's willing to settle for one.