Big 12 Basketball Power Rankings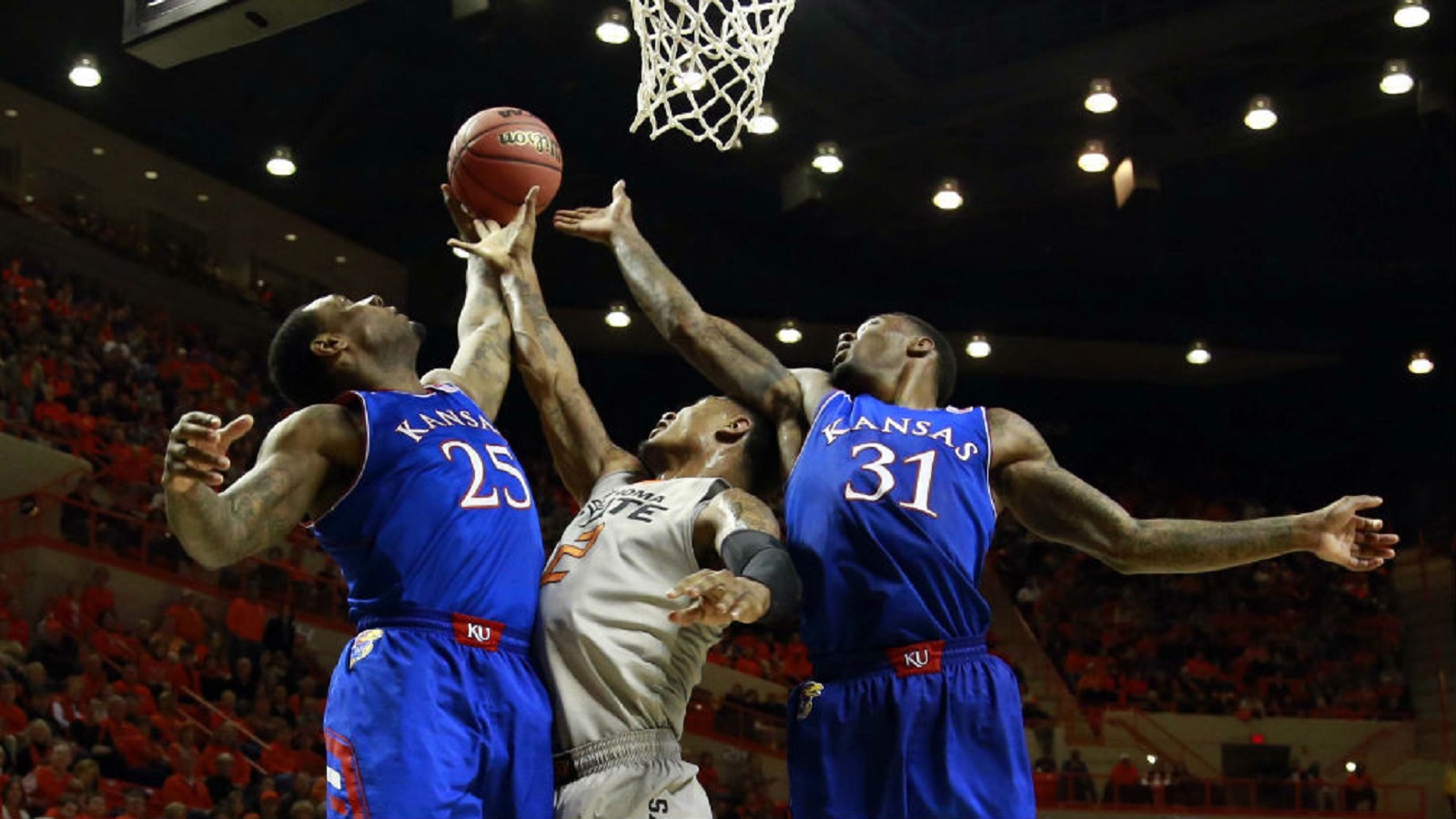 Kansas has locked down the outright title, but the final week of the season is going to give way to a crazy race for the No. 2 seed in Kansas City.
How do we sort it out in this week's power rankings? Let's have a look.
1. Kansas 22-7, 13-3 Big 12. Last week: 1. Bill Self wasn't happy after the Jayhawks got knocked off at Oklahoma State. KU clinched the outright league title before taking the floor on Saturday, and brought shirts, hats and the trophy to celebrate after the game. No sir!
"I told (the equipment managers), 'Put them under the damn bus,'" Self said, "because to me, we missed our opportunity to celebrate." I'm curious if we'll see them come back out during KU's next win.

2. Iowa State 22-6, 10-6 Big 12. Last week: 2. I'm not going to knock ISU for losing at Kansas State. The Wildcats have the best home record (15-1) of any team in the conference. ISU is my non-KU pick to make the deepest run in the tournament. The Cyclones have won seven of their last nine games to officially rebound from a disastrous 2-4 start in league play.

3. Oklahoma 21-8, 10-6 Big 12. Last week: 3. Since dropping a midweek game to Texas Tech, Oklahoma's won three of its last four games, with the lone loss coming at Kansas. Two of those wins came over fellow occupants of second place in Kansas State and Texas. OU won the turnover battle 16-7 in Saturday's win over Kansas and Isaiah Cousins teamed with Buddy Hield for 41 points on 6-of-12 shooting from 3.
4. Kansas State 20-9, 10-6 Big 12. Last week: 5. You didn't doubt the power of the Octagon of Doom, did you? The Wildcats' bench outscored Iowa State's 38-2 and held the Cyclones to just 25.9 percent from three. K-State's won five of its last seven games to keep itself alive in the race for second place, but among the four-way tie, K-State is the only team who doesn't play TCU in the final week of the season.
5. Texas 21-8, 10-6 Big 12. Last week: 4. The Longhorns can say goodbye to the top 25 after their third loss in four games. It's more a product of the schedule than Texas. All three losses came on the road, and if Oklahoma cracks the top 25 on Monday, all three will have come to top 25 teams. The Longhorns fought through close wins against TCU and Tech the first time around, and face both Big 12 bottom feeders in the final week of the regular season.
6. Oklahoma State 19-10, 7-9 Big 12. Last week: 8. The Cowboys didn't quite guarantee themselves a spot in the NCAA Tournament with Saturday's win over Kansas, but they came close. OSU feels like a team building toward a magical run in March. The Pokes are 3-0 since Marcus Smart's return, and the controversial star scored 20 of his 21 points against KU in the second half. He took complete control late, scoring 12 of OSU's final 25 points in the win. He could do major repair to his national image with a strong March in Kansas City and in the NCAA Tournament. Smart still hasn't lost his touch for flopping, though.
7. Baylor 19-10, 7-9 Big 12. Last week: 6. The Bears' win streak ended in Austin, but there's no shame in a road loss to the Longhorns. Baylor's won five of its last six and a split this weekend might have the Bears close to being a tourney lock heading to Kansas City next weekend.
8. West Virginia 16-13, 8-8 Big 12. Last week: 7. West Virginia's tourney hopes have fallen to slim, and Juwan Staten's team certainly is on the wrong side of the bubble. It may need a sweep this week and a run to the Big 12 tourney finals to get back on top after a midseason run got the Mountaineers back in the tourney conversation.
9. Texas Tech 13-16, 5-11 Big 12. Last week: 9. Tech's losing streak has now reached five games, but getting more than 6,000 students to the arena for last week's near-win against Kansas State was impressive. Lubbock believes in Tubby Smith, and that faith's going to be rewarded in the years to come.
10. TCU 9-19, 0-16 Big 12. Last week: 10. The 2008 Detroit Lions got nothing on the Frogs this year. When Texas comes to Fort Worth this week, it will have been more than a month since TCU came within single digits of an opponent.