ACC Gridiron LIVE returns Sept. 2 on FOX Sports South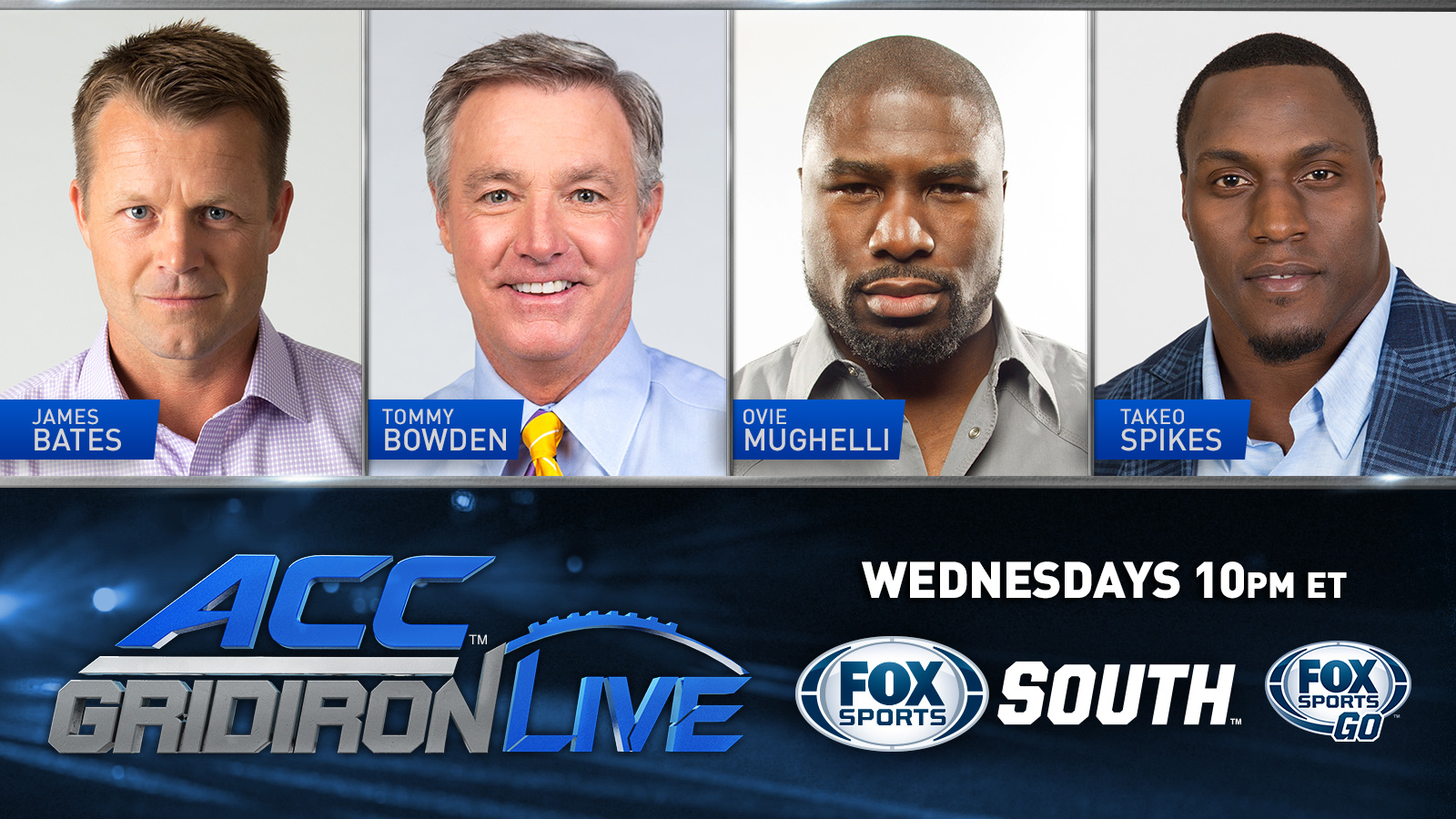 ATLANTA — ACC Gridiron LIVE, an ACC-focused football show, will return Wednesday, Sept. 2 at 10 p.m. ET for a second season on FOX Sports South. For 15 consecutive weeks during the 2015 season, ACC Gridiron LIVE will deliver stories, highlights and interviews from around the Atlantic Coast Conference. The fast-paced interactive show will be hosted by Emmy Award-winning host James Bates alongside former college football head coach Tommy Bowden and former NFL Pro Bowlers Ovie Mughelli and Takeo Spikes.
Bates (@jb8sy) was the captain of the 1996 Florida Gators National Championship team and brings his extensive knowledge of the game to the ACC Gridiron LIVE desk. Bates will also join Wes Durham as an analyst for ACC Football games on FOX Sports South throughout the 2015 season.
Bowden (@tommy_bowden) coached college football for 32 years, including head coaching stints with Tulane (1997-98) and Clemson (1999-2008). He was named ACC Coach of the Year twice (1999, 2003) while at Clemson. Bowden was a wide receiver at West Virginia University (1973-76). Bowden, the son of legendary football coach Bobby Bowden, previously served as an analyst on The New College Football Show on FOX Sports South.
Mughelli (@oviemughelli34) spent nine seasons in the NFL with the Baltimore Ravens (2003-06) and Atlanta Falcons (2007-11), earning one NFL Pro Bowl selection in 2010. He played college football at Wake Forest and was drafted by Baltimore in the fourth round (134th overall) in 2003. Mughelli was on FOX Sports South's EMMY Award-winning series The Panel in 2012-13 and was a color analyst on FOX Sports South's ACC football games in 2013. He joins the ACC Gridiron LIVE team for the first time.
Spikes (@TakeoSpikes51) played fifteen years in the NFL with the Cincinnati Bengals (1998-2002), Buffalo Bills (2003-06), Philadelphia Eagles (2007), San Francisco 49ers (2008-10) and San Diego Chargers (2011-12). A graduate of Auburn University, Spikes was drafted in the first round (13th overall) by the Cincinnati Bengals in the 1998 NFL Draft. He was named to the NFL Pro Bowl in 2003 and 2004. Spikes was on The Panel in 2013-14 and joins the ACC Gridiron LIVE team for the first time
FOX Sports South will produce 17 ACC football games during the 2015 season, and every game will be made available to over 72 million cable and satellite households across 22 regional sports networks. FOX Sports South's ACC football coverage begins the new season with a prime time match-up on Thursday, Sept. 3, featuring preseason ranked Georgia Tech hosting Alcorn State at 7:30 p.m. ET. The game will be preceded by a special pregame show live from Bobby Dodd Stadium in Atlanta, GA at 7 p.m. ET.