Lovin' it! Browns RB Ben Tate hangs out with 44 fans at a McDonald's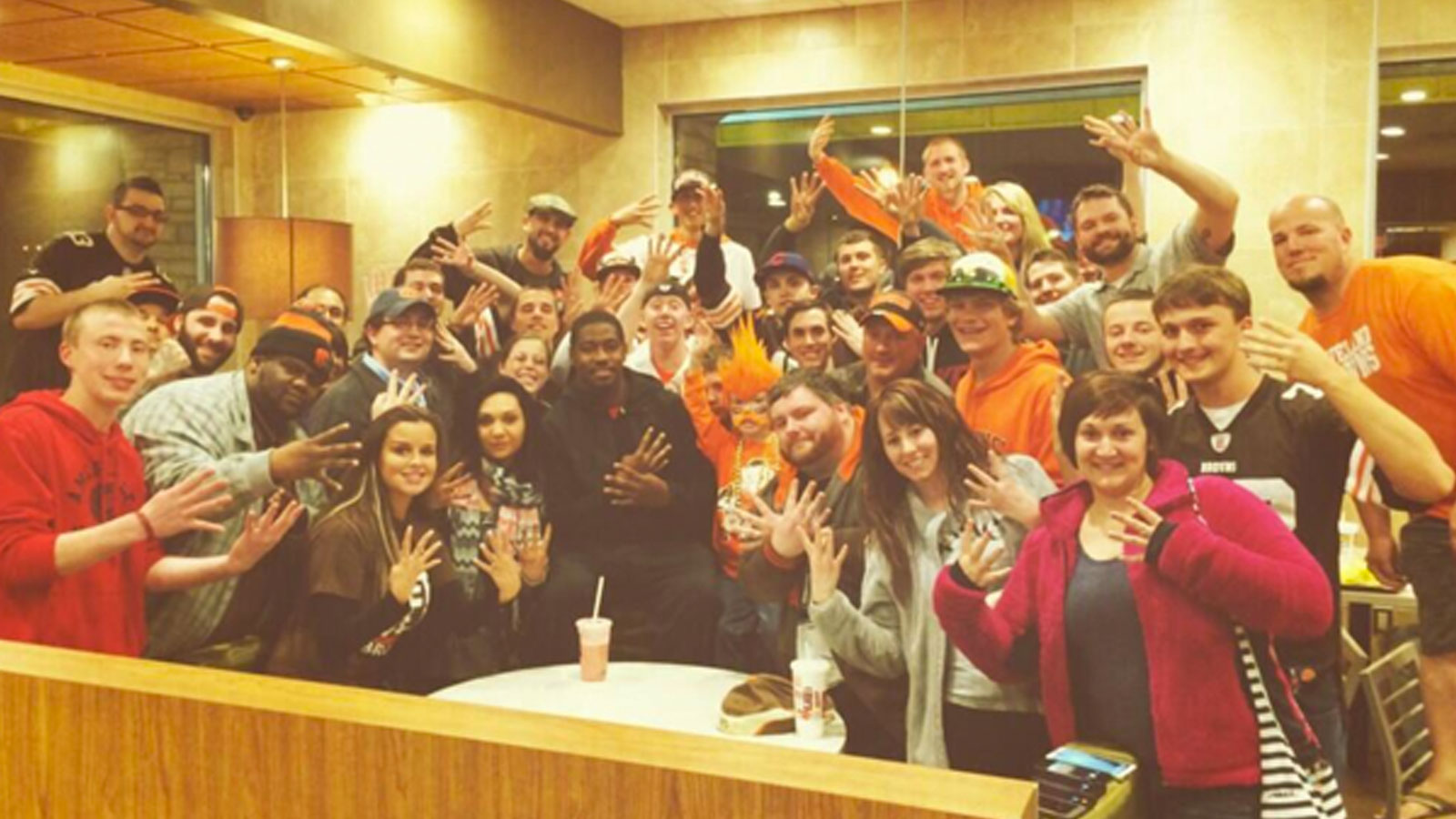 Ben Tate is doing a really good job of ingratiating himself with a new fan base.
The running back who the Cleveland Browns signed this offseason previously had a contest where he picked fans to join a NCAA tournament bracket challenge but took it to a whole other level Monday night.
Tate spontaneously chose 44 (his jersey number) of the most creative Browns fans who tweeted a photo or statement proving their loyalty to meet up with him.
Where'd they get together?
At a Mickey D's, where Tate's reported $2.5 million in guaranteed money from the Browns would definitely cover the bill.
Great to meet the 44 of yall tonight. Looking fwd to seeing all 70k of u on Sundays… pic.twitter.com/gkxqaIDWNm

— Ben Tate (@BenTateRB) April 29, 2014
My 1st time experiencing the best chant in the NFL… https://t.co/Zw0MV9vdnU

— Ben Tate (@BenTateRB) April 29, 2014
Yes, Ben Tate ignited a "Here We Go Brownies" chant at a northeast Ohio McDonald's on an April weeknight.
If for some reason you had any doubts left about the intensity of Cleveland's football allegiance, just check out some of the submissions that earned the chance to meet Tate.
From the bathroom…
Wow yea def RT @JYurik: @BenTateRB can my dad get in honor of his custom Browns bathroom pic.twitter.com/qH94H4lUzK

— Ben Tate (@BenTateRB) April 28, 2014
To the road…
Yea ure 100% in. Who else we got? RT @Emmed12: Hey @BenTateRB I am the guy with the truck!!! pic.twitter.com/aJYqyaZemt

— Ben Tate (@BenTateRB) April 28, 2014
And even dressing up.
Bring him and ure in RT @jalp3rt: @BenTateRB u weren't ready for this dawg pound action…. pic.twitter.com/LpYTsbuzMJ

— Ben Tate (@BenTateRB) April 28, 2014