Before the CBJ Stanley Cup Playoffs puck drops: Round 1, Game 6 – Pittsburgh
STANLEY CUP PLAYOFFS
EASTERN CONFERENCE QUARTERFINALS
GAME SIX
(2) PITTSBURGH PENGUINS v. (7) COLUMBUS BLUE JACKETS
PITTSBURGH LEADS 3-2
We've been using Extra Skater's Fenwick shot charts to identify the stronger performances out of the Columbus Blue Jackets all series long, so let's see if everyone has been paying attention. Pop quiz time!
Would you rather have this scenario: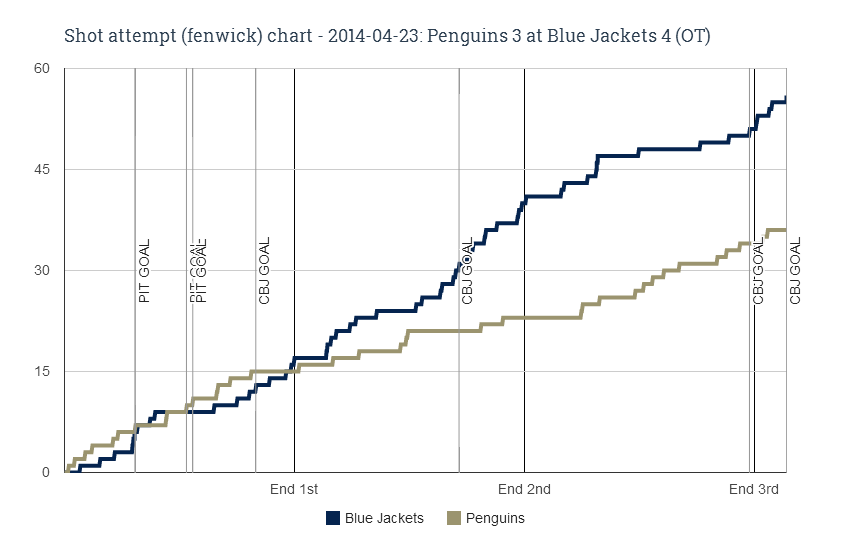 Or this scenario: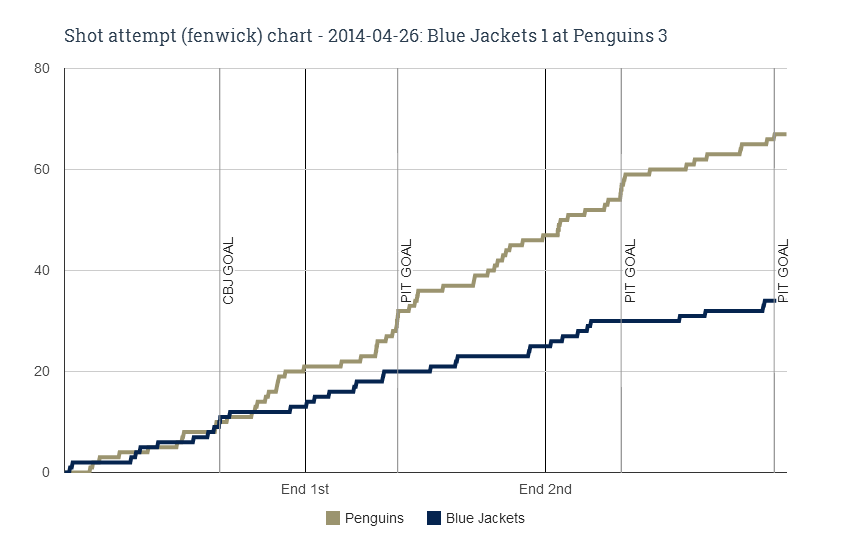 If you said, "I'll take the top graph," you win! (Sadly, there's no prize beyond the knowledge that you understand that it takes puck possession, and shots, to score goals.)
But what were you looking at, you then ask? Well, the first graph is the shot chart for Game Four – the incredible overtime winner for the Blue Jackets at Nationwide Arena. The second graph is the shot chart for this past Saturday's Game Five in Pittsburgh.
I don't think that anyone should be surprised that the Penguins would push back in Game Five, what with their stars under surprising (for them, especially this early in the playoffs) criticism and their coach's longevity in the Steel City coming under serious public scrutiny. Toss in the fact that the Pens had an extra day to prepare for the game, which meant time for practice and – more importantly – soul searching, and you saw a very different opponent on the ice in Pittsburgh.
The Game Five shot chart tells the story: Both teams played it tight through the first Columbus goal, then Pittsburgh went on a tear that lasted for two goals of their own. What I find most frustrating as a Blue Jackets fan was that the Pens largely shut the game down after their second goal. The Blue Jackets didn't have an answer for the last two-thirds of the third period. Where was the needed barrage of shots, with only one goal separating Columbus from a tie game? Yes, give credit to the Penguins for playing a strong game on home ice. At the same time, it's OK to shake one's head as a Blue Jackets fan and ask, "What happened?" Taking 24 shots and giving up 51 isn't a recipe for victory.
I'm rehashing the past games in this recap to help put tonight's preview in context. In short, the Blue Jackets need to flip Game Five on its ear and play it more like we saw in Game Four. Keep hitting if you must, but only do so to keep the Penguins off balance. Don't lose sight of the need to control the puck and put it on net.
One last thought, and I would be remiss if I didn't mention it: The home crowd at Nationwide Arena tonight has the opportunity to continue shocking the hockey world by propelling the Blue Jackets to victory and forcing a Game Seven in Pittsburgh on Wednesday night. With all due respect to Dallas – the only other city that has embraced playoff hockey as vocally, in my opinion – Columbus' fans have shown in Game Four that their relentless enthusiasm for their team can actually change the trajectory of games. It's an understatement to say this is rare, and keeping that whole "5th Line" going from the opening puck drop through to the final whistle will not only help tonight but also as players and their agents figure out prized destinations over the days ahead.
Win, and keep playing. It's that simple.
YOUR FOX SPORTS OHIO BROADCAST INFORMATION
NOTE THAT FOX SPORTS OHIO HAS BOTH THE BLUE JACKETS GAME AND THE CINCINNATI REDS BASEBALL GAME ON AT THE SAME TIME. CINCINNATI-AREA FANS, PLAN TO LOOK FOR THE CBJ GAME ON YOUR ALTERNATE FOX SPORTS OHIO CHANNEL. (For more on finding the game, click here.
– Brian Giesenschlag's "Blue Jackets Slap Shots" magazine show kicks things off at 6 p.m..
– Brian and Dan Kamal then go live with "Blue Jackets Live Pregame" at 6:30 p.m., giving you all the pregame news, notes and analysis.
– The puck drops at Nationwide Arena at 7 p.m., with Jeff Rimer and Bill Davidge on the call.
– Brian and Dan return immediately following for "Blue Jackets Live Postgame" with postgame interviews, insight and analysis.
This is it…leave it all out on the ice! Go Jackets!