FOX Sports Florida, Sun Sports announce 2014 Prep Zone football schedule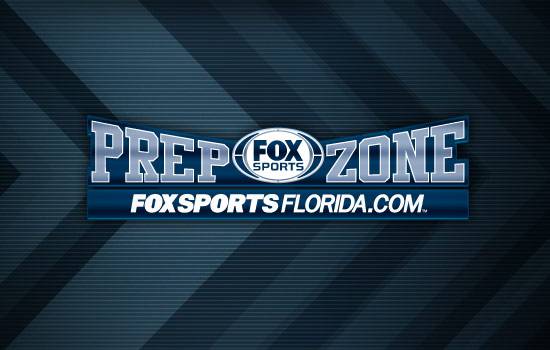 Florida high school football is back and this year, FOX Sports Florida / FOX's Sun Sports is upping its coverage of high school football rivalries for viewers statewide by televising, live or via tape delay, every matchup on the schedule. In addition to the games on television, Prep Zone, presented by Checkers, will stream up to eight high school football games on www.FOXSportsFlorida.com.
High school football action on Sun Sports begins this Saturday, Aug. 23 at 7:00 pm with the FOX Sports Florida Kick-Off Classic, presented by IMG Academy, between Tallahassee Godby and Bradenton IMG Academy. The following week, FOX Sports Florida, Sun Sports and FOXSportsFlorida.com will be the home for the interstate showdown dubbed the Battle of the Borders, which will feature Florida powerhouse's Godby, Miami Central, Miami Norland and Miami Booker T. Washington taking on the best teams in Georgia.
Two of Max Preps Top 10 national games featuring Top 25 teams also highlight the schedule as St. Thomas Aquinas vs. New Jersey Don Bosco Prep live from West Point, N.Y. will be televised on FOX Sports Florida on September 14 at 4 p.m., while the battle for South Florida supremacy in Sun Life Stadium between St. Thomas Aquinas and American Heritage Central will be featured on FOXSportsFlorida.com.
The FOX Sports Florida Kick-Off Classic will feature color analyst John Kaleo and play-by-play announcer Dave Reynolds in the booth, with Roxanne Wilder on the sidelines, while the Sun Life Stadium battle between St. Thomas Aquinas and American Heritage will have Miami HEAT play-by-play announcer Eric Reid on the call, alongside Kaleo (color) and Kavita Channe on the sidelines. The highly anticipated Battle of the Borders series will feature Paul Kennedy on play-by-play, with Keith Jones providing color and Jessica Blaylock on the sidelines, while the national showdown between St. Thomas Aquinas and New Jersey Don Bosco Prep in West Point will have Kennedy on the call, along with Jones providing color and Channe on the sidelines.
In conjunction with Tampa-based Our Team, Prep Zone, launched in October 2011, is a way of merging television, web and social media in one place to enhance the high school football experience for players, parents and fans. In addition to televising and streaming live games, fans will have access to game highlights and be able to replay games online at www.FOXSportsFlorida.com.
"We are very excited about this year's schedule, and it is our best line up to date, " said President of OUR TEAM Stephen Grecsek. "I want to thank FOX Sports Florida for their support of high school athletics, as well as Checkers, UHealth and all of our sponsors. These games don't happen without their joint support and on behalf of Florida high school football fans statewide, we thank them."
The highlights, live coverage, and full game replays that will live online provide great opportunities to enhance the exposure for high school athletes from all around Florida. Each week's telecast will promote the schools' other sports and activities through interviews with athletic directors, principals and other key faculty. The schedule, which is subject to change, has a few openings for Prep Zone to pick up compelling matchups later in the season.
2014 Prep Zone High School Football Schedule
Saturday — August 23
FOX Sports Florida Kick-Off Classic:
Tallahassee Godby at Bradenton IMG Academy, 7 p.m.
Televised live statewide on Sun Sports
For tickets / information: http://www.imgacademy.com
Friday — August 29
St. Thomas Aquinas vs. American Heritage Central, 7 p.m.
Prep Zone LIVE stream on FOXSportsFlorida.com
Televised on tape delay on FOX Sports Florida following Marlins game
For tickets / information:
http://www.ahschool.com/page.cfm?p=535&teamID=234
http://www.aquinasfootball.com/
Saturday — August 30
Battle of the Borders Game 1:
Tallahassee Godby at Atlanta Marist School, 11:30 a.m.
Televised live statewide on FOX Sports Florida
For tickets / information:
http://www.totalgatesolutions.com
Battle of the Borders Game 2:
Miami Norland at Martin Luther King Jr. High School, 2:30 p.m.
Televised live statewide on FOX Sports Florida
For tickets / information:
http://www.totalgatesolutions.com
Battle of the Borders Game 3:
Miami Central at Stephenson High School, 5:30 p.m.
Prep Zone LIVE stream on FOXSportsFlorida.com
Televised on tape delay on Sun Sports following Rays game
For tickets / information:
http://www.totalgatesolutions.com
Battle of the Borders Game 4:
Miami Booker T. Washington at Tucker High School, 8:30 p.m.
Prep Zone LIVE stream on FOXSportsFlorida.com
Televised on tape delay on FOX Sports Florida following Marlins game
For tickets / information:
http://www.totalgatesolutions.com
Saturday — September 13
St. Thomas Aquinas at New Jersey Don Bosco Prep, 4 p.m.
Televised live statewide from West Point, New York on FOX Sports Florida
Friday — October 17
Treasure Coast at Vero Beach, 7 p.m.
Prep Zone LIVE stream on FOXSportsFlorida.com
Televised live to North / Central FL on FOX Sports Florida; tape delay in South FL following Panthers game
Friday — October 24
Palm Beach Dwyer at Atlantic Community School, 7 p.m.
Prep Zone LIVE stream on FOXSportsFlorida.com
Friday — October 31
St. Thomas Aquinas vs. Plantation, 7 p.m.
Televised live statewide on FOX Sports Florida
Friday — November 7
St. Thomas Aquinas vs. Deerfield Beach, 7 p.m.
Televised live statewide on Sun Sports
Thursday — December 11
Central Florida High School All-Star Football Game, 7:30 p.m.
Television/streaming TBD
Monday — December 15
East vs. West All-Star Game, TBD
Television/streaming TBD
Saturday — December 20
Florida Athletic Coaches Association (FACA) All-Star Game, 4 p.m.
Prep Zone LIVE stream on FOXSportsFlorida.com
Saturday — January 10
Blue vs. Grey National All-Star Game, TBD
Prep Zone LIVE stream on FOXSportsFlorida.com