Texans name Ryan Fitzpatrick starting QB; Twitter mocks accordingly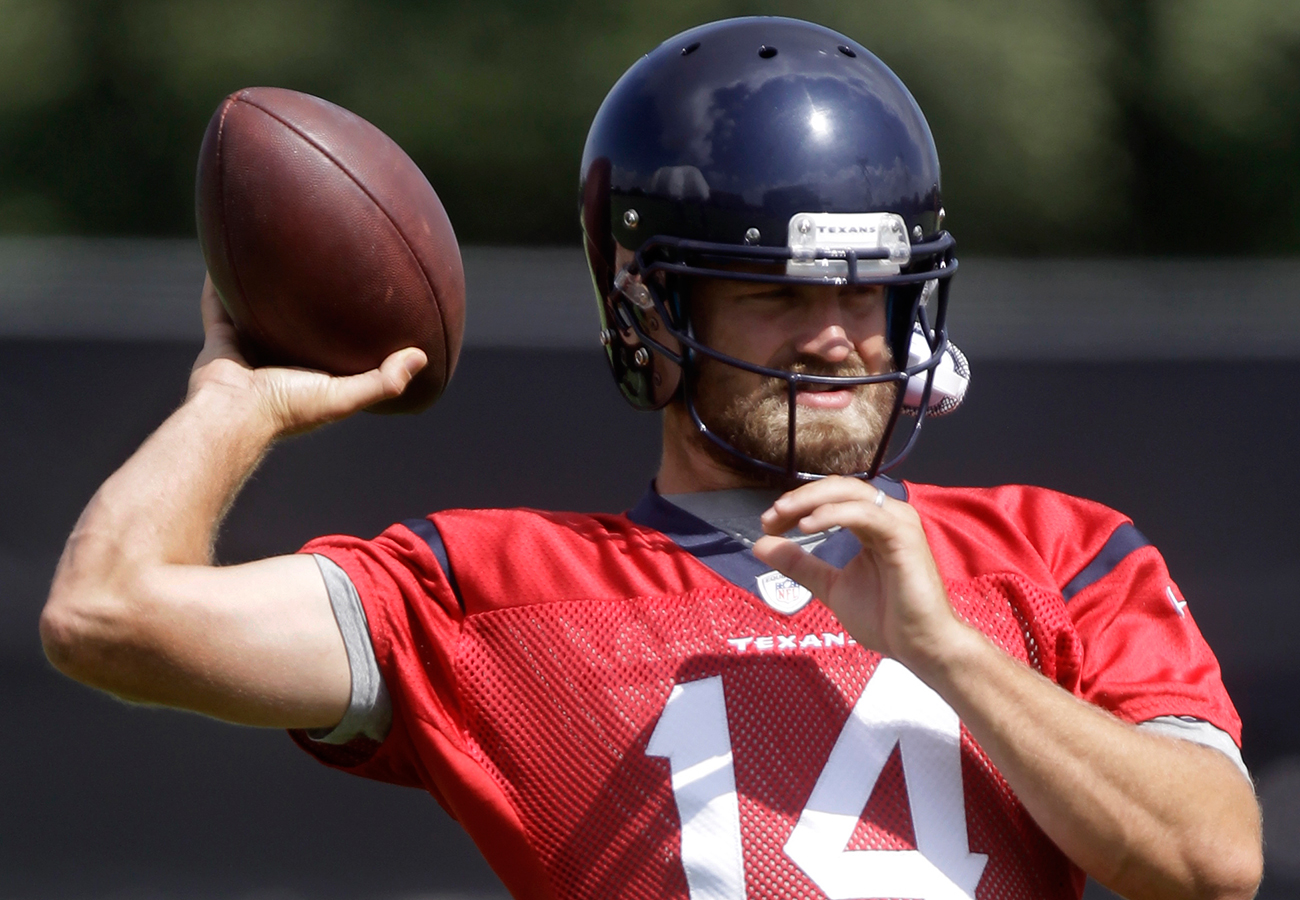 New Houston Texans coach Bill O'Brien named Ryan Fitzpatrick the team's starting quarterback on Tuesday.
For some reason, O'Brien decided he didn't need to see anything in training camp from rookie Tom Savage or Case Keenum.
Once the decision was announced, "Ryan Fitzpatrick" was trending on Twitter. Of course, it wasn't because people were wishing him well. Nope, the Twitter snark came out in full force.
Ryan Fitzpatrick was named the Texans' starting QB and it's not even training camp yet. I think the Texans are trying to pull a 76ers.

— Vaughn Johnson (@VaughnMJohnson) June 17, 2014
Ryan Fitzpatrick named Texans starting QB. And if you listen closely, you can hear the footsteps of Andre Johnson running out the door

— Chris Anderson (@birdman395pkp) June 17, 2014
Ryan Fitzpatrick has been named the Texans starter……..Is this real life!!!

— James Cohan (@TheJamesCohan) June 17, 2014
Ryan Fitzpatrick will be starting for the Houston Texans. "Thank you, Jesus," said the Titans', Jaguars' and Colts' secondaries.

— Taylor Sturm (@TSturmRS) June 17, 2014
Yeah Ryan Fitzpatrick! Because he was such a beast for the last 4 teams we just had to have him start. #BringBackSchaub

— Ryan Moreno (@Ryanboii56) June 17, 2014
ryan Fitzpatrick is now the Texans starting qb someone wanna just put me in a coma till after this season is over so I dont have to watch it

— zachary boettjer (@bigz66) June 17, 2014
Ryan Fitzpatrick is your Texans starting QB? That's a top 5 pick coming for 2015.

— Brett Lyons (@Brett__Lyons) June 17, 2014
When I 1st saw " Ryan Fitzpatrick" trending I thought "CUT"

— [Ba-Kar-Ree] (@Bakarii) June 17, 2014
Ryan Fitzpatrick was going to throw a party tonight after being named starting QB for the Texans, but the invitations were intercepted

— Hall of Fame (@HOFSportsTalk) June 17, 2014
Ryan Fitzpatrick wins #Texans' starting QB job for his accuracy? Uhhhh, what?

— Grumpy Friar (@grumpyfriar) June 17, 2014
BREAKING NEWS: The Houston Texans have decided to go 3-13 next season and start Ryan Fitzpatrick at QB #staytuned

— Allan (@bronxtape) June 17, 2014
Houston has a roster that could be a QB away from getting back to playoff contention. With Ryan Fitzpatrick, Houston is still a QB away.

— Dan Pizzuta (@DanPizzuta) June 17, 2014
Just saw that the Texans named Ryan Fitzpatrick their starting qb…my condolences go out to all Texans fans #TurnoverMachine

— Zach Newman (@Z_Newman) June 17, 2014
even Ryan Fitzpatrick can't believe the news …… pic.twitter.com/lt9oJM2Kfc

— Danny (@Puffwoody) June 17, 2014