NAU volleyball in position to compete for conference title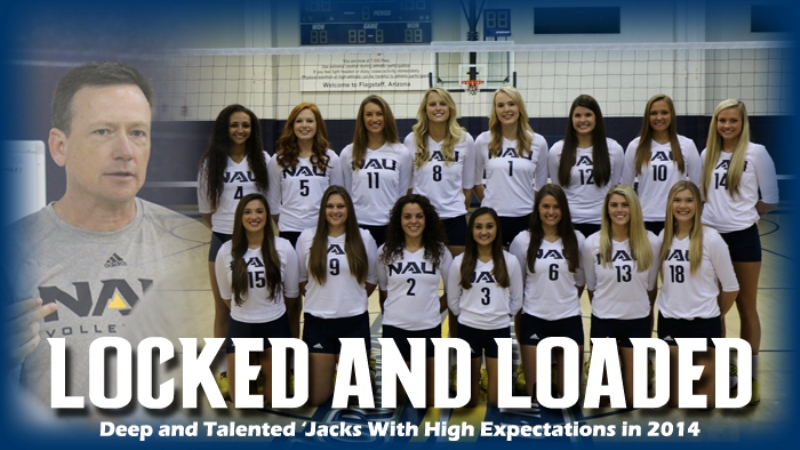 FLAGSTAFF, Ariz. — It was not going to be an easy task for the Northern Arizona volleyball team to top their historic 2012 season, yet the Lumberjacks rallied as one team and produced a widely successful encore in 2013.
Coach Ken Murphy was hired less than two months before the start of the season and with a roster of just 11, there was little room for error within the team. Still, under Murphy's steady guidance, the Lumberjacks (19-11, 13-7 Big Sky) finished fourth in the conference and qualified for the Big Sky Championship for the second consecutive season. It marked their first back-to-back conference tournament appearances since the Lumberjacks did so every year for a decade from 1995-2004. Coupled with the team's 24 wins in 2012, the Lumberjacks' 43 victories the last two seasons are the most in program history over a two-year span.
So what does Murphy and his team have in store for 2014, the third installment in the rise of the Lumberjacks? It is to be discovered over the next few months, but with the right blend of experience and youth, returning and new faces, the Northern Arizona volleyball team is in prime position to compete for the Big Sky Championship and bring the title back to Flagstaff, 15 years since the 1999 squad hoisted the trophy for the first and only time in school history.
"We've grown a lot in the last year," Murphy said. "Our team has a really good concept of who they are and what they're capable of. We feel like if we focus on the right things and work at the right level, we can have success against anybody. Our confidence and belief in ourselves is much higher than it has been."
Expectations will be high after NAU was picked in a tie for first in the Big Sky Preseason poll, armed with five returning starters, the Lumberjacks are experienced with eight returning players in all. Add in seven newcomers — two of whom are Division I transfers — and the Lumberjacks are stocked with talent. With all the right pieces, 2014 might be the best of NAU's trilogy.
Outside Hitters
There would be no sophomore slump for Janae Vander Ploeg last season as the junior from Colorado Springs, Colo. highlights a deep and talented pool of outside attackers. Vander Ploeg clearly established herself as one of the conference's elite outside hitters in 2013 earning a spot on the All-Big Sky First Team after ranking second in the conference in kills at 3.58 per set. She made big strides in her second season increasing her freshman kill average from 3.16 while also increasing her efficiency as her hitting percentage saw a rise of 15 points to .242. She continued to show her value on defense with 261 digs, second on the team, good for 2.53 per set while compiling a team-best eight double-doubles. On pace to soar past the 1,000 career kill mark sometime this season, there is no telling what Vander Ploeg's ceiling is entering 2014.
"Janae is one of the top players in our conference not just because of her ability to attack but her ability to play the whole game," Murphy said. "She's a really good leader and role model because she gets in the gym and works hard. She got better in the spring improving her passing, her defense and even hitting and it's good for everybody to see a player at her level work as hard as she does to keep improving."
Senior Sydney Kemper adds another dynamic on the right side as last year's position switch did not slow down the three-time all-conference honoree. Already one of the conference's top middle blockers, Kemper moved to the right side and was an All-Big Sky Second Team selection after ranking second behind Vander Ploeg with 2.66 kills per set. She maintained her blocking prowess ranking third on the team with 77 blocks, but where she really flourished was in the back row. She averaged 2.14 digs per set, more than four times her career average heading into last season, and recorded six double-doubles. Having displayed an all-around game last season, the Albuquerque, N.M. product is poised to finish her career on a high note and aims to be the first four-time all-conference honoree in school history.
"Sydney is such a big piece of what we do," Murphy said. "Nobody on our team works harder than she does. She came back into the season on a mission. She's so determined to carry this team to a place it's never been before and play a big part in NAU's history as a program."
In Vander Ploeg and Kemper, the Lumberjacks have a potent 1-2 punch on the outside and they only get stronger with sophomore Addy Lofstedt and sophomore transfer Lauren Jacobsen. Lofstedt was a key contributor and showed a lot of promise during her first season, averaging 2.19 kills per set, third on the Lumberjack squad. Meanwhile, Jacobsen returns to the state of Arizona where she starred at Hamilton High School following one season at San Jose State in which she was the Spartans' third-leading hitter with 2.37 kills per set.
Incoming freshman Kaylie Jorgenson rounds out the team's wealth of talent outside after helping her Marion Graham Collegiate prep team to three consecutive Saskatoon High School Volleyball titles in Canada.
"We know it's a long season and we're going to need a full team of talented players to reach the goals we've set for ourselves," Murphy said. "Things happen and we're going to need to be able to get through adversity with a deep roster. We have a very competitive gym environment and our team understands that we will have to earn everything that we get. This mentality has made us stronger and given us all an even greater belief in our team."
Middle Blockers
With Kemper sliding to the right side, a void was created next to Payton Bock in the middle, but that hole was quickly filled by senior Taylor Stephens. Stephens enjoyed a breakout season in her first as a starter and quickly made the conference aware of her name. Having played sparingly her first two seasons, the Phoenix, Ariz. native seized her opportunity leading the team and ranking fifth in the Big Sky with 1.19 blocks per set in what was one of the best blocking seasons in program history. Stephens was also a threat offensively as she hit .299, fifth-best in the conference, to go along with 1.70 kills per set. A relative unknown asset outside of the team prior to last season, Stephens will be one of the Lumberjacks' key headliners heading into her final campaign.
"I'm really happy for what Taylor has been able to do up to this point and what's ahead of her in her career," Murphy said. "Statistically she was one of the top-two or three middle blockers in our conference. She probably didn't get the recognition she deserved but that doesn't bother her because she wants to keep getting better and be a big part of our team's success."
Bock will join Stephens at the net to form a dynamic duo as she hopes to parlay her strong finish in 2013 into what will be a dominating 2014 season. Bock averaged just south of a block per set at 0.98 as she managed to total 108 total blocks on her way to breaking the program record for career blocks through two seasons. She ranked fourth on the team with 1.87 kills per set and came on strong as the season closed finishing with five double-digit kill performances in her final 10 matches, including a season-best 16 kill performance in the Big Sky quarterfinals.
"I've seen a lot of growth in Payton," Murphy said. "Last year she was injured a lot and I give her credit for playing through it. This year, she's stronger and healthier and her game has developed a lot. She's hitting at a higher point and she has better offensive range. She has the ability to be one of if not the best middle blockers in our conference."
The Lumberjacks will pair their two all-conference caliber middle blockers with a trio of underclassmen who are capable of contributing. Sophomore Isabelle Gosar returns and NAU also adds Brittni Dorsey and Emma Grimsrud, both of whom join the Lumberjacks following impressive prep careers.
"Izzy is the most improved player in our program," Murphy said. "She worked extraordinarily hard in the spring to develop her game and more strength in the weight room. I've been so impressed with how much she has developed in the last six months. She has seen the benefits of it and we have a very tough, competitive spot at middle blocker. We have three players who could be all-conference level players."
Setters
In a shift from their previous identity, the Lumberjacks ran a fast, high octane offensive attack in Murphy's system last season with Erin Truett and Jensen Barton holding the keys. Of the two, Barton returns with Truett graduating after the pair split time at the setter position in 2013.
Barton earned 19 starts and played in 21 matches total as a freshman and led the team with 9.78 assists per set. She recorded at least 20 assists in all but one match she appeared in and was instrumental in a Lumberjack attack that ranked fourth in the Big Sky in hitting percentage. The sophomore proved to be a quality defender and sneaky second-touch attacker as well averaging 1.86 digs and 1.00 kills per set while hitting .297 for the season.
"The setter position is going to be very competitive," Murphy said. "Jensen has the experience in our system. She sets our hitters at a very high level and when she's on, our teams hit a very high percentage and we're tough to beat."
Jordan Leiter is the second setter on the 2014 roster, joining the Lumberjacks coming off two standout seasons at Central Arizona College. Leiter has the ability to make a big impact early having received First Team All-Conference honors last season after ranking among the nation's best with 11.27 assists per set, second in the country, and 0.76 service aces per set, fourth in the country.
"Jordan is getting used to the things we're doing, but she also has a really good all-around game," Murphy said. "She plays really great defense and has a tough serve. She has great leadership qualities and she has fit into our systems quickly. Both of our setters have the ability to set us at a really high level this year."
Libero/Defensive Specialists
The Lumberjack back row will have a different look this season as NAU will deal with the loss of their libero and starting defensive specialist from a year ago. Trianna Henry will not return for her junior season after ranking fourth in the Big Sky with 4.28 digs per set while appearing in 26 matches in her first campaign as the team's libero. Her dig average was the seventh-best season average in school history and she totaled double-digit digs in 22 of 26 matches.
The team also loses Lexie Schroeder, who started 19 matches — four at libero and 15 as a defensive specialist — to graduation, but returns senior Hannah Hill. Hill filled multiple spots for NAU last season, her first with the Lumberjacks, starting one match at outside hitter but she primarily rotated in the back row where she averaged 1.09 digs per set.
Also in the fold is Stacia Williams, a transfer from Cal Poly, who will provide much-needed Division I experience to a relatively unexperienced Lumberjack defensive group. Williams, a redshirt junior after receiving a medical redshirt in 2013, averaged 1.43 digs per set over her first two seasons at Cal Poly appearing in 36 matches with four starts. Another newcomer, freshman Kayla Guerrero, will vie for time in the NAU back row with both defensive vacancies up for grabs heading into the 2014 season.
"We feel that our defense is going to be a strength this year," Murphy said. "Both Stacia and Hannah receive the ball well and their defense is exceptional. Just as importantly though, they're very competitive and they play a hard-nosed style of volleyball. We feel like both of them will give our team a boost when they are in the match and will be an important part of our team identity."
The Schedule
The Lumberjacks will play a 27-match schedule in 2014 headlined by a home tournament in September, a trip for two versus one of the nation's perennial volleyball powerhouses and a revamped Big Sky schedule.
The 2014 season opens in Houston, Texas at Houston Baptist's Husky Classic on Aug. 29-30. In their season opening tournament, the Lumberjacks will take on Houston Baptist, Chattanooga and Tulsa before heading back to the state of Texas the following weekend for the UTPA Tournament. NAU will play Texas A&M-Corpus Christi, Lamar and host Texas-Pan American on Sept. 5-6.
The Lumberjacks will head home for their own tournament in the Rolle Activity Center, hosting Grand Canyon, UC Riverside and Albany from Sept. 12-13 and will then make the trip across the Pacific Ocean for a pair of matches against Hawaii on Sept. 19 and 20 to close out the nonconference schedule. Hawaii, ranked No. 17 in the AVCA National Preseason Poll, reached the NCAA Tournament for the 21st consecutive year last season.
Once back to the continental U.S., the Lumberjacks will host Portland State and Sacramento State during the first week of conference play on Sept. 25 and 27. New beginning this fall, with the addition of Idaho to the Big Sky Conference in 2014, Big Sky Volleyball will be split into two six-team divisions for the regular season.
NAU will play the teams within its division — Idaho State, Portland State, Sacramento State, Southern Utah and Weber State — twice, once at each team's home court, and will play the remaining six conference teams — Eastern Washington, Idaho, North Dakota, Montana, Montana State and Northern Colorado — once each. This creates a 16 conference match schedule split down the middle with eight home and eight road matches as compared to the 20-match conference slate the last two seasons.
"Our team knows what to expect going through conference," Murphy said. "There are challenges throughout the conference schedule and we know we have to be a better team on the road. We have tough travel partners on our schedule and that's another area of growth for our team. Our expectations are high, but for us to meet those expectations we have to be able to deal with the challenges of traveling this conference."