Cactus League stadium guide: Scottsdale Stadium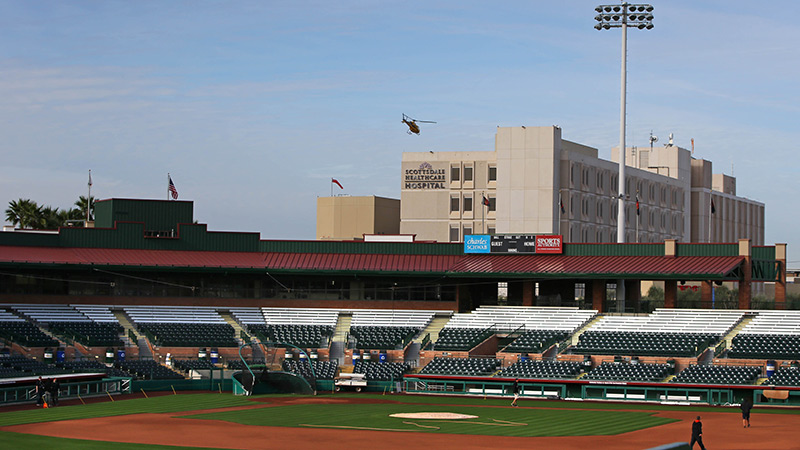 The temperatures are back in the 80s in the Valley of the Sun and with them, 15 major league teams have returned for spring training. Each of the 10 ballparks where they practice and play offer something special for fans who attend, from the delectable garlic fries imported from San Francisco to the opportunity to shag fly balls during batting practice. Cronkite News went from ballpark to ballpark and gathered a list of the must-sees and must-dos while in and around these Cactus League venues.
SCOTTSDALE STADIUM
Team: San Francisco Giants
Year opened: 1992
Feature: Have a free morning during spring training? Come to the stadium because when the team is scheduled to play a road game, the gates are open and fans can see their favorite players up close as they prepare to head off to their game.
Autographs: Go to the area surrounding the Giants dugout before or after the game.
Signature food: Garlic fries at Giants games are known baseball wide, but not everyone can travel all the way to the Bay Area for this ballpark delicacy. Good news is the legendary fries are available during Giants games at Scottsdale Stadium.
Most expensive seat/cheapest seat: Prices are dynamic, so a lawn seat against a lower market team will be decently cheap, hovering around $10, according to the Giants ticketing website. But if you want Dodgers-Giants seats, the tickets, even lawn seats, will cost you a bit more.
Pregame and postgame hotspot: The RnR Restaurant and Bar is just around the block from the ballpark. The restaurant is not shy about showing it bleeds orange and black as Giants flags fly outside the establishment. Thousands of Giants fans flock to this restaurant every spring.
Nearby attraction: Keep walking from the RnR Restaurant and you will stroll right into the past at Old Town Scottsdale. The area features multiple restaurants and other shops selling knick-knacks and postcards.
Feels like home: What makes you feel more at home than constantly being reminded that you have won a World Series title three of the last six years. Plastered all over the ballpark are the championship logos celebrating the Giants dynasty.
Scottsdale Stadium: 7408 E. Osborn Rd., Scottsdale 85251
RNR Restaurant and Bar: 3737 N. Scottsdale Rd., Scottsdale 85251
Old Town Scottsdale: 4101 North Scottsdale Rd., Scottsdale 85251