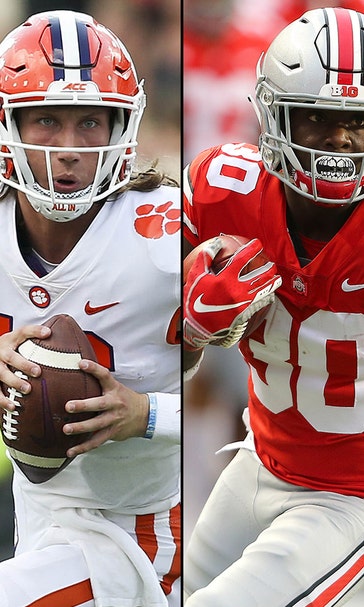 The Woodshed Week 4: Do you know who your starting QB is?
September 27, 2018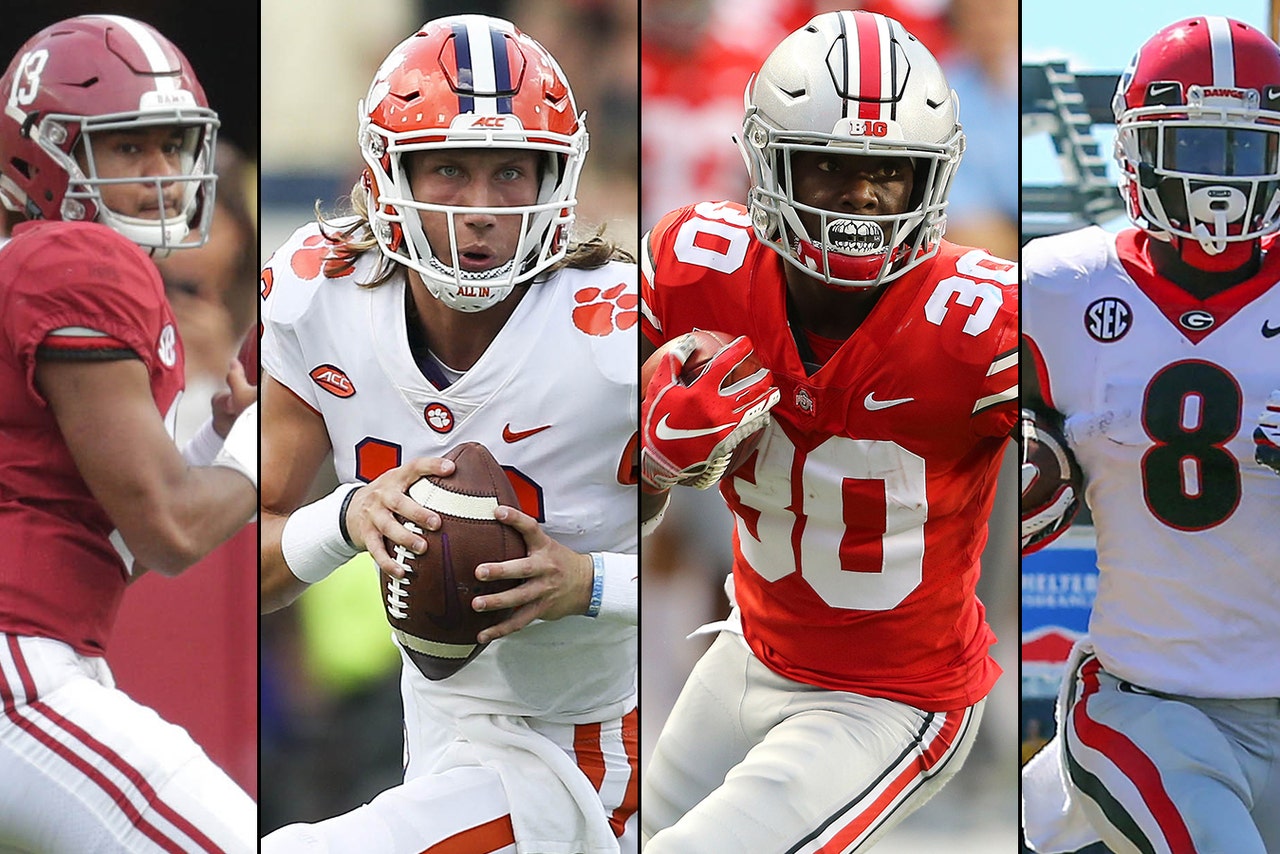 We have seen four weeks of college football. Do you know who the four best teams are regardless of record? I do, but we'll get to that in a moment. Let's recognize some of the finer moments of last week as we get ready for separation weekend. First up, we hit the Florida beat:

UCF TAKES A SEAT AT THE KING BEAR THRONE

When I talk about the "King Bear," It's a reference to the biggest and baddest bear that fights his way to the top of the group and is able to pick his spot on the river to fish salmon from, without challenge from the other bears.

https://youtu.be/x-9wYKR1w5A?t=33m10s
he
Sometimes a younger, ambitious bear climbs up and steals the throne for a bit. With Florida, Florida State, and Miami all in some stage of rebuilding, UCF is that bear right now.

They just smoked the Lane Train's Florida Atlantic 56-36. UCF's McKenzie Milton combined for 387 yards in the air and on the ground with six TDs. Miami fans may just think UCF is more like Farmer Ted in Sixteen Candles; they are just king of the little guys. UCF isn't going to out recruit Miami or Florida. Actually, Miami is going to eventually take the seat, but they'll have to prove they can beat somebody when it counts.

UCF puts its 16-game win streak on the line this week when Pittsburgh comes to town.

MIAMI BEATS ON LITTLE BROTHER FIU

FIU is 1-31 against Power 5 schools, so this was a game to pad the stats, or perhaps roll out a new QB for 'Canes fans. Mark Richt did exactly that with redshirt freshman N'Kosi Perry. The Ocala kid responded by completing his first 10 throws. Miami scored on its last four possessions of the half to go up 24-0. Miami won 31-17, but honestly the only thing worth noting is Perry is the guy for now.

Mark Richt isn't naming a starting QB for now, saying he'll play whichever QB gives them the best chance to win on a weekly basis. But I'd put my money on Perry due to fact that the offense had more swagger with him behind center.

Miami hosts North Carolina on Thursday night at Hard Rock Stadium. Get your popcorn ready.

THERE YA GO, FLORIDA STATE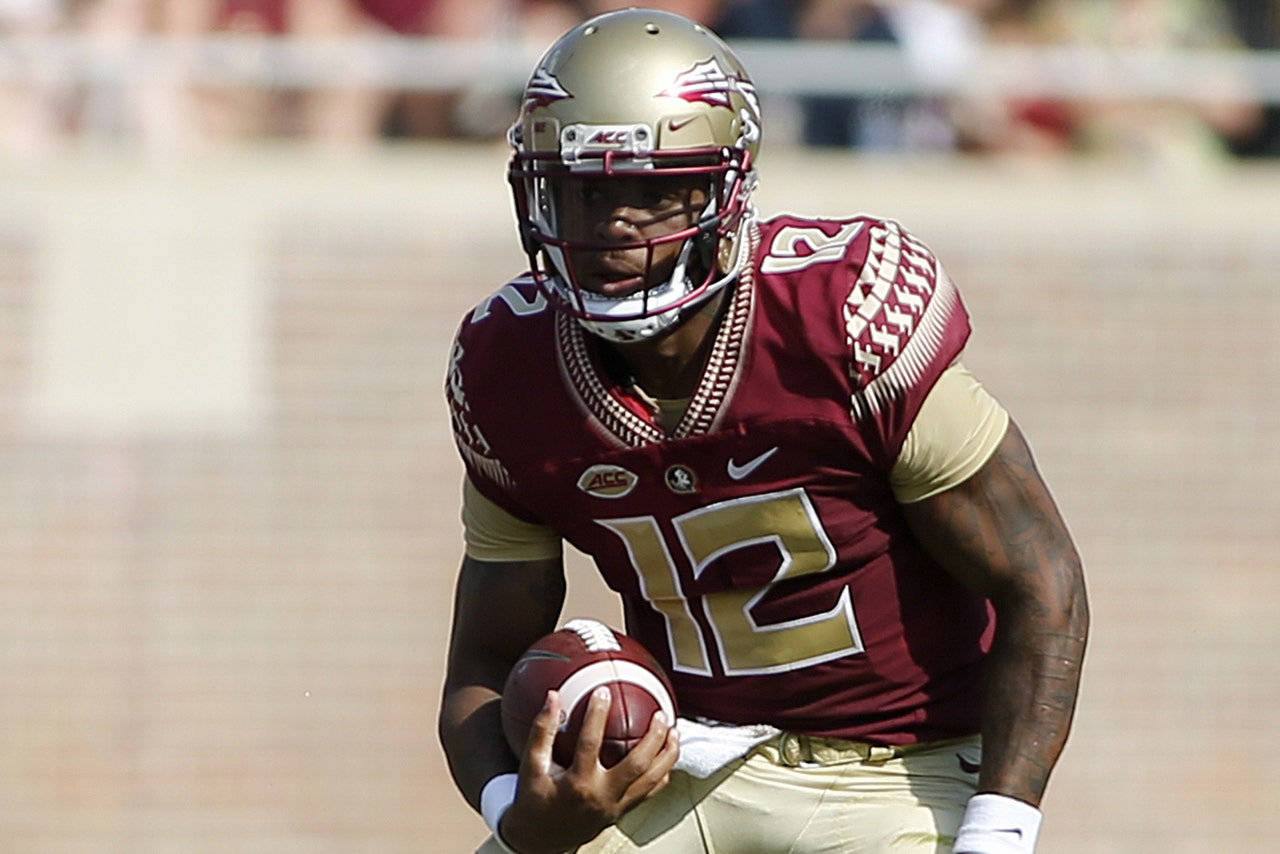 Sep 22, 2018; Tallahassee, FL, USA; Florida State Seminoles quarterback Deondre Francois

If you were looking for the missing Florida State offense, it was last seen in Tallahassee, when Deondre Francois threw for 352 yards and two TDS in a 37-19 victory over Northern Illinois.

'Noles fans shouldn't get too excited quite yet. NIU is 1-3 and not expected to be near the top of the MAC this year. But it's a step in the right direction for Willie Taggart and the program.

Next up is Louisville, who got walloped by Virginia 27-3. So, you're saying there's a chance!?

ROCKY TOPPED BY FLORIDA

Now that's more like it. Gators fans can exhale a bit for two reasons.

For one, they went into Knoxville and held a party in the checkered end zones all day. QB Felipe Franks threw for three TDs in a 47-21 chomp romp. The second reason to be happy is that maybe that Kentucky loss doesn't look as bad, as they continue to win.

Six Volunteers turnovers is the reason for the big score for Florida. Regardless, now the real test is going Dan Mullen taking his new club over to his old stomping grounds and beating the team that he helped build.

The "Mullen" Bowl will be the measurement of how the rest of this season shapes up for both divisions of the SEC.

UM, NO HE DIDN'T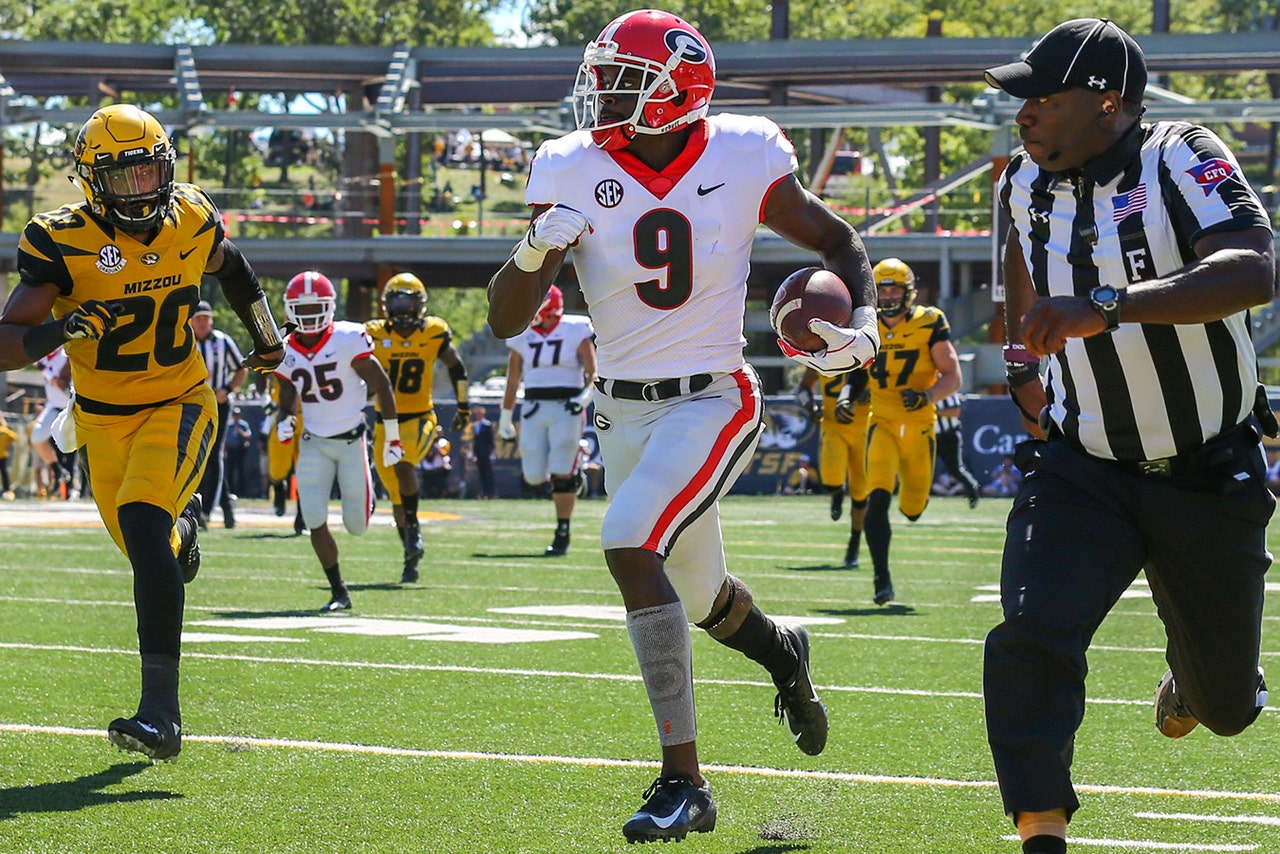 Sep 22, 2018; Columbia, MO, USA; Georgia Bulldogs wide receiver Jeremiah Holloman (9) runs for a touchdown as Missouri Tigers defensive back Khalil Oliver

Do you recall in week one when I wrote about how Kirby Smart should deal with his players who drop the ball at the goal line prematurely? Deandre Baker got some extra practice after he didn't carry it over the goal line. Then there is this.

Georgia WR Jeremiah Holloman has scored before, so he's aware of where the goal line is. I'll put this out there for all coaches. Instruct your players to run into the end zone and place the ball in front of the goal post. That will insure that there's no doubt in the ref's mind you scored the touchdown.

Georgia beat Missouri 43-29. But if you take Holloman's TD away and give it to Missouri, which picked the ball up and ran it back, the game would be 36 all.

Georgia was the better team here, but maybe not quite as sound as everybody thinks. Missouri ran the ball up the middle on this team for 172 yards. Georgia has Tennessee next week, a little better test for the Bulldogs.

Here's the Woodshed Top 10:

No. 1 Ala-freaking-Bama

You were supposed to use your Tom Hank's Forrest Gump voice when you say that.

https://www.youtube.com/watch?v=-F6Tq2nTuMc

Listen: Alabama is really good y'all. If you think anyone in the SEC West is going to give them a game, you are crazy. Upsets happen, but it didn't happen with Texas A&M, who for some reason is ranked because they didn't get beat so badly by Clemson? Jimbo Fisher is a good coach, but he can't fix a broken program in six months.

The Alabama story will be the same all year long: Tua Tagovailoa. The Heisman candidate threw for 387 yards and four TDs in a 45-23 smackdown of the Aggies. Nick Saban is correct in evaluating his team: They passed the ball really well, but they couldn't control the run game like they should have. He was asked this in his press conference.

https://youtu.be/j_SWPj-u3_A?t=6m2s

And the last bite of the conference, he encouraged reporters to pick out stuff the team didn't do so well, so he can use them as coaching points.

The Tide have a cupcake next on the schedule with Louisiana-Lafayette. Don't get caught up in the Jalen Hurts sweepstakes, will he play or not play as a transfer? Jalen is on tap to graduate in December, so he can transfer and play next year as a graduate transfer. If he wasn't going to graduate, then the four-game redshirt deal would be best for him.

No. 2 Clemson

Whelp, Dabo Swinney has done it now. Perhaps watching how Nick Saban handled his quarterback situation, Swinney tabbed "Sunshine" Trevor Lawrence to be the starter for the Tigers from here on out. Clemson certainly throws the ball better with Lawrence, but Kelly Bryant gives you a dimension to the run game that is really hard to defend. Upon learning the news on Monday, Bryant decided to transfer.

Before you guys call Bryant a quitter, how would you feel if you did everything the program asked of you, took your team to the playoffs, only to be replaced by a freshman who hasn't proven anything yet. It will be interesting where an athlete like Bryant falls. Notre Dame, Auburn, Florida, and UCLA are just a few schools that would consider Kelly and upgrade next year.

The Tigers are still No. 2 on my board because of the defensive line. To me, having Lawrence at the helm makes them beatable. There will be a game where he acts like a freshman.

Bryant now becomes eligible to play for a team next year if he takes a redshirt for this year. The paws on your helmet won't be tested for a while, Clemson. Syracuse is up next.

I just want to note that two quarterbacks who took their teams to the playoffs last year have been benched for younger quarterbacks. Crazy!

No. 3 Ohio State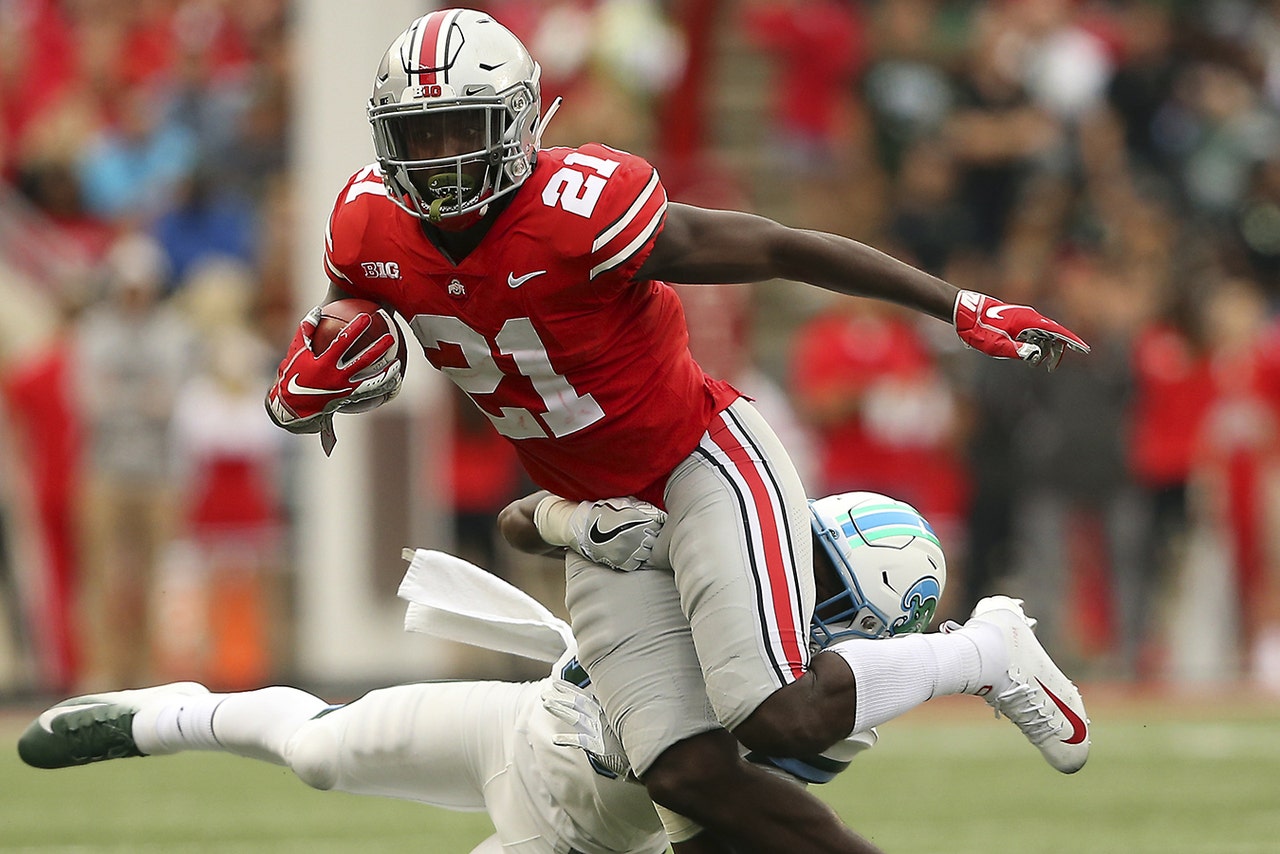 Sep 22, 2018; Columbus, OH, USA; Ohio State Buckeyes wide receiver Parris Campbell (21) gets away from the tackle of Tulane Green Wave

The Buckeyes are really good on offense. They rank third in the country with just under 600 yards a game.

Dwayne Haskins added another five TDs in half a game played against Tulane in Urban Meyer's Welcome Back Party. As if Penn State didn't have playmakers to worry about, Parris Campbell had eight receptions for 147 yards and 2 TDs.

This week Meyer learned he must go to Penn State without the services of Nick Bosa, who could be the best defensive player in the nation. OSU is beatable. Penn State ranks first in the nation in TDs scored with 30. It will be interesting to see if OSU lines up its two-headed monster of running backs -- J.K Dobbins and Mike Weber -- in the same backfield.

And my sleeper guy is Demario McCall. The halfback is dangerous in the open field. This game will come down to how well the Ohio State linebackers and safeties play against Trace McSorley, who lives for these types of games.

No. 4 Georgia

Kirby Smart has the Dawg pound barking pretty loudly. Georgia took care of Missouri's NFL quarterback prospect Drew Lock but couldn't lock down the rushing attack. On offense, Jake Fromm was pretty good with three TDs and a pick.

We won't really know how good Georgia is for another three weeks, when they face LSU. That's when the plot thickens.

No. 5 Penn State

I know, the Lions almost got beat by Appalachia State in Week 1. It took an overtime pass by Trace McSorley that was dubbed his Heisman moment by Matt Millen. I'm guessing a moment like that against Ohio State would have more weight.

It was a slow beginning in Champaign last week for the Nittany Lions, but don't sweat it. They have scored 63 in each of their past two games. The only help James Franklin needs is comedian Kevin Hart, who is from North Philadelphia.

Perhaps he will help with the recruiting going on in the White Out in Happy Valley; some of the nation's best uncommitted players will be present for the game.

No. 6 Oklahoma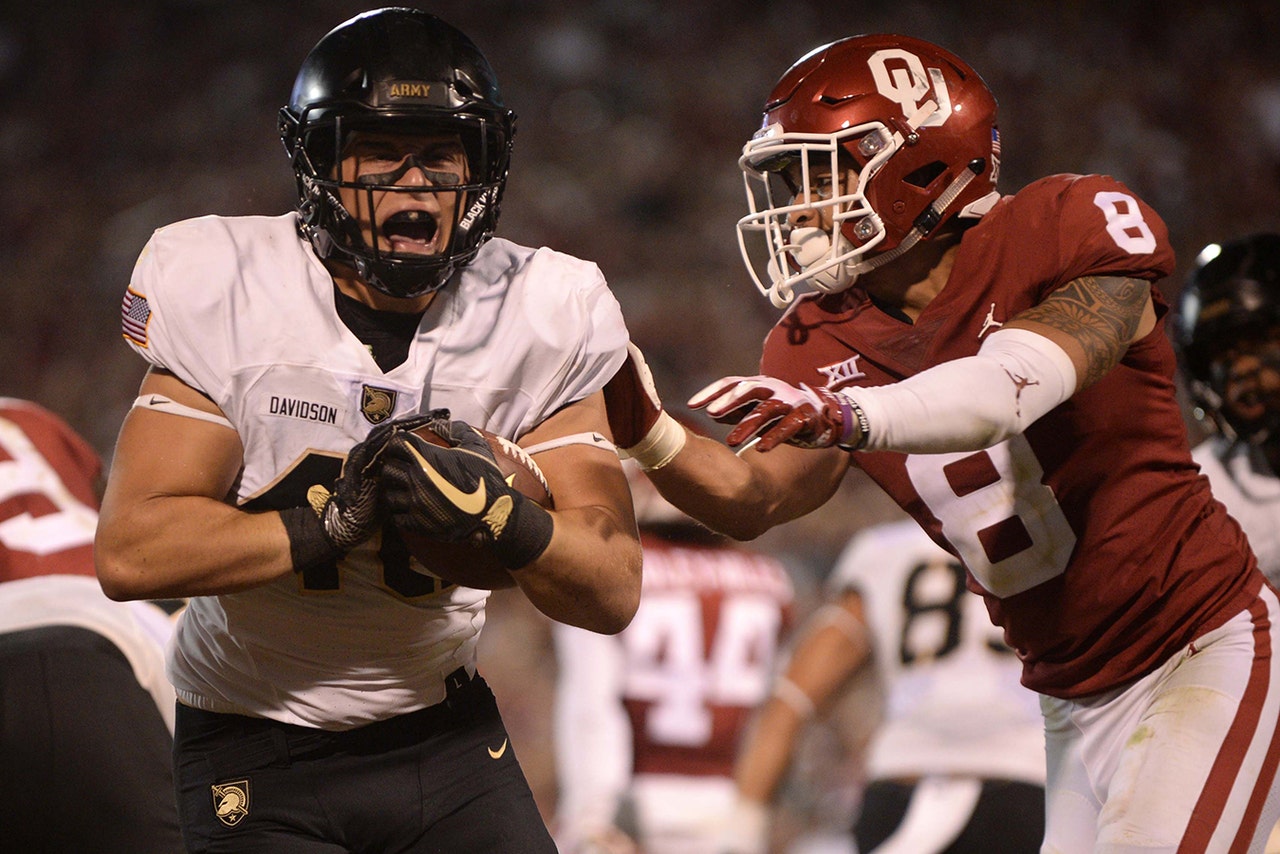 Sep 22, 2018; Norman, OK, USA; Army Black Knights running back Andy Davidson (40) scores a touchdown in front of Oklahoma Sooners safety Kahlil Haughton

Didn't everybody watch the pay-per-view game between Oklahoma and Army?

The Sooners needed overtime to do away with the boys from West Point. True to form, the Black Knights ran the triple-option to death. Army won the time of possession game 44:41 to 15:19. Not a bad football strategy: If you have the ball, then it is hard for the other team to score.

The Sooners had a chance to win the game at the end of regulation but missed a 33-yard field goal. Oklahoma won when Kyler Murray tossed a 10-yard TD pass in overtime. Army was picked off on fourth down in its possession, but they left the field of play to a standing ovation.

And just so you know how much class they have, Army thanked Oklahoma for the opportunity to play them and left the locker room the way they found it.

No. 7 LSU

The Joe Burrow show continues in Baton Rouge, as the purple and gold rolled over Louisiana Tech 38-21.

Actually, this game was all Clyde Edwards-Helaire! Little Emmitt Smith Jr. ran for 136 yards and a couple of touchdowns. Burrow does just enough to manage the game and move the chains.

We will see if the Tigers are for real when they face off against Ole Miss this weekend.

No. 8 Stanford

I absolutely love it when a team wins because of poor coaching.

Stanford capitalized on what could be the biggest goof in Oregon football history. The gift was Oregon's Mario Cristobal choosing to not take a knee down the stretch of its game. Oregon was up 31-28 with 51 seconds left when it fumbled on a second-and-3 on the Stanford 40. Had Cristobal kneeled, he could have punted back to the Cardinal with about 20 seconds left on the clock. Instead, the fumble led to a game-tying field goal and an overtime victory.

https://twitter.com/Prehmmr247/status/1043725370992680962

Stanford isn't going to light up the scoreboard with their offense. I feel like their only threat is throwing a jump ball to WR JJ Arcega-Whiteside, who has a couple jump ball TDs already this season.

Notre Dame will have to give the love to Bryce Love; the Heisman candidate has gotten off to a slow start this season, rushing for more than 100 yards only once in three games.

No. 9 Notre Dame

There must have been a memo sent out to all the coaches: Replace your QB now if you want a chance at this year's playoffs.

I give coach Brian Kelly a lot of credit for benching Brandon Wimbush and going with sophomore Ian Book, who rushed for three TDs while throwing two more in a 56-27 rout of Wake Forest. Wimbush was 13-3 as a starter, but it doesn't matter now.

The Book has opened to a new chapter with the Irish, who have a very manageable schedule if they can get by the Cardinal this week.

No. 10 Kentucky

I don't understand why Kentucky hasn't gotten the love from the national media? When else are you going to talk about these guys?

They have beaten both Florida and Mississippi State in the SEC and are off to its first 4-0 start in a decade. Kentucky put the hurt on MSU 28-7, led by tailback Benny Snell Jr., who is quietly picking up some Heisman talk because of his angry running skills and personality.

Let's talk about facts, he's rushed for 540 yards and 7 TDs in four games, averaging 6.2 yards a carry. "LET'S GO!"

https://twitter.com/Scott_Charlton/status/1043698951239749633

Snell is a great story. He is from the same hometown that produced Ki-Jana Carter, who also left Columbus to go to school out of state.

Kentucky takes on South Carolina next, so we'll see if the Blue and White keep pace with Georgia on top of the SEC East.


---
---