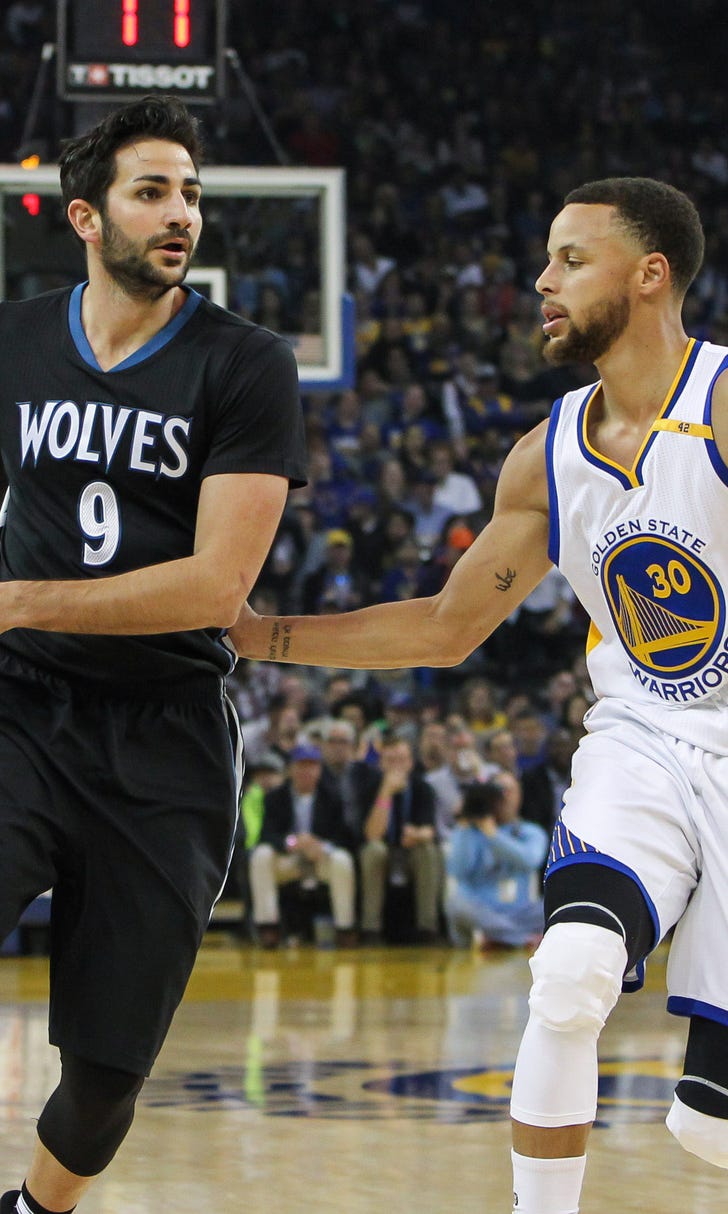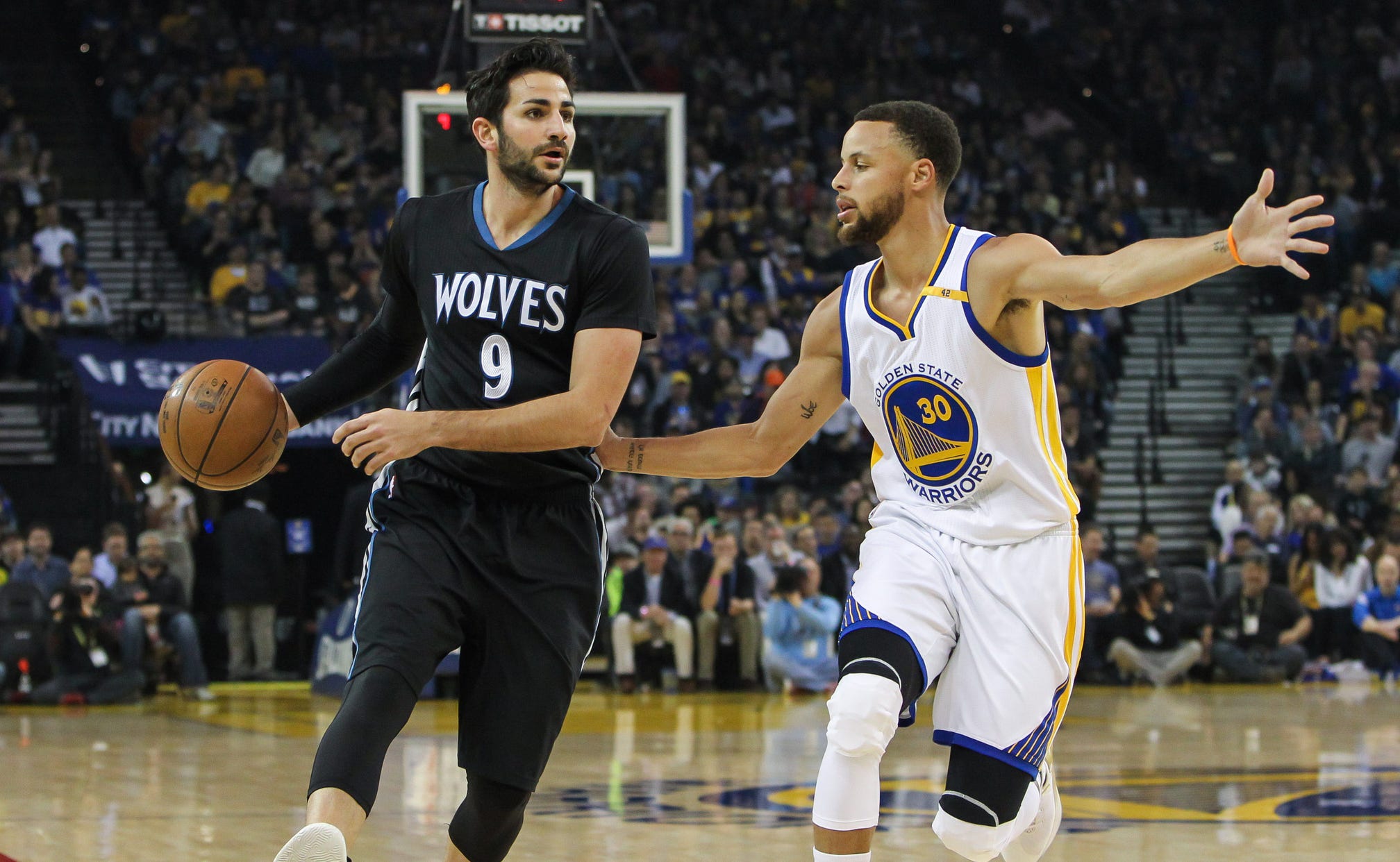 Minnesota Timberwolves: Ricky Rubio 2016-17 season review
BY Fansided and Dominique Clare/FanSided via Hoops Habit • June 30, 2017
Apr 4, 2017; Oakland, CA, USA; Minnesota Timberwolves guard Ricky Rubio (9) dribbles the ball against Golden State Warriors guard Stephen Curry (30) during the first quarter at Oracle Arena. Mandatory Credit: Sergio Estrada-USA TODAY Sports
Point guard Ricky Rubio just finished his sixth NBA season for the Minnesota Timberwolves. His performance is finally heading in the right direction.
Ricky Rubio was the culprit of trade rumors all season before the trade deadline. Minnesota Timberwolves fans have displayed trouble buying into the 26-year-old point guard from Spain.  Despite the rumors constantly breathing down his neck, Rubio is coming off the best season of his six-year career.
Only four years ago, the Minnesota Timberwolves' future consisted of Kevin Love, Nikola Pekovic and Ricky Rubio. That changed very quickly when the Wolves traded Love to the Cleveland Cavaliers for Andrew Wiggins.
Since the Love trade, Pekovic has struggled to stay healthy. He only played in 43 games during the last three seasons. That left Ricky Rubio in muddy water trying to find himself with new teammates.
Forced to start over from scratch
Rubio not only made it through an awkward transition, he is playing the best basketball of his NBA career right now. He is on a young Wolves team looking to start a new era. This season he rated as the fourth-best player on the team. He is a great fit to play with Karl-Anthony Towns, Andrew Wiggins and Zach LaVine.
Below are Rubio's stats from this season.
Per Game Table

| Season | Age | G | GS | MP | FG% | 3P% | 2P% | FT% | TRB | AST | STL | BLK | TOV | PTS |
| --- | --- | --- | --- | --- | --- | --- | --- | --- | --- | --- | --- | --- | --- | --- |
| 2016-17 | 26 | 75 | 75 | 32.9 | .402 | .306 | .443 | .891 | 4.1 | 9.1 | 1.7 | 0.1 | 2.6 | 11.1 |
The first thing that stands out is how many games he played. He played the third-most games of his career in a season. He was limited in the past due to injuries. Rubio's durability the past two seasons is where it needs to be as he also played 76 games during the 2015-16 season. Similarly, he played the second-most minutes since his rookie campaign this season.
His statistics have improved as well. Not usually known as a scorer, he was able to average a career high 11.1 points per game. He is known for assists, where he also averaged a career-high with 9.1 assists a game. If he improves in that category next year he could easily average a double-double.
Ricky Rubio was one of the most efficient players in the NBA this season. He averaged 3.5 assists for each of his turnovers. That was good enough to rank fourth in the NBA. He took care of the ball and gave his young teammates many opportunities on offense.
Improving his biggest flaws
The biggest knock on Rubio's game has always been his shooting. He improved in that area as well. His field goal percentage is over 40 percent for the first time in his career. In addition, his free throw percentage is at an all-time high at 89.1 percent.
Seeing a player improve his greatest weaknesses is encouraging, especially for a team like the Minnesota Timberwolves. The Wolves have not been to the playoffs since 2004. They have a young core of players that will get them there soon. Ricky Rubio fits very well with this team and showed that this season.
More from Hoops Habit
This article originally appeared on
---
---