Jacksonville Jaguars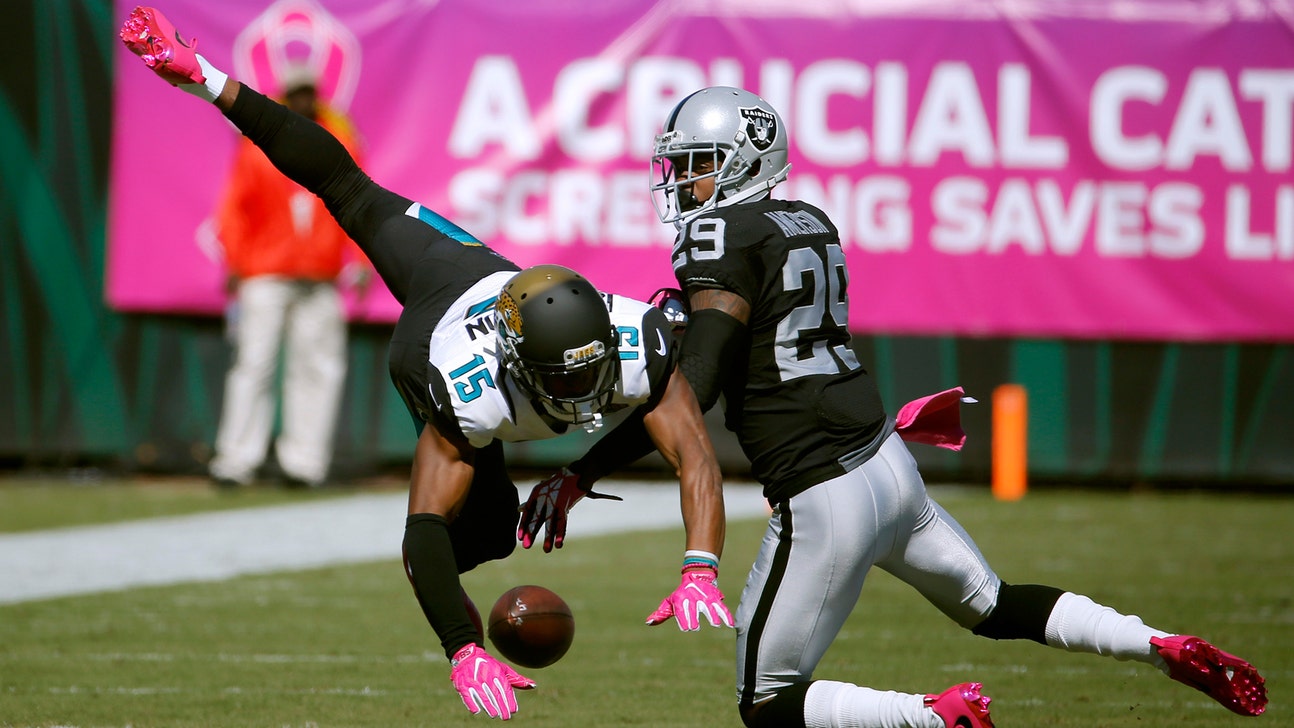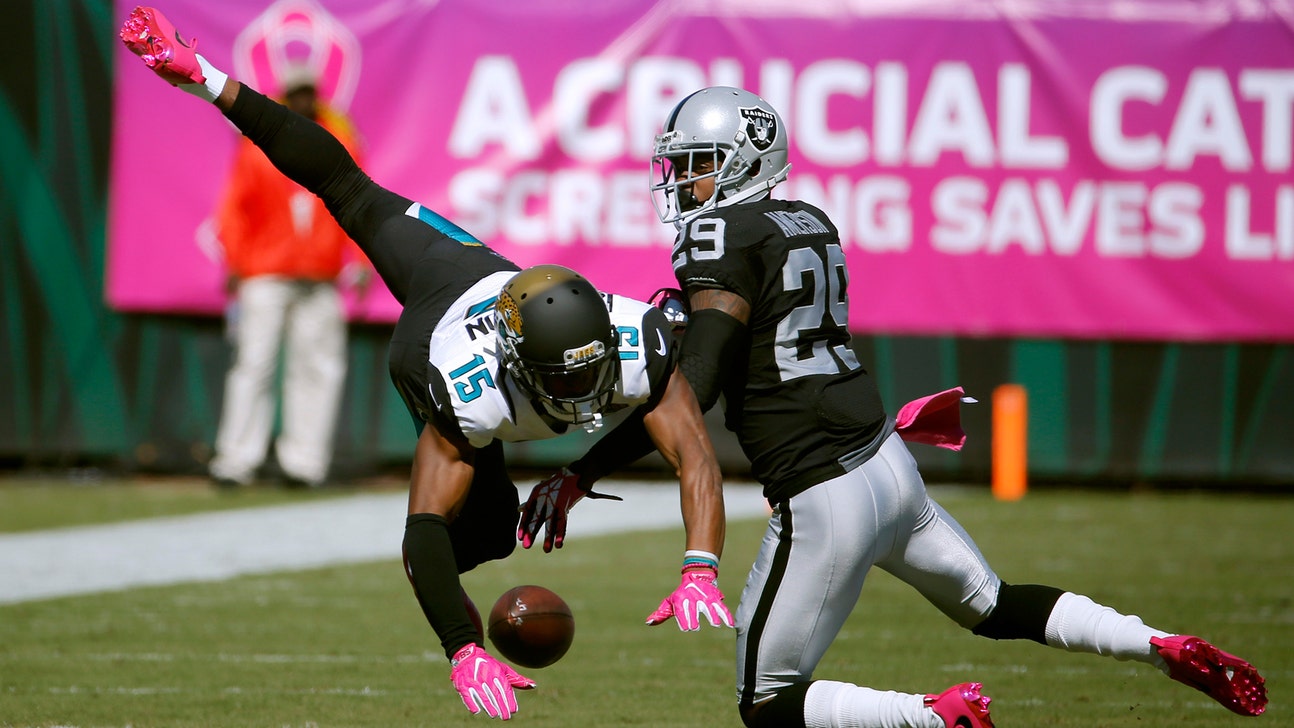 Jacksonville Jaguars
Undisciplined Jaguars come up listless in loss to Raiders
Published
Oct. 23, 2016 4:43 p.m. ET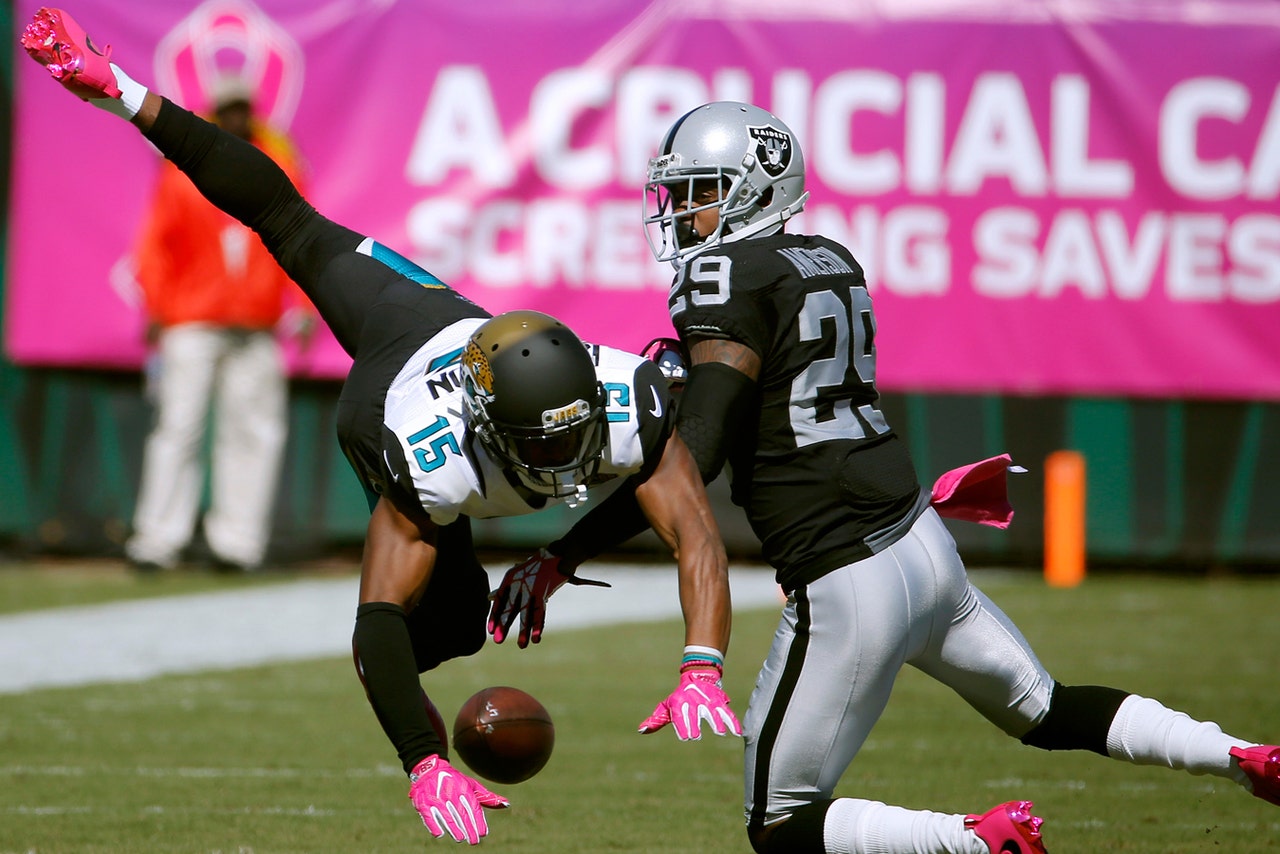 JACKSONVILLE, Fla. (AP) -- The Oakland Raiders have figured out how to win on the East Coast. The Jacksonville Jaguars have no idea how to fix their offensive problems.
Latavius Murray's return from turf toe provided a spark for Oakland's running game, and quarterback Derek Carr was efficient and effective in a 33-16 victory against the listless Jaguars on Sunday.
Now, the Raiders (5-2) get to enjoy their week in the Sunshine State before playing at Tampa Bay next week. Oakland improved to 4-0 on the road (2-0 on the East Coast) and has the franchise's best start to a season since 2001.
"I'm a Florida boy and it's nice to be back in Florida weather for a little while," Raiders defensive end Khalil Mack said. "Now we need to go out and get another victory next week."
The Raiders will train in Bradenton next week before facing the Buccaneers.
The Jaguars (2-4), meanwhile, have a short week before playing at Tennessee. Although players suggested a quick turnaround could be good after an embarrassing effort Sunday, the reality is Jacksonville needs extra time to correct what's quickly becoming the league's worst offense.
Blake Bortles was off again Sunday, throwing for 246 yards and two interceptions. He had a garbage-time touchdown to Julius Thomas in which the veteran tight end made an impressive catch over Malcolm Smith's back on a ball that easily could have been intercepted.
Bortles has been mostly ineffective all season. He has nine TD passes and 11 turnovers, and his inaccuracy, mechanics and decisions have become issues in his third season.
"I'm obviously not playing good," Bortles said. "I couldn't tell you. I wish I knew; I would fix it. It's just a continual thing and we will hopefully find a way to turn it around and solve some problems."
Benching Bortles seems like a long shot, especially on a short week, but it's clear coach Gus Bradley is running out of excuses for his starter.
"I'm not going to sit here and protect every throw he makes, but you are right, there are throws we'd like to be better, and we'd like to have more accuracy," Bradley said. "When we are in a situation where we aren't doing what we want offensive, those things get more magnified."
Bortles and Carr were two of the top four quarterbacks selected in the 2014 NFL draft.
Bortles is regressing while Carr is taking his game to the next level.
Carr completed 23 of 37 passes for 200 yards, with a touchdown, no sacks and no turnovers. His best throw was a rollout TD toss to Michael Crabtree late in the second quarter that put Oakland up 20-6.
"Derek has done a tremendous job this year of going to another level as a player," coach Jack Del Rio said. "It was an example of a young man really growing in terms of his mastery of situational football, which you need to be good at. It was a great indication of him executing at the highest level."
Here are some other takeaways from Oakland's first win in three trips to Jacksonville:
JAGUARS MELTDOWN
Between penalties, fights and ejections, this was a meltdown for the Jaguars. They finished with 13 penalties for 122 yards and had two players ejected.
Receiver Marqise Lee was flagged for unsportsmanlike conduct and then defensive tackle Malik Jackson was penalized twice on the same play. He was ejected four plays later following an exchange with an official. Jackson ran to the locker room, seemingly eager to get off the field early.
Jaguars cornerback Jalen Ramsey and Raiders receiver Johnny Holton were ejected for fighting in the final minutes of the lopsided matchup.
"As a professional in the NFL, that's not what it's supposed to look like by any means," veteran linebacker Paul Posluszny said. "So that's what makes you mad. We're in the NFL. We need to have high standards for how we conduct ourselves at all times. I've never seen anything like that before. And that's unacceptable on a lot of different levels."
MURRAY MATTERS
Murray missed the last two games and clearly brought something extra with his return. He finished with 59 yards on 18 carries.
"Any back wants the ball in his hands, and I'm one of them," Murray said. "When we run the ball, we do good things."
DEL RIO'S RETURN
Del Rio heard boos throughout his return to Jacksonville. Most of them weren't directed at him. Del Rio won in his first game in Jacksonville since getting fired by the Jaguars with five games remaining in the 2011 season.
"It is good to come back here and get a good effort in this stadium," said Del Rio, who was given the game ball by Carr in the locker room.
---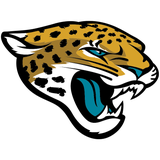 Get more from Jacksonville Jaguars
Follow your favorites to get information about games, news and more
---