Wherever he goes, Player of the Week Kevin Durant leaves them drooling
BY Jeff Caplan • February 1, 2016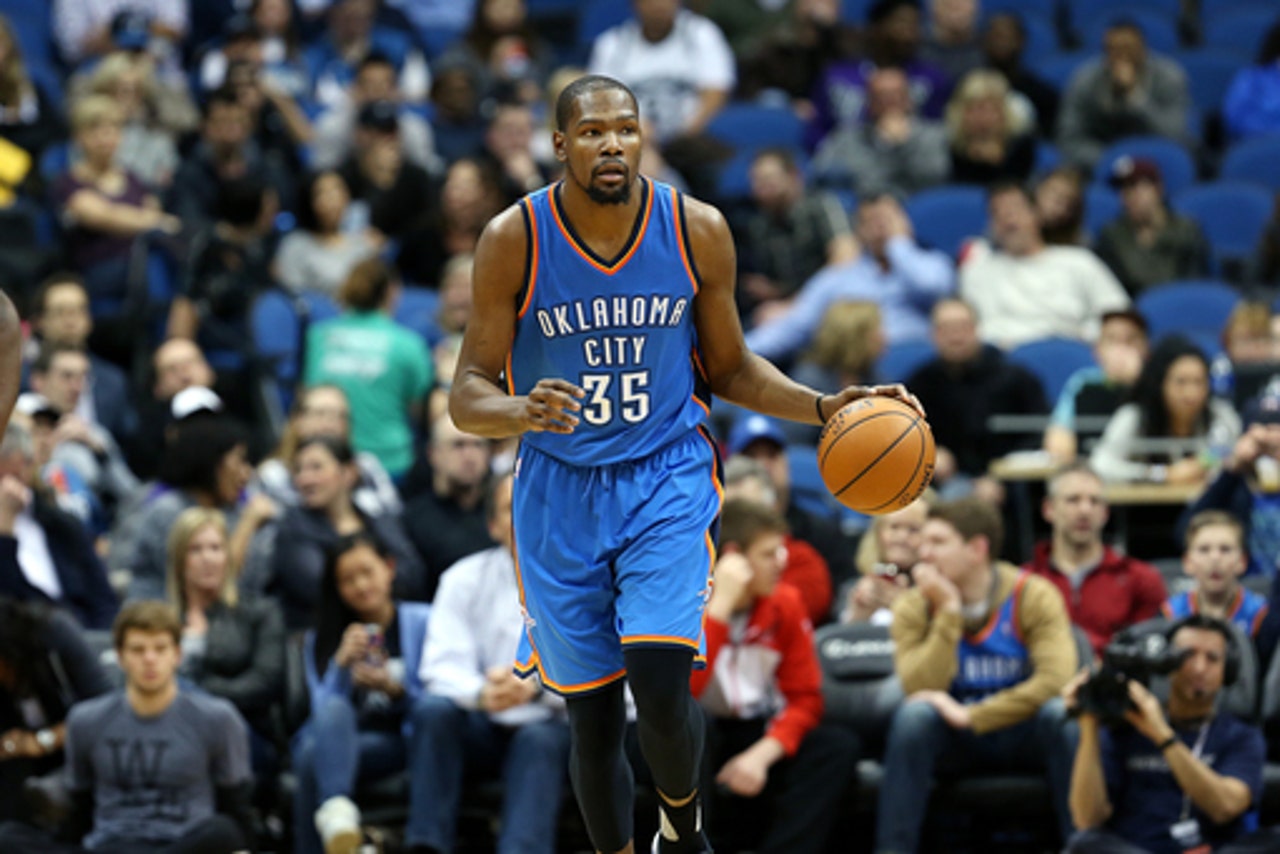 Last week the Big Apple went ga-ga with visions of Oklahoma City Thunder star Kevin Durant in a Knicks uniform when he visited Madison Square Garden. On Monday night it will be the team from Durant's birth city, Washington D.C., that will be ready to turn on the charm.
And that's on top of yet another recent report pairing Durant and sunny Los Angeles.
Meanwhile, the NBA's most popular free-agent-to-be just keeps everybody drooling in anticipation. Hours before the Wizards play at OKC, Durant was named the Western Conference Player of the Week for the fourth time this season after leading the 36-13 Thunder to three consecutive wins behind a league-best average of 34.7 points, plus 11.7 rebounds and 4.3 assists.
Truth be told, it wasn't the greatest week for the Thunder despite the 3-0 mark. Defense was a no-show most of the time as OKC needed overtime to get past the Knicks and went down to the wire at Minnesota. Durant scored a season-high 44 points with 14 rebounds to get past New York, while leaving Knicks fans on the edge of their seats.
It's an especially nerve-wracking time for Thunder fans, who have dreaded this final season of Durant's contract. In a perfect world, the Thunder would have already had a parade in downtown Oklahoma City and Durant would be sewn up, but that has yet to happen, mostly due to injuries in each of the last three seasons.
Thunder fans who attend the game or tune in Monday night to watch their team take on Washington will get a good look at the guard tandem of All-Star John Wall and Bradley Beal that could potentially lure Durant home.
Yet, perhaps most disconcerting to Thunder fans at this point is the rumor that won't die about the team with the league's second-worst record having the inside track -- the Los Angeles Lakers.
With Kobe Bryant on his retirement tour, the Lakers will be star hunting this offseason and Durant was again recently brought up by ESPN's Stephen A. Smith. And this time not just Durant, but L.A. native Russell Westbrook joining him in L.A. when he can become a free agent at the end of the 2016-17 season.
Durant and Westbrook both ditching OKC for L.A.? The salary-cap explosion that will occur in two summers takes away much of the incentive to join a so-called "have" over a "have-not." 
But, Westbrook is native of L.A., and that tug to play at home can be strong. If the Thunder don't win it all this season, maybe Durant feels more comfortable leaving after just one season under first-year coach Billy Donovan.
It certainly is getting interesting. But in the meantime, sit back and enjoy the show KD is putting on virtually every time he steps foot on the floor.
He's wanted man, and everywhere he goes he leaving them drooling.
---
---