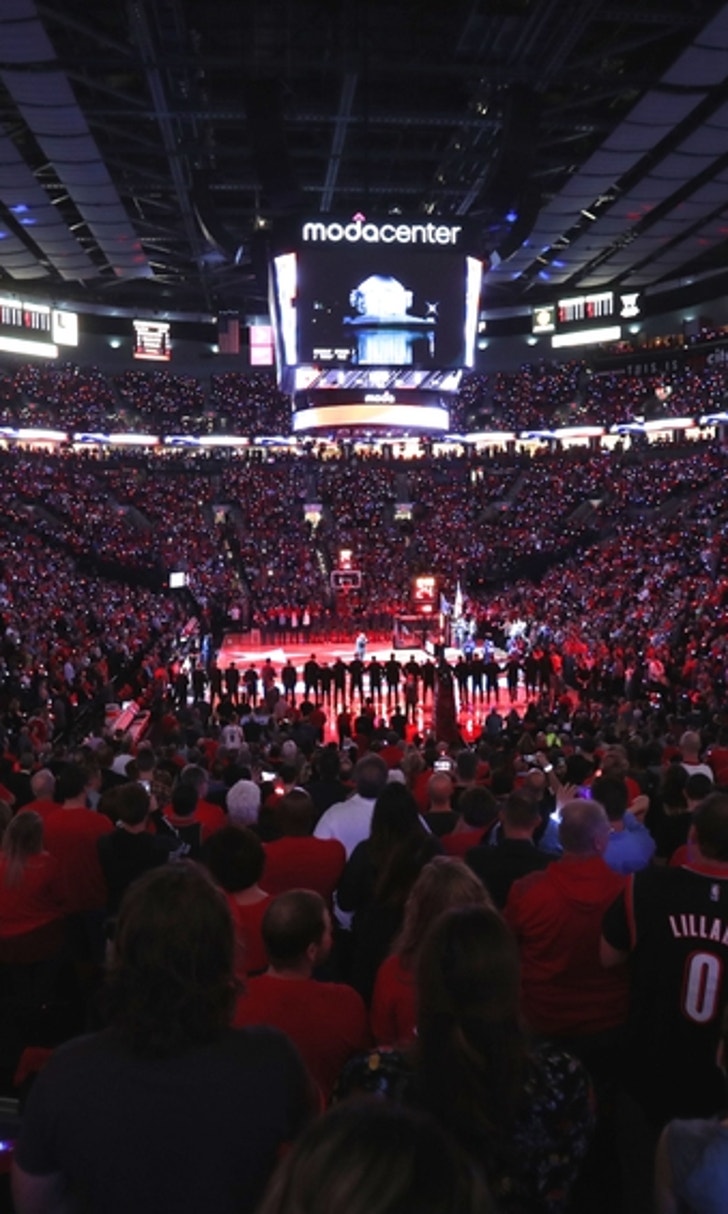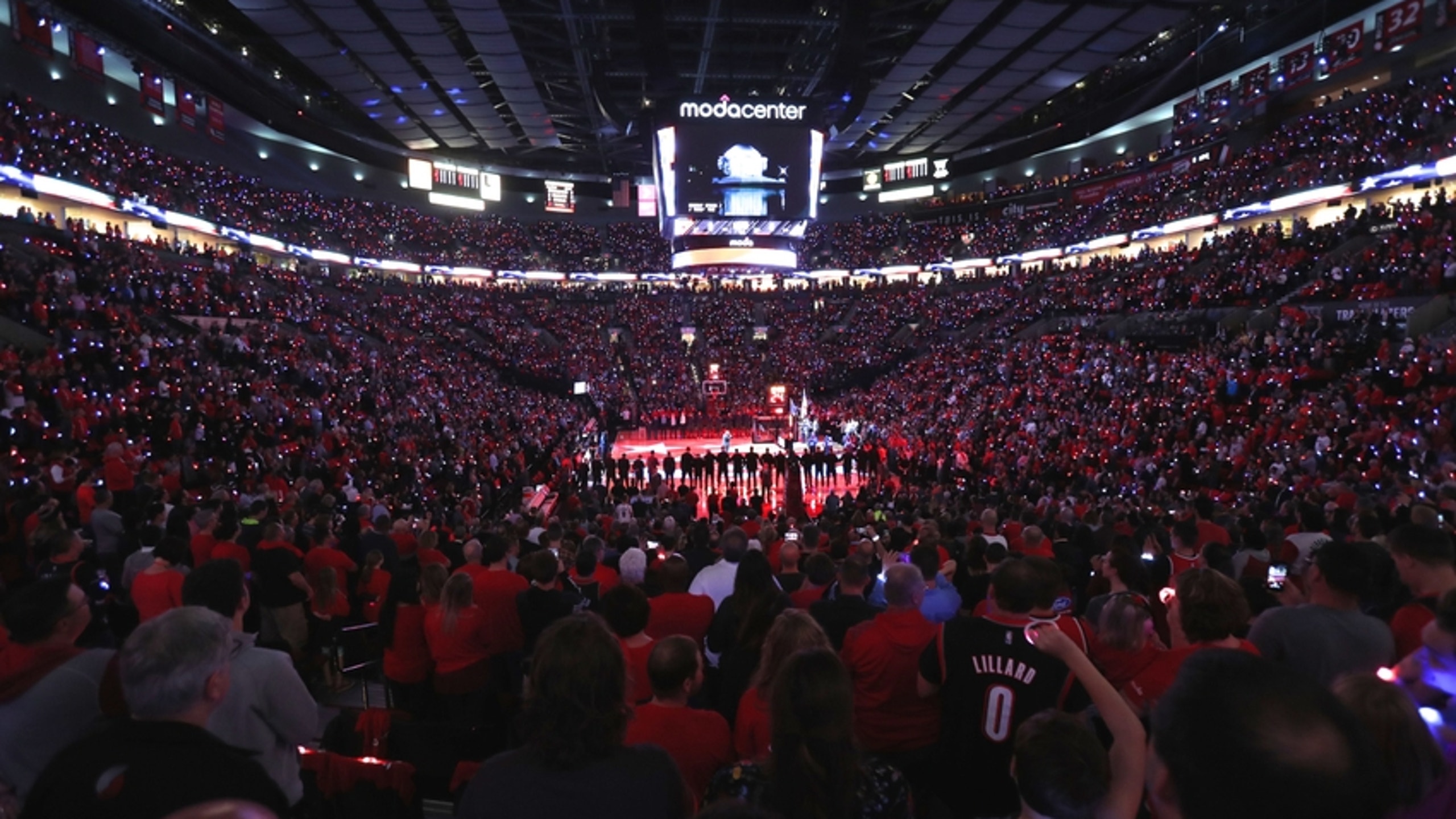 Portland Trail Blazers Timeline with Terry Johnson
BY Fansided and Minh Dao/FanSided via Rip City Project • December 27, 2016
Oct 25, 2016; Portland, OR, USA; Fans take part in providing color from their lighted bracelets during the opening ceremonies before a game between the Portland Trail Blazers and the Utah Jazz at Moda Center at the Rose Quarter. Mandatory Credit: Jaime Valdez-USA TODAY Sports
Terry takes us through a journey as a Blazer fan from the very beginning, ranging from topics such as Bill Walton, Dwight Jaynes, the 'Jail Blazers' to the present day Trail Blazers.
Minh: Today we have a very special guest. Longtime Blazer fan and good friend of mine, Terry Johnson! How are you doing?
Terry: Everything is great. Modern technology, what a wonder. Strange being 12,000 miles apart and doing an interview. Blazers fans are everywhere!
Emergence of the Roundball Love
M: So let's start from the beginning of it all. How did you fall in love with the game of basketball, and then as a Blazer fan?
blazers
Rip City Project 1 dLillard Doubtful for Blazers vs. Raptors
More headlines around FanSided:
2d - Portland Prognosis: How Did The Trail Blazers Get So Bad?4d - Preview: Spurs @ Trail Blazers4d - Damian Lillard's Improvement: Drives to the Basket Leading to Efficiency5d - Where is the Defensive Emotion? The Pitfall to The Blazers Season So Far5d - Portland Trail Blazers Silver Lining: Maurice HarklessMore News at Rip City Project

T: When I was four, big George Mikan picked me up at a parking lot in Minneapolis, Minnesota, the home of Mikan's Lakers. I thought he was Jack in the beanstalk's giant. He said with a chuckle, "I won't hurt you. I'm a basketball player. We are playing the Globetrotters in a real game next week. You and your dad should come watch us." I WAS HOOKED!  Becoming a Blazer fan was a natural extension of my love for the game.
M: That is a fantastic story! One of the games greats certainly had an everlasting impact on your perception on the game of basketball. Starting your journey as a Blazer fan, who was the first figure that got you on board? Walton? Dr Jack?
T: Geoff Petrie was the first Blazer star, but growing up my favorite player was Elgin Baylor. The Blazers changed my loyalty for the Lakers. It didn't take long.
M: Good man! Us Blazer fans are not fond of those Lakers.
T: About the time Elgin's career was over, we heard talk of pro ball in Portland. Portland was already a great basketball city, producing excellent players at the local schools.
The Godfather
M: Is this about the point where you discovered the godfather, Dwight Jaynes?
T: One of my first teaching jobs was at Grant High School. I volunteered to be an assistant coach under Tom Jones. At that time Grant had a bunch of great athletes, as did Jefferson and Benson. At that time Grant had athletes like Darryl Motley, Kevin McMillan, Mark Radford, and a host of other great athletes that went on to college and some to professional careers. After games the locker room hosted young sports writers from the Oregonian and the Journal. Two young reporters gathering stories were The Godfather, Dwight Jaynes, and a very youthful Steve Brandon.  Two excellent writers and great guys. A little later another great young reporter Kerry Eggers came on the scene. All of these guys have made deep and lasting marks on the sports scene in Portland.
M: They certainly have. Even my generation of Blazer fans should know about these household names. What do you think that makes them special in their field?
T: Excellent writers, persistent and intelligent questioning, love of sports, and all around good likable people. Most folks don't know that Dwight also loves and coached youth baseball. His son Willie was a very good athlete, and a heck of a baseball player at Cleveland High.
Apr 5, 2013; Atlanta, GA, USA; NBA former player Bill Walton speaks during the 75 years of March madness press conference in preparation for the Final Four of the 2013 NCAA basketball tournament at the Georgia Dome. Mandatory Credit: Richard Mackson-USA TODAY Sports
Walton's Blazers
M: He was an overall basketball guru, a Blazer time machine if you will. Talking about likeable people, lets move along to the Bill Walton and Dr Jack Ramsay era of Blazer basketball in the 70s. I've heard many times over and over that they were the 'what if' team of that decade.
T: No doubt about it. The Blazer championship team was a team of greyhounds. And great team guys. Many of the Blazers in that time period lived in the city or near suburbs. Often people would see them in many places around town, even grocery stores. Walton had a house a few blocks from Wallace Park in northwest Portland.
M: Why do you think they only won the 1 title?
Nov 21, 2016; Lahaina, Maui, HI, USA; ESPN announcer Bill Walton calls the the game between the Tennessee Volunteers and the Wisconsin Badgers during the Maui Jim Maui Invitational at the Lahaina Civic Center. Mandatory Credit: Brian Spurlock-USA TODAY Sports
T: One title, probably because of injury. Walton was injured, and it affected him from that time on. I'm sure his Portland injury shortened his career by several years, and turned him from an MVP to a support player.
M: Yes. He was a pivotal part of the Blazer franchise in the 70s and would've had more than one title and MVP during his time at Portland.
T: Looking back at Ramsay's offense, it required quick cuts, and changes of direction. It may have taken its toll on the player's knees, ankles, or hips. It had a basic movement, but also several variations, making it hard to defend. With great movers like Bobby Gross, it must have driven defenders crazy.
M: Dr Jack was a heck of a coach, but like all things in basketball, things often have flaws and drawbacks.
T: Dr. Jack had an incredible basketball mind. Inventive, and a risk taker. He was the perfect coach for that set of guys. They were all smart and very competitive. Walton often doesn't get credit for how intelligent he is. Very well read, and a super knowledge of art and history. People often don't understand his references.
M: Definitely! He calls games for the Pac-12 now and some of the things he says, people often are left bamboozled afterwards. He was known to play ball anytime he could've, similar to a guy we know now like Jamal Crawford.
T: Sometimes he would show up at Wallace Park and get into a pickup game. He tended to be a little over critical, and bark a bit a guys on the court. But the guys down there loved it. Who wouldn't like getting dressed down by the best player in basketball. Most of the guys were OK players, but not nearly as good and competitive as Walton. I guess he was a vegetarian at that time, and some folks called him "vegetable Bill".
M: That would be a heck of an experience! I know if I got to experience something like that, I would be more than happy to receive his instructions! He was certainly a character.
T: Too short a time in Portland. But enough to win a championship. Fun teams, high motors, excellent passers, and tough. Guys like Maurice Lucas didn't get pushed around.
Photo Credit: Robert Hanashiro, USA Today Sports
The Drexler – Sabonis era
M: Couldn't agree more. This brings me onto the next phase in the 80s where they drafted Clyde Drexler in '83 and Arvydas Sabonis in '86. Drexler ended up leading the Blazers to their other 2 NBA finals appearances while Sabonis was a player that came past his prime, but was still a wizard on the court. What was it like watching them?
Mar 19, 2015; Houston, TX, USA; Former Houston Rockets Clyde Drexler waves to the crowd as he is introduced during halftime of the Houston Rockets and Denver Nuggets game at Toyota Center in honor of the 20th anniversary the Rockets were honoring their 1993-94 and 1994-95 Champion NBA teams. Rockets won 118 to 108. Mandatory Credit: Thomas B. Shea-USA TODAY Sports
T: Drexler wasn't a great outside shooter, but was a great scorer. And incredibly fast on the court. The closest guy to a young Sabonis might be the Knick's Kristaps Porzingis. But Portland never saw that Sabonis.
M: He led some very good Blazer teams who unfortunately had to deal with those Pistons and Bulls teams in the late 80s, and early 90s. The likes of Terry Porter, Buck Williams, Kevin Duckworth, Cliff Robinson and my favorite, Jerome Kersey.
T: And all of them great people. Duckworth had a house off Walker Road in Beaverton, across from a grade school. Perfect place for him to live. Porter, what an upstanding intelligent player and father. I guess both of his sons are now at U of Portland. I remember seeing Kersey, years after retirement, at the Johnson Creek Fred Meyers. Pushing his cart grocery shopping. An elderly woman, a stranger, stopped him, and he treated her as if they were old friends. Great guy.
M: Porter is the head coach for the pilots now.
T: I'm glad Porter got that job. A credit to our community.
M: Kersey was certainly an upstanding citizen. And absolute glue guy with a high motor. He played with such heart every game. Gave 110%.
T: It was hard to believe he could move like that for a whole season. And back then starters played more minutes than now.
M: It seems like you aren't as high on Drexler as it seems others are. Is it maybe because of his opinionated calling ability at Rockets games now?
More from Rip City Project
T: It seems Drexler has an opinion about everything.  He's a talker, no doubt. But, he's a good guy with a big heart. And smart. But as a broadcaster, all Rockets, right or wrong. I wouldn't want him for a referee. As a player, he was fun to watch, and a great player.
M: I don't think Blazer fans should be upset with him going home to Houston to win a title. He had done all he could for the Blazers during his tenure.
T: He went home. Family means something. Plus playing with an all star college teammate and friend, who could resist?
M: Drexler did have a quote I read that if Sabonis had come over as soon as he was drafted, that the Blazers would have won 4-6 titles. He even used the word guaranteed. There was little footage of his prime but guys had said it would've been down to Michael Jordan and Sabonis as the greatest ever if he had his whole career in the NBA. David Robinson even said he was the greatest player he has ever played against. That is some praise isn't it?
T: I think that's true. I saw some video of him. He was a phenom. He was a complete player. He could have been a 7'3″ point guard. He could dribble, pass, and shoot every conceivable shot. One of a kind.
M: Wow. That is very high regard indeed. So for all the younger fans, you would highly recommend watching any footage available?
T: If you can find some, watch it. Every fan should put it on their bucket list. He looked a lot more streamlined in his youth.
M: That's right. You heard it here first folks. 'Sabas' was one heck of a talent. Eyes in the back of his head. I think a prime Sabonis would be a top 3 player in todays game.
T: No question. Tailor-made for today's game, when young and in his prime. A triple double machine.
M: His son (Domantas Sabonis), currently playing for the Thunder isn't too shabby himself. I think his dad passed down a very good gene.
T: He seems to have his dad's dedication, attention to detail, desire for excellence, team first mentality, and intelligence. But he is a different type of player, and although will most likely be an excellent NBA player, he's not in his fathers league.
Jan 16, 2016; Auburn Hills, MI, USA; Detroit Pistons former player Rasheed Wallace waves to the crowd during the second quarter against the Golden State Warriors at The Palace of Auburn Hills. The Pistons won 113-95. Mandatory Credit: Raj Mehta-USA TODAY Sports
The 'so close' team
M: Moving onto the 2000s where the next notable Blazer team was formed. A large payroll. Many personalities. Guys such as Damon Stoudemire, Rasheed Wallace, Scottie Pippen, Steve Smith, Sabonis, Brian Grant, Bonzi Wells, Greg Anthony and Detlef Schrempf. Wow, was this a controversial team, that eventually spilled over. They had some success though, before the 2000 Western Conference Finals.
T: Except for Bonzi Wells, the rest are good people. Rasheed was pretty emotional, had a short temper on the court. But the Blazers expected too much of him. He didn't want to be the number one. I think he's a bit misunderstood. Not totally mature, but an overall straight shooter. Greg Anthony spent one year at U of Portland, then transferred to UNLV. He's doing pretty well. Brian Grant is a great person, is very well liked. Steve Smith, another good guy. Pippen was at the end of his career and didn't want to admit it. It's hard to get old. Schrempf was a solid player and person. Damon had a few bends in the road, and found out it's hard to go home and live in a fishbowl. I met his mom, and thought, what a great lady. Damon came from an extended family of athletes. His dad Willie, led the nation in scoring while at PSU. Uncle Charley played both football and basketball at PSU. Uncle Anthony was a multi sport star as well. Also, Two of his cousins made NBA teams. Damon learned his lessons and grew up.
The Jail Blazers
M: It was a team that exploded after Bob Whitsitt decided to put together a team of just talent. Didn't take into account personalities, chemistry and those intangibles. It almost worked out. They were 12 minutes away from clinching the Blazers 4th NBA finals berth after coming from 3-1 down in the series, but unfortunately. It did not work out. This led into the spillover period known as the infamous 'Jail Blazers'. This is unfortunately where I stepped in as a Blazer and overall NBA fan. Guys like Wallace, Ruben Patterson, Qyntel Woods, Bonzi and Zach Randolph were at the forefront of attention.
T: Wallace tended to smoke weed, but not at all a criminal. The rest of those guys, nothing but trouble.
M: Wallace certainly lost his temper frequently. Not a good personality around teammates. He, Jermaine O'Neal and Randolph all were better off after they left the Blazers.
T: Some metrics mean something. Look at the vast majority of great players. I mean the best. They are successful after playing. Jermaine was very good. They let him go way too soon. He became an all star, and had a long career. Whitsitt, in my opinion, was a disaster.
M: That is for sure. Why do you say so though?
Dec 8, 2016; Memphis, TN, USA; Memphis Grizzlies forward Zach Randolph (50) shoots the ball against Portland Trail Blazers forward Ed Davis (17) during the first half at FedExForum. Mandatory Credit: Justin Ford-USA TODAY Sports
T: Look at his players. Put a group of athletic, disfunctional people on the court doesn't lead to a championship.
M: How about his transactions during that period? Doug Collins referred him as a 'rotisserie-league manager'.
T: Oh, Whitsitt was not knowledgeable about the job at all. Roster by highlight reel isn't very smart. His teams proved it.
M: Were there any stories of those players that really stood out? The media obviously wasn't friendly with this Blazer team.
T: Randolph was a notorious partier, with a bunch of hangers-on. Loud, and sometimes violent parties at his house. One that sent a drug dealer to the hospital after an unpaid drug deal at the house. Police stops. His high jinx was well documented.
Mar 20, 2012; Portland, OR, USA; Former Potland Trailblazers guard Brandon Roy sits court side as the Blazers play the Milwaukee Bucks at the Rose Garden. This was the first time Roy had been back in the Rose Garden since abruptly retiring at the beginning of the season. Mandatory Credit: Craig Mitchelldyer-US PRESSWIRE
The Rebuild
M: The Blazers then cleaned up their act, and this started with the 2006 draft where they selected LaMarcus Aldridge and Brandon Roy. The year after, they selected Greg Oden.
T: Everything changed. Aldridge and Roy, standup guys.
M: Roy was one of my favorite players then, and one still of my favorites all time. He came in from the University of Washington, and immediately made an impact on and off the court.
T: He should be. He earned it. Great team guy in college. Solid player and person. Dependable, confident, prepared for leadership, and a money shooter.
Apr 29, 2015; Memphis, TN, USA; Portland Trailblazers forward LaMarcus Aldridge (12) backs in against Memphis Grizzlies forward Zach Randolph (50) in the first quarter during game five of the first round of the NBA Playoffs. at FedExForum. Mandatory Credit: Nelson Chenault-USA TODAY Sports
M: Very clutch. He almost single-handedly change the image of a franchise that desperately needed to flip the page. Roy did a lot more for the Blazers than what was on the box score. A lot more than what meets the eye. Unfortunately, he only lasted about 5 seasons before he had to retire due to injury. Oden, not even that.
T: By the time these guys are drafted, I've reached nearly the end of a wonderful, fun, rewarding career, teaching at Cleveland High School. 32 wonderful years, over 5000 kids in my classroom and teams, and feeling privileged and honored at the parents who trusted me to do the right thing by their children. 2009, retired. Having the blazers taste success was like medicine as I transitioned into old age. The Blazers of this period seemed to be good hardworking players. As a fan, and making a life changing move, a good shot in the arm. I'm glad that Roy is doing so well coaching kids in Seattle. Aldridge went home. It looked like he became unhappy, and it showed. He's pretty sensitive, and needed the change. Now the new guys. What a delightful surprise.
Oct 19, 2016; Salt Lake City, UT, USA; Portland Trail Blazers guard Damian Lillard (0) dribbles up the court during the first half against the Utah Jazz at Vivint Smart Home Arena. The Trail Blazers won 88-84. Mandatory Credit: Russ Isabella-USA TODAY Sports
The Letter O
M: I believe so as well, regarding Aldridge. He wanted to be the guy, but never took it by the scruff of the neck. But someone who did was the kid from Weber State, Damian Lillard in the 2012 draft. He has taken the keys and embraced the role. How about his shot in the 2014 playoffs? What a moment!
T: I like Lillard a lot. Great player and person. My niece, who has a daughter at Lakeridge High school, says Lillard's sister is a great young lady. Super family, super Blazer. Before his career is over he will be considered one of the Blazer's best. I can see his jersey hanging at the Moda Center some day.
Apr 29, 2016; Portland, OR, USA; Portland Trail Blazers guard Damian Lillard (0) hugs guard CJ McCollum (3) after defeating the Los Angeles Clippers 106-103 in game six of the first round of the NBA Playoffs at Moda Center at the Rose Quarter. Mandatory Credit: Troy Wayrynen-USA TODAY Sports
M: He and CJ McCollum both live with their mothers. CJ has been quite the surprise hasn't he? Since LA left, he has taken the reigns as the second option and was the Most Improved Player last year.
T: CJ went to Lehigh. Serious student, serious player. Always the underdog. Late grower, hard worker, and very smart. I'm not surprised by his success.
M: Despite LA, Nicolas Batum, Robin Lopez and Wesley Matthews leaving in the summer of 2015, the Blazers only regressed 7 wins, 1 seed but actually made it passed the second round.
T: We were all surprised. But shouldn't be surprising is gaining success with an excellent coach, great floor leader and captain, and a bunch of very good athletes with something to prove. What a great year!
M: Don't forget the roster construction Neil Olshey has done since taking over in 2012.
Mar 6, 2016; Auburn Hills, MI, USA; Portland Trail Blazers guard C.J. McCollum (3) drives the ball around teammate center Mason Plumlee (24) as Detroit Pistons guard Reggie Jackson (1) defends during the second quarter of the game at The Palace of Auburn Hills. Mandatory Credit: Leon Halip-USA TODAY Sports
The Present
T: Olshey is doing a very good job so far. This year he really earns his money as people ask, what's next? Cap, contracts, and trades.
M: He spent over $300 million this past offseason and they are currently sitting below the 8th seed, 13-20 and
underwhelming with the 3rd highest payroll. Before we wrap things up, what do you think needs to change with this Blazers season?
October 21, 2016; Oakland, CA, USA; Portland Trail Blazers president of basketball operations Neil Olshey during the fourth quarter against the Golden State Warriors at Oracle Arena. The Warriors defeated the Trail Blazers 107-96. Mandatory Credit: Kyle Terada-USA TODAY Sports
T: You convinced me. Trade for DeMarcus Cousins.
M: I did not see that one coming! What else needs changing internally? What about their defense? Rebounding?
T: Last year, they started playing tougher and harder. They took it to the other teams. Defense is partly knowledge, but mostly a decision, a commitment. Rebounding is the same. Internally, hard to say. I think they might give some time to Jake Layman. I don't think he will hurt them. And I think he has a skill set that can help them. At the least, he could do what Joe Ingles does for Utah.
M: I agree. I wouldn't mind giving additional time to Noah Vonleh and Layman. Less Meyers Leonard and that could all be achieved in my Cousins piece which includes a possible trade package!
T: I also agree with playing Vonleh. It looks like Meyers has  ways to go as an inside threat. Olshey needs a little magic to make the trade for Cousins. But it's worth a try.
M: Oh, we could go on for hours about Leonard. So let's not. I think this is a good time to wrap it up. Thank you very much for taking the time to do this. Might have to have you back on when all the readers ask for a part 2!
Happy festive season and I will speak to you soon.
T: Or they will say, "Where did you get this guy?"
Good luck Minh, the down under, Blazer connection.
---
---