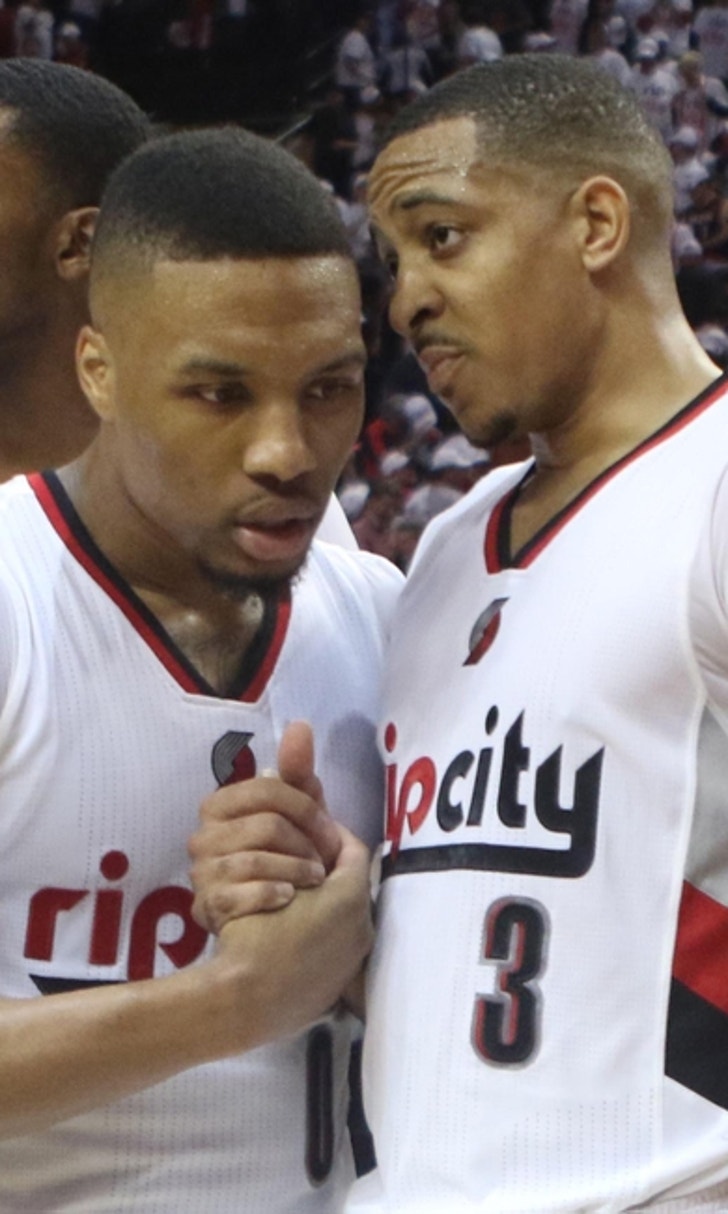 Portland Trail Blazers Should Consider Trading Damian Lillard
BY Fansided and Justin Rowan/FanSided via Hoops Habit • June 30, 2017
The Portland Trail Blazers have two tremendously talented guards. But it may be in their best interest to split up the pair.
I'm going to get this out of the way right off the bat … Damian Lillard is one of my favorite players to watch in the NBA. I am not suggesting that Lillard is the problem with the Portland Trail Blazers so far this season.
Lillard is one of the best point guards in the league and, despite his defensive flaws, is still a huge positive for his team. However, he is not the only talented score-first guard on his team. Playing two shorter guards that are minus defenders does put Portland in a tough position defensively.
As a result of this, Portland may be wise to look at splitting up its talented duo.
If you want to look at splitting up the pair, the immediate assumption would be that C.J. McCollum would be the one to be traded. With Lillard as the face of the franchise and the catalyst of so much of their success in the past, this line of thinking makes plenty of sense.
It may even be the proper move. That being said, there's also reason to believe that the team may be better off if they elect to move Lillard over McCollum.
First of all, the trade value of Lillard would be likely be much higher. As a household name, an All-Star talent that is locked up through to the 2020-21 season, Lillard would yield a massive return.
blazers
Rip City Project 1 dBlazers Guard Damian Lillard "Doubtful" Vs. Warriors
More headlines around FanSided:
1 d - 3 Warriors that must step up vs Portland1 d - Warriors vs Blazers live stream: Watch Golden State online1 d - Blazers Life Without Superstar Damian Lillard2d - New Year's Resolution for Blazers: Get Connected2d - NBA Trade Rumors: 5 Teams Who Should Trade For Paul MillsapMore News at Rip City Project

Teams may also be more willing to take on a bad contract from the Blazers if it would mean acquiring Lillard. That means that Portland would have the opportunity to get out of the horrendous deal they gave to Evan Turner.
The obvious risk in moving Lillard is that you would need to find a way to replace his production. In the five games Lillard has missed with an ankle injury, McCollum has stepped up. McCollum has averaged 31.2 points, 4.6 assists, and 4.2 rebounds per game.
He's put up those numbers with great efficiency as well, shooting 49.1 percent from the floor and 38.2 percent from behind the arc. This production came against Kyle Lowry, Ricky Rubio and Stephen Curry, all of whom rank in the top 15 in defensive real plus minus.
The team also has had noteworthy success over this stretch. They have close losses to the Toronto Raptors and Golden State Warriors. They also took care of business against the Sacramento Kings and Minnesota Timberwolves.
The Blazers took care of business against lesser competition last season. Their failure to do this so far this season has lead to the team's slow start.
The target of any trade would ideally help the Blazers in the frontcourt. The team has a tremendous amount of guard depth, but they lack a true interior presence.
One potential trade partner would be the Sacramento Kings. The Blazers could move Lillard and Turner for a return of DeMarcus Cousins, Kosta Koufos and Rudy Gay. Portland saves money in this deal, has the option to let Gay walk for cap space and improves their frontcourt and defense.
More from Hoops Habit
Meanwhile Sacramento has a new star under contract for the foreseeable future. They also open up minutes for Willie Cauley-Stein and solves their DeMarcus Cousins problem. Sacramento would have a more balanced offense with a floor general like Lillard.
He has shown that he can create both for himself and for others.
If a player like Lillard is available, the Blazers should be able to create a bidding war. But unless the return includes a possible franchise cornerstone, I would caution the team against making the move.
Splitting up the duo makes sense in theory, but only if you receive a difference maker at a position of need. If the team finds that trade with either guard, they should make the move.
The argument for trading Lillard over McCollum comes down to capitalizing on his value to get a more complete roster. You're also banking on McCollum coming close to or exceeding Lillard's production.
If the team can find a deal that creates a more balanced roster by moving McCollum, that would also be a fine option. But the bottom lne is that they would be wise to evaluate what the market is on both players.
---
---