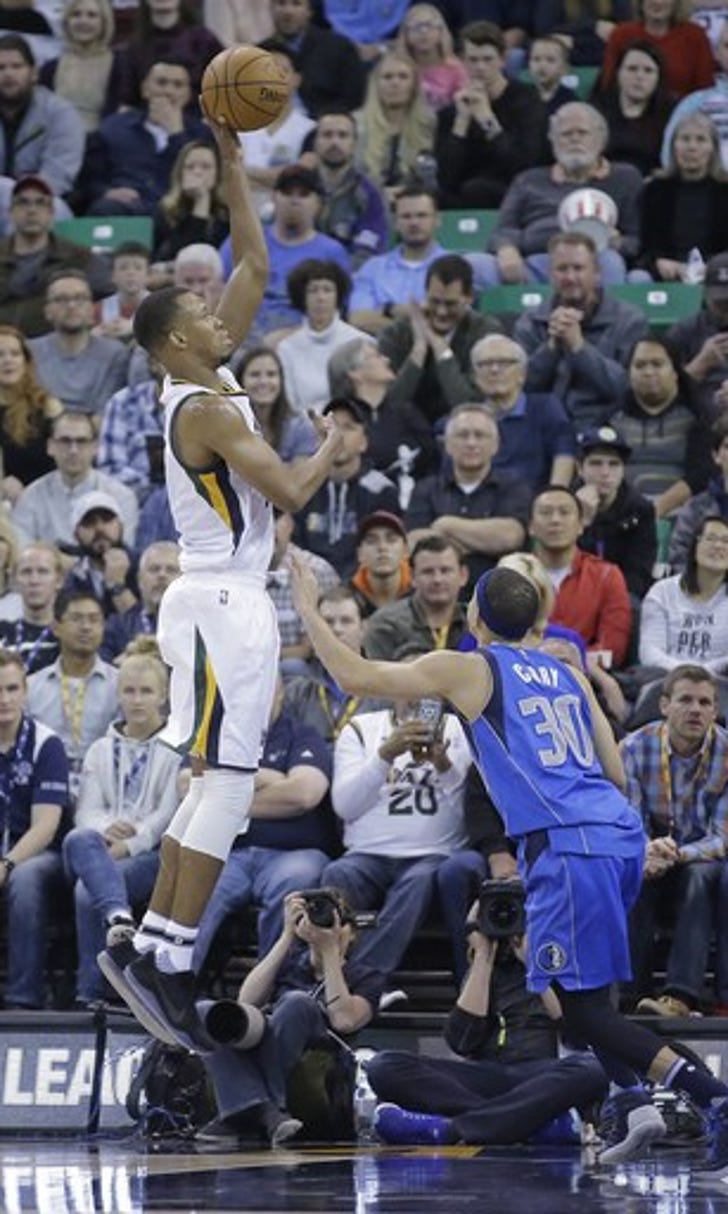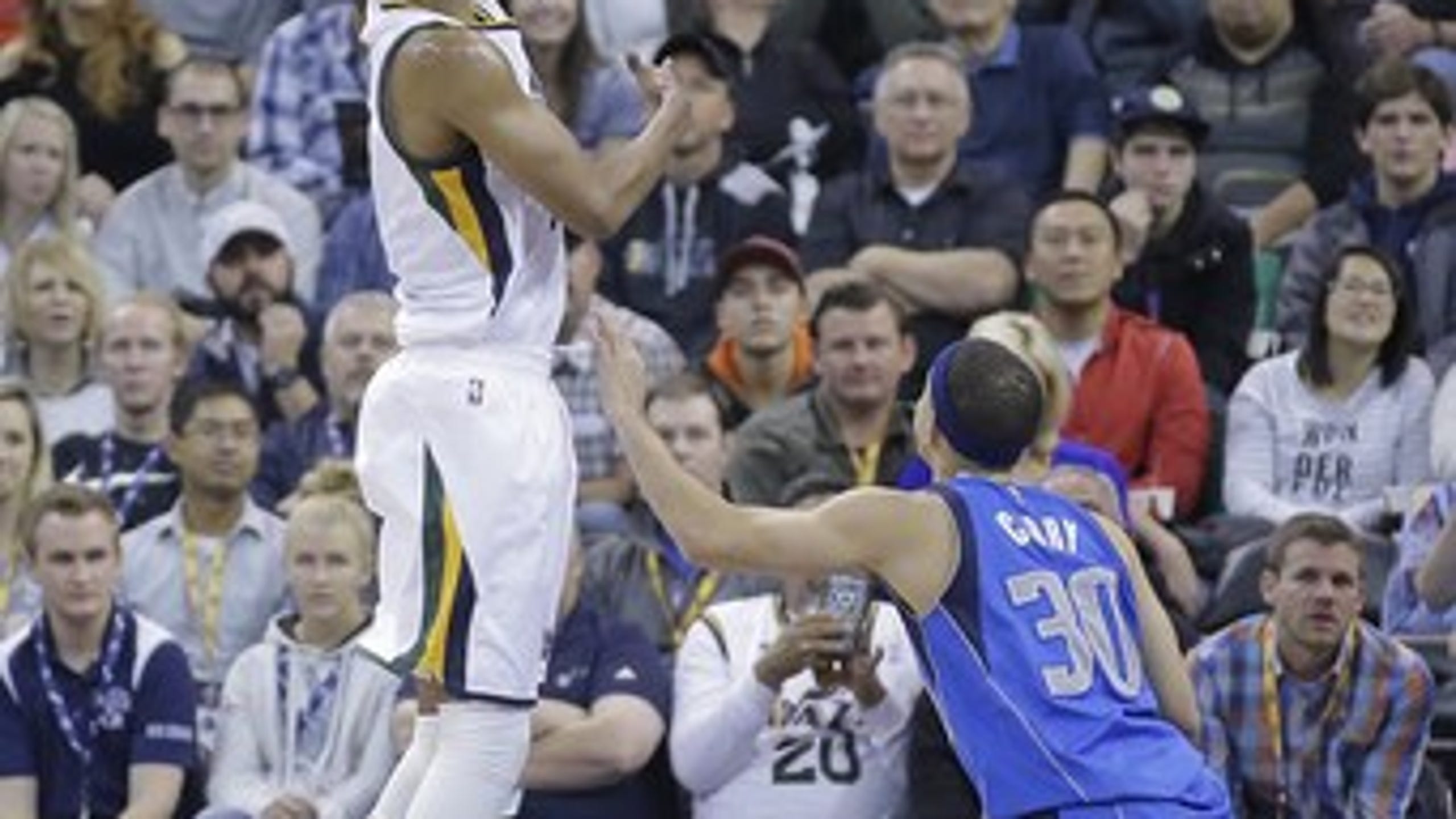 Hood hits pull-up 3 to give Jazz 103-100 win over Mavericks (Dec 16, 2016)
BY AP • December 17, 2016
SALT LAKE CITY (AP) Rodney Hood had never hit a game-winning shot - at any level. So when he knocked down a big one Friday night, all he could think to do was give a little shoulder-shimmy.
Hood pulled up for a 3-pointer in transition with 0.8 seconds left that gave the Utah Jazz a 103-100 win over Dallas after a furious rally by the Mavericks in the fourth quarter.
''It's crazy,'' Hood said. ''I didn't know what to do, so I just shook a little bit. It felt good, though.
''Everybody dreams of that feeling, time going down, 3-2-1, and you hit a shot and the crowd goes crazy. I did it a lot of times in my front yard, but never in a real game.''
Dallas used a 9-0 run late in the fourth to tie the score at 100 before Hood grabbed the rebound of Deron Williams' miss with several seconds left.
''As a point guard, I know when to run a play,'' Williams said. ''We started the play too early. Couldn't really check the time because of how the play developed. I've just got to do a better job of controlling the game. At the end of the game like that, we've got to get the shot with as little time as possible.''
Jazz coach Quin Snyder passed on calling a timeout, waving his arms at Hood to push the ball up the floor. Hood did exactly that and drained a 26-footer from the left side to send Utah to its 10th victory in 12 games.
Following a timeout, Dallas had one more chance to tie it. But an inbounds pass deflected off Harrison Barnes' hands, and time expired.
''All there is, is fight in this team,'' Mavericks coach Rick Carlisle said. ''These guys were determined to hang in.''
Rudy Gobert posted his sixth straight double-double with 16 points and 10 rebounds, tying Karl-Anthony Towns for the longest active streak in the NBA. Hood finished with 15 points.
Barnes led the Mavericks with 21 points, and Williams added 18 points and seven assists against his former team.
The normally stout Utah defense wasn't at its best and allowed Dallas to come back from a 15-point deficit, but the Jazz shot 56.9 percent from the field and held on.
''We were atrocious the first half, defensively,'' Snyder said. ''It was awful. We made so many mental mistakes. ... They can shoot, that's what they do. If you give them open 3s, they're going to make them and then they're going to get even more confident and they're going to hit tough shots.''
TIP-INS
Mavericks: Williams was booed lustily even though he hasn't played for Utah since 2011. ... Andrew Bogut missed his sixth consecutive game with a right knee injury.
Jazz: Gordon Hayward passed Ricky Green for 10th on the team's scoring list. Hayward has 6,925 points. ... Derrick Favors played 13 minutes in his second game back from a knee injury.
HILL UPDATE
Jazz point guard George Hill missed his eighth consecutive game with a sprained left big toe, but Snyder said Hill is walking, shooting off his toes and doing toe raises.
''Frankly, he hasn't been able to do (that),'' Snyder said. ''I feel like he's turned a corner, being able to do a little bit more.
''Now the biggest thing, too, is once he's able to start doing things more aggressively and moving, he's going to have to start and stop. It's different than when he was coming back from his thumb. His feet, your lower body, and particularly your big toe, I don't know when you're not using it.''
RETURN ON INVESTMENT
Barnes entered averaging career highs in points (20.4) and rebounds (5.6). Carlisle said he expected Barnes to have a big year when the team signed him away from Golden State during the offseason.
''He's taken quantum leaps in the first two months of the season,'' Carlisle said. ''When you're third, fourth, fifth option, you're a guy that's living off other great players. He needed to develop a foundation of footwork and a means to create based on his skill set and situations on the court.
''He's done a terrific job of scoring and now he's learning how to make plays, penetrate, find guys - those kinds of things which are essential to a guy being one of those guys.''
UP NEXT
Mavericks: Dallas hosts the Sacramento Kings on Sunday before beginning a four-game road trip.
Jazz: Utah is on the road Sunday to face a Memphis Grizzlies team that got Mike Conley back from injury Friday.
---
---