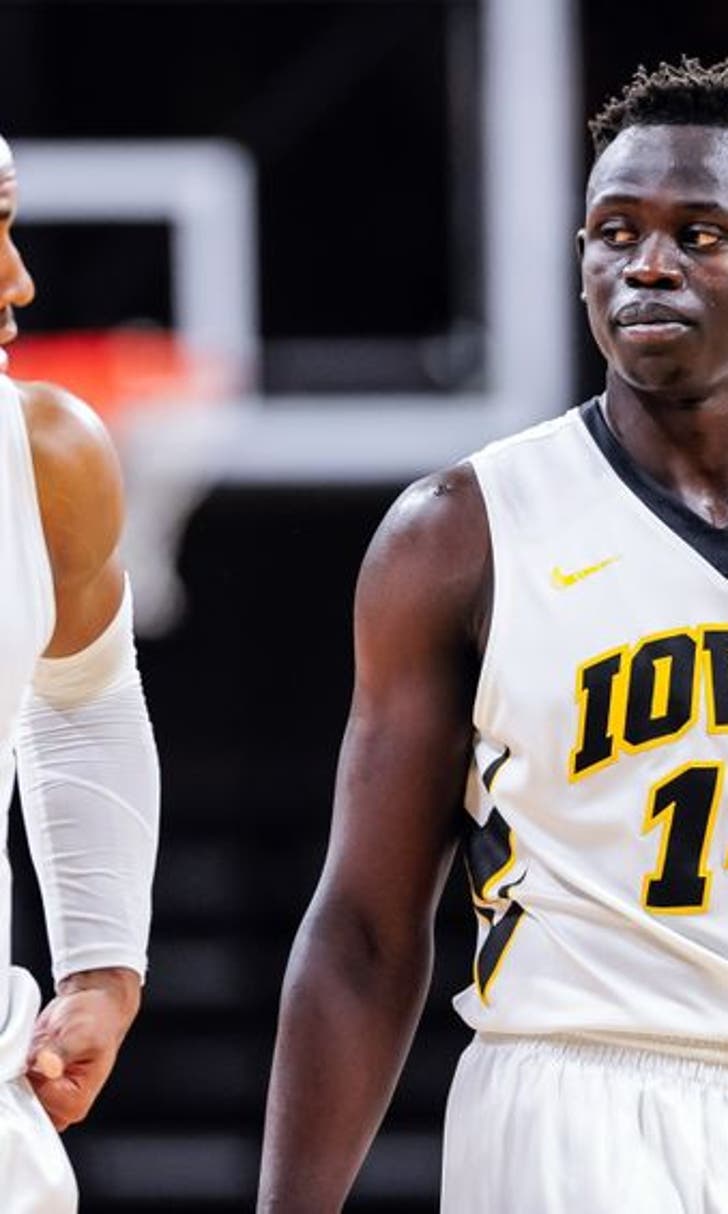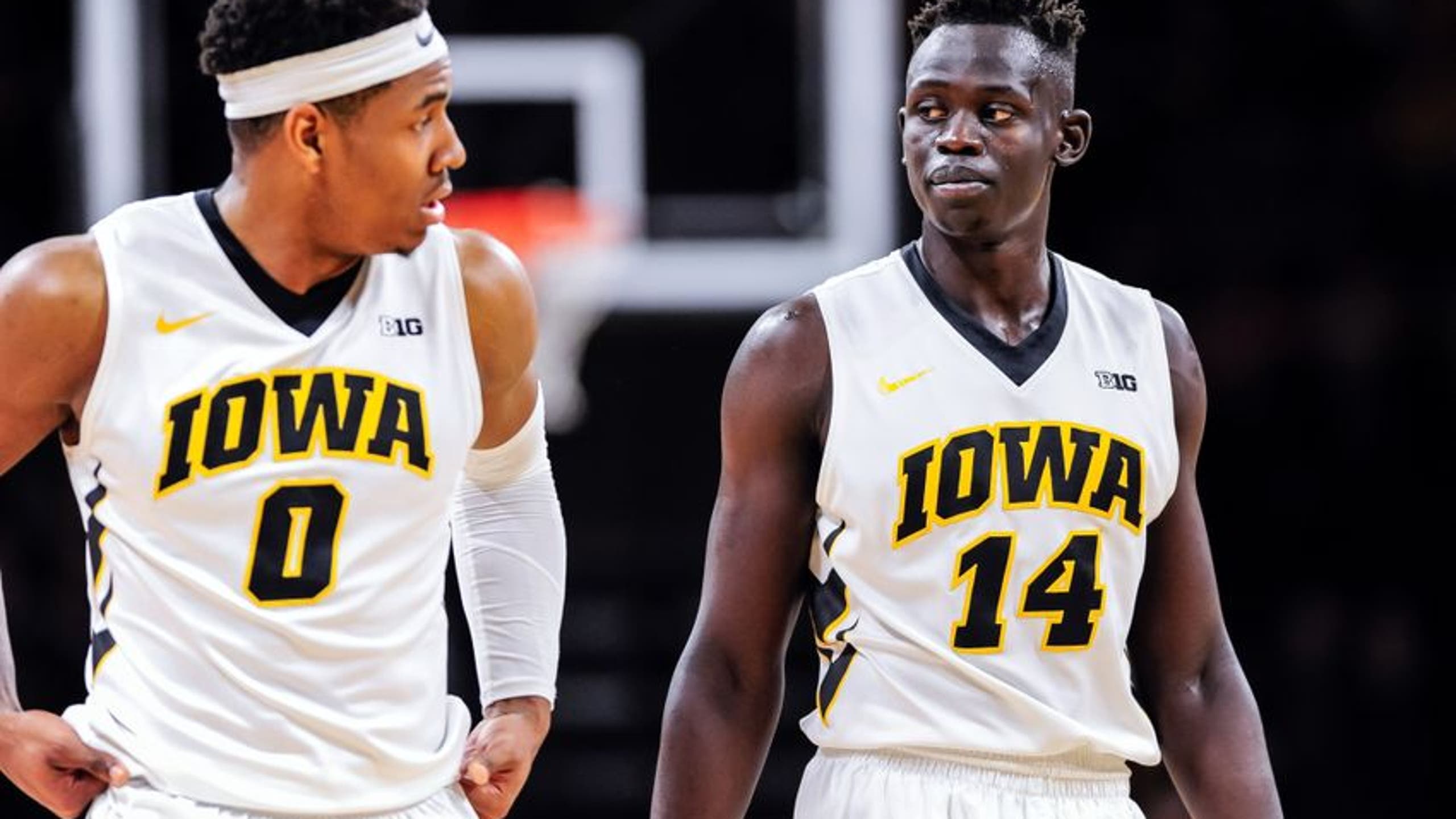 Iowa Basketball: Three Things To Watch In Non-Conference Play
BY Fansided and Jeremy Karll/FanSided via Dear Old Gold • December 15, 2016
Mandatory Credit: Jeffrey Becker-USA TODAY Sports
What to watch in Iowa's final three non-conference games
In a little under two weeks, Iowa basketball will start conference play. It will be a much bigger test than games against Stetson or Kennesaw State, but not everyone believes the Hawkeyes are ready for the challenge.
Iowa is still young and trying to find their identity. Upsetting Iowa State in convincing fashion is a step in the right direction, however it's still the team that lost to Omaha at home and never showed up against Virginia in the Emerald Coast Classic.
Either way, Iowa has three games left on their non-conference schedule before traveling to West Lafayette to take on a ranked Purdue team. None of Northern Iowa, North Dakota and Delaware State are national title contenders, but Iowa learned the importance of not sleeping on mid-majors earlier this year.
The Hawkeyes have areas they need to patch up before conference play starts, and time is starting to run out. Iowa might be young, but so far they're learning well on the fly and will need to keep learning for Fran McCaffery to have a competitive team in the Big Ten this year.
Here are three things to watch in Iowa's final three non-conference games.
Mandatory Credit: Jeffrey Becker-USA TODAY Sports
Consistency On Defense
Iowa is not going to turn into a great defensive team this season, but they have to improve to stand a chance in the Big Ten. Right now, Iowa's 81.2 points allowed per game ranks 322 out of 351 teams. Plus, Iowa had a three game streak of giving up 90-plus points, which included Omaha, who scored 98 points in Iowa City.
Iowa holding a good offensive team in Iowa State to 64 points on 35.7 percent shooting from the field is a positive sign. Although, don't forget that teams tend to play better against rivals and it doesn't negate Iowa's non-existent defense just a week prior.
What it does show, though, is that Iowa is capable of playing solid team defense for a whole game and Isaiah Moss might be a hidden gem on the defensive end.
It took a team effort to contain Monte Morris, but Moss deserves a lot of the credit for his one-on-one work. He kept him out of the paint, never gave him an open look on the perimeter and forced Morris to dribble into Iowa's stifling defense that was waiting to collapse on him.
The biggest problem on defense for the Hawkeyes is in the paint. They have athleticism to at least stay in front of even really good offensive perimeter players, but their lack of size, even with Tyler Cook returning, is a problem.
No one on Iowa is averaging one block per game, and their 43 blocks this season ranks a measly 75th in the nation. Rim protection is more than just blocking shots, however Iowa's inability to even alter shots makes facing a frontcourt like Caleb Swanigan and Isaac Haas in two weeks a nightmare.
Even with how disastrous Iowa's zone defense has been at times this year, that might be their best chance against bigger lineups.
With Iowa's offense, they'll win a lot of games if they play with the same defensive intensity they showed against Iowa State. If they revert back to the defense the played on their four game losing streak, then Iowa will be one of the worst teams in the conference this season.
The potential is there for Iowa to slow teams down just enough for their offense, but they need to show more consistency in their next three games.
Mandatory Credit: Jeffrey Becker-USA TODAY Sports
Tyler Cook's Impact
After missing the past couple of weeks with a broken right index finger, Iowa expects Tyler Cook to return against North Dakota, barring any setbacks. Even with Cook likely going to be eased back into things, it will be a huge addition for the Hawkeyes. The question now is, how does he fit?
For as devastating as losing Cook for three weeks was at the time, many overlooked the potential opportunities that opened up for reserves. Cordell Pemsl and Ahmad Wagner both took advantage of bigger roles with Cook out and jumped into the starting lineup.
With Cook back, though, one of them will have to move back to the bench, and Iowa's dynamic will be completely shifted, as a result. It will be interesting to see how two post players in Cook and Pemsl co-exist, especially since neither is a great outside shooter.
hawkeyes
Dear Old Gold 11hIowa Basketball: Hawkeyes Need More From Christian Williams
More headlines around FanSided:
15h - Iowa Football: Hawkeyes History Versus The Florida Gators1 d - Iowa Basketball: Hawkeyes Will Be Great In 2018-20193d - Iowa Football: Is C.J. Beathard An NFL Quarterback?4d - Iowa Football: Four Seniors Who Will Be Missed Most4d - Iowa Basketball: Three Takeaways From Win Over Iowa StateMore News at Dear Old Gold

Along with the starting lineup's dynamic, Cook's return has potential impact on the rotation as a whole.
Cook will go back to averaging 25.7 minutes per game, and possibly more in conference play, so naturally there will be fewer minutes to go around. Pemsl, Wagner and Nicholas Baer have all proven to be valuable rotational pieces, which could leave Dom Uhl on the outside looking in.
His minutes have continuously gone down since moving to the bench, and the return of a key starter could be the last of his downfall.
Then, of course, all eyes will be on Tyler Cook himself. He hasn't played in a couple of weeks, so it's expected that he'll be at least a little rusty, which is why Iowa hopes he returns before conference play.
He might still make a couple of highlight dunks, but Iowa wants to see if he can improve his 16.7 three-point percentage and when his soft touch around the rim comes back. Iowa will need him right away against Purdue's frontcourt, which makes games against North Dakota and Delaware State extremely important to get him closer to 100 percent.
Cook's absence initially looked terrible for Iowa, but it ended up being a blessing in disguise with the way it helped Pemsl and Wagner breakout. Therefore, McCaffery will have a completely new rotation from the beginning of the season.
Mandatory Credit: Jeffrey Becker-USA TODAY Sports
Bench Scoring
It doesn't matter if Fran McCaffery moves Cordell Pemsl or Ahmad Wagner back to the bench, the second unit will get stronger either way. After toying with the starting lineup through the first six games, McCaffery has seemingly settled with Nicholas Baer, Christian Williams, Brady Ellingson and Pemsl/Wagner as key rotational players, with Dom Uhl as a possibility.
Since moving Baer back to the bench, Iowa's second unit is thriving. Granted its only been two games, but averaging 23 bench points per game is a huge improvement over the 11.8 per game they averaged on Iowa's four game losing streak.
Now, they'll either add Pemsl, who has dominated in the paint with Cook out, or Wagner, who is one of Iowa's most versatile defenders and a solid rebounder.
The benefits of a solid second unit against mediocre mid-majors is being able to give starters longer rest without worrying about losing a big lead. Although, a bad bench can ruin teams in conference play.
As Iowa has witnessed multiple times this year already, star players, such as Peter Jok, have off-nights and can't play 40 minutes every game. That doesn't mean the bench needs to churn out starter production and some when Jok is struggling, but having a good bench keeps teams in games when that happens.
Iowa didn't have bench scoring last season and it caught up to them at the end of the year. Except this year, Iowa doesn't have four senior starters who can play 35 minutes any given night.
Iowa might not have the best sixth man in the nation, but Nicholas Baer is a solid option. The Hawkeyes simply need to limit stretches of play where they look incapable of doing anything right without Jok, Tyler Cook or Jordan Bohannon on the floor.
Scorers are starting to emerge for Iowa, but consistency is Iowa's biggest challenge this season.
More from Dear Old Gold
This article originally appeared on
---
---