Struggles down the stretch a reason to worry for Thunder?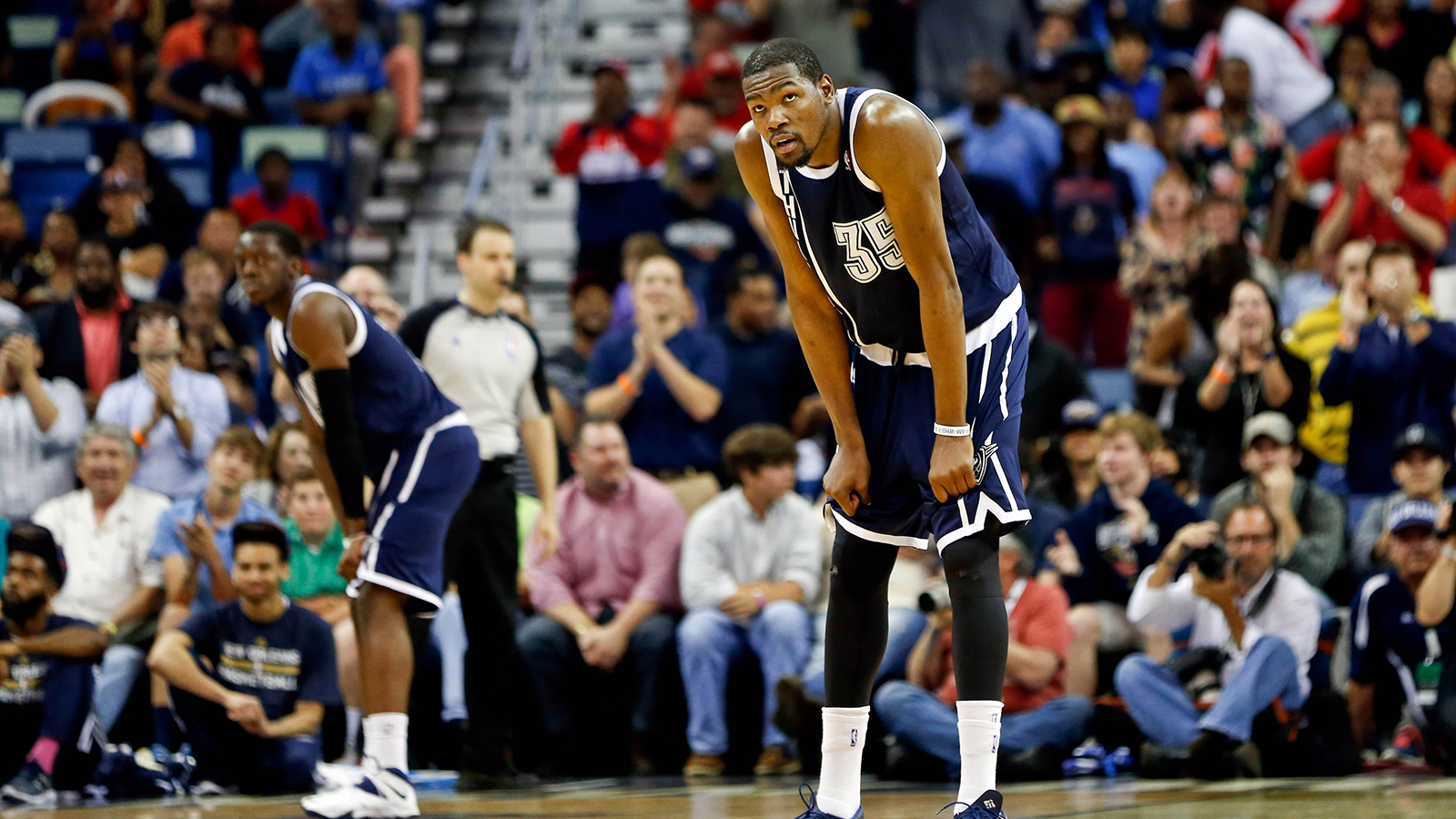 Don't worry that the Thunder haven't played well during the past few weeks. They are just 3-4 in their last seven games.
Worry about the fact they didn't seem to care.
Now relax because Oklahoma City can get a lot corrected against one of the worst teams in the NBA Wednesday.
Quite likely the Thunder will start playing well and start caring. The playoffs start Saturday and bring a new kind of urgency, but for now, losing at New Orleans just smells funny.
The Thunder could have wrapped up the No. 2 seed in New Orleans on Monday night and then relaxed against Detroit, but instead Kevin Durant kept on shooting 3-pointers and a bunch of guys you've never heard of played harder, more inspired and just better against an Oklahoma City team you wouldn't recognize.
However, there's a lot of good that can come out of something that stunk so bad.
The Thunder now have no choice but to get themselves focused before the playoffs start, not during when they take on Detroit in Oklahoma City Wednesday. The Thunder have to win. They have something to play for.
Now, the Thunder may very well end up with the two-seed no matter what. All it would take is a win against Detroit Wednesday or a loss by the Clippers against either Denver Tuesday or at Portland on Wednesday, but coming back to OKC without having played well in New Orleans and also losing at Indiana — either of the two victories would have secured the No. 2 seed — means playing well, caring, all of that, has to happen Wednesday.
It didn't Monday in the 101-89 loss at New Orleans, a team the Thunder had beaten 10 times in a row. Tyreke Evans scored a career-high 41 points and Durant went just 9-of-23 from the field and only three-of-nine from the 3-point line. Reggie Jackson started and went only one-for-seven. Thabo Sefolosha went zero-for-five, Nick Collison got thrown out and Derek Fisher went two-for-eight.
Durant spoke about it afterward to The Oklahoman. And he talked about caring.
"I have to bring a better attitude," Durant said. "I was so focused on trying to play perfect because of the game I had last game. I just wanted to be way better and help my team. And when I think like that every play frustrates me; if I get a turnover, if I miss an assignment on defense I get frustrated because I wanted to play perfect for my team and help win this game. So I got to have more fun out there and not play on edge but play with an edge. So it's definitely a learning experience. I'm still learning in this league and different ways to approach it. So I'm grateful for the opportunity to struggle and learn from my struggles. I'm excited for another day, and hopefully I can learn from this one and move forward."
The good news is Russell Westbrook didn't play against the Pelicans. Westbrook will Wednesday and with the No. 2 seed to be had, you have to think Westbrook and the Thunder will play with more motivation.
Follow Andrew Gilman on Twitter: @andrewgilmanOK