If Colts Can't Salvage AFC South, Set Up Nicely for Next Season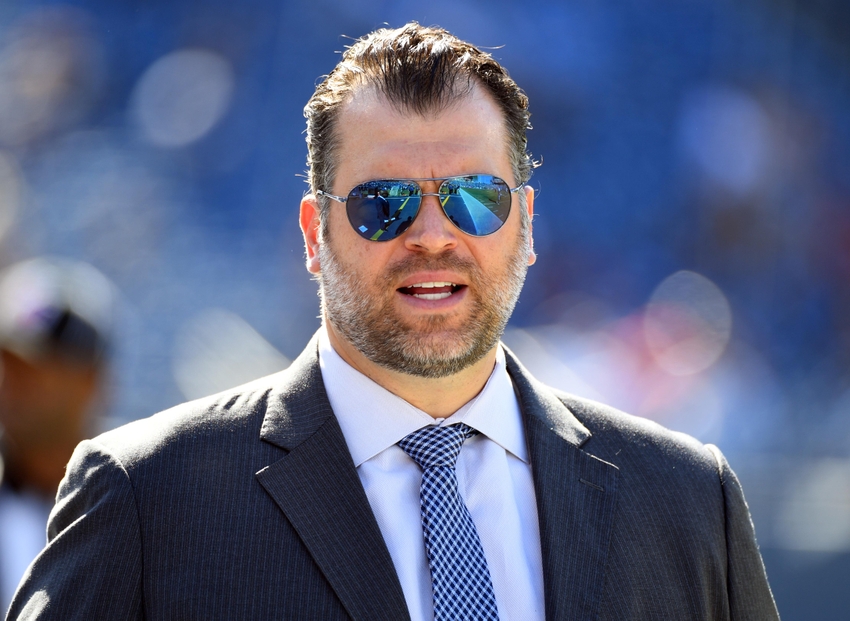 While this season still isn't completely over because of the travesty that is the AFC South, it's worth noting that the Indianapolis Colts could actually be set up nicely for next year–if you believe in such silver linings.
According to Spotrac, the Colts are projected to have the 5th most cap space in 2017 with $41.64M, having some larger dead cap hits coming off the books including Gosder Cherilus ($5.8M)–the contract that keeps causing cringing, Antonio Cromartie ($3M), Andre Johnson ($2.5M), and Bjoern Werner ($1.03M), as well as next year's projected salary cap increase presumably factored in.
It's worth noting that Trent Cole ($2M) will be a free agent at season's end and assuredly won't be re-signed, while other veteran free agents like Mike Adams ($2.2M) and Robert Mathis ($5M) could opt to retire all together.
The team has a tough decision to make on soon-to-be free agent starting outside linebacker Erik Walden ($4.25M), who currently leads the defense with 6 sacks on the season.
Not to mention, the team has some other significant offseason decisions to make on other high-priced aging veterans for 2017 like D'Qwell Jackson ($5.75M), Art Jones ($7.35M), and Frank Gore ($3.5M)–which could free up even additional cap space.
Of course, cap space doesn't exactly mean anything if you don't spend it wisely, as we've seen firsthand with the Colts in recent seasons–learning the hard way:
"Not good enough," said general manager Ryan Grigson on his prior free agency performance via his interview with Bob Kravitz of WTHR. "A lot of times going in, it is a losing proposition. A lot of times the house does win with free agency, and that's the old adage, and that's something that [team owner] Jim Irsay's even exclaimed."

"But I always feel like the onus has always been on winning here, no matter what. It's what our fans expect, it what's our owner expects, and we've done that. So whatever cocktail we've put together, guys haven't panned out, but they have in certain points to help us achieve the wins we have."
That being said, with Andrew Luck's new mega-contract limiting their financial flexibility for the foreseeable future, the Colts will have to be more efficient with their drafting and developing of young players in-house all together.
Potentially helping matters is that the Colts currently have the 7th overall pick in next year's NFL Draft.
While superstar defensive players are harder to come by in the mid-late picks of the 1st round, it's always possible that the Colts franchise could select their own version of a superstar pass rusher like Khalil Mack (the 5th overall pick of the 2014 NFL Draft) or inside linebacker Luke Kuechly (the 9th overall pick of the 2012 NFL Draft) earlier on in next year's draft.
The team may not have the great fortune of drafting Texas A&M's Myles Garrett, who's widely regarded as the most dominant pass rusher in next year's draft class. However, there are still other high-end defensive players to come by so early in the draft.
It would be the first time the Colts have had the luxury of selecting a player in the Top 10 of the NFL Draft since the team "won the lottery" by drafting Luck with the 1st overall pick of the 2012 NFL Draft.
Additionally, helping the Colts cause is that the team should receive a potentially mid-round compensatory pick for losing the likes of tight end Coby Fleener during this past free agency period–while Jerrell Freeman's loss is apparently offset by the signing of cornerback Patrick Robinson.
That, along with having the opportunity to select earlier in each round, would provide the Colts with a greater likelihood of selecting superior talent.
Again, the season isn't over, but at the midway point, the Colts better start showing some signs of serious life if they want to ultimately win the AFC South.
Otherwise, it'll have fans starting to speculate prematurely about the silver lining of next year's offseason–and rightfully so.
More from Horseshoe Heroes
This article originally appeared on