Flying High Again: Why Green Bay Packers beat Philadelphia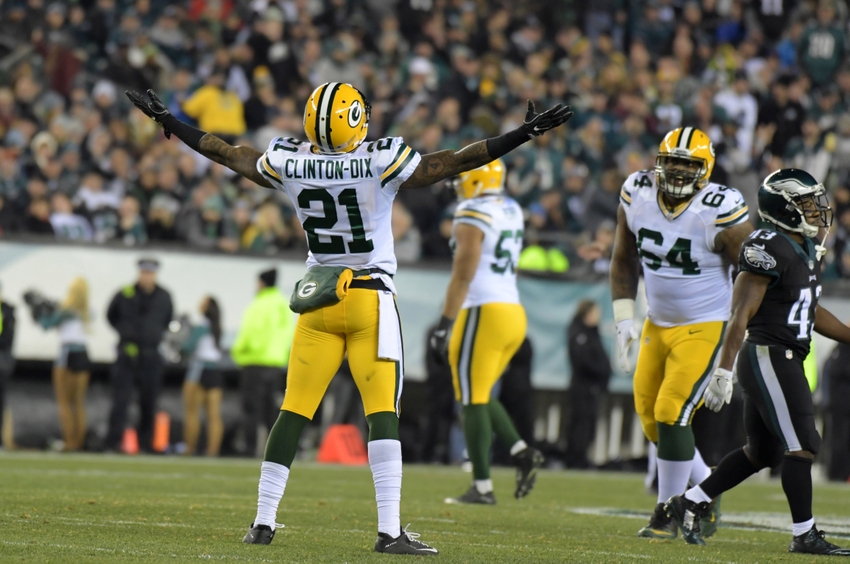 Finally, the Green Bay Packers broke out of their skid to get back into the win column.
After four straight weeks with losses — each of which felt more hopeless than the last — the Packers finally put together a winning effort for the whole game.
The result? A 27-13 victory.
This team still has plenty of issues and a long way to go to get themselves back into the playoffs for an eighth straight season, but for at least one week Packers fans everywhere can have some relief and rejoice in knowing their team has some fight left in them.
How did they manage this showing, well after many (including myself) had written them off in terms of putting forth a competitive effort, much less winning against a decent team?
Starting fast for once
One of the more frustrating parts of watching the team this year — and especially during their recent losing — has been how they seem utterly incapable of avoiding falling into early holes. A big part of why they have done so has been the way they've started out games.
Take a look at the way their first-half drives have gone in the past six games (a 1-5 skid):
Dallas (6 drives): FG, fumble, FG, downs, punt, end of half; 17-6 Dallas lead
Chicago (4 drives): FG, downs, punt, FG; 6-3 Green Bay lead
Atlanta (5 drives): TD, TD, punt, TD, FG; 24-19 Green Bay lead
Indianapolis (7 drives): FG, FG miss, punt, TD, punt, punt, end of half; 24-10 Indianapolis lead
Tennessee (7 drives): punt, punt, punt, TD, FG, TD, INT; 35-16 Tennessee lead
Washington (6 drives): punt, punt, punt, TD, FG, end of half; 13-10 Washington lead
That's 35 total 1st half drives in the preceding six weeks; toss out the end of half drives (kneel-downs) and we have 32 to look at. Among those, we have 7 TDs, 8 FGs, 1 missed FG, 4 turnovers (1 fumble, 1 INT, 2 turnover on downs), and 12 punts; this comes out to an average of 2.28 points per drive.
ANALYSIS: Packers stock up, stock down entering Week 13
Based on Football Outsiders' Offensive Drive Stats, this would rate as #10 in the league; higher than I expected going in, but it is lower than Green Bay's season average (2.47; #6) and is mostly inflated by the Atlanta game — a clear outlier in this six game skid. Take that game out of the equation, and Green Bay becomes as bad as they've appeared to be for most of this skid: 27 drives (not counting kneel-downs) resulting in 4 TDs, 7 FGs, 1 missed FG, 4 turnovers, and 11 punts), which equates to a mere 1.81 points per drive — #20 in the league.
The slow starts in these weeks have butchered Green Bay's chances to win, especially when you consider how far the defense has fallen off due to a combination of injuries to key personnel and ineffective play from practically every spot on the field.
This week, that changed.
Much like the way they started in that outlier Atlanta game, Green Bay got right to work with putting up points. After two straight weeks of punting their first three possessions and three straight weeks without a touchdown in them, the Packers turned their opening two drives into 14 points.
This fast beginning on the scoreboard completely averted the disastrous problem Green Bay faced countless times in their 1-5 skid, putting them ahead and in control rather than struggling to get back into the contest. Instead of grasping for an opportunity late, they stampeded out early to put the Eagles in the exact catch-up situation their own offense consistently failed to overcome as they flopped to 4-6.
With it, they now have an outside shot at the playoffs again, showing again that they can be the ones forcing the opposition to come from behind, making them need to combat the pressure which comes with it.
At their peak, nobody did this better than the Packers; they aren't the team they used to be, but that magic may still be there on some level.
High quality blocking
All season, with struggles hitting seemingly everywhere on this entire team from their quarterback to their subpackage defenders, one area on the team has been a bastion of strength and consistency: the offensive line.
From the first snap, they've been by far the best unit in the league in terms of pass blocking, keeping their quarterback clean pretty much every snap to search for receivers no matter who lined up against them. Even with injuries hitting key spots, the depth and talent of this group (besides the immortal Don Barclay) has been able to step in almost seamlessly and do well.
In this game, they did the same.
PACKER PERSPECTIVE: One step closer to the crown
Even without J.C. Tretter and T.J. Lang, the line performed one of their better collective efforts of the season (that's saying something; many of these weeks have been a master-class in pass protection). With Corey Linsley (the starting center of 2014-2015; missed most of the early season recovering from a hamstring injury) and rookie Jason Spriggs (drafted as a potential tackle, but forced into the starting right guard role due to Lang's injury and Barclay's own injury plus utterly awful play), the line allowed zero sacks and just nine pressures to a highly-talented Philadelphia defensive group.
For some insight into what they were up against, we'll start with the unit and move to individuals.
The Eagles even after no sacks here have racked up 26 sacks on the year –11th-best in the league. Their defense as a whole came into the week as the #1 ranked group in Defensive DVOA; that starts with their line, which is built around forcing pressure with their front four and not blitzing to get to the quarterback.
Leading that group is the big-money man Fletcher Cox. He doesn't have the box score stats of some elite guys, but as someone who spends a lot of time in the interior that is something which happens often to even the best guys. Even so, he came in with 28 tackles, 4 sacks, and a Pro Football Focus grade of 87.0 (#3 among interior defenders). With him is the elite edge-rushing of Brandon Graham. Though he started slowly in his career, he's more than made up for it with his play the past couple of seasons; coming in, he had 31 tackles, 5 sacks, and a PFF grade of 90.0 (#5 among edge defenders).
This game, those two stalwarts combined for just 6 tackles, period.
Even the best in the business aren't making it through the steel wall that is Green Bay's offensive line this year. They deserve as much credit for the successes of the offense as any skill player — and probably much more.
Draining the clock
Something that hasn't really had a chance to come up as an issue (due to the team falling behind so often this season) is this team's inability to chew time off the clock. It shouldn't be a surprise; even at their best, this team has relied heavily on their passing game (with good reason, of course), but in the most recent elite iterations of this offense they have at least had a running game capable of efficiently taking time off the clock.
With the flux caused by injuries and poor play in the backfield though, that aspect of this offense has remained broken for basically all season; without it, the hopes of effectively draining the clock seemed to be a pipedream even if the Packers could manage to get in a situation which called for it.
Well, it appears they've discovered an effective workaround in the meantime.
Green Bay didn't really clog up the time of possession in the game as a whole (35:23-24:37 advantage is good, but not out of the ordinary for a winning squad), but the drives they did take ate away at the clock effectively.
The Packers had four different drives in this game which ground out at least 5:09 of clock time; combine those four drive times together, and that makes up 27:46 of their total 35:23 possession time. Importantly, on those drives they not only wore away time from the clock, but they capitalized with points:
10 plays, 75 yards for a TD [5:09 used]; 7-0 lead
12 plays, 43 yards for a punt [7:48 used]; 14-7 lead
13 plays, 75 yards for a TD [6:28 used]; 24-13 lead
17 plays, 78 yards for a FG [8:21 used]; 27-13 lead
Those drive gave them 17 of their 27 points while shortening the game through an assortment of short, quick completions. With all this time being drained, this game actually only saw 15 drives between the teams (8 for the Packers, 7 for the Eagles) — two of which were kneel-downs (both by Green Bay).
With the lack of drives available in the game, each one mattered more than usual. Green Bay made their time-consuming drives into points and held a lead with them, forcing Philadelphia into the untenable situation of having to make every drive count and having few chances to make up for mistakes.
That didn't work out too well for the Eagles. Two of those seven drives became punts, while another ended in a pick; this left them needing to have turned to other five into more than 27 points to come away with a chance at victory. That means at worst they would have needed either 4 TDs or 3 TDs and a FG among those drives to win or tie.
Leading into their final drive, they only had 1 TD and 2 FGs, however. With less than two minutes for that drive and down multiple scores, their fate was essentially sealed. Even with a touchdown on their final drive (one which would have to be fast), they would still need to rely on grabbing an expected onside kick (a play with about a 10% chance of working) just to have one final shot.
Regardless of how bad Green Bay's defense has become, that was highly unlikely.
Speaking of that defense…
A rested defense plays better
Green Bay's defense started out the year as the strongest part of the team, keeping games tenable while the offense struggled to produce drives and points in the early stages of the year. Starting with their game against Dallas though, the wheels were falling off spectacularly.
Outside of the game against an awful Chicago team, the team had been a trainwreck on that end of the field since the Cowboys game, giving up 30+ points in every non-Bears game in the now-broken 1-5 skid — including 40+ the past two weeks. They've been indefensibly bad in coverage (when Pierre Garcon is burning past guys, that is flat-out awful) and even the once-touted run defense had fallen back to pre-2016 ugliness for stretches.
In this game though, they looked much better (though there were still a few bad hiccups early); that directly comes from the lack of time on the field.
On one hand, I mean that in the simplest way possible: they have been an eminently exploitable sieve, and keeping them as uninvolved as possible prevents their chances to screw up. That's basic common sense, though in something like football it is impossible to just prevent one half of the equation from ever coming into play.
On the other hand, there is the more functional way of doing that (which the Packers did): keep them off the field as much as possible, but not purely to prevent bad play; instead, it is to keep them at peak levels of stamina.
Dallas has done this all season with their own suspect unit. Their offense controls the clock and grinds out long drives (per Football Outsiders, they lead the league in time of possession per drive); though the defense itself still ranks among the lower tiers (#27 in Weighted Defensive DVOA), they are actually among the best in defending the run (#6 Run Defense DVOA) — an area where pure effort can make a more tangible impact.
They also have been able to make key plays and stops despite having few star-quality impact players on their defensive roster; part of that surely is excellent coaching, but another part is having their guys coming out full of energy each time they hit the field. Guys who are less worn out by fatigue simply play better, and they've captured that with the help of an offense which can keep them off the field and put their defense in situations where they can play at their peak levels.
This week, Green Bay captured some of that magic for themselves; the results speak volumes.
With only 24:37 of game time spent on the field in the game across a mere seven drives, we got to see a unit full of guys playing at the height of their stamina. In that time, we saw them perform at a degree that was missing for most of this long season.
A pass rush that had been dead on arrival for long stretches of games got consistent pressure on Carson Wentz, mustering four sacks and eight quarterback hits. A secondary which couldn't cover a snail all of a sudden could stay with receivers much more often, knocking down 5 passes while allowing only three plays of 20+ yards — a massive improvement.
A team that has struggled all year at garnering turnovers picked up an interception — key not only for the timing in the game (starting the 2nd half with Green Bay having only a 14-10 lead) but in taking away a drive from the Eagles in a game which had very few for them.
This defense is nowhere close to its early-season quasi-elite form, but as with the Cowboys' own unit, if these guys are kept off the field and are allotted the opportunity to save their stamina from draining, they can still be an effective part of a winning team.
Mixing it up
Prior to the past two seasons, Green Bay's offense was an elite unit, but each season's iteration tended to bring along its own signature mainstays the gameplan and play-calling would focus on.
In the most recent dominant iteration, that was loading up most of the focus on two high-quality wideouts (Jordy Nelson and Randall Cobb) in the passing game while pounding away with a two-headed slash-and-bash combination (James Starks and Eddie Lacy) to bust apart defenses.
One of the former outfits for this group involved a much different style, reliant not on a small nucleus of players but moreso a deep cadre of effective and deadly weaponry to take advantage of any and every weakness an overmatched defense has ingrained in their very structure.
Step back to the pre-2014 offensive groups, and you see those deep sets of weapons, all getting some level of burn depending on the corresponding defensive unit. Want to play Cover 2? Here's Jermichael Finley, busting through the heart of your defense. Want to double the outside guys? Cobb, eat them up underneath the coverage.
Play the straight up? One of those secondary guys will screw up; when they do, Jordy/Greg Jennings/James Jones/Jarrett Boykin/Donald Driver (depending on the year) will make them pay. Receivers covered? Hit a dumpoff or screen to Starks/Brandon Jackson. Loaded up against the pass? Bang through them with Lacy/Starks/John Kuhn/Ryan Grant.
These guys all were getting worked into the game, based on both what the defense was showing them as well as living out the idea of throwing as many different looks as possible for this and future defenses to have to prepare for.
Whether it be due to injury flux, inexperience, ineffectiveness, or even Mike McCarthy just not wanting to go in that direction anymore, that kind of massive assault through using multiple players — and the wide array of interesting formations which came with keeping them all involved — has been missing for most of the past two seasons; in its stead, we've seen the same few guys getting thrown into the same basic formations, the gameplan simply being to beat the man in front of them.
On some level that does need to happen, but if you show the same thing over and over, teams will adjust to it; from midway through 2015, it was obvious they had to anyone watching the games. Guys haven't gotten open with consistency, and even with an offensive line giving Aaron Rodgers gobs of unhindered time, they still have struggled more often than not.
Against the Eagles, it seems that for at least one week McCarthy dove into that old bag of plans; lucky for the Packers, it appears to have worked.
Green Bay mixed things up early and often with their offense. We got to see two-back sets and pistol formations. We saw two fullbacks on the field at the same time. Tight ends in the backfield. Six-linemen formations. Motion. Triple options. "Bazooka".
The usual snap hogs still got their high workloads, but other guys cut into it here and there. Geronimo Allison saw 5 snaps. Jeff Janis picked up 6. New runner Christine Michael saw 2. Ty Montgomery grabbed 16. Fullbacks Aaron Ripkowski and Joe Kerridge grabbed 25 and 3, respectively (with the former picking up Green Bay's first non-Rodgers rushing TD on the season). Even deep backup lineman Kyle Murphy was involved for a snap.
It wasn't quite the heyday of tossing every cool idea out on the field, but for this night it was plenty enough to help spark an early lead, multiple time-consuming drives, and a multi-score victory.
It's a good start, and if these Packers are really going to run the table to try keeping their playoff streak alive, they'll need more of it.
This article originally appeared on