Nuggets Jokic Gets Rid of His Cold, But Remains Contagious With The Unselfish Disease
Charles Murray/FanSided via Nugg Love

Fansided
The unselfish play of the Denver Nuggets has compensated for their overall medium performance on defense
The budding Denver Superstar Nikola Jokic had a cold in London and still scored 27 points with seven assists against the Pacers. But the important theme is that the Denver team had 37 assists due to unselfish play.
Then he brought his 'Unselfish Disease' back to the states as the Nuggets performed magic on the Magic with 33 assists. Nikola delivered 30 points and five assists. The 30 points was his all-time high.
Emmanuel Mudiay really caught the bug as he dealt out a personal record of 13 assists to defeat Orlando in Denver 126 to 112.
This assistance persistence is the primary reason for Denver's explosive success the last two games.
This passing bug will go a long way to continue this effectiveness on the Nugget's next stretch of games, a stretch that features them going against the San Antonio Spurs one game.
Want your voice heard? Join the Nugg Love team!
If Jokic continues playing at this elite level and it keeps translating to wins, then the sky is the limit for this young core.
Moving and Passing is Contagious
Jokic's movement and passing was contagious as the Nuggets had 33 assists. Mudiay had 13 as mentioned, Jokic with five, Nelson with four, Barton and Chandler three each, Gallo and Faried with two each and the rest from other players.
Jokic never stands still.
He is at the top of the key setting screens with the ball above his head, waiting to hit Faried or Mudiay or another player who cuts.
In order to give assists the other players must be moving, cutting and getting to their spot. Anticipate the late pass on the cut.
Four skills stand out to get the Nikola Disease. He understands floor position, is constantly in motion, sets hard screens and he looks to help a teammate FIRST.
Mudiay caught it and was focused on assists. Even Gallo and Faried made spectacular assists, because they caught the disease.
This is one disease we Denver fans DO want to see our team catching to continue to evolve into a solid NBA team.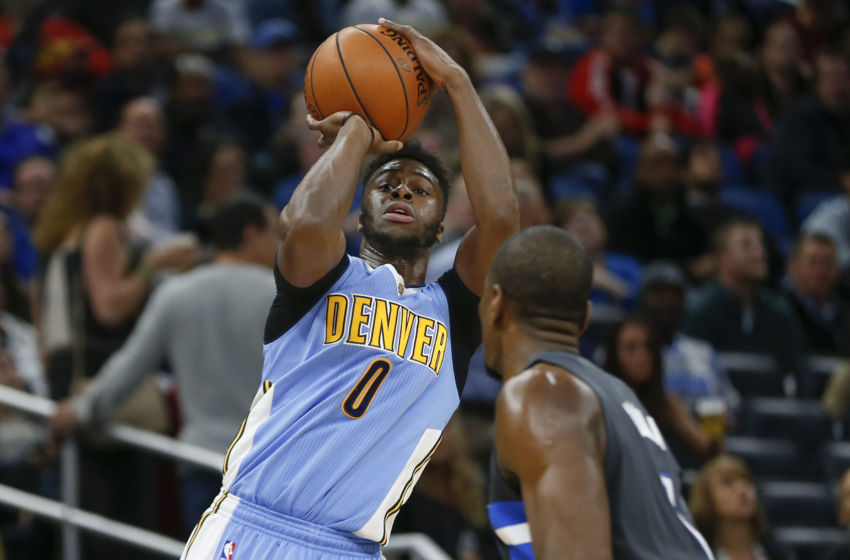 The Game Was Almost Even Stat Wise– So What Was The Difference?
Orlando did have 28 assists on their own, and statistically were very close to Denver in other areas as well: field goals percentage, 58% to 50%, Denver; 3 pointers, 9 to 8, Denver; rebounds, 39 to 35, Denver; steals, 11 to 6, Denver.
Denver fouled Orlando 17 times and was fouled 11 times, even though the Magic only scored 14 points off free throws with Denver making 12. Our higher number of fouls indicated aggressiveness, which is good. And it did not cost us much.
So what was the difference in the game?
Nikola Jokic. When he's on the floor, great! When he's not…. Well?
The one caveat was when Nikola left the game to rest. The team is now so set on his effective management of the offensive game that when he is resting the team reverts to less screens and passing, and more ISO's. And it doesn't work as well.
Gallo used to be this way but is slowly catching the assist bug. Why? High basketball IQ. Gallo knows adjustments are critical to success and sees the success of movement and assisting. Jameer gets it.
When the offense is not flowing concentrate on defense. Use the on Draymond on LeBron shoulder slam if you have to. Be assertive and aggressive. Good and effective fouls.
When A Player Gets The Ball, Generally Pass first; Don't Shoot Unless You Have the Best Shot
Barton and Chandler are the primary culprits with the shoot first option, especially Barton. They want to go ISO first instead of helping a teammate get a better shot. Unless they have or can get an excellent clear shot, move and pass. Don't hurt the flow of the rest of the team.
Denver Nuggets: What It Means To Win in the Mile High
So Barton and Chandler need to look to set up a teammate first and let their teammates know this. Otherwise their teammates stop working together and stand around. Then it's one on three or one on four.
They need to get this mind set and practice moving, screening and passing.
There is a time for ISO's when a critical bucket is needed, or a clear good shot is available, but not all the time. It hurts the flow. Instead of working for that difficult shot, pass, screen and cut. Pass, screen, and cut. Don't worry about your numbers.
We have to comment here on a major distraction. All the post game discussion is about who got the points. Commentators and interviewers (Amy) stop this! It makes the players think of their numbers instead of how hard and how well they played overall.
Jokic doesn't know his numbers. Get this?
We're watching. More important is effort as evidenced by, in order of importance: assists, steals, rebounds and blocks. The points will then come.
Who is Working With Nurkic?
Nurkic needs to do what Jokic does.
Go to the top of the key and screen and pass and move. He can make his ISO's by overpowering most of the other centers guarding him, but this does not complement the identity of the team.
It should not be his norm on offense. He needs to focus on his timing. The rest of the guys have to keep moving.
It is totally up to Nurkic to reach his team potential.
He needs to do what Jokic does as much as he can if he wants to play. He has the attributes.
This isolation and his weak defense is the reason he is on the bench. Nurkic understands defense; he just gets brain dead, emotional or lazy.
If he wants to keep his value, he needs to adjust quickly and practice team work accordingly.
Watching Cleveland getting devoured by Golden State accentuates this assistance persistence. Golden State had 37 assists to Cleveland's 11. Bingo. Cleveland was devoured 126-91.
The Manimal is Alive
This may have been Kenneth Faried's best game this year. This was for one reason: defense.
He had to guard Serge Ibaka and out played a much larger top ranked power forward.
He was right in Ibaka's face more than not, even stealing it right out of his hands and going the distance.
He was pesky and powerful. He outplayed the opposition: Ibaka got 15 points and five rebounds and one steal. Faried 20 points, five rebounds, two assists, one steal and one block.
Faried was also sharp on playing within his game. He knows he can't hit threes, but, on two occasions got the defensive rebound, dribbled the distance through the defense and stuffed it!
He also had some great passes. He is still learning.
No athlete is close to Kenneth on the Nuggets, and when he uses his brain with that body, he is an extremely valuable asset.
Want your voice heard? Join the Nugg Love team!
He and Jokic are getting chemistry. Kenneth calls it chemistry, and unselfishness.
Next: Do Not Play the Opposition's Game
The assistance persistence process is simple: Move, Pass, Screen and Cut. Every play. Get the best shot.
Denver now goes to play the Lakers on a back-to-back in the Laker's pond. There will be a tremendous tendency to go one-on-one as it is easier than the assistance persistence process. They will sink if they do this.
Do not do what the Laker's want. It is harder to hit 3's on a back to back because the legs are a little more tired. Work for the shot with screens, passes, and cuts. Movement. Get up on your man on defense.
So they will have to play with their smarts. Coach, this will be on you. Make them play hard conservatively. Be ready for fresh feet in the fourth quarter. Game manage with lots of time outs and rest your players.
Coach Malone will have to get out of his seat and tell his guys to move, help and cut. Gallo and Mudiay should be very vocal about the same thing on the floor. And do it by example. Jokic will.
We will continue to win with this philosophy. We have some extremely tough games ahead of us. After the Lakers, we play the Spurs, the Clippers and the T-Wolves.
We can win, but not without teamwork as defined.
This article originally appeared on