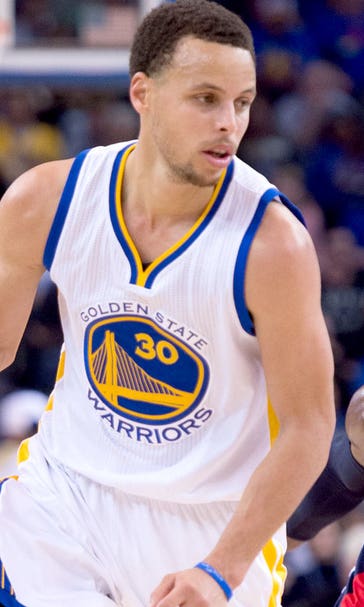 Stephen Curry on Pelicans: 'They can definitely beat us'
April 17, 2015

The New Orleans Pelicans clinched a playoff berth with a win over the San Antonio Spurs on Wednesday, and they now face the difficult task of having to play the best team in the NBA. Very few people believe the Pelicans have a shot at beating the Golden State Warriors in a seven-game series, but Stephen Curry is not ruling it out.
On Thursday, Curry said the Warriors will be in trouble if they overlook the No. 8 seed.
"They have some individuals, guys that can take over basketball games," he said, per Diamond Leung of the Bay Area News Group. "They've shown that throughout the course of the season, so this is a team that if we're not locked in on our game plan, our execution, they can definitely beat us.
"They're not just a walkover that we can overlook because we're the No. 1 seed. That's not the case."
The Pelicans beat Golden State last week, and Anthony Davis made it clear after the game that his team was offended by rumors that Warriors players were referring to the game as a scrimmage. That had more to do with Golden State already having the No. 1 seed sewn up, but the Pelicans used it as motivation.
According to Warriors center Andrew Bogut, the whole thing was blown way out of proportion.
"The ball boys in New Orleans talk a lot of smack jokingly, so the last two years we've played there we were always messing around, joking around," he said. "I guess they were talking smack to one of our guys joking around, and he's like, 'Hey, it's just a scrimmage for us,' jokingly. And these clowns go to the other locker room and tell Anthony Davis, which is cool. Anything that motivates him. It worked for him.
"But to make it a story that it's blown up to is just an absolute joke. We live, and we learn."
If Warriors players made a comment like that before they had the top seed sealed up, I can see how it would be considered offensive. But the game was a scrimmage for them, whether they were playing the Pelicans or the San Antonio Spurs.
That said, you can't blame New Orleans for using the "scrimmage" thing as bulletin board material. Although, if they can't stop Curry from shooting like this, I'm not sure any amount of motivation will matter.
More from Larry Brown Sports:
---
---