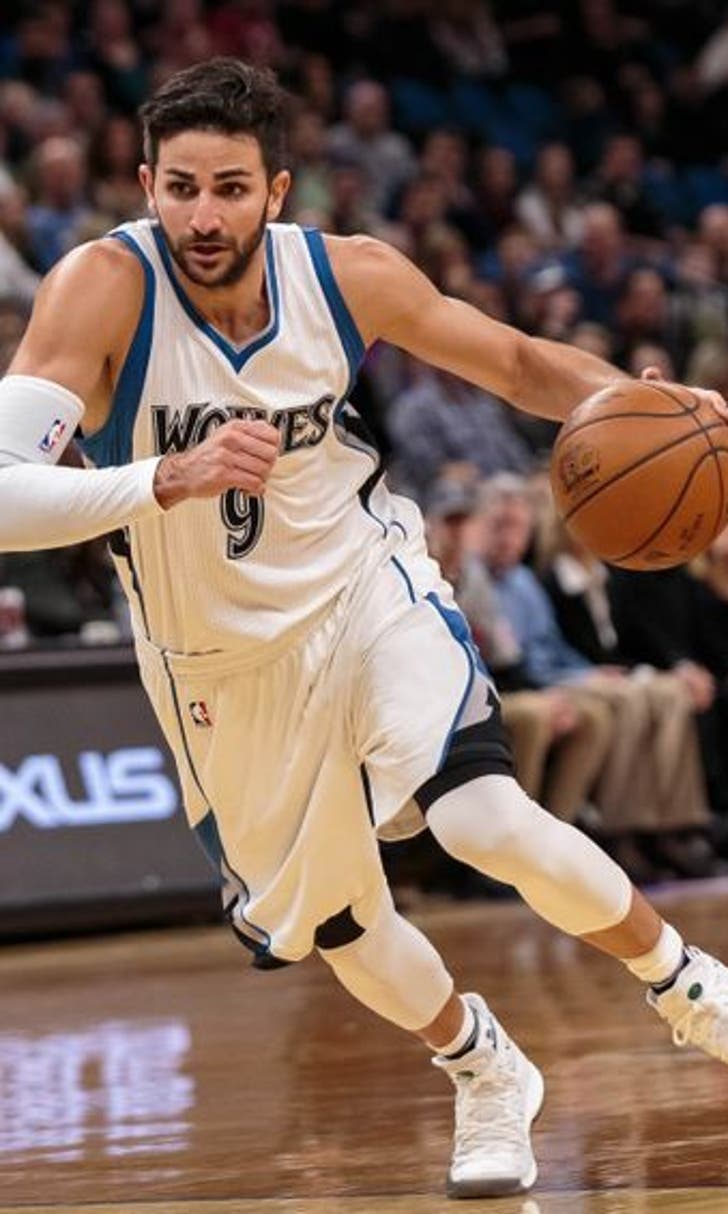 Report: Minnesota Timberwolves are shopping Ricky Rubio
BY Fansided and Brad Berreman/Fansided • June 30, 2017
As the NBA trade deadline approaches, the Minnesota Timberwolves may be actively shopping Ricky Rubio.
The Minnesota Timberwolves have not quite lived up to the preseason hype around them, with the young squad frequently having trouble sustaining leads. There have been some rumors suggesting head coach/team president Tom Thibodeau wants to make a trade, and the team's most obvious trade chip is reportedly being shopped.
According to Adrian Wojnarowski of The Vertical, the Timberwolves are shopping point guard Ricky Rubio. Wojnarowski goes further by suggesting an attachment of Rubio and Shabazz Muhammad in trade proposals, as a veteran "bridge" guard of sorts is sought in return.
Rubio is averaging 7.6 points, 7.9 assists, 4.0 rebounds and 1.9 steals per game this season, while 2016 No. 5 overall pick Kris Dunn is averaging 3.9 points, 2.3 assists and 1.0 steal per game as the primary backup point guard (16.6 minutes per game). Neither guy shoots from the perimeter very well, which has been the recurring theme throughout Rubio's time in the NBA, but Dunn is reportedly already viewed as the long-term starting point guard in Minnesota.
The Sacramento Kings have been known to have interest in Rubio. But the Timberwolves are reportedly trying to exhaust their options elsewhere on the trade market, in search of better assets than the Kings can offer.
Rubio is the highest paid player on the Timberwolves' roster this season at $13.4 million. He is also due to make nearly $29 million over the next two seasons, and that has to be a consideration for an acquiring team even as the NBA's salary cap rises. That said, though it's hard to imagine, Rubio is still just 26 years old and presumably has some good years ahead of him.
Beyond his traditional numbers, which often look mediocre overall, Rubio brings positive value when he is on the floor. So maybe an analytics-driven team like the Houston Rockets would have some interest, but a poor perimeter shooter who needs the ball in his hands doesn't seem like a great fit next to James Harden.
The trade market for Rubio does not look robust at this point, and the Kings may be the only real suitor when it's all said and done. But there's no harm in shopping him now, and if some injuries occur in the coming weeks, more teams could be looking for a capable point guard.
More from FanSided
This article originally appeared on
---
---