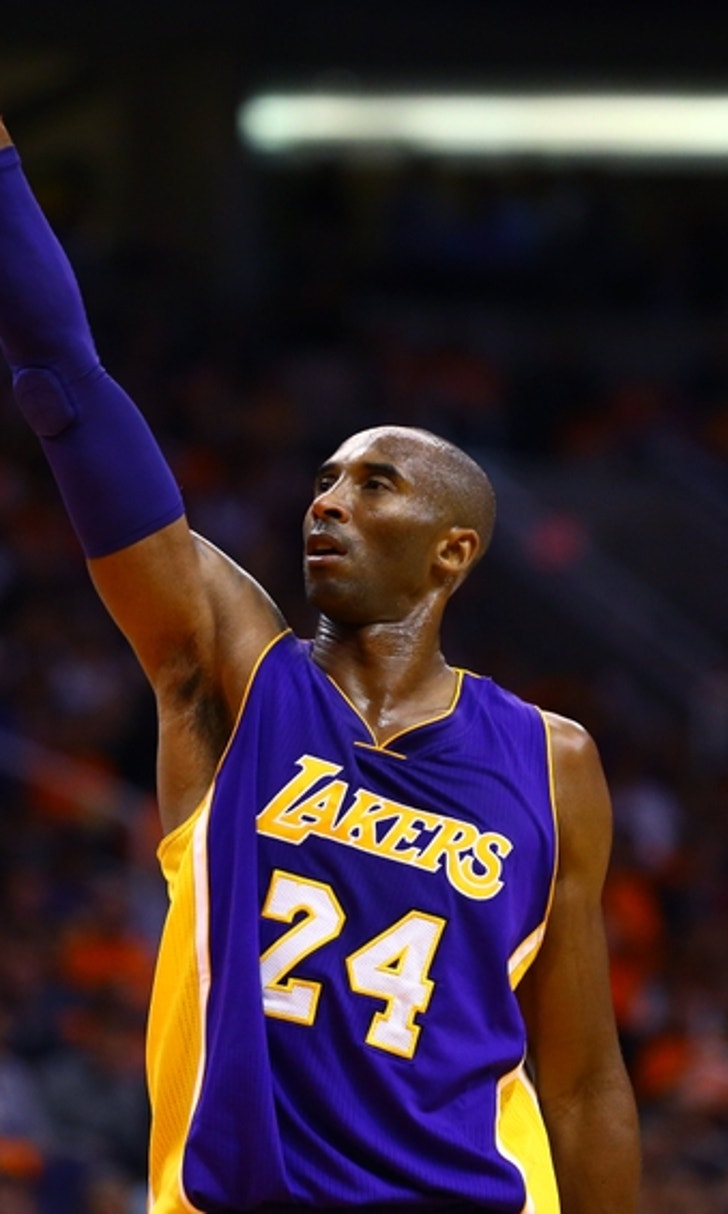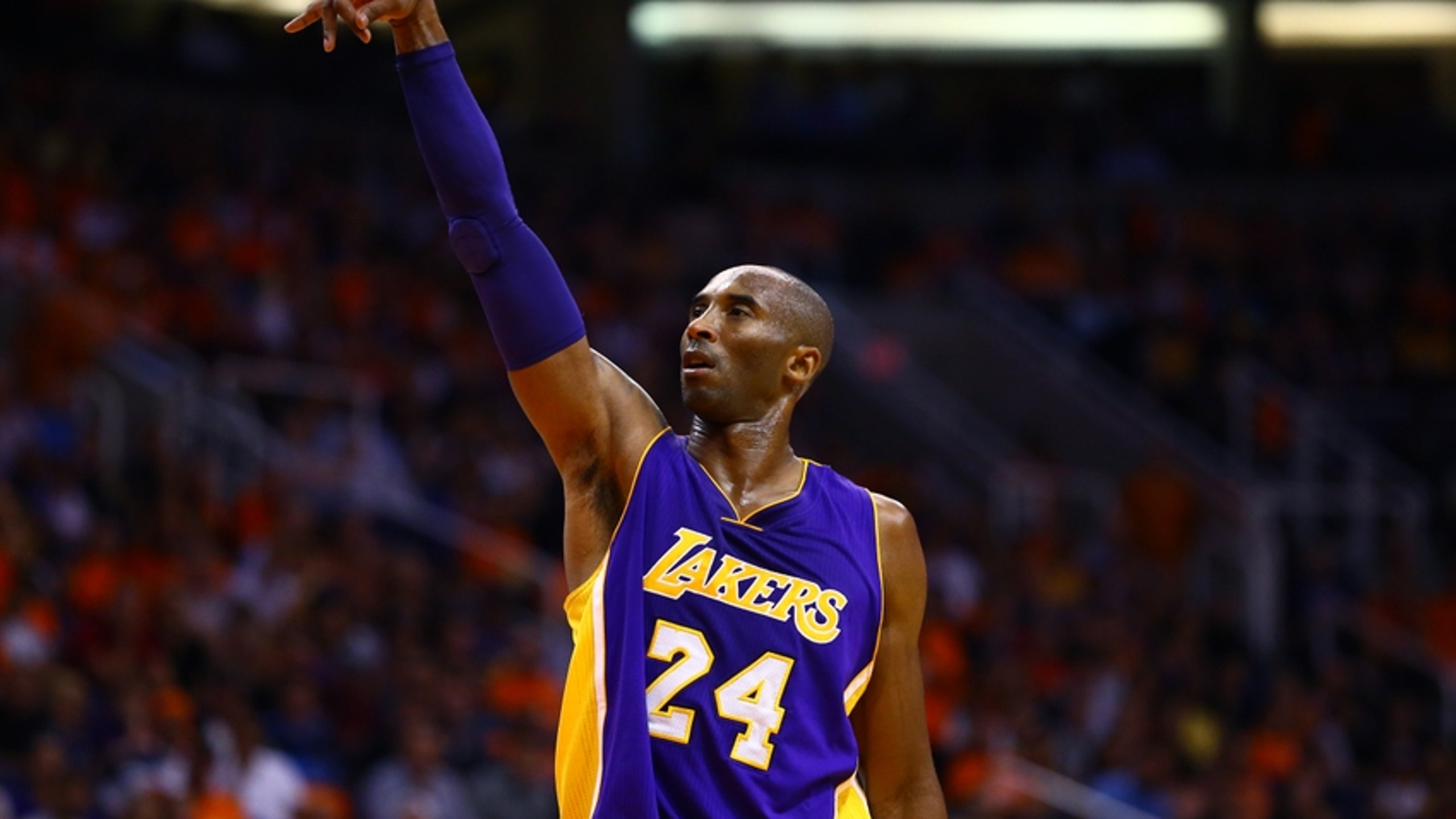 Biographer Roland Lazenby Talks Kobe Bryant In Exclusive LSL Interview
BY Fansided and Sean Burch/FanSided via Lake Show Life • December 14, 2016
Feb 4, 2016; New Orleans, LA, USA; Los Angeles Lakers forward Kobe Bryant (24) during a game against the New Orleans Pelicans at the Smoothie King Center. The Lakers defeated the Pelicans 99-96. Mandatory Credit: Derick E. Hingle-USA TODAY Sports
We recently got to chat with Roland Lazenby who dished on Lakers' legend, Kobe Bryant, the subject of his latest book. Here's what he had to say about The Black Mamba
Roland Lazenby is one of the preeminent voices when it comes professional hoops. He's covered the NBA since 1988, and has written several books on many of the games' most revered figures, including Jerry West, Michael Jordan, and Phil Jackson.
His latest book, "Showboat: The Life of Kobe Bryant," is a dynamic biography of the loved and loathed Los Angeles' swingman. In more than 600 pages, Lazenby covers the Mamba from his distinct childhood in Italy to his championship glory (and agonies) in LA.
The book does a masterful job of going beyond what the public already knows about Kobe — that he was a maniacal competitor — and gives the reader a comprehensive look at what propelled him to reach the apex of his sport. Of course, with insight from many influential people in Kobe's past, there are still plenty of great anecdotes where his remarkable ambition is obvious (my favorite: Kobe being absolutely livid when his high school coach gave the team a day off from practice, while the rest of his teammates celebrated).
More from Lake Show Life
Needless to say, if you're looking for a new book or a top notch gift for the holidays for a basketball fan, I highly recommend "Showboat."
Lazenby was kind enough to recently call and discuss Kobe's life and career from his home in the Blue Ridge Mountains of Virginia. He touched on a myriad of topics, including Kobe's fallout with Shaquille O'Neal, his close relationship with Tex Winter, and why Phil Jackson didn't want to trade him for Grant Hill. I hope you enjoy this exclusive interview as much as I did.
In his rookie year, Kobe famously had the number of airballs in the final playoff game in Utah — how did that impact the rest of his career?
Well, it was remarkable he was able to recover from that. Michael Jordan at the end of his freshman year hit the shot against Georgetown to give the Tar Heels and coach Dean Smith the NCAA Championship. Michael was the darling of Tar Heel Nation, and Kobe Bryant at the end of what would've been his freshman year, shot the airballs against Utah.
Sonny Vaccaro, who was the guy at Adidas responsible for bringing Kobe to the NBA as a teenager, pointed out in interviews for my book, that Kobe was probably the only teenager on the planet who could fail the Lakers in such a public manner and recover from it and go on to prosper, despite that horrific setback and disappointment for a young player.
Your book does a good job of outlining the duality of Kobe. His dad was a Lamar Odom type of guy: very athletic, obviously, but very gregarious at the same time. His mom was more stern, and he seemed to adopt her personality a little more. Do you think he would've been better served if he had a better balance of his mom and his dad when it came to his personality, or was it necessary for him to be successful?
I think it's always better to have better balance as a personality, but then we probably wouldn't be talking about him and he wouldn't be the guy viewed as bringing so much to the Lakers, who had ached for success.
Kobe's ambition was a driving force in the ability of the Lakers to achieve that success. You just don't get one without the other. We'd like to clean up these great competitors so they'd be a little more palatable to all of us culturally, but they're driven folks for a reason, and that's just the reality of it.
There's one moment in the book where you really crystalize this, where at the end of the 04-05 season, Kobe gets in front of his teammates and pretty much cusses them out and tells them they don't deserve to be on the floor with him. What was it like being a teammate of Kobe? How'd they deal with such an overbearing personality all the time?
Well, it's difficult to be the teammate of that sort of really intense competitor, who is unafraid of angering teammates. Michael Jordan was the same way. He had very high expectations of himself and he had very high expectations of his teammates. Jordan, however, had the benefit of playing three years in college in Dean Smith's tightly controlled system.
Kobe Bryant came to the NBA right out of high school, where he had ruled the roost. In many ways, even his coaches in AAU and high school had to be deferential to him.
And so, Kobe Bryant didn't have that background in team basketball that had allowed Michael Jordan to gain some measure of function in the circumstances. And it upped the degree of difficulty for Kobe Bryant considerably. But it was very hard for teammates to deal with that a lot of times, but it's just sort of the basics of the game.
Oct 2, 2016; Chaska, MN, USA; Michael Jordan on the first green during the single matches in 41st Ryder Cup Hazeltine National Golf Club. Mandatory Credit: John David Mercer-USA TODAY Sports
The specter of MJ loomed over Kobe for his entire career. You quote Chip Schaefer (former Bulls and Lakers trainer, who is now back in Chicago) in the book, and he talked about how Kobe had a better work ethic than MJ. Are there any other comparisons where you think Kobe comes out on top compared to Jordan?
Well, MJ himself has admitted Kobe had a much better work ethic. And people that worked with him, Chip Schaefer, who worked with both, said that when MJ needed to, he would come in and do the extra work. But with Kobe Bryant, it was every day.
Tex Winter, the great coach of both the Bulls and the Lakers, who coached Michael Jordan longer than anyone and was Kobe Bryant's self-described mentor, spent a lot of time trying to imagine what if Michael Jordan had had to play with Shaquille O'Neal as a young player. A guard posting up alongside O'Neal — you actually couldn't do that. So much of Michael's game was his ability as a post weapon.
Of course for Kobe Bryant, one of the things that struck me about him as a young player was he had these post skills. And yet, every player has his own context. Michael Jordan had to deal with his, and Kobe Bryant had to deal with the context he played in. But certainly it was a tremendous gift to play alongside Shaquille O'Neal, but it also brought with it tremendous limitations, and that was just the reality of the circumstances.
Can you outline for everyone what could possibly draw Kobe and Tex Winter — someone more than 50 years older than him — so close together. What was the connection? Because they really seemed to bond, and I didn't expect them to be that fond of each other when I was reading the book, but Tex seemed to care a lot about Kobe.
It's funny, I was rebounding free throws for Kobe in The Forum in 1999, and he was very miserable.
The Lakers were moving along in a season where they'd end up getting swept by the San Antonio Spurs. It was a tough season, and as I was rebounding he told me he'd always dreamed he'd be coached by Tex Winter, and I was stunned by that!
I didn't even realize Kobe knew who Tex was, because Tex was an assistant with the Bulls at the time. And I told Kobe I'd get Tex to call him, and he did, and they began conversations about Kobe's plight. He was very frustrated with the Lakers and their lack of structure in the offense, and [Bulls general manager] Jerry Krause and other people would wonder what Tex, an assistant coach for the Bulls, was doing talking to this young Lakers guard.
But Tex saw in Kobe what he saw in Michael — this brilliant offensive talent, just unbelievable talent. And he obviously was a guy that wanted to learn the triangle offense.
As for Michael, Tex and Michael had come into some conflict during their years because Michael had an appreciation for the triangle, but it was far from perfect. On the other hand, Tex had the chance to work with this brilliant young guard, and his motivation was it made his life relevant, his life's work relevant. He had the chance to pass along his knowledge to one of the great young players coming along in the game, and not only that, but a player who professed to be in love with the Triangle offense, Tex's system.
So Tex was pretty wild about that, and of course as it turned out, Tex ended up coming with Phil Jackson to the Lakers that next season, and he and Kobe were very close, almost from the start. And it set up a dynamic, where on the Lakers, Phil Jackson chose to be close to Shaquille O'Neal, and his longtime assistant, Tex, took up Kobe's part. So there was some opportunity for some conflict on the Lakers' staff. And in fact, Kobe and Shaq had their conflict, and Phil took Shaq's part and Tex took Kobe's part.
In your book, ESPN's JA Adande said he thinks the Lakers left a title on the table with Kobe and Shaq when they broke them up. Do you agree with that sentiment? Or do you think it had to end the way it did?
Well, I think they left a title on the table — maybe a couple. Phil Jackson was not high on having Jerry West continuing his involvement. West, who had basically created the team by acquiring both Kobe and Shaq. And when I sat down to talk to him about it when he was leaving the Lakers, Shaquille told me that he no longer had anyone with the Lakers he could trust. That he trusted Jerry West but Jerry West was gone. And I think that was the sad thing. The person with which Shaq and Kobe could agree was Jerry West. They both had tremendous regard for him, and West struggled to get them to get along better.
But once West left the Lakers after the 2000 championship, the opportunity for them to get along better disappeared. It was the one thing they agreed on, the power and importance of Jerry West, and it was the one thing they could find common ground. And certainly Jerry West and Phil Jackson weren't great to get along, but if they had found a way, it might have changed the course and provided that championship that they all bear responsibility for, that they all left on the table.
How did Kobe and Phil find a working relationship during their second stint together? Because if you went up to someone who followed the NBA after the '04 season, after Phil's book came out where he goes off on Kobe, you would think they'd never even be able to talk to each other again. How did they win two more titles together?
There had to be some assurances made, that Phil wasn't going to pull those kind of tricks anymore. As Charley Rosen explained to me for the book, some of their getting along seemed to be for public relations sake, but a fair amount of it was genuine. Above all of his issues with Kobe, Jackson really respected him as a competitor — that his competitive spirit was great and was a huge factor. Phil probably could've gotten away with trades that meant he didn't have to coach Kobe anymore, but given the opportunity for those, Phil declined them.
One in particular was a trade for Grant Hill. Before he became injured he was still considered a top player. But Phil didn't pull the trigger on that or really push it, because he really loved Kobe's competitive nature. He didn't love trying to rope it in, but he did love having a player with that level of drive.
Apr 13, 2016; Los Angeles, CA, USA; Los Angeles Lakers forward Kobe Bryant (24) smiles as he addresses the crowd after the Lakers defeat of the Utah Jazz in the final game of his career at Staples Center. Mandatory Credit: Robert Hanashiro-USA TODAY Sports
Kobe, just two weeks ago on the Lakers channel out here, counted down his top 10 moments of his career, and he selected the 81-point game as his top moment. As someone that just wrote a book on him, what would you choose as his defining moment?
That's certainly one of them. I think everyone would agree, and there are a lot of people with different opinions of Kobe, but he was a volume scorer and everyone whether you hated or loved him acknowledged that. And in many ways, as Kobe told me as a young man, a very frustrated young man, "all I want to be is 'the man.'" In other words, the dominant figure in the NBA. In scoring 81 points, it helped him lay claim to that position as he got older.
And so I can understand why he'd say that. I tend to think of the times that Kobe bent his tremendous desire to the will of the team — the '08 Olympics, the stretch of the 2001 playoffs where he played so much more within the team framework, and even some of his later things. So the 81 point game is amazing, no doubt, and it is a big part of the reason Kobe has the allegiance from so many people, but you know, less is always more in basketball, it's a team sport, and I'd pick other moments.
You just said it, he wanted to be "the man." I argue with my friends all the time, I think Pau Gasol probably should've been the the MVP of the 2010 NBA Finals. Do you think Kobe had to win on his terms? In other words, would he have been happy in his second stint with Phil if Pau or someone else had won the Finals MVP, or did it have to be him getting the ultimate glory?
Well, if you want to be "the man," viewed as the greatest, then you want all the pelts. Kobe basically was this guy who ran everyone out of his life. He did himself tremendous personal damage in the midst of eliminating his family, his parents, his agent, his shoe company, his coach, his co-star in Shaq. He eliminated all of them.
As Sonny Vaccaro of Adidas said, Kobe was like the Russians with the Romanovs, he got rid of everybody. He did all of this personal damage, and of course his great will allowed him to overcome it, something even Tiger Woods was never able to do with the sort of damage he did to himself. Kobe's damage was even greater with the rape charges, but he was very lucky. He was lucky Phil agreed to come back and coach him, and he was very lucky because he almost destroyed his final important relationship with Lakers owner Jerry Buss. Kobe was also the beneficiary of good fortune. He was very lucky to play with Shaq, and he was lucky to play with Pau Gasol.
Sonny Vaccaro was the guy who made Kobe a pro as a teenager. He was looking for the next Jordan with Adidas, and he gave Kobe millions to turn pro. Kobe's family needed the money, and then Sonny Vaccaro insisted with a fight with the family to make Arn Tellem his agent, which in turn allowed Kobe to become a Laker. Now, Kobe might well, as Sonny told me in the interviews for this book, gone on to become a great,great basketball player, he probably would have in all likelihood. But it was only by virtue of being a Laker he was able to win championships. So yes, I think there was a period where Kobe was very much "the man" of the NBA, but he didn't get there on his own.
Speaking of Sonny Vaccaro, I wanted to ask you about Kobe and his time with Adidas. By the end, he ripped up his contract with them —
He paid $10 million to get out of that deal!
[Laughing] Yea, that's amazing to me. But it's because he didn't like the shoes and the marketing. He seemed painfully aware of how people viewed him, especially back then. He was very worried about Iverson. Did he not really like how the public perceived him?
I went into great detail about the shoe story, and how Kobe was made a millionaire by Adidas before he reached 18. Kobe was very fortunate to have that. But the shoes were new, and Adidas was trying to do new things in design. The guy who had played such a big role in Air Jordan, Peter Moore, was trying to help Kobe create something special. The point is Michael Jordan became a billionaire because Nike gave him a royalty on the shoes, something no one else had received. And Kobe, if he had he stayed with Adidas, he was much more valuable to adidas than he would've been to Nike.
Kobe has made many many good deals in his career, he's an astute businessman. But speaking of leaving things on the table, as Sonny Vaccaro said, he probably could've been a billionaire today, or at least eventually. Of course, this all went down before Colorado, so there's no telling how any of this would've played out. But it was interesting that Kobe grew completely frustrated with Adidas and walked away from a major role with a major company.
Kobe's career, for all intents and purposes, ended when he tore his Achilles in 2013. Let's say that didn't happen. How do you think his career would've ended? Could he have pulled a Paul Pierce, playing spot minutes off the bench, or is that not in his DNA?
I think it would depend on the management of the Lakers, how relevant they could've been and done to rebuild the team. Without the torn Achilles, it probably would've been somewhat easier for them to find help for Kobe. It's not guaranteed, because his difficulties played a role in some of the Lakers' troubles, obviously. It's really hard to answer that, I can't say.
In a lot of ways, I do think that Kobe, in any way he could be, would've wished to remain competitive. That's how he saw his identity. But it's so hard to know, because the Achilles injury did ruin things, I think in one sense his ability to fight back from not just the Achilles but also his other injuries is part of his legacy. And you know, in some ways, the issues in Colorado and those things had cost Kobe a lot of respect from some observers, some in the fan base. But his fight to continue competing probably helped him regain some of that respect with the basketball public. So in a lot of ways, it was probably very important that he played out the hand as well as he did.
And lastly, before we wrap up, there are several great voices in this book. Who was your favorite interview with regards to Kobe, and why?
Sonny Vaccaro had the ability to explain Kobe differently. I think the thing my book accomplished is it changes the narrative substantially for Kobe Bryant. He wasn't just some little rich kid who got the benefit to play at a high level because his daddy played in the NBA and in Europe. The Bryant family was broke, their plan to get money was to have Kobe turn pro. So Kobe has been viewed as this very precocious guy, who was demanding to go to the Lakers, who had all of this arrogance, and certainly Kobe is guilty of any amount of arrogance. To be a great player, you have to have a great confidence.
But none of that was true about the 17-year-old Kobe. He signed his contract with Adidas, and turned to Sonny Vaccaro and said "Mr. Vaccaro, is there any way my parents can have this money and I could go to college?" It was only then that even Sonny Vaccaro realized how youthful and naive was Kobe Bryant. He was not the scheming figure that the public saw in him immediately. He was a guy who was extremely ambitious to be great, but the public was really turned off by Kobe turning pro right out of high school, and saw him as a bad customer.
Find Roland on Twitter @Lazenby
---
---