Way Too Early Bengals 2017 NFL Draft Preview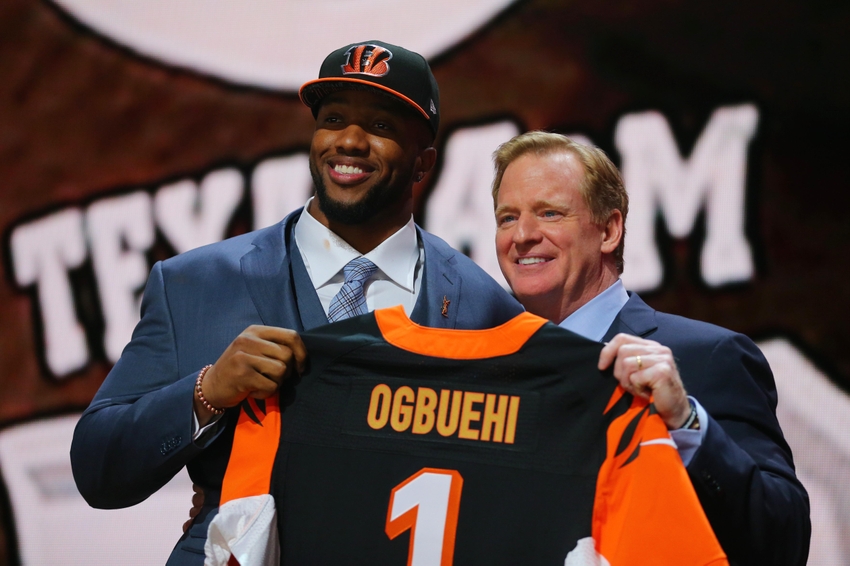 The Bengals season ended (pretty much) on Sunday and it's now time to look to the future and to the 2017 NFL Draft.  With major injuries and losses piling up this year cannot end soon enough.
What Do They Need?
There are generally two strategies a team can use when formulating their Draft plan.  Some teams will Draft based upon their Team needs and may take a lower rated player if he fits a need they have.  Other teams will Draft based upon the most talented player available and worry about their Depth Chart later.  Listening to NFL experts in Preseason prognostications found that many thought the Bengals were one of the most talented teams in the NFL.  Unfortunately, that talent hasn't led to many wins this year.  After the disaster against the Bills on Sunday both A.J. Green and Giovani Bernard are out for the season.  Consequently, the team needs to re-tool and reload for next year.
Tyler Boyd and Tyler Eifert are two bright spots this year but the Bengals need to improve the WR spot occupied by Brandon LaFell.  Furthermore, it will be 2018 before Bernard will be back to full strength.  2017 will be Jeremy Hill's Contract year to either flame in or fizzle out.  Defensively, the Bengals need to get younger at DT, MLB, OLB and CB.
Players like Domata Peko, Rey Maualuga, Karlos Dansby and Adam Jones have had their chance to make this defense great again.  These aging stars and their coaches have failed to be anything close to great this year.  Therefore, a youth movement is needed and it starts in the 2017 NFL Draft.  This off-season could see great change come to the Bengals and it cannot come soon enough.
One thing is for sure: The Bengals need new life and new blood to re-open their Championship window.  No matter who the coach is, this Draft will be a turning point; good or bad.
Reuben Foster- ILB, University of Alabama
Foster is a beast of a Linebacker who has been in the middle of the most dominating college football defense in recent memory.  If the Bengals are picking in the 11-15 range of the First Round they may be able to grab Foster and immediately upgrade the middle of their linebacking corps.
The speed at which Foster plays with will translate very nicely to this Bengals defense.  Vontaze Burfict plays with an intense violence and Foster will be able emulate his intensity while hopefully being less volatile.  Scouts also rave about his Football instincts giving him the opportunity to contribute quickly to whatever team Draft's him.  Drawing comparisons to Luke Kuechly is always a great thing and it further confirms that the Bengals should even Trade up to get their hands on Foster.
Mike Williams- WR, Clemson
Even when A.J. Green comes back fully healthy next year he will need some help from other Wide Receivers.  Mike Williams has a highlight reel of catches and touchdowns from his time with Clemson that show him to be a top-10 pick.
At 6'3″ and 225 pounds, Williams has the body and skills to wreck opposing game plans.  With him on the edge, getting one-on-one coverage, he has shown he can grab the fade, comeback, and slant without issue.  There is some concern about Williams' release off the line of scrimmage but good coaching can improve that.  If there are other teams needing WR's ahead of the Bengals he will probably be off the board after the top 12 but he remains a great possibility for Who Dey Nation.
There remains a possibility that this season will continue to implode. If this happens, the Bengals could easily choose within the Top 8 picks.
The Bengals lost two high-caliber offensive weapons on Sunday and the effects will be felt the rest of the year.  It may even be smart for Cincy to rest players in search of a Top-5 Draft slot.
No Bengals fan wants to see their team lose.  However, Bengals fans are going to have to get used to seeing losses pile up the rest of this year.  If this, in fact, does happen, Bengals management will probably be searching for a new coach as well as new Draft picks.  Worst case scenario for this season could lead to a best case scenario in the 2017 NFL Draft.
Assuming a Top 5 pick is a tough assumption but the Bengals were on their way to a horrible record BEFORE losing to the Bills and BEFORE losing the best WR in the league.  So, Bengals fans and management need to focus in on who they want with a Top 5 pick in the upcoming NFL Draft.
Malik McDowell- DT, Michigan State
Other teams in the Top 5 of the Draft like the Browns, Jets, Bears and 49ers all need Quarterbacks.  Fortunately for the Bengals, they have an MVP Caliber QB and don't have to choose a flashy pick to generate fans for their team.  However, the Bengals do need help up the middle and McDowell can help.
While he isn't Vince Wilfork size, McDowell is big enough to disrupt the interior and explosive enough to use on stunts off the edge.  Of course, his Combine measurements and performance could either solidify or lower his Draft stock.
At this point, McDowell would be a great choice anywhere in the top 10 and could very well be there for the Bengals.  Last week, McDowell tweaked his ankle and there is thought that he won't play for Michigan State again.  The injury is not major and shouldn't affect his Draft position.
Losing Giovani Bernard is bad but not a season breaker.  Yet, losing A.J. Green for more than one game destroys any hope for the Bengals to compete with the Steelers.
The Last Stand
Somehow, Marvin Lewis could very well survive this horrible season of football.  Whether he does or not, the 2017 Bengals season could be the year the door completely closes on this team.  A healthy A.J. Green and Tyler Eifert along with an improved Tyler Boyd and Jeremy Hill will give this team a chance automatically.
The 2017 NFL Draft becomes that much more important in the search for a Playoff win.  If the team can draft young players who can immediately contribute on both sides of the ball there will be joy in Cincinnati once again.  Any free and open time on Managements calendar from this day forward needs to go towards College scouting and Draft projections.  Simply put: the Bengals cannot mess up this Draft.
The Future
The latter rounds of the Draft should focus on finding young talent for the Offensive Line, Defensive line and a speed running back to alleviate pressure on Jeremy Hill.  There are hidden gems throughout College Football that will be dug up in rounds 5-7.  Some of these players could provide support for this season but most players in those slots won't contribute for a few years.
The Bengals need to reinvent themselves and a solid showing in the late rounds of the Draft will go a long way in meeting that long-term need.  No team or fanbase deserves playoff success more than the Cincinnati Bengals.  Hopefully, this upcoming offseason and Draft will provide hope for what currently seems mostly hopeless.
This article originally appeared on