Vikings at Panthers Recap, Highlights, Final Score and More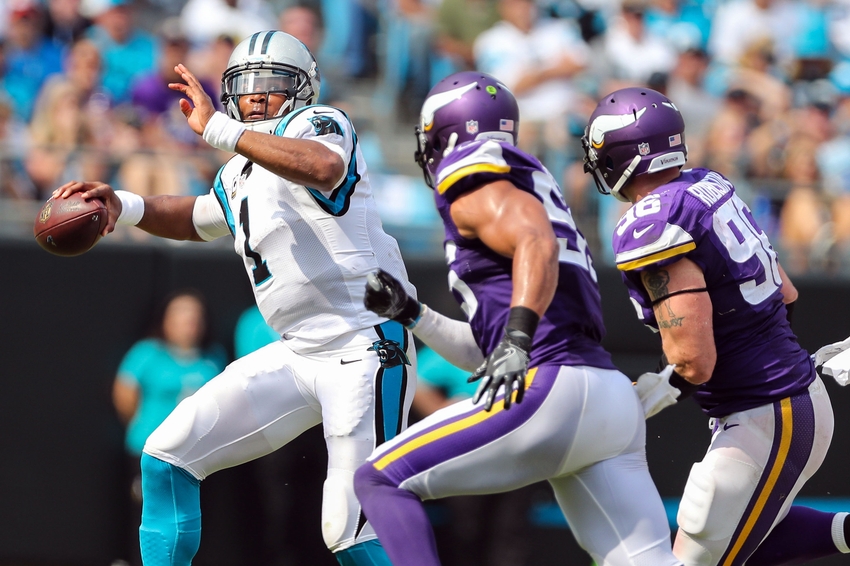 Riots, injuries, jeers and all; the Minnesota Vikings came out victorious on the road versus the reigning NFC champs, Carolina Panthers.

22

10
Things looked ugly early for Mike Zimmer and the Vikings as a Cam Newton led Panthers offense marched down the field on back to back drives. That resulted in the home team punching in a quick 10 points. Those points would be the last the Panthers would score for the rest of the game, though. The Vikings defense stiffened up and completed negated any attack from Carolina.
The turning point of the game may have been the punt return score from Marcus Sherels. Or perhaps it was the safety Minnesota earned after Danielle Hunter sacked Newton in the endzone.
Panthers star wide receiver, Kelvin Benjamin, was held to zero catches throughout the contest. Returning Vikings corner, Xavier Rhodes, may have played a key role in shutting down his former college teammate at Florida State.
Carolina's defense was solid through four quarters, only allowing Minnesota to find the end zone once. That unit also only gave up two more field goals on the afternoon.
On what was a defensive game for the most part, the injury riddled Vikings made more plays on a day where the 2015-16 MVP uncharacteristically turned the ball over three times. Ultimately, that was enough to push them ahead and earn them a huge early-season win.
Three Stars
Vikings Defense – It was a rough start early, but the defense settled down after the first quarter and throttled the Carolina offense. This 2017 purple and gold defense would make their former purple people eaters proud. Together, they compiled a total of eight sacks, and three turnovers. Newton was unsettled and the Carolina offense just couldn't find any rhythm beyond their first few drives.
Kyle Rudolph, Vikings – There was a thought that Kyle Rudolph would become a larger focal point once Sam Bradford took the helm. That has now definitely been confirmed. Rudolph had a nice little stat line of seven catches for 70 yards and a touchdown. Not too bad of an option when a defense is trying its hardest to contain Stefon Diggs.
Marcus Sherels, Vikings – As Zimmer said in the post game conference, Sherels continues to find a way to contribute whichever way he can. Minus his dynamic 65-yard punt return for a touchdown, Sherels found himself in the ball game as well almost nabbing an interception himself while covering the slot receiver.
Highlights
Next Game
The Minnesota Vikings head back north to U.S. Bank Stadium as they will host back to back home games, first on the docket is the New York Giants which will be October 3, on Monday Night Football.
Carolina heads to Atlanta, GA to battle with their first divisional opponent of the season, the Atlanta Falcons. Game will be starting at 1 p.m. ET on Sunday October 2.
This article originally appeared on