Straight from the source: Doug Pederson's last two press conferences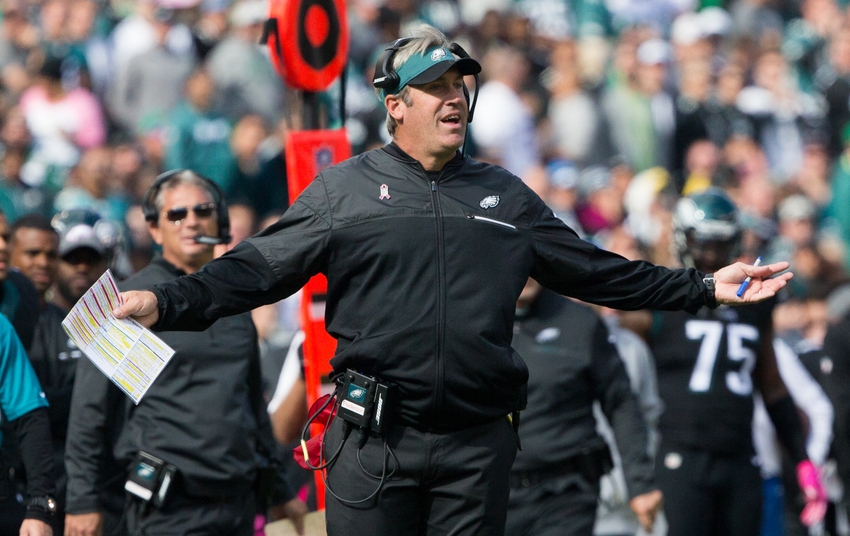 To say Pederson's feeling the heat doesn't quite describe things well enough.
For the third time in their last three attempts, the Philadelphia Eagles suffered a crushing loss at the hands of an NFC East foe on the road. The Eagles have lost all three of their divisional games in 2016. They've also lost four of their last five games after beginning the season at 3-0. The Eagles are now in last place in the division and have four conference losses. Their schedule doesn't get any easier in the coming weeks. What's been described as an exciting and surprising season is now being looked at as a series of near-misses and inexcusable losses.
Head Coach Doug Pederson, two weeks ago, was a head coach in the NFL with 4-2 record. He was also the toast of Philadelphia. Two weeks later, he's been described as "a bum", "stupid" and "a failure". In spite of the criticism, he's handled himself well and has kept an even keel.
Here's what he had to say to the Philadelphia media following yet another crushing loss for his team:
In a conversation with Angelo Cataldi and the Morning Team on 94 WIP_FM, Pederson answered some of the criticism about his play-calling. He was also questioned about electing to try to pick up the first down on more than one occasion on fourth down. What made things so bad was the fact that the team was clearly in field goal range. Pederson's response? The outcome of those plays haven't seemed to change his mind about whether or not it was the right decision to go for it in either case. It hasn't weakened his faith in his offense either. According to the first-year head coach, the team practices those plays weekly. He feels as though his team is well-prepared for those plays during game time.
Want your voice heard? Join the Inside the Iggles team!
The work doesn't stop though. This morning Pederson met with members of the Philadelphia media. As usual the press conference was aired on PhiladelphiaEagles.com and can be accessed by clicking here.
The Atlanta Falcons are right around the corner, and hope is beginning to dim around the fanbase again. Pederson remains upbeat. "I wish you all could see the dejection in the locker room" he said while describing his admiration for his team's desire to get better. "Everything's heading in the right direction.I'm with them every day…Better days are ahead." For the sake of the mental health of an entire fanbase, let's hope better days come sooner than later.
More from Inside the Iggles
This article originally appeared on