Steelers at Browns: Highlights, score and recap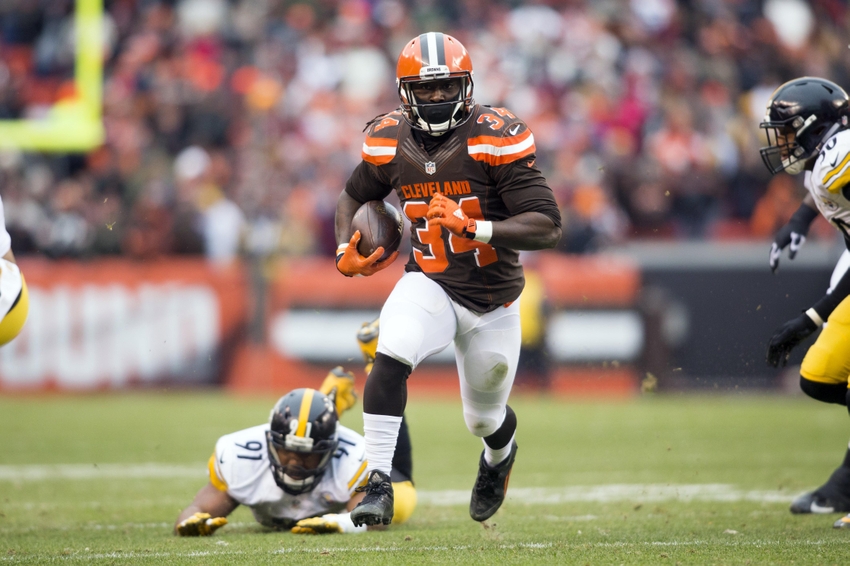 The Cleveland Browns are looking for their first win when the Pittsburgh Steelers arrive at FirstEnergy Stadium in Week 11. Here are highlights, key players and a recap of the game.
Nothing's gone right for the Browns through 10 games. But head coach Hue Jackson's team won't find a better way to change the story than beating their fiercest rivals at home.
The Browns have the talent on both sides of the ball to take advantage of the struggling Steelers. Pittsburgh has lost four in a row, and there are major question marks about a disappointing defense.
Specifically, the Steelers must prove they can stop the run. The Black and Gold rank 16th in the league against the run. But the ranking alone doesn't tell the whole story.
There have been too many big rushing days against coordinator Keith Butler's defense. Ezekiel Elliott became the latest running back to pad his stats against the Steelers when he rushed for 114 yards and two scores last week.
Elliott averaged over five yards a carry in helping the Cowboys win a classic at Heinz Field. He exploited big holes for fun in the fourth quarter.
Giving up big plays on the ground has become a common theme for these Steelers. In fact, they've surrendered 25 runs of 10 yards or more, per Sporting Charts.
The Browns have the weapons on the ground to exploit this weakness. Jackson must put the game in the hands of backs Isaiah Crowell and Duke Johnson. Cleveland's continuing carousel at quarterback means Crowell and Johnson have to dominate.
It's a different story for the Pittsburgh offense, where Ben Roethlisberger's arm can win the game. He might not like the matchup of Antonio Brown, the NFL's best wideout, against Cleveland corner Joe Haden. But Roethlisberger has other matchups to exploit.
In particular, Big Ben must target running back Le'Veon Bell and tight end Ladarius Green against Browns linebackers.
Highlights
Highlights will be added and updated as they happen.
Three Stars
Here's a prediction for which players will star this week.
1. Le'Veon Bell
Bell's a dynamic runner, but his greatest threat comes in the passing game. Pittsburgh's big-play workhorse is a little too boom or bust when lugging the rock. But No. 26 is a mismatch at every level of coverage.
Bell can be lined up anywhere and released on all manner of pass routes. He got his hands on nine of Roethlisberger's passes last week. Expect more of the same against a Cleveland linebacking corps loaded with aggressive, downhill types who may struggle when isolated in coverage.
2. Ladarius Green
Green's long overdue debut for the Steelers was really more a brief cameo. He caught just three passes against Dallas. But the ex-San Diego Chargers ace still showed the core skills that can make him a nightmare for any defense.
Specifically, Green is a big-play menace who has wide receiver-type speed to stretch the inside passing lanes. He averaged 10 yards a grab against the Cowboys and isn't even up to full speed yet.
Expect Green to pose problems Browns defensive coordinator Ray Horton won't be able to solve.
3. Isaiah Crowell
Like Bell, Crowell is an all-or-nothing runner. When he finds a crease, No. 34 boasts enough fuel in his jets to break off huge gains and go the distance.
The Browns have to feel confident they can create those creases this week. Pittsburgh's D-line isn't dominating the trenches. Rookie nose tackle Javon Hargrave has struggled with the demands of playing over the center.
It doesn't help that Cameron Heyward, the Steelers best lineman, is now out for the season after tearing a pectoral muscle. Crowell is a good bet to punish a depleted line.
Next Week
The Steelers will finish off the Thanksgiving slate by meeting the Indianapolis Colts on the road next Thursday. Meanwhile, the Browns will host the New York Giants next Sunday.
This article originally appeared on