NFL Week 7: Picks and predictions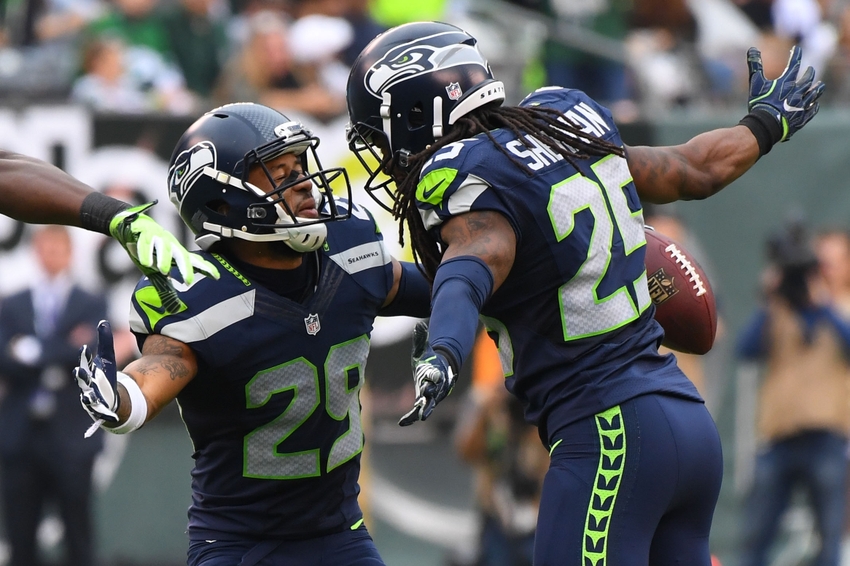 The time has come for our NFL picks and predictions for Week 7. Matt Verderame takes his best shot, which admittedly is weak sauce.
I'm not going to waste a damn second. Let's get right into the picks to find out if I've truly turned the corner, or if I'm a complete fraud.
Chicago Bears at Green Bay Packers (-7.5)
Green Bay (3-2) has looked average at best, but the Packers have to beat Chicago (1-5). A loss to the Bears and it's time to panic in Titletown.
Pick: Green Bay 23, Chicago 17
New York Giants (-2.5) at Los Angeles Rams (London)
This is the latest episode in a consistent barrage to kill football in England. New York (3-3) and Los Angeles (3-3) are the definitions of average. Take the better quarterback.
Pick: New York 27, Los Angeles 24
Oakland Raiders at Jacksonville Jaguars (-1)
This is a very underrated and important AFC game. Jacksonville (2-3) has won a pair to get back in the race while Oakland (4-2) is looking to forget about its beating against the Chiefs. Can the Raiders go across the country and get back on track? Maybe, but it won't be easy.
Pick: Oakland 31, Jacksonville 30
Buffalo Bills (-3) at Miami Dolphins
Buffalo (4-2) remains a team that has to prove plenty, but it should be able to win here. Miami (2-4) is not a good team, but it's at least wearing those sweet throwbacks.
Pick: Buffalo 26, Miami 21
Indianapolis Colts at Tennessee Titans (-2.5)
This is the kind of game Tennessee (3-3) has to win if it wants to compete in the AFC South. Indianapolis (2-4) is a reeling dumpster fire that should be contracted. Still, Andrew Luck has never lost to the Titans. Tough to get past that.
Pick: Indianapolis 34, Tennessee 30
Washington Redskins at Detroit Lions (EVEN)
The week's "Who the hell knows?" game. Washington (4-2) is a good team and Detroit (3-3) is average, but the Lions can score. At home, look for Matthew Stafford to throw for a ton of yardage. Is that enough to win? Could just be.
Pick: Detroit 28, Washington 24
New Orleans Saints at Kansas City Chiefs (-6.5)
Kansas City (3-2) is coming off its biggest win of the season and now goes home for the first time in nearly a month. New Orleans (2-3) has a great offense, but that won't be enough in Arrowhead.
Pick: Kansas City 30, New Orleans 20
Cleveland Browns at Cincinnati Bengals (-10)
Cincinnati (2-4) absolutely has to win. Cleveland (0-6) is barely a professional team. Still the Hue Jackson factor keeps this a close game until the fourth quarter.
Pick: Cincinnati 28, Cleveland 20
Minnesota Vikings (-2.5) at Philadelphia Eagles
Everybody is looking for Minnesota (5-0) to stumble, and it will. But it won't be this week. Philadelphia (3-2) is rolling with a rookie quarterback against the best defense in football. Not a great combination.
Pick: Minnesota 23, Philadelphia 13
Baltimore Ravens at New York Jets (EVEN)
People with tickets to this game should buy a shredder, turn it on, insert tickets, look for shoulder to weep uncontrollable tears of joy onto. Congrats, the pain is over. Baltimore (3-3) and New York (1-5) need to be taken off television for a while.
Pick: Baltimore 16, New York 13
Tampa Bay Buccaneers (-2) at San Francisco 49ers
If Tampa Bay (2-3) is going to push toward a playoff berth, the Buccaneers absolutely need to win this game. Meanwhile, San Francisco (1-5) is hurdling toward a draft choice that hopefully fixes this train wreck.
Pick: Tampa Bay 31, San Francisco 23
San Diego Chargers at Atlanta Falcons (-6.5)
Atlanta (4-2) almost beat the Seahawks and will be madder than hell this weekend. San Diego (2-4) is much better than the record indicates, but the Chargers don't have the pass defense to win this game.
Pick: Atlanta 38, San Diego 28
New England Patriots (-7) at Pittsburgh Steelers
This should have been a great game. Instead, Pittsburgh (4-2) is starting Landry Jones. Landry Jones. Oh my God, Landry Jones. Against New England (5-1)? Somebody stop the fight.
Pick: New England 41, Pittsburgh 17
Seattle Seahawks at Arizona Cardinals (-2)
This is a huge measuring stick for the Cardinals. Arizona (3-3) is a very talented team but the play hasn't been good enough to this point. Seattle (4-1) is excellent, but does the offensive line keep Russell Wilson clean for a Super Bowl run?
Pick: Seattle 23, Arizona 20
Houston Texans at Denver Broncos (-7)
Have you seen Brock Osweiler? This is going to be a horror show in terms of quarterback play. Denver (4-2) has the better defense. The only for Houston (4-2) is if Osweiler shows up. Wouldn't bet on it.
Pick: Denver 19, Houston 17
Last Week: 10-5
Overall: 49-43
More from FanSided
This article originally appeared on