NFL Week 1 odds: Odds for each game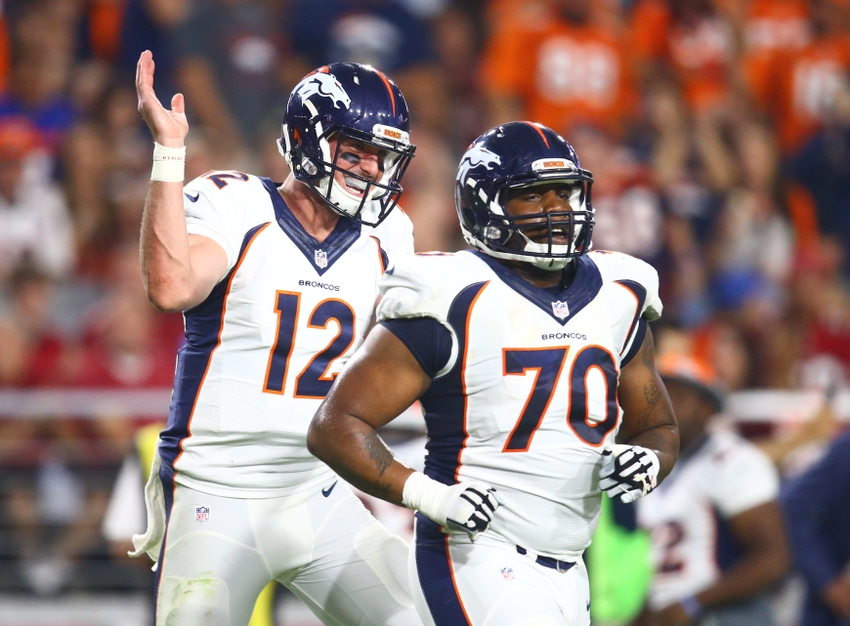 The 2016 NFL Week 1 odds for each game are out, and even though we are still nearly a week away from the action, pigskin fans are ready to roar!
It is hard to believe, but the 2016 NFL season is upon us. It seems like just yesterday that the Denver Broncos were holding up the Lombardi Trophy, and Peyton Manning was riding off into the sunset as a world champion. Now the Broncos will try to defend their crown as the rest of the league will try to snatch it away.
Denver will be front and center on NFL opening night as the Broncos will host the Panthers on Thursday night. The atmosphere will be flat out electric in the Mile High City as the Broncos will officially hit the field for the first time as champs. The Panthers are listed as three-point favorites in the Super Bowl 50 rematch, with the over/under number set at 41.
As for marquee matchups, the Panthers vs. Broncos may be the best of Week 1. However, there are several key games as well.
The New York Giants will take on the Dallas Cowboys in Big D in a huge game for the NFC East. Yes, it is only Week 1, but these two teams know that if they want to win the East, starting off with a win vs. a hated rival is huge. No Tony Romo for Dallas could give Eli Manning and the Giants a boost in this one.
The Cowboys have won five of the last six vs. the G-Men, but this time they may have their hands full. Dallas is listed a one-point favorite. The over/under number is set at 46.
One thing the NFL does that fans love is the opening week Monday Night Football double-header.
The first game will feature the Pittsburgh Steelers taking on the Washington Redskins. This game is a total toss-up. The Steelers are always tough – that is, when Big Ben is healthy. The Redskins have improved greatly since Jay Gruden has taken over as head coach, and quarterback Kirk Cousins has taken over the team.
The second game on Monday night will feature an old rivalry with a new twist when the L.A. Rams take on the San Francisco 49ers. Yes, the once removed and now returned Rams will play their first game as the Los Angeles Rams since they left L.A. back in 1995.
Nevertheless, between the new look Rams and everyone waiting to see what Colin Kaepernick does during the national anthem, the attention will be there. The Rams are a rare 2.5-point road favorite in this game.
Below is a glance at the complete Week 1 schedule along with the latest odds and start times (All times Eastern).
THURSDAY, SEP. 08
Carolina at Denver — 8:30 pm (Panthers -3, Over/Under 41)
SUNDAY, SEP. 11
Buffalo at Baltimore — 1:00 pm (Baltimore -3, Over/Under 44)
Green Bay at Jacksonville — 1:00 pm (Green Bay -5, Over/Under 48)
San Diego at Kansas City — 1:00 pm (Kansas City -7, Over/Under 44.5)
Oakland at New Orleans —  1:00 pm (New Orleans -1, Over/Under 51)
Chicago at Houston — 1:00 pm (Houston -6, Over/Under 44.5)
Cleveland at Philadelphia — 1:00 pm (Philadelphia -5, Over/Under 43)
Minnesota at Tennessee — 1:00 pm (OFF)
Tampa Bay at Atlanta  — 1:00 pm (Atlanta -3, Over/Under 47.5)
Cincinnati at N.Y. Jets — 1:00 pm (Cincinnati -2, Over/Under 41.5)
Miami at Seattle  —  4:05 pm (Seattle -10, Over/Under 44)
N.Y. Giants at Dallas  —  4:25 pm (Dallas -1, Over/Under 46)
Detroit at Indianapolis — 4:25 pm (Indianapolis -4, Over/Under 50.5)
New England at Arizona —   8:30 pm (Arizona -6, Over/Under 47.5)
MONDAY, SEP. 12
Pittsburgh at Washington — 7:10 pm (Pittsburgh -3, Over/Under 50)
L.A. Rams at San Francisco —  10:20 pm (Rams -2.5, Over/Under 44)
This article originally appeared on