New York Giants: Recipe for Sound, Smart, Tough December Football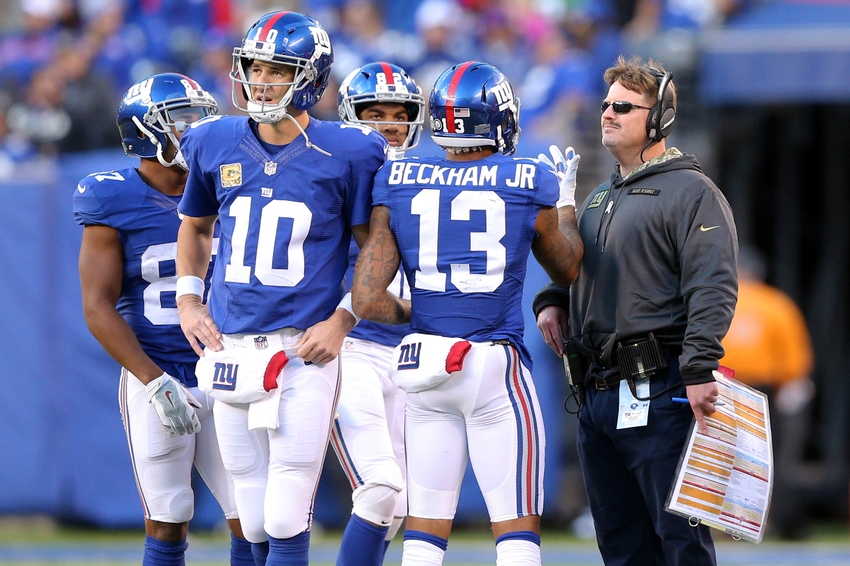 If the New York Giants are to play 'sound, smart, tough football' moving forward, here's a look at what needs to happen.
With the New York Giants entering Week 13 and December with six-straight wins at 8-3, the controlled excitement and anticipation in Giants head coach Ben McAdoo's voice was hard to miss.
"It's December football; this is where the real football begins," he said via a conference call Monday with the team's media. "All our hard work to this point has set the table for December. It's an exciting time against a lot of playoff teams and playoff environments. The margin for error is small. This is where our identity needs to take over."
That identity McAdoo desires to see, in case you've forgotten, is "Sound, smart and tough; committed to discipline and poise."
To reach their goal of making the playoffs for the first time since the 2011 season, the Giants must do so against five teams who are a combined 34-20-1. Clearly, that doesn't present an easy task for Big Blue. However, a renewed focus on what McAdoo wants from his team will lead them to success.
Here's a look at what the Giants can do moving forward to fill the "sound, smart, tough" factors McAdoo is hoping to see over the remaining five games of the 2016 campaign.
Sound: Run the Ball
None of the Giants remaining games this season are set to be played inside of a dome or in tropical-like weathers. This is where a consistent running game is going to be huge if this Giants team is to outscore its upcoming opponents. After showing signs of progress in the running game against the Bengals and Bears, the Giants appeared to take a small step backwards last week against a Browns run defense that had been ranked 31st in the league.
I asked McAdoo if the running game, which last Sunday amassed 104 yards on 27 carries—take away Eli Manning's two kneel-downs and receiver Sterling Shepard's 22-yard end-around, and the numbers are 24 carries for 84 yards—did indeed take a step backward.
"I believe in a normal down-and-distance, we made some progress there," he said. "We're not where we want to be yet. We're going to keep working our way through it."
The problem is the Giants have been trying to work their way through it not just this year, but dating back to last year as well. At this point, the personnel is what it is. And if the running game isn't clicking on a consistent basis at this stage in the season, you have to wonder if it ever will.
Getting the running game going is essential to opening the passing game. Teams will more than likely deploy a safety to help cover Odell Beckham Jr., the very same receiver to whom the Giants have been trying to force-feed the ball of late.
If the Giants can get the running game going, that should loosen things up for the passing game, which only managed a season-low 194 yards last week as a follow-up to three straight 300-plus yard performances, by the way.
As McAdoo has said, the problems in the running game are not necessarily limited to one player position group. So what's a team to do?
Running more of the full-house backfield—two tight ends lined up as fullbacks and one running back—could be a start. So, too, could a few runs behind the left tackle, where the Giants are averaging 3.74 yards per carry this year and where they averaged 4.33 yards per carry last season.
The biggest thing that will help, though, is execution. Watch any one running play that goes for no-gain or negative yardage and that's usually a result of someone on the offensive line or at the tight end position missing a block. Watch the Giants running backs—are they breaking tackles or forcing misses? All of that adds up, and is a big reason the Giants running game has struggled.
Smart: Eliminate the Self-inflicted Wounds
Penalties are going to happen in football. Sometimes there are good penalties, such as committing holding on defense to keep a receiver with loads of daylight from catching the ball and scoring. But for the most part, penalties are bad, especially when they're procedural penalties that come about due to sloppy technique and they end up stalling a scoring drive.
So far this season, the Giants have 78 penalties for 645 yards (think about that yardage total—that's almost seven football fields!). Their penalties have also resulted in 179 nullified yards, meaning plays that gained positive yardage were wiped off the stat sheet.
Want to talk about drive-killers? New York has 17 of them, with left tackle Ereck Flowers leading the way with six (four of his drive killers have been a result of holding, a technique related issue). The 17 stalled drives break down to an average of 1.54 drive killers per game.
When you consider that the Giants are scoring 21 points per game this year versus 26.2 per game last season when they were a top-10 scoring offense, that penalty yardage has been a significant, yet underrated factor in why this team, which has primarily the same personnel as it did in 2015, hasn't scored as much as it did last year.
Tough: Get Some of the Injured Guys Back
The Giants have been much luckier this year when it has come to injuries in that they haven't lost many key components to season-ending injuries (safety Darian Thompson and tight end/fullback Will Johnson are two that come to mind). Upon closer inspection, however, the Giants offense has been missing two key components to their unit, guys who you probably don't notice much, but whose presences make a significant difference.
The first would be left guard Justin Pugh, who is trying to work his way back from a sprained knee. that has cost him the last four games and which is likely to keep him out if this weekend's game against Pittsburgh.
Pugh has only been the Giants most consistent offensive lineman this season, a blocker who is probably the most athletic lineman they have, which is important when they want to run pulls and traps.
The other key cog is running back Shane Vereen, who has been on injured reserve since Week 4 with a triceps injury. Vereen, who looks as though he will be the player designated to return from IR for the Giants this year, leads the Giants running backs with his 4.7 yards per carry. Since Vereen exited the lineup, the Giants' third-down success rate has taken a nose dive.
With Vereen in the lineup, the Giants converted 47.1 percent (16 of 34) of their third-down attempts. Since he has been on injured reserve, that number has dropped to 33 percent (35 of 106). McAdoo did not have update on whether Vereen or Pugh would be able to practice this week. The target date for both appears to be the Giants home game against Dallas in two weeks.
This article originally appeared on