New York Giants: Jerry Reese Defends Offensive Line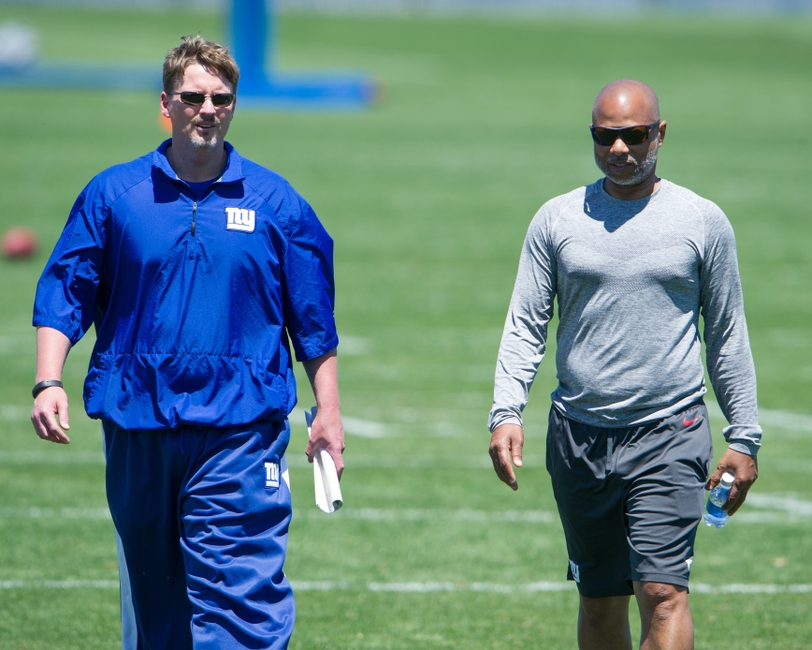 The New York Giants have had their offensive line heavily criticized in recent years. However, general manager Jerry Reese has recently defended the unit.
One of the big concerns for the New York Giants coming into the season was their offensive line. After spending a ton of money to improve their awful defense from 2015, the Giants didn't make any changes to the offensive line.
Like the defense last season, the offensive line also had their fair share of issues. While Eli Manning is likely heading to Canton, Ohio one day, that won't be because of his ability to scramble. A strong pocket is needed for Manning to be successful, and that has been inconsistent in recent years. In his first press conference of the season, Giants general manager Jerry Reese came out and defended his offensive line.
"I think they're good enough," Reese said of the offensive linemen in his first press conference of the season to Dan Duggan of NJ.com. "I think we need to do better, obviously. We need to run the ball better. That starts with the offensive line. The runners need to run hard in there, but the offensive line has done well so far. We can definitely be better, but they've held up well."
One of the players that have taken the most heat the past two seasons in left tackle Ereck Flowers. This season, Flowers has had some good moments, but he has also had some awful games like against the Green Bay Packers.
"Ereck has done OK," Reese said to Duggan. "Ereck is still a young player. I think he's 21 now. He's played a season and a half. I think he still has a lot of upside and he'll continue to improve." "He's our left tackle going forward right now," Reese said. "We'll keep all of our options open, but right now, he's our left tackle."
Flowers is still a very raw lineman, and many believed that the Giants would try to acquire one of the left tackles that were available at the trade deadline. Joe Thomas and Joe Staley would have both been upgrades at the left tackles position, but the Giants decided against making a deal for either of them. While the Giants have allowed the second-fewest sacks in the NFL, their rushing offense as been non-existent for most of the season.
"It's a combination of everything. It's personnel, it's play-calling, it's execution — it's everything involved," Reese said to Duggan. "We have to put it all together and get going. I do think we have the right play-callers, I think we have the right personnel. We've just got to get out there and do it. We've got to make it happen. We can't go out there and just think it's going to happen. We've got to go out there and make it happen."
The poor rushing offense can be credited to multiple reasons, as the Giants have had Rashad Jennings and Shane Vereen miss time this season. While both of them are the two best-running backs on the team, they aren't what anyone would call elite running backs.
Despite some struggles early on this season, the Giants are 4-3 this season with a big game upcoming against the Philadelphia Eagles. The Eagles' defense has been playing surprisingly well this season, and the Giants will have to make sure they protect Manning.
More from Empire Writes Back
This article originally appeared on