New York Giants: How Defensive Line Has Built Chemistry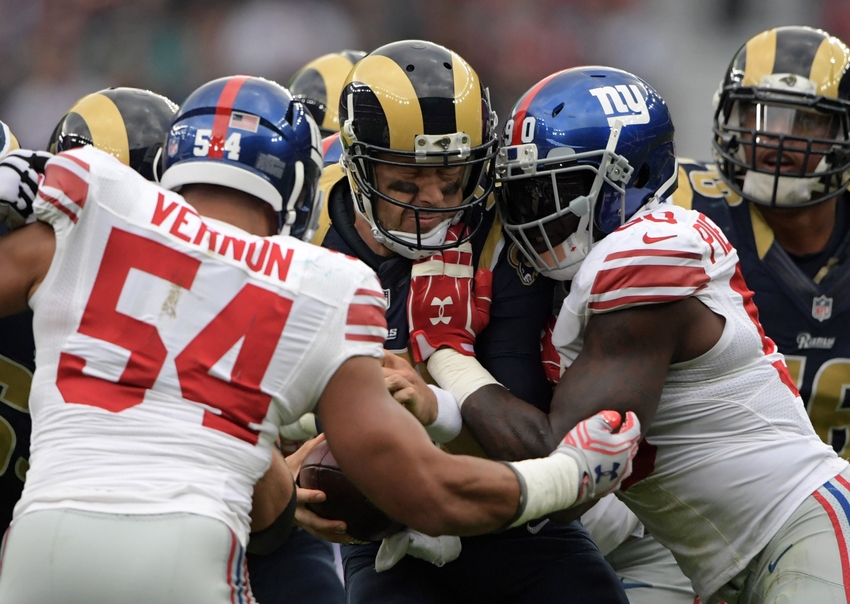 How a varied collection of personalities has come together to form one of the best New York Giants defensive lines since 2007.
Chemistry. It's a word that, much like "adjustments" and "must-win," gets thrown around a lot in the NFL. But what exactly does "chemistry" really mean? And how does it make a difference for a unit such as a defensive line. Unlike an offensive line, the D-line has different guys rotating in and out of the lineup based on the personnel package called by the defensive coordinator.
According to retired New York Giants defensive end Justin Tuck (who happens to know a thing or two about building chemistry on the defensive line), it's a process that, when it comes together, can spell trouble for opposing offenses.
"It's just learning how to play with each other," Tuck said before his Ring of Honor induction Monday night.
"It took me, [Michael Strahan], and Osi [Umenyiora] a couple of turns to figure out where our strengths were playing with each other. We knew our strengths individually, but when you throw that much talent on the field at the same time, you have to figure out how to add those together and not be subtractions."
That process that Tuck, Strahan, Umenyiora and the rest of the 2007 Giants defensive line went through en route to becoming one of the best units that season is exactly what the 2016  Giants defensive line is trying to replicate.
"When you throw that much talent on the field at the same time, you have to figure out how to add those together and not be subtractions."
-Justin Tuck
Tuck opined that if the current group of Olivier Vernon, Jason Pierre-Paul, Damon Harrison, Johnathan Hankins and the rest of the supporting cast strengthen their communication and chemistry, their jobs will become so much easier.
"That chemistry stuff goes a long way," he said. "Hopefully as they continue to play with each other, that whole D-line, the talent is to duplicate what we did."
The 2016 unit is certainly on its way.
Starting Over
Before understanding how far this 2016 defensive line has come, it's important to take a step back to last year.
The scene is a sunny, spring-time afternoon in early May. Giants defensive coordinator Steve Spagnuolo, who is just starting is second tour of duty with the franchise whose defense contributed to the team's third Super Bowl championship in 2007, his first year with the club, takes the podium in between practices at Giants rookie minicamp.
One of the questions Spagnuolo was asked was simple enough on the surface: Did he ever think he'd return to the franchise after leaving in 2008 for what became a string of less than successful ventures.
Rather than answer that question, Spagnuolo went off in a stream of consciousness that, in retrospect, was a sign of what Giants fans would be horrified to witness from that defense.
"This isn't an on-and-off switch where, boom, all of a sudden we're back to 2007 and we pick up where we left off. It doesn't work that way. It's a different challenge. It's a different year. It's different personnel. I'm not a magician. Things aren't going to happen like they may have happened in a different time. But hopefully, something exciting will happen. At least that's the goal." -Steve Spagnuolo, May 2015
As the injuries piled up and the plans Spagnuolo had experimented with in the OTAs, minicamps and training camp practices had to be scrapped one by one, people soon saw what he meant..
While that's not to say he didn't try to get the most out of what he had, pretty much every starting player he was counting on except for safety Landon Collins either ended up on injured reserve or missed at least one game by season's end. Knowing he was fighting a losing battle, Spagnuolo watched his unit and his reputation as a defensive coordinator take a free-fall down the league rankings.
The Giants finished dead-last in total defense, allowing an average of 420.3 yards per game. They allowed 47 percent of their opponent's third down plays to be converted, a league-worst.
They also allowed a league-worst 298.9 passing yards per game as the Giants limped to their second straight 6-10 season, their fourth year without a postseason berth and their third straight year without a winning record.
The defensive line, once a staple of Spagnuolo's defense, struggled the most to get much of anything done to benefit the team as opponents at times looked like Super Bowl champions when they beat up on the Giants defense.
The front office took notice of what had happened, particularly an irate John Mara, the soft-spoken team co-owner.
The day after the season ended, Mara, as he does at the end of every year, met with the media and made it perfectly clear that he was not happy with the year the team had and that he expected his general manager, Jerry Reese, to fix what was clearly a broken roster.
Reese did just that, plopping down close to $200 million in contracts for players who, in retrospect, could be looked at as do-overs for the failed draft picks made under his watch on that side of the ball.
Sticking with just the defensive line, instead of second-rounder Marvin Austin, in came defensive tackle Damon Harrison, an established run-stopping defensive tackle who spent the first few years of his career with the Jets. Instead of third-rounder Damontre Moore at defensive end, the Giants landed their big fish, Olivier Vernon from the Miami Dolphins, a guy who was widely regarded as the best pass rusher on the market.
Reese also managed to get some mulligans with a couple of guys whose 2015 seasons were  washouts due to injuries.
Those included defensive end Jason Pierre-Paul, who saw his 2015 season go down the drain thanks to a fireworks accident that permanently damaged his right hand, and defensive tackle Johnathan Hankins, who had a career-high 7.0 sacks in 2014 only to see a good chunk of his 2015 season lost to a pectoral injury.
Those four faces, along with the return of 2015 third-round pick Owa Odighizuwa from his season-long stay on injured reserve as a rookie; the surprising find of promising undrafted free-agent pass rusher Romeo Okwara; the returns of defensive end Kerry Wynn and defensive tackle Jay Bromley, and the addition of veteran defensive tackle Robert Thomas appeared to give the Giants, at least on paper, the upgrade they had wanted along the defensive line.
Looking good on paper, of course, is one thing. Making it work on the field was quite another.
Mixing The Ingredients
This spring, Spagnuolo not only dusted off a few ideas that he had to scrap last year, he also created several new ones to take advantage of the unique group he had on the defensive line.
So far, so good, even with Vernon dealing with a season-long wrist injury that Spagnuolo said the 26-year-old has brushed off. The relatively good health and the meshing of the unique personalities up front is a big reason behind the Giants defense's success this year.
"Believe it or not," Spagnuolo said with a smile, "the guys getting hurt, being down and out, you struggle with that as much as anything. The continuity comes when you have the same people talking and the same people communicating with each other."
Health aside, at first glance one might be hard-pressed to see how the starting defensive linemen could have anything in common outside of doing their assignments on the football field. Get to know them a little better and it's hard not to notice how the two defensive ends and the two defensive tackles complement each other.
There is the bubbly and often playful Pierre-Paul, whose press gathering are usually filled with lots of smiles, a lot of twists and turns to keep reporters on their toes, and, as he himself said when asked to describe himself, "goofiness" that usually elicits a chuckle or two from the weekly media crowd.
At the other end of the spectrum is Vernon, who looks every bit as intimidating off the field as he must look on the field. An extremely humble and private man, Vernon speaks with as few words as possible, almost as though he's trying to save his energy for making those big plays on the field.
Even the defensive tackles are polar opposites. Hankins, a four-year veteran who is only 24, is on the shy side. Meanwhile, the outgoing Harrison, nicknamed "Snacks," routinely delivers humorous one-liners with a straight face as though it's second-nature to him, causing both reporters and teammates to break out in fits of laughter.
This varied collection pf personalities all occupy one corner of the Giants locker room where, it's probably no accident that their lockers are arranged the way they are.
Pierre-Paul, the longest tenured Giant of the group, gets the corner office. Several stalls down, ending the defensive linemen's row, is Vernon's stall.
Only one empty locker, that next to Vernon's since he usually draws a sizeable crowd on a weekly basis, and linebacker Keenan Robinson's locker separate the defensive linemen's block of lockers.
Baking the Cake
The chemistry that has developed among the defensive linemen—both starters and reserves—has developed naturally given that they spend long hours in the classroom, on the field and on the road together.
They've also made efforts to get to know each other better off the field. For example, they try to get out together for an occasional dinner. Sometimes they'll opt for a "quiet" night at someone's home, whether it's playing video games or watching either a boxing or MMA fight.
"Chemistry—we have a lot of it and that's what we've been doing and basically communication is a key," Pierre-Paul said. "It's basically good communication on and off the field."
"We know each other very well, but we're laid back, chill guys," Bromley added. "We get to know each other on a different level. We definitely know how to communicate. We don't take anything too seriously. We feed off one another and the energy each guy brings is contagious."
"To build a good team you need that type of good chemistry," Vernon said. "All the guys, they make it easy."
The chemistry that continues to be a work in progress, but which is a lot further along than it was back on April 20 when the new teammates gathered for the start of the offseason conditioning program, is also starting to yield results on the field.
Through nine games, the Giants defense has risen from its spot in the cellar at the end of last year to 16th overall in average yards allowed per game (359.3).
They're allowing opponents to convert 39 percent of their third-downs and, while the sacks have been on a similar snail's pace to last year—they currently have just 14, 30th in the NFL—they already have 45 quarterback hits and have the league's seventh-best run defense (92.1 yards per game).
To be fair, all of those numbers are a result of a collaborative effort that also includes the linebackers and the defensive backs as well. But make no mistake; it all starts up front.
And for the first time since 2007-08 when he had the pieces to work with, Spagnuolo has been unveiling new and intriguing wrinkles seemingly on a weekly basis, such as lining Pierre-Paul and Vernon up next to each other or moving his multi-million-dollar pass rusher (Vernon) inside to defensive tackle.
The results of some of those wrinkles have stirred up memories of that 2007 defensive line, as has the camaraderie and the way the defensive linemen are collaborating between plays and on the bench.
"I love the way our defensive guys are interacting," Spagnuolo said. "They're talking about football, but they're having fun with it. When you can have that and you're playing decent, that's a good thing. I would like to get more of that. We like to have a little bit of fun—it can't be all work."
"Yeah, there's a lot of personality on the team and that makes going to work easier," Vernon said, smiling. "It makes things fun."
The Sky's the Limit
For as good as the defensive front has been, they insist that they haven't come close to reaching their full potential as a unit.
"I don't know what the ceiling can be, and I watch these guys every day," Bromley said. "I think Snacks is right up there as one of, if not the best, defensive interior linemen in the game. OV and JPP are the best at their positions, and [Hankins] is one of the best.
"I feel like we're deeper and we just have to continue to prove it. Sometimes you don't see the depth until you need it; if we ever do need it, we want to show people that we're ready."
"Nobody can read minds out there yet, but hopefully we get to that point where can," said Vernon on what the unit must do to take their game to the next level.
"Rome wasn't built in one day. We just have to keep working on that camaraderie. Chemistry is a brotherhood, basically—there's no better way to put it," he added. "We got the young guys and we look at them like young brothers. Everyone's having fun, and that's the only way this is going to work."
This article originally appeared on