New York Giants: 3 More Choices For The 23rd Pick
Curt Macysyn/FanSided via GMEN HQ

Fansided
Most draft are affected by the quarterback situation, and the 2017 selection process will fall into that category. The New York Giants are not yet in need of a quarterback, but some folks are calling for Eli Manning's heir. Quite frankly, with the state of the offensive line, squandering a pick on a novice QB makes little sense. But the G-Men have outsmarted themselves before with the "best available player" axiom. Keeping things between the lines at this point, let's see several more reasonable contenders for the 23rd pick.
Want your voice heard? Join the GMEN HQ team!
Corey Davis – WR (Western Michigan)
One of the biggest misnomers last season was that the New York Giants offense was "full of weapons". This was more fiction than fact. Wide receiver Victor Cruz had one touchdown, and the tight end trio caught three touchdown passes all season! The team's leading rusher had less than 600 yards and averaged 3.3 yards per carry.
Yes, Odell Beckham had 101 catches, but for a team that played with no fullback, and a weak tight end position; more play-makers are required. (Sterling Shepard is not enough!) Which brings us to Corey Davis. Because Davis played for Western Michigan, his draft status appears all over the board. I have seen him as a top ten selection, in the teens and dropping into the low 20's.
According to Chris Burke of Sports Illustrated, "I was thisclose to slotting Davis in as a top-10 pick before hedging a bit, but I have a hard time watching Davis and not seeing a successful NFL receiver. Continued exposure to (and improvement against) physical, press coverage will have to come in time, and his 40 time will be one to note. Otherwise, what else do you want? He runs sharp, nuanced routes from all spots on the field, plus has the size to finish plays when he can't create separation."
The physicality of Davis jumps out almost as much as his ability to get up to top speed in one or two strides. Adding Davis will immediately help the red zone offense, and he makes Odell Beckham and Sterling Shepard better by his mere presence. As more people see him, the likelihood lessens that he lasts until the 23rd pick.
Jabrill Peppers – SS/LB (Michigan)
No one questions Jabrill Peppers athletic ability, that's a given. What position will he play on Sunday afternoon? That's the question.
Once again, several drafts have him as a top ten selection, while other see him differently. For example, DraftWire has him selected by the New England Patriots with the 32nd pick. They write, "Peppers is more athlete than football player right now." I agree with that sentiment, but I also believe a general manager thinks he can become the next Kam Chancellor or Ed Reed.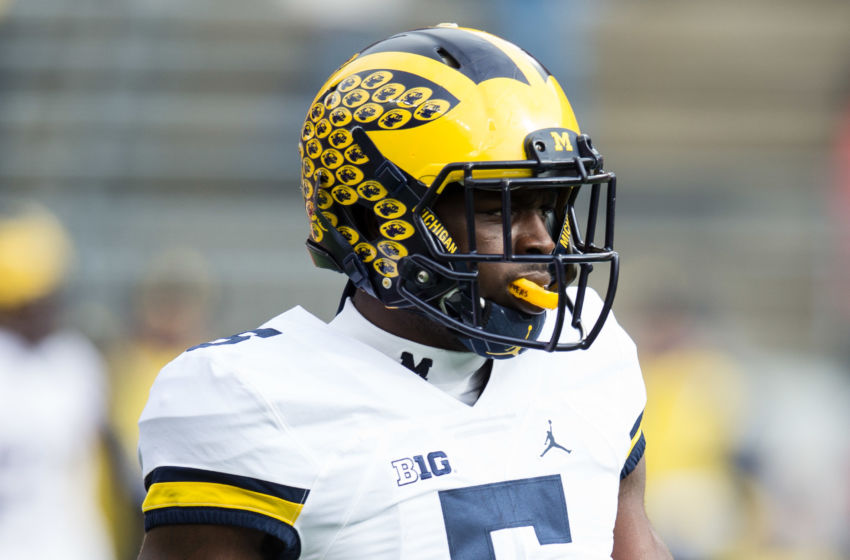 Popular belief is that he ultimately becomes a hybrid safety in the professional ranks, but I would be loathe to take someone in the first round without a defined position. But someone will gamble. There are many examples of players who were effective in college but could have refined their game before coming to the pros. Names like Geno Smith, Tavon Austin, Terrelle Pryor and Braxton Miller will be borderline pros because they were star college players slotted in the wrong positions.
According to Pete Thamel of Sports Illustrated, Peppers is already aware of the concerns about his position. "Peppers said he welcomes questions from NFL franchises and understands how much teams will be investing him. He said his position switch last season inhibited him from working in pass coverage as much as he'd have liked to. He took "full responsibility" for not 'putting forth my best coverage' on tape this season," Thamel wrote on Jan. 10, 2017.
With Landon Collins already in the fold, Peppers would represent over-kill at the position. I don't expect a homecoming for the New Jersey-native, however.
Zach Cunningham – LB (Vanderbilt)
The New York Giants have been chasing the ghost of the Super Bowl XLII for too long. Routinely Reese constructed teams have ignored linebacker, fullback and tight end. So drafting Zach Cunningham would represent a pleasant surprise for Big Blue. Other than the position he plays, there multiple reasons for bringing on the productive former Commodore.
According to Pro Football Focus, "The first thing that stands out when watching Cunningham is his speed and physicality. When left unblocked, he flies to the ball and his strong closing speed puts him in position on a number of plays. Cunningham attacks blockers with vigor, aggressively using his hands to take on and defeat blocks in the run game. The athleticism shows up in coverage as well, as Cunningham has the range to make plays in zone coverage as well as the movement skills to match up with opposing tight ends and running backs."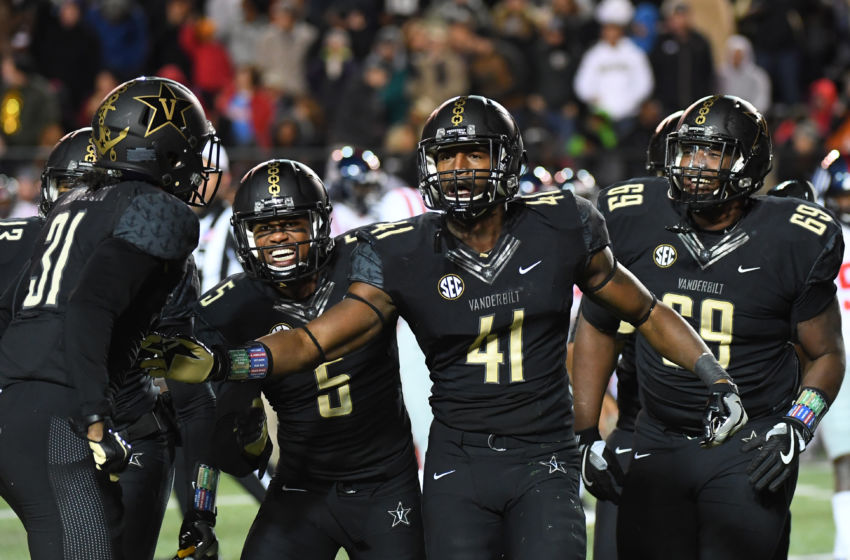 Why does this make sense?
Well, the dynamics of the NFC East changed when Dallas drafted Ezekiel Elliott. To get in front of the curve, drafting Cunningham becomes the antidote. Otherwise plan on a decade or more of gimmick defenses designed to stop number 21.
And will the Philadelphia Eagles be inclined to run the read option with Carson Wentz in harm's way? This draft appears to be top heavy in defense, so the Giants will have to decide if an offensive lineman has a first-round grade. Cunningham appears to be a sideline-to-sideline linebacker, and he will likely still be available at the 23rd pick.
Or put in a call to the Cleveland Browns and resolve the left tackle issue before the draft.
Either way, Cunningham would level out Big Blue's defense.
This article originally appeared on